Andrew Zimmern; On and Off the 'Derech'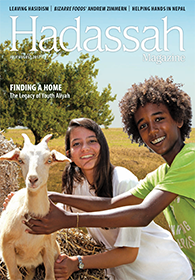 "On" the Derech
I am shocked that Hadassah Magazine printed "An Unorthodox Journey" in the July/August issue and included a full-frontal nude picture (albeit covered in body paint) of the subject, the formerly Lubavitch Pearl Reich. Modesty has been the defining quality of the Jewish woman and was one of the three qualities that made us retain our Jewish identity when our ancestors were slaves in Egypt.
The author, Uriel Heilman, does not go into detail about why Reich and other Orthodox Jews go off the derech, nor does he write about the good that Lubavitch and other groups do. That is a skewed perspective. Reich stated that she couldn't think independently. I wonder if that had anything to do with the Lubavitch or if the people who raised and educated her were controlling people.
Many people like myself search more for the derech because of the way we were treated: with ahavat Yisrael and respect. The smile on my face is partly credited to my Lubavitch friends and mentors who opened up their homes and hearts to me in my process of becoming observant.
Shoshana Averbach
Brooklyn, N.Y.
Reviewing Two Reviews
The review of the book Jewish in America in the July/August issue ended with a disturbing line. The author of the book, Richard Rubin, espouses an optimistic view of the future of American Jewry despite intermarriage. The reviewer, Peter Ephross, explains the author's optimism by noting that Rubin's non-Jewish wife helped him raise his children to be Jews. But then Ephross concludes that "while four of his children are Jewish, one became a devout Catholic."
This editorializing seems to suggest a prejudicial view of anyone who is not Jewish. It's as if the reviewer wrote that the devout Catholic committed a heinous crime. We live in America, where there is freedom to choose religious belief.
Alice Laby
Valley Stream, N.Y.
As I read Stewart Kampel's review of Charlotte by David Foenkinos in the July/August issue, I was transported back to a time when I was in Amsterdam, standing before the moving paintings of Charlotte Salomon hanging in the Jewish museum there. The review triggered a wonderful memory of an event that occurred a few months after I saw the powerful exhibit. My son, unaware that I had this emotional experience at the museum, gave me as a birthday gift Charlotte Salomon: Life? Or Theater?, the compilation of her writings, paintings and photos. My son, in an ESP moment, just knew that I would enjoy the book! Myrna Rabinowitz
Northport, N.Y.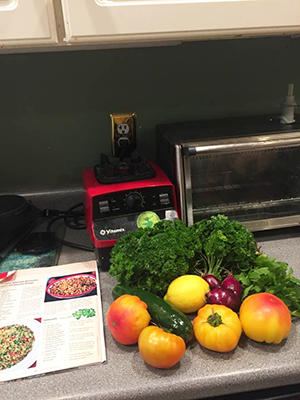 Dishing on Andrew Zimmern
In the July/August article "Andrew Zimmern and His Grandmother's Potted Chicken," the subject waxes poetically about his love for the food of his grandmother, even sharing a favorite recipe. What irks me is that he can be seen on television frequently eating various pork products. While I don't pretend to follow all the laws of kashrut, I think most of us hold Hadassah to a higher standard. Zimmern's actions on national television are a disgrace to Jews everywhere.
Clifford Pattick
New City, N.Y.
I loved making Andrew Zimmern's chickpea salad and tabbouleh. They were quick to prepare and healthy. While I have never cooked chickpeas from scratch before, now that I know how easy it is, I'll do it more often since it is cheaper to buy dried chickpeas in bulk. Additionally, chickpea water—called aquafaba—can be used as an egg replacer in meringues and other desserts.
I was able to buy most of the produce from my local farmers' market as well, so that was a bonus!
Rachel Zubrow
Pittsburgh, Pa.
Vermont's Jewish Story
I want to compliment Esther Hecht on the article "Green Mountain Jewry" in the July/August issue. It is remarkable that a journalist based in Jerusalem could write such a comprehensive travel feature. The documentary Hecht refers to, Little Jerusalem, is well done and remains available from PBS. The Sara Frank for whom the Hadassah chapter in Vermont is named was my late mother who, with my enthusiastic approval, left her residuary estate to Hadassah. I admit to having inherited my mother's zeal for the support of Hadassah.
Joseph E. Frank
South Burlington, Vt.
It was with great interest that I read the Vermont travel story. Much of the information is accurate and will be useful to Jews traveling to or even living in Vermont.
My family and I have spent over a decade in Vermont. We own a house in the Brattleboro area and have summered in different parts of the state. Let me point out that Brattleboro is in southeastern Vermont, not in the southwest, as it is stated in the article.
Also, several congregations were not listed, for instance Shir Shalom in Woodstock and Congregation Beth El in Bennington.
I appreciated the beautiful pictures and hope that the article will spur more Jewish visitors and "settlers" to Vermont.
Kenneth D. Feigenbaum
Chevy Chase, Md.
I was pleased to read about the many historic Jewish communities in my favorite state, Vermont, but wish to point out one omission. Israel Congregation of Manchester has been part of Jewish life in the state for the past 90 years and now has 160 egalitarian members. Manchester is in one of the most beautiful parts of Vermont and serves both year-round residents and summer guests.
Eleanor Rubin
Tinton Falls, N.J.
Another Treatment Option
I am surprised that the article "Can Stem Cells Fix a Weakened Pelvic Floor?" (July/August issue) did not mention the cheapest, most effective and least intrusive method of addressing the health problem. That would be a ring-shaped pessary of non-reactive silicone inserted daily, and quite easily, into the vagina and removed nightly to prevent irritation.
The pessary serves as a platform to retain the protruding tissue, doubly effective when combined with a ring-shaped container of topical estrogen. The pessary lasts for many years, while the estrogen ring is renewed every three months. It is widely used at the University of Chicago hospitals and I have benefited from the treatment for many years.
Sylvia Telser
Chicago, Ill.
Hadassah Trip of a Lifetime
I read with great nostalgia the President's Column in the May/June 2017 issue. Permit me to make a correction.
​Hadassah Hospital in Ein Kerem was dedicated on August 3, 1960—not in 1961 as was stated in the column. Hadassah transferred the first patients to the new hospital in 1961. I know this because my father and I were there in 1960 to dedicate a radium treatment room in memory of my mother, who had been a chapter president in Allentown, Pa., from 1950-1952, during which time the Ein Kerem location was "conceived" at the suggestion of David Ben-Gurion. We were part of a Hadassah pilgrimage with about 400 Hadassah devotees. The morning of the dedication, we attended a reception hosted by then-Israeli President Yitzhak Ben-Zvi.
​My father and I went by ship—the American Export Lines' Independence—from New York to Naples and then transferred to the Theodor Herzl for the passage to Haifa. It was the trip of a lifetime made even more memorable since all the Hadassah "brass" were on the Independence with us.
Joan Abramson
Baltimore, Md.
Youth Aliyah
I was greatly impressed by the July/August article on Youth Aliyah, "Overcoming Adversity." Many years ago, my wife, Lois, and I heard a story about the founding of the initiative at a Hadassah national board shabbaton at Camp Tel Yehudah many years ago.
Lois and I were sitting in a small group listening to Tamar de Sola Pool relate some of her experiences as a Hadassah national president. Here is her memorable story, paraphrased of course:
De Sola Pool and her husband, Rabbi David de Sola Pool, were in a Haifa hotel in 1933 expecting to board a ship for their return to America after visiting Palestine and, of course, the Hadassah projects. Unexpectedly, Henrietta Szold came to them with a story and a plea.
Reicha Frier had come to her with a plea that she begin a program for German Jewish children whose families were under Nazi attack.  To save these youth from the horrors, Szold should begin a program of aliyah, schooling and training in Palestine. At this time, Szold was responsible for all Jewish support programs in the country. She answered Frier by explaining that her present effort demanded so much—and with limited support—and that she could not take on another costly program.
Frier then approached Dr. Sigfried Lehman, founding director of Ben Shemen, a resident school for Jewish children with limited family support. He responded that he would take 12 children. When Szold heard this, she came to the de Sola Pools in Haifa and told Tamar that Hadassah must begin a program of saving Jewish youth and must raise the necessary funds.
When Tamar de Sola Pool arrived in America she convinced the Hadassah board to take up the work. She also called on Eddie Cantor, the great actor-singer, who gave her a check for $25,000. Thus began Youth Aliyah, a great Hadassah program.
PS: Lois, now in the 12th year of Alzheimer's dementia, is with me and under full care, but in no way can understand and remember this occasion.
Irving Slott
Silver Spring, Md.