'Little Book of Jewish Appetizers'
I like cookbooks that come in layers. The first layer is usually the glossy, colorful photographs of perfectly plated dishes that urge us to pick up the book in the first place.
The second layer is the recipes themselves—creative new takes that are intriguing enough to pique our interest and make a mental or (gasp!) literal dog-ear of a page.
The third and most captivating layer? That would be a personal narrative that weaves through the entire book, oftentimes stories filled with wisdom, humility, historical context and charm.
Lucky for us, Leah Koenig's Little Book of Jewish Appetizers
possesses all these qualities in one tiny book—a 26-recipe tribute to Jewish first courses and party snacks culled from around the world. (Of note, there are photographs for every dish in the book.)
Intrigued by Koenig's knowledge of the myriad Jewish cuisines, I asked her where she had amassed such a deep understanding.
"I'm a journalist first, so I view my job as a lifelong quest to explore the vast world of Jewish cuisine," Koenig explained. "I cook with people as much as possible. I've been fortunate enough to cook in the kitchens of Jews from many backgrounds—Moroccan, Ethiopian, Tunisian, Syrian, Russian, Bukharian. Through them I learn so much about their own life stories, and about the great patchwork of global cuisine."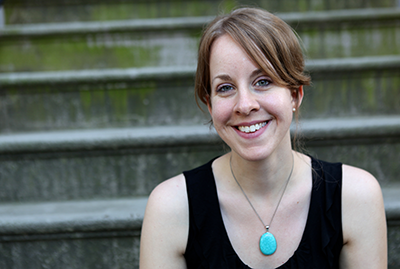 Growing up, Koenig was nourished by both her mother's Ashkenazi Jewish cooking and the Jewish delis of her hometown of Chicago. "I am deeply connected to these foods," she said, "but also love incorporating Sephardi and Mizrahi Jewish foods that I didn't grow up with into my home cooking."
Flipping through Little Book's pages, a few ideas catch my eye: The Jewish cheese plate (how cool!) and fried gefilte fish, derived from the way English Jews prepare the holiday staple. Did you know that British Jews in East London may have inspired the original concept for fish and chips? That is just one tidbit Koenig—author of 2011's Hadassah Everyday Cookbook—offers up.
Beyond the recipes—separated into "fresh, toasted and pickled" and "cooked, fried and baked"—she also shares loads of advice on how to round out a complete menu using this little tome as the base.
As a happy little bonus, her book leans toward vegetarian cooking.
"I was a vegetarian for 10 years, so I always like to make sure I have my meat-free friends covered with my cookbooks," Koenig said. "I'm not a vegetarian anymore, but I still crave these first-course foods—creamy dips and spreads, vibrant salads, briny pickles and small fried bites the most."
Little Book of Jewish Appetizers is the first in a three-part series. For the second installment, Koenig plans to seek out the very best mains for the Jewish holiday and Shabbat table; for the third she will share savory and sweet baking. As in the first book, she will focus on Jewish cuisine throughout the diaspora.
I suggest sampling Koenig's new book with these two recipes: Shiitake and Scallion Falafel and Borscht Crostini.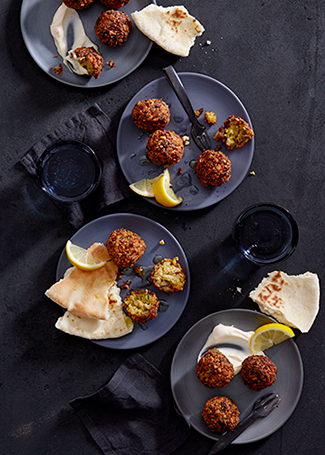 Shiitake and Scallion Falafel
Serves 8
1 cup dried chickpeas
2 tablespoons extra-virgin olive oil
1 pound shiitake mushrooms, cleaned with a paper towel, stemmed, and very finely chopped
Kosher salt
2 scallions, white and green parts, finely chopped
1 tablespoon harissa paste (available online or in Middle Eastern groceries)
1/2 small onion, coarsely chopped
4 garlic cloves, peeled
1/2 cup chopped fresh flat-leaf parsley
3 tablespoons chickpea flour or all-purpose flour
2 teaspoons ground cumin
1 teaspoon ground coriander
Vegetable oil for frying
Place the chickpeas in a large bowl and cover with cold water by at least 2 inches. Cover the bowl with a dish towel and let the chickpeas soak overnight at room temperature. Drain, rinse, then drain well again.
Heat the olive oil in a large skillet set over medium heat. Add the mushrooms and a generous pinch of salt and cook, stirring often, until the mushrooms are soft and most of their liquid evaporates, 8 to 10 minutes. Add the scallions and cook until just wilted, 1 to 2 minutes. Remove from the heat and stir in the harissa. Set aside and let cool to the touch.
Combine the soaked, uncooked chickpeas, the onion, garlic, parsley, chickpea flour, cumin, coriander, and 1 1/2 teaspoons kosher salt in a food processor, and pulse until a textured paste forms, scraping down the sides of the processor bowl as necessary. If you squeeze a bit of the mixture in the palm of your hand, it should stick together. Stir in the mushroom mixture.
Line a large plate with a few layers of paper towels. Fill a deep pot with 1 1/2 inches of oil and heat over medium heat until the oil reaches 375° on a deep-fry thermometer. Meanwhile, scoop out a heaping tablespoon of the falafel mixture and use the palms of your hands and fingers to gently squeeze and roll it into a 1-inch ball. The falafel batter might seem delicate at this point, but the ball will come together while frying. Set it on a baking sheet and continue forming balls with the remaining batter.
Working in batches of 5 or 6, carefully drop the falafel balls into the hot oil and fry until deep golden brown, 4 to 6 minutes per batch. Use a slotted spoon to transfer the falafel to the prepared plate and let drain. Serve hot or warm. Store leftovers, covered, in the refrigerator for up to 5 days, or cover tightly in plastic wrap and store in the freezer for up to 3 months. Reheat in an oven or toaster oven at 350° until warmed through, 10 to 15 minutes.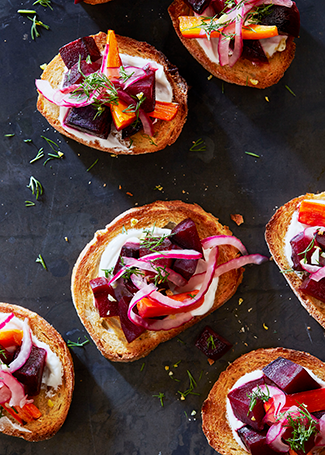 3 medium beets, peeled, halved and cut into 1/2-inch chunks
4 medium carrots, peeled, halved lengthwise and cut into 2-inch lengths
3 tablespoons red wine vinegar
2 tablespoons extra-virgin olive oil, plus more for brushing
Kosher salt and freshly ground black pepper
1/4 cup fresh lime juice
2 tablespoons sugar
1 small red onion, quartered through the root and sliced as thinly as possible
3/4 cup chopped fresh dill
Zest of 1 lemon
1 large garlic clove, coarsely chopped
12 small, 1/2-inch-thick slices of sourdough or rye bread
One 8-ounce container crème fraîche or sour cream
Preheat the oven to 450° and line a large rimmed baking sheet with aluminum foil. Put the beets, carrots, 2 tablespoons red wine vinegar, 2 tablespoons olive oil, 1/2 teaspoon salt, and a generous amount of pepper on the baking sheet and stir to coat. Bake, tossing once with tongs, until the vegetables are tender, 25 to 35 minutes. Remove from the heat and let cool to the touch.
Meanwhile, in a medium bowl, whisk together the remaining 1 tablespoon of red wine vinegar, the lime juice, sugar, and a pinch of salt. Add the onion slices and toss to coat. Let sit for 15 to 20 minutes, stirring once or twice, to soften and lightly pickle the onion. (Or cover and let sit in the refrigerator for up to 1 day.)
Place the dill, lemon zest, and garlic in a single mound on a cutting board and chop until the garlic is minced and the ingredients are well combined.
Turn the oven to 400°. Brush one side of the bread slices with olive oil, sprinkle with salt, and arrange on two large baking sheets. Bake until crisp and golden, 8 to 10 minutes. Remove from the oven and let cool slightly.
To assemble the crostini: Spread each bread slice with about 1 tablespoon of crème fraîche and top with a few pieces of beet and carrot and some pickled onion slices. Sprinkle with the dill mixture and more black pepper. Serve immediately.
Jessica Halfin is an American ola to Israel. She is a food and culture writer, pastry chef, gourmet cook and owner and operator of Haifa Street Food Tours. She resides in Haifa with her husband, Eli, and their three young children.