Jerusalem Restaurants Are 'Open' This Week
When one thinks of world-class culinary destinations, cities like Paris and New York most likely spring to mind. Seldom, I suspect, does Israel's capital of Jerusalem. But why not? There are countless culinary enclaves that prosper within today's modern city but, more often than not, they operate in their own orbit with little collaboration among themselves. Contemporary chefs are forging a new Israeli cuisine in top restaurants such as Touro and Hachatzer while, not far away, alleyways are lined with modest cholenterias serving hearty portions of the Shabbat stew alongside large slices of peppery, caramelized Jerusalem kugels in ultra-orthodox Jewish enclaves. Just off Mahaneh Yehudah market, Azura—a Tunisian Jewish hole in the wall—sells the best couscous in the country. And in a corner of the Muslim Quarter in the Old City, Abu Shukri, a hummusia run by a local Arab family, welcomes a hungry line of regular customers for a plate of hummus.
While each of these food traditions operate independently, for a few short days, insularity, tensions and religious affiliation are put on the back burner in the Holy City in favor of culinary curiosity—and it's all thanks to Merav Oren. Oren is CEO and founder of the Open Restaurants food festival, now a leading winter culinary tradition.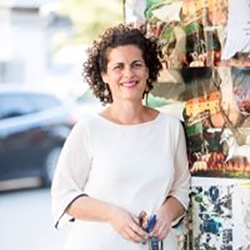 The festival, which takes place across the city this year from November 14 to 18, will include events ranging from affordable tasting menus at well-known restaurants to neighborhood food tours, workshops, an international "best chef" competition, interactive discussions and much more (over 100 activities will be included this year, nearly doubling the offerings of the previous year). The festival is officially sponsored by the Ministry of Foreign Affairs, the Ministry of Tourism and large cultural institutions such as the YMCA. Also crucial to its organization and promotion are many influential chefs and food journalists, making it a ground-up labor of love.
"This is our fifth year doing Open Restaurants—the first few years took place in Tel Aviv, and last year we moved to Jerusalem," says Oren. "We meet with top chefs, open a window to peek into their kitchens. We tour the markets, help chefs prepare their signature dishes, we taste the daily life of the restaurants we already know and love."
For many festival-goers, the lasting impression goes far beyond the delicious food and wine.
"The uniqueness of this project is that it produces ambassadors," explains Oren. "After you spend time with a famous chef or a professional restaurateur, and you understand what it takes to run a successful culinary business, it is easier for you to understand and appreciate the hard work and pricing of things. In general, this makes the participants real ambassadors of the restaurants as well as returning customers.
"With this in mind," continues Oren, "our end goal is to help create an international community of foodies and to be a marketplace of experiences that combine food with anything intended for the curious of every kind."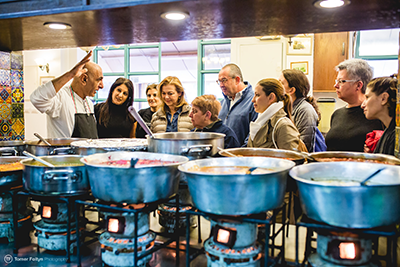 Some highlights this year:
Food Stories in the Old City Tour—A glimpse into the restaurants in the Muslim Quarter that are seldom experienced by outsiders. Visit establishments who have passed down their treasured—and secret—recipes for hummus, tahini paste, Arabic sweets and baked goods for generations.
Rama's Kitchen: Fire Destroys, Fire Builds—A thoughtful recreation and look towards the future with Rama Ben Zvi, the founder of the beloved restaurant in the Judean Hills that created dishes using local ingredients from the surrounding land before the wildfires of 2016 burned it down.
Jerusalem Between Pots and Canvases—A special tour, discussion and five-course meal at the Israel Museum with Assaf Granit, the famous Jerusalemite chef and restaurateur who helped drive the city's modern restaurant scene; Nof Atamna-Ismaeel, Arab chef and winner of Israel's MasterChef television series; Golan Gurfinkel, famous for his upscale dining restaurant Dallal in Jaffa; and renowned food journalist Ronit Vered.
A Taste Before Shabbat—A culinary tour of some of Jerusalem's more hidden haredi enclaves. Taste a smorgasbord of Old World Ashkenazi dishes not well-known in mainstream Israeli society; feel the palpable energy of the pre-Shabbat hustle and bustle.
A unity dinner prepared by three chefs from each of the three monotheistic religions at the YMCA—No small feat, and an event which will see all proceeds donated to the YMCA.