Cooking Like a Maccabee This Hanukkah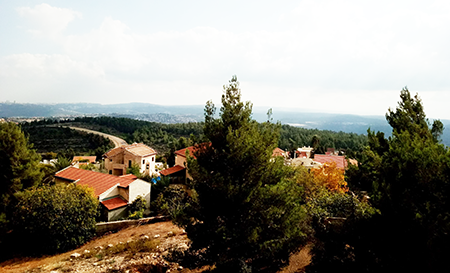 Atop a concrete tower in the Israeli town of Har Adar, just outside the Green Line in the Judean Hills, there is no shortage of significant views. To the east, the Palestinian city of Ramallah stands defiant. A straight line down to the right, Hebrew University sits on Jerusalem's highest point, Mt. Scopus. And to the west, the Mediterranean Sea glimmers in the distance from the ancient port city of Ashdod.
This is the backdrop against which Miriam Feinberg Vamosh lives her life, one that has cosmically drawn her to this ancient land and people.
"There," she says, pointing. "In the foothills and caves of the city of Modiin, that is where the Maccabees led their revolt against the Hellenistic King Antiochus, back in the second century BCE." With Hanukkah upon us, it is an incredible feeling to have such a tangible connection to the holiday story, as near as the hills below. And it is why I have traveled to Har Adar to learn more about Vamosh and her work.
A native of New Jersey, Israel has been Vamosh's home since making aliyah in 1970. "I love this land and its people," she says of her decades in the Jewish state. "I love how Israelis are open, warm, down to earth. And despite everything, they're happy."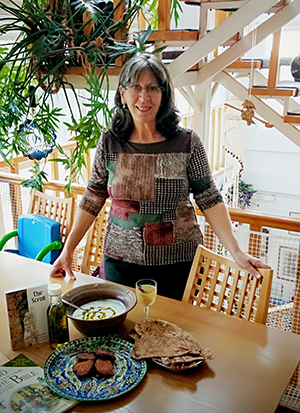 She has dedicated her life to both the Land of Israel and its ancient peoples—first as an impassioned tour guide and then as a writer of historical fiction, including The Scroll
, and nonfiction. She is an expert on both biblical people and early Christian life, and her writings make up a series of informative books on life in the time of the Bible. Her best-known titles are Women at the time of the Bible; Teach it to Your Children: How Kids Lived in Biblical Days; and Israel: Land of the Bible.
I'm meeting with her today to craft recipes from her seminal Food at the Time of the Bible: From Adam's Apple to the Last Supper
, a fascinating study of what ancient people grew and ate in this land millennia ago. In it, Vamosh descriptively catalogs ancient plants, spices and food practices, all drawn from the Bible and other ancient sources.
When researching the book, Vamosh collaborated with Tova Dickstein of Neot Kedumim Biblical Landscape Reserve, a popular Israeli attraction that offers Biblical cooking classes among other experiences in a setting built to replicate Israel's vegetation nearly 3,000 years ago.
In the modern world of Facebook, it had only taken one post and a tag to make personal contact with Vamosh. In a twist of Jewish geography, it turns out that her nephew was the Jewish history teacher who inspired my love for Israel when I was a 15-year-old studying abroad on the NFTY-EIE High School in Israel program.
And now here I am standing in Vamosh's kitchen, chatting about the Maccabees while we infuse dark green Galilean olive oil with fresh herbs from her patio garden and stretch out whole wheat dough to be cooked on the back of a scorching hot pan.
"The Maccabees were local heroes," she points out, "and so would have been taken care of by the surrounding farmers and village people."
This meant a diet rich in local staples, reflected in the menu we recreating: Sweet fried lentil cakes; herbed walnut cheese dip; spiced white wine; and that infused olive oil and whole wheat bread.
Miriam's husband, Arik, is the main beneficiary of our cooking today. A veteran of the 1973 Yom Kippur War, Arik lost the use of his legs during an enemy ambush and was rehabilitated at Hadassah Medical Center. He remains restricted to a wheelchair to this day—a hero and a reminder of how we are all connected.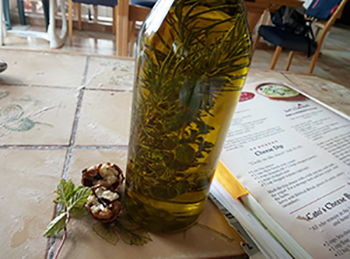 Herb Flavored Olive Oil
"I give you all the finest olive oil" (Numbers 18:12). A flavorful infusion of herbs and high-quality oil.
8 fluid ounces (or medium sized) bottle of olive oil
One spring of your choice of the following herbs: Rosemary/Hyssop (zaatar)/ Thyme/1 clove garlic
Vinegar for dipping
Wash the herb well and dip in vinegar. Dry well.
Place in a bottle and fill the bottle with olive oil.
Close the bottle and store for 10 days out of direct sunlight.
Shake the bottle every few days and enjoy as a dip for bread, in salad dressings or for cooking.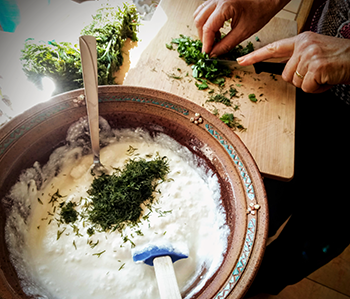 Cheese Dip
"Curdle me like cheese" (Job 10:10). Makes 6-8 servings. A tzatziki-style dip that features fresh herbs and walnuts.
6 ounces feta cheese
2 cups thick white Greek-style yogurt
2 tablespoons chopped dill
2 tablespoons chopped parsley
2 tablespoons chopped mint
1/2 cup chopped walnuts
Mash the feta cheese with a fork and mix well with the yogurt.
Add the chopped herbs and walnuts.
Serve with Biblical Whole Wheat Flatbread, pieces of carrot, celery and cucumbers.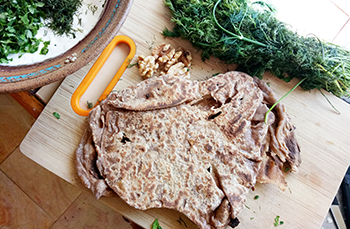 Biblical Whole Wheat Flatbread
Makes 11 flatbreads. The ancients did not know the properties of yeast, but discovered that fruit peel, especially of grapes and apples fermented the dough.
1/2-3/4 cup fresh grape juice
1/2-3/4 cup water as needed
5 cups whole wheat flour
1/4 teaspoon salt
1 teaspoon olive oil
Combine all ingredients to make a dough.
Knead for 5-10 minutes until smooth and elastic, adding more water If necessary to create a soft dough.
Let rise overnight, to activate the natural yeast.
Heat a dutch oven upside down over a hot burner.
Divide dough into 11 parts, and roll into balls.
Flatten balls with the palm of your hand, and roll out or stretch until very thin.
Cook flatbreads for 2-3 minutes on both sides, or until cooked through.
Keep cooked flatbreads on a plate covered with a slightly dampened towel, to keep moist until eating.
Spiced White Wine
"I would give you spiced wine to drink, the nectar of my pomegranates" (Song of Songs 8:2). Makes 18 servings. This lightly spiced wine is meant to serve a crowd, and would make an excellent addition to any festive gathering.
3 bottles white wine
6 ounces honey
1 bay leaf
1 stick cinnamon
2 dates, chopped
Heat 1/2 cup of the white wine and honey in a small saucepan, until the honey dissolves.
Remove from heat, add bay leaf, cinnamon, and chopped dates. Add remaining wine, then simmer for 1 hour, stirring occasionally.
Before serving remove bay leaf and cinnamon stick. Can be served hot or at room temperature.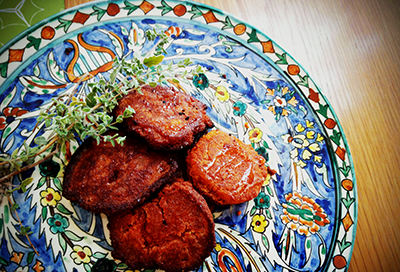 Ashishot—Pan-Fried Sweet Red Lentil Pancakes
"Strengthen me with raisins, refresh me with apples" (Song of Songs 2:5). Makes 7-8 small pancakes. In this recipe you will find neither raisins or apples! The meaning of the Hebrew word for the second of the "love tonics" (Song of Songs 2:5), ashishot, is unclear. English Bible translations render it either "apples" or "flagons." The opinion of one ancient rabbi has given us the following, nearly 2000-year-old recipe for a confection, whose name we have left in the original Hebrew.
8 ounces red lentils
1 tablespoon whole wheat flour
1/4 cup olive oil
3-4 tablespoons honey
1/2 teaspoon cinnamon
Olive oil for frying
Warmed honey for drizzling
Toast the lentils well in a frying pan.
Grind them into a fine flour with the use of a coffee or spice grinder.
Mix the ground lentils with the olive oil, honey and cinnamon.
Cover the bottom of a frying pan with additional olive oil and heat on a medium high flame.
Using a 1/4 cup measuring scoop, fry Ashishot, 3 or 4 at a time.
Cook until golden brown on either side and serve drizzled with warmed honey.
All recipes from Food at the Time of the Bible: From Adam's Apple to the Last Supper
(Palphot Publishing).