'Real Life Kosher Cooking' with Miriam Pascal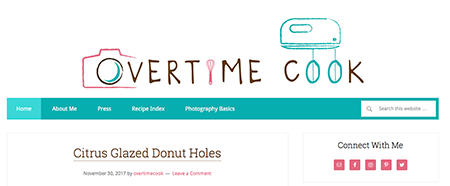 "Let's get something straight before we continue. I am not a foodie," Miriam Pascal writes in the About Me section of her highly trafficked blog, Overtime Cook. "Nope. My palate is not what you would call adventurous. I won't touch an olive under any circumstances. I won't eat fish—even at gunpoint. I have a strong dislike of yogurt. And of feta cheese."
Coming from someone who has also dedicated her life to food—thinking about it, loving it and using it as a tool for expression and love—I hate to break it to you, Miriam, but you are a foodie.
"I now realize that I've become, in certain ways, an accidental foodie," she admits to me over email. "Mostly, I still enjoy simple, but well-made, food. If anything, I'm a 'food snob' about cooking food correctly and using the correct kitchen tools, more than unique and interesting flavors and combinations."
Where Pascal really shines, and as her blog's popularity proves, is in turning others onto food, and cooking in general.
"Food is meant to be shared, to be enjoyed and to inspire," she writes in her new cookbook, Real Life Kosher Cooking
. "There's a general theme to the comments of the readers who touch me most, and that's when they tell me about how my recipes have become part of their lives, enhanced their celebrations and become family favorites."
The 29-year-old food writer and photographer launched her blog in August 2011. Her first cookbook, Something Sweet: Desserts, Baked Goods, and Treats for Every Occasion
, came out four years later and still maintains a coveted 5-star rating on Amazon.com. The brand-new Real-Life Kosher Cooking, her second title, is currently the No. 1 best-selling kosher cookbook on Amazon.
The "Overtime" in her title has long since become obsolete. She has abandoned her full-time office job and successfully transitioned into the world of kosher cooking and food writing, penning articles for Mishpacha Magazine and working on her freelance food photography, recipe development and blogging.
Pascal's recipes promote "Innovative cooking from your comfort zone," a culinary safe space where you feel confident enough to make slight tweaks in the path of deliciousness while not straying too far into the unknown.
"For the most part, I try to stay inside my readers' comfort zones by using familiar ingredients and combining them in ways that people haven't seen before," she tells me. "I think my sesame meatballs recipe in the new book is a perfect example. I took a dish people are familiar with (meatballs!) and instead of the traditional sauce, I used a sesame-chicken type sauce (something most Jews are very familiar with!) and merged the two into a dish that everyone is loving."
For kashrut observers, her recipes are written with built-in variations to make a dish pareve or dairy.
The book's recipes are made up of classics from the blog, such as My Ultimate Honey Whole Wheat Challah and Healthy Oatmeal Pumpkin Pancakes—one of her first recipes to go viral back in 2012.  Newer revelations, such as Sheet Pan BBQ Sausage and Peppers and Pulled Beef Your Way, feature eight different meal variations. True to her claim, the recipes are practical, and most could easily be whipped up for a weeknight family dinner.
Shared here are two recipes worth frying up as a special Hanukkah treat for you and yours: Zucchini Corn Fritters and Chocolate Funnel Cakes. B'teyavon, and happy reading!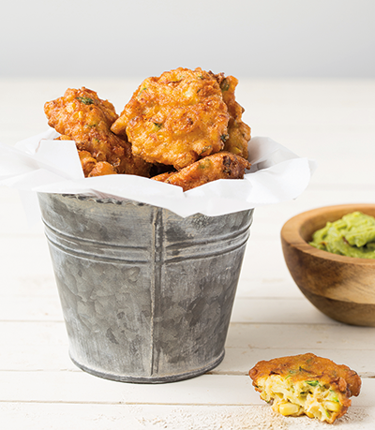 Zucchini Corn Fritters
Pareve. Makes 2 dozen fritters.
2 ears corn
1/2 cup cornmeal
1 cup flour
1 teaspoon kosher salt
1 teaspoon sugar
1 teaspoon baking powder
1/2 teaspoon chili powder
2 eggs
2 tablespoons oil
1/2 cup water
1 small zucchini, shredded
Oil, for frying
Guacamole, (optional) for serving
1. Cut kernels from the uncooked corn; set aside.
2. In a medium bowl, whisk together cornmeal, flour, salt, sugar, baking powder and chili powder. Add eggs oil, and water. Stir until a thick batter forms.
3. Stir in zucchini and corn kernels. Mix until evenly incorporated.
4. Heat about 1 inch oil in a medium frying pan over medium heat. Work in batches to avoid overcrowding the pan. Using a medium cookie scoop, scoop heaping tablespoons of the mixture into hot oil. Fry for about 2 minutes per side, until golden brown. Stir batter between batches to reincorporate liquid, as the batter tends to separate.
5. Remove to a paper towel to drain; repeat with remaining batter.
6. Serve immediately, with guacamole if desired.
Variation: You can omit the zucchini to make standard corn fritters.
Plan ahead: While these fritters are best enjoyed fresh from the frying pan, you can prepare them ahead of time and freeze them. Rewarm in a single layer, uncovered, in the oven at 350° until heated through.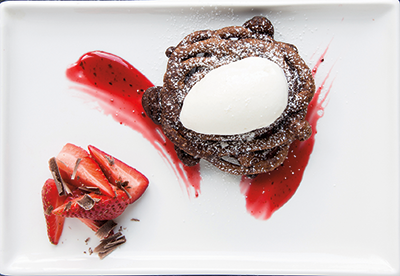 Chocolate Funnel Cakes
Dairy or pareve. Makes 20 small funnel cakes.
2 1/2 cups flour
1/2 cup cocoa powder
1 teaspoon baking soda
1 teaspoon baking powder
2 tablespoons sugar
1/3 cup brown sugar
Pinch kosher salt
3 eggs
1 teaspoon vanilla extract
2 cups milk OR soy milk
Oil, for frying
Powdered sugar, for dusting
Optional Garnishes: ice cream, berry sauce, fresh fruit, melted chocolate or chocolate shavings
1. In a medium bowl, whisk together flour, cocoa powder, baking soda, baking powder, sugars and salt until combined.
2. Add eggs, vanilla and milk. Stir until combined and smooth. Place batter into a piping bag or a Ziploc bag with a corner snipped off.
3. Heat about 1/2-inch oil in a frying pan over medium heat. Test if oil is hot enough by squeezing in a small amount of batter. When oil hot enough, the batter should rise right to the top.
4. Squeeze the batter into the hot oil, squeezing back and forth, making a freeform web-like pattern. Fry for about 1/2-1 minute, until bubbles form on the top. Flip; fry for an additional 30 seconds, then remove to paper towel to drain.
5. Sprinkle powdered sugar over the funnel cakes, then top with desired option garnishes. Serve hot.
Plan ahead: Funnel cakes can be fried a day or two ahead of time. Reheat in a single layer in oven. Top with powdered sugar just before serving.
Recipes and photos fromReal Life Kosher Cooking
by Miriam Pascal (Mesorah Publications, 2017).