Dining Chez Vous: Israeli Social Dining Apps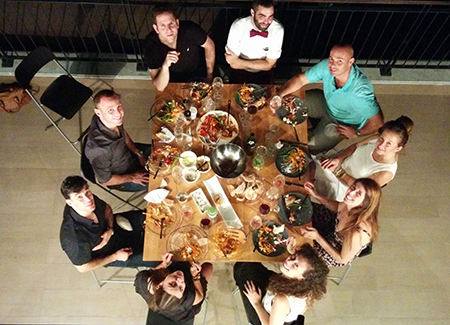 Visiting Israel without eating a proper meal in someone's home is like going to Italy and skipping pasta.  It is a must—and if you do it right, it will be a life-changing experience. Israelis might be best-known for their tough exterior, but get through the front door of their home to break bread and you will suddenly find yourself in their inner circle.
You will discover home hospitality featuring an array of ethnic cuisines—aromatic and perhaps unfamiliar delicacies that you will find practically shoved down your throat (in a loving way!).
But what if you're a tourist to the Jewish state with no Israeli family to visit? In that case, the best way to get past the front door is through social dining apps and services that allow guests to be paired with hosts for a Shabbat meal or weeknight supper with a local while in the Holy Land.
EatWith, Betzavta, Shabbat of a Lifetime and Delicious Israel are a few options changing the way visitors get to know Israel by connecting people through food.
EatWith, perhaps the best-known service for communal dining around the world, is a platform for gourmet home cooks to create restaurant-quality host meals that locals and tourists book individually, online, in advance. It is the platform of choice for local hosts such as South Tel Aviv-based Chef Alon Lisi. Lisi previously worked in Catit and Milgo Milbar—two of the city's most popular restaurants—and for Haifa gourmet cooking duo Erez Golko and Shlomi Navon, who are known for throwing Friday evening Greek-style spreads filled with mezze and ouzo in Golko's historic family home.
But meal sharing doesn't have to be a big production. Niv Saar is the founder and CEO of Betzavta, a service that pairs guests with non-professional hosts looking to not just serve a meal, but really sit and interact with their guests in the interest of forging international friendships.
"The goal of Betzavta hosts is to make the tourist feel at home in Israel and allow both guest and host to learn more about each other's' cultures," explained Saar. "It's also a fantastic way to show an authentic side of Israel, and to share facts about life in Israel without the 'filters of what people see on the news back home."
Travelers looking to take part in a genuine family-style Shabbat meal and learn more about how religious Jews observe the weekly holiday in Israel can turn to Shabbat of a Lifetime. This social dining platform provides hospitality to Jews looking for a Shabbat table in the Old City of Jerusalem as well as a chance to interact with observant Jerusalemites—all the while sharing a five-course, home-cooked meal.
If a contemporary rooftop meal under the stars in modern Tel Aviv is more your thing, Inbal Baum of Delicious Israel—which offers culinary tours and experiences in the city—curates the perfect low-key Shabbat meal for groups of guests with her "Delicious Shabbat Dinners."
In describing the dynamic dinners, Baum offers the following: "I think that people are just very surprised that someone lets them into their home and invites them to have a dinner with them, shares their traditions, and even introduces them to their child. I think it's unusual in a lot of cultures, where as it feels very natural here. This kind of warmth creates an environment that really helps the guests to open-up."
Baum, an American oleh who back in New York would cram 15 guests into her studio apartment each week for gourmet Shabbat dinners, sees her Shabbat business as an extension of those early years of home hospitality.
And Baum is equally excited about the food prepared for the weekly meals. "We typically serve what's considered to be the Modern Israeli menu," she said. "We go to the market and see what's fresh and then create a variety of salads and dishes from sabich sliders to whole roasted cauliflower to mujadra (rice with lentils and blackened onions) and spicy Moroccan fish. We really try to show a range of different types of dishes that Israelis like to eat on Shabbat."