A Cholent Craze in Secular Tel Aviv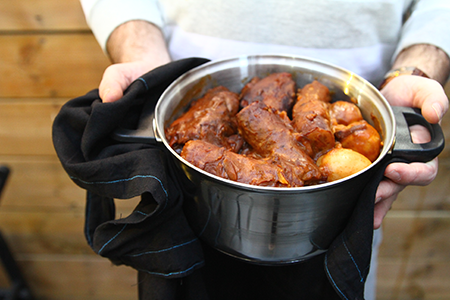 A surprise culinary trend erupted in 2013 in the haredi enclave of Bnei Brak, adjacent to Tel Aviv, as well as some ultra-religious neighborhoods of Jerusalem. Cholenterias—casual restaurants specializing in cholent, the slow-cooked Shabbat stew—had popped up seemingly overnight, becoming the premier Thursday night hangout for men looking for some traditional nourishment between Torah study sessions. Although widely considered a Shabbat food, cholent mania began spreading beyond a religious clientele, and the dish can now be found in a variety of locations across mostly secular Tel Aviv.
Traditional versions of the stew are available at the city's famed old-guard Ashkenazi establishments. At Sender Restaurant, run by the Schreiber family since 1948, you can tuck into a cholent that came to Israel from the old country—and tastes like it. Keton Jewish Bistro has been in business since 1948, but has recently taken on attractive new branding that is drawing a younger crowd these days for their kreplach soup, chopped liver and, of course, traditional cholent.
Then there are hipster cafés such as HaMitbachon (The Kitchenette), which prides itself on market-fresh home cooking, serving cholent as a brunch to young Tel Avivians. Some of these newer hot spots serve riffs on Ashkenazi cholent while others offer Sephardic variations generally called Hamin. Hamin may feature chickpeas and wheat groats, and could come laced with sweet molasses-like silan (date honey), fenugreek, yellow turmeric, hot Moroccan paprika and cumin.
Hamin in all its variations also shows up at food fairs, such as the weekly Friday food market in the Dizengoff Center mall. Some vendors sell stews that include chicken on the bone, cinnamon and chili and even meatless vegetarian ones to appease locals. (Tel Aviv is revered as a destination for vegan food.)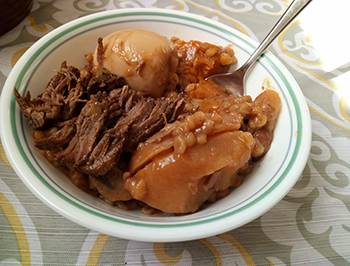 Interested in a DIY cholent tour of Tel Aviv? Many tour operators and foodies warned me before I set out on a cholent trek to call and order ahead. Yes, cholent is THAT popular now in Israel's leading secular city.
Elish Engelberg, a food stylist and chef who organizes private meals and food tours in Jerusalem and Tel Aviv through Elish Food & People, offers an explanation.
"The whole food scene here right now is about going back to our roots and creating simple comfort food," she said. "There are a lot of young single people in Tel Aviv who are looking for ways to get that feeling of home cooking, and the warmth of family in the big city."
This is a collective and emotional return to a classic Jewish dish that previously might have been shunned as old fashioned.
Back home in Haifa, I'm whipping up a pot of my own cholent, and the recipe is a mosaic of my family. My version is rooted in Ashkenazi soul cooking but brightened up with sweet potatoes (built in tzimmes!) and supplemented with chickpeas, because they are always in the cupboard and I can't help but shrug my shoulders and just throw them in. In our house, mushrooms get added since my husband is a vegetarian and requires a chewy main substitute. However, I still braise meat in a separate pot, since I can't have cholent without it. Braising the meat in a dark Israeli craft beer is a treat—I prefer to use stout—and a way to support local businesses if I buy a Haifa brew. The dark caramelized liquid is perfect for braising.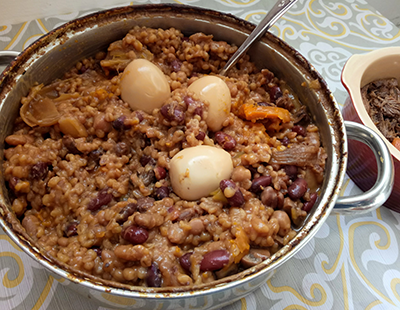 Vegetarian Cholent
Serves 8-10. This vegetarian cholent achieves a deep, earthy flavor from sautéd mushrooms. Sweet potatoes add a caramelized sweet note and offset the richness of the slow-cooked beans, chickpeas and eggs. Presoaking the barley along with the beans helps it to break down at a faster rate, ultimately creating a thick and uniform stew. Check the cholent every so often to make sure there is still cooking liquid in the pot. Add a bit of water if the liquid looks low, to ensure the mixture doesn't burn. Do not stir (stirring would break up the large chunks of potatoes that should remain intact).
1 1/2 cups pearl barley
3/4 cup red beans, dry
3/4 cup white cannellini beans, dry
1/2 cup chickpeas (large if available), dry
1/4 cup vegetable oil
3 medium onions, quartered
1 pound button mushrooms, cleaned and quartered
5 whole cloves garlic
4 large potatoes, peeled and cut into large chunks
2 large sweet potatoes, peeled and cut into large chunks
4 1/4 cups vegetable stock or water, plus extra water to cover the beans, potatoes, and mushrooms if necessary
1 tablespoon paprika
1/4 teaspoon black pepper
5-6 whole eggs, wrapped together in one piece of aluminum foil
1 teaspoon salt*
PRESOAK THE BEANS
Place barley and beans in a large bowl, cover by two inches with water, and let soak overnight.
Drain water from the barley and beans, and set aside until needed.
MAKE THE CHOLENT
Preheat oven to 225. In a 6-quart, oven-safe pot, heat the oil over medium high heat, add the onions and mushrooms and sauté until soft.
Turn down the heat to medium, add the soaked beans and garlic cloves, and stir to combine.
Add the potatoes and sweet potatoes, then add vegetable stock or water to cover the mixture.
Add the paprika and pepper, and stir to combine.
Turn up heat and bring to a boil. Wrap the eggs in one piece of foil. Place the eggs on top of the cholent mixture.
Turn off the burner, cover the pot with a lid, and transfer to the oven, to cook overnight and into the next morning* (a total of 15-16 hours, or until the beans and barley have completely broken down).
Remove foil package from pot, peel eggs, and add back to the cholent. Serve stew warm, with slices of challah and salad on the side.
*Add salt only once the beans in the mixture are cooked through, as salt is known to prevent beans from getting soft when added in the initial cooking phase.
2-3 tablespoons vegetable oil
2 pounds stew meat
Salt and pepper to taste
3 onions, quartered
3 carrots, peeled and cut into thirds
5 cloves garlic
12-ounces stout beer
Add oil to an oven-safe pot and heat on medium high.
Trim meat of any excess fat, season with salt and pepper, and sear in the hot pan on all sides.
Once meat is browned, add onions, carrots and garlic. Sauté meat and vegetables for 1-2 minutes.
Add beer and scrape the bottom of the pot with the back of a wooden spoon to deglaze.
Add a pinch of salt and bring mixture to a boil.
Turn off burner, cover pot with a lid and transfer to the oven to cook next to the cholent for a total of 8-9 hours. Check periodically, to make sure there is enough braising liquid to prevent meat from burning.
Once done, shred meat with two forks and serve alongside the cholent, for guests to add to their individual bowls according to preference.