'Feasting': The Modern Jewish-Israeli Deli Experience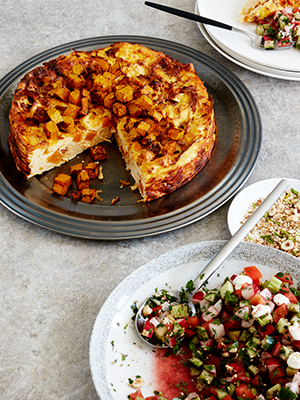 Amanda Ruben's debut cookbook Feasting: A New Take on Jewish Cooking
is a window into the newest way of Jewish cooking and eating worldwide—namely, modern Israeli cuisine as a universal stand-in for all Jewish food. Delis like Miss Ruben, which Ruben helms in Melbourne, Australia, are moving toward a unified Jewish cuisine that honors Middle Eastern Jewish flavors, a Mediterranean sensibility of fresh and seasonal ingredients, and an updated appreciation of traditional Ashkenazi cuisine.
In Ruben's world, mashup dishes such as cauliflower with tahini and tomato salsa topped with pistachios, pomegranate seeds and chili threads; and roast chicken slaw with green goddess dressing and za'atar crumbs are celebratory feasts meant to be shared with friends and family.
"Grazing tables," as Ruben describes them in the book's intro, are buffets of these countless small dishes featuring layered flavors and textures that can be mixed, matched and explored. Holiday and special-occasion menus listed in the book are comprised of four, five or even six of these smaller main dishes for one meal, and just as many salads, starters and desserts.
While I'm onboard with Israeli cuisine such as hummus in gourmet variations as the new Jewish deli food, the preservation and tweaking of Ashkenazi classics pulls at my heartstrings. For her Smoked Whitefish Dip, Ruben shares a quick stovetop home-smoking method. The Australian chef even goes so far as to prepare homemade pasta (essentially, egg noodles), which she promises will ruin the store-bought variety for you, once you try them in her kugel.
Other show-stopping recipes such as confit ocean trout with pickled cucumber, a bright salad of fennel, radishes, orange and grapefruit sections, and served with minted labneh, liven up the book, but do require a bit of technique and time. Foodies who feel up to the challenge are sure not to be disappointed by the colorful, tangy, tart, sweet and rich result.
Another wonder is Ruben's chicken soup. Her recipe uses a rich chicken stock that calls for one whole chicken plus two pounds of chicken wings and another chicken carcass, and cooks for 3 hours.
Back to Israeli flavors, I am drawn to her deconstructed baba ghanoush—a flame-roasted eggplant dressed up with tahini sauce and chickpeas that have been coated in paprika and pan fried—and a 12-hour-braised lamb shoulder flavored with a homemade Moroccan spice blend.
Shared here are some Ashkenazi-style recipes from Feasting: a deeply flavorful mushroom soup cooked in an earthy mushroom broth; a savory squash-and-ricotta kugel with homemade noodles and roasted squash garnish; and Miss Ruben's pastrami, meant to be sliced thick for an at-home Jewish deli experience.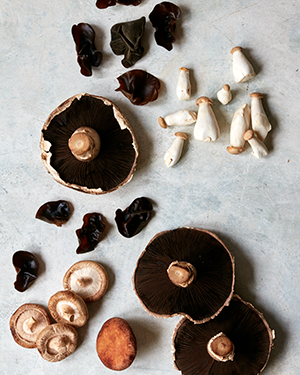 THREE MUSHROOM SOUP WITH TRUFFLE OIL
Serves 6-8
If truffle oil isn't your thing, drizzle with tahini instead.
1/4 pound (3 1/2 ounces) porcini mushrooms
1/3 cup (3 ounces) olive oil
1 onion, finely diced
1 garlic clove, finely diced
2 celery stalks, finely diced
1 leek, finely diced
1 pound 2 ounces Swiss brown mushrooms (cremini), roughly chopped
1 pound 2 ounces field mushrooms, roughly chopped
1 pound 2 ounces button mushrooms, roughly chopped
5 thyme sprigs
1 teaspoon salt
1/4 teaspoon freshly cracked black pepper
Truffle oil, for drizzling
3 tablespoons chopped flat-leaf Italian parsley, to garnish
Mushroom stock
1 tablespoon olive oil
2 carrots, roughly chopped
1 onion, roughly chopped
3 celery stalks, roughly chopped
6 tomatoes, roughly chopped
20 Swiss brown (cremini) mushrooms, roughly chopped
10 whole dried shiitake mushrooms
10 cups water
Sea salt and freshly cracked black pepper, to taste
To make the mushroom stock: Heat the oil in a large saucepan over medium heat. Add the chopped vegetables and shiitake mushrooms and sauté for 5 minutes, then cover with 10 cups water.
Bring to the boil, then reduce the heat to medium-low and simmer for 1 hour. Season with salt and pepper, then strain the stock through a fine-meshed sieve into a clean saucepan, and discard the vegetables.
Start making the soup: Add the porcini mushrooms to 1 cup boiling water and set aside for 20 minutes.
Heat the olive oil in a stockpot over medium heat, then add the onion, garlic, celery and leek and cook for 15 minutes, until soft and caramelized.
Drain and roughly chop the porcini mushrooms, then add to the stockpot with the rest of the mushrooms. Cook until soft, about 10 minutes.
Add the thyme and cook for a further 5 minutes to release its flavor.
Pour enough stock into the pot to just cover the mushrooms and stir well. Cook for approximately 40 minutes, adding more stock if necessary to keep the mushrooms covered. Stir in the salt and pepper, then take off the heat.
Allow the soup to cool slightly before pouring half into a blender. Blend until creamy, then pour it back into the remaining soup before giving it a final stir.
Serve in individual bowls, drizzle each bowl with the truffle oil and garnish with the parsley.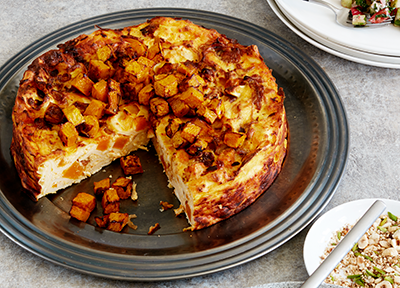 PUMPKIN AND RICOTTA KUGEL WITH HOME-MADE PASTA
Serves 8-10
By pumpkin here, Ruben means butternut squash. If making pasta isn't your thing, ensure what you buy is good quality.
5 1/2 pounds butternut squash, cut into 1/2 to 3/4 inch cubes
3 tablespoons olive oil, plus extra for drizzling
Sea salt and freshly cracked black pepper
Pasta
2 eggs
8 ounces all-purpose flour
Semolina, for dusting
Caramelized onions
4 tablespoons olive oil
2 onions, thinly sliced
Sea salt, for seasoning
1 tablespoon light brown sugar
Ricotta custard
14 ounces full-cream ricotta cheese
5 eggs
1 cup milk
7 ounces pecorino, grated
Pinch of grated nutmeg
Sea salt and freshly cracked black pepper, for seasoning
Roast the squash: Preheat oven to 345°. Spread the squash cubes on a lined baking tray, drizzle with the oil and season with salt and pepper. Mix until evenly coated and bake for 15-20 minutes, until the squash is tender and caramelized. Remove from the oven and set aside 2 cups of the squash.
Mash the remaining squash roughly with a fork. Set aside to cool. Leave the oven on.
To make the pasta dough: Combine the eggs and flour in the bowl of a stand mixer fitted with the dough hook attachment. Mix until just combined. Wrap the dough in plastic wrap and rest in the refrigerator for 30 minutes.
Lightly dust a surface with semolina and roll out the pasta dough to a 1/8-inch thickness. Cut the dough into 2-inch strips, then cut into triangles.
Bring a large saucepan of salted water to the boil. Cook the pasta, in small batches, for 1-2 minutes.
Transfer to a bowl as you go, and drizzle a little olive oil over the pasta to stop the noodles sticking together.
 To make the caramelized onion: Heat the oil in a frying pan over low heat. Add the onions and a good pinch of salt and cook very slowly for at least 20 minutes, until soft and golden.
Add the sugar and cook a further 5 minutes, until sticky and caramelized.
Combine all the custard ingredients in a bowl. Add the cooked pasta and mashed squash, and mix well.
Line a 10-inch springform pan with parchment paper. Pour in half the mixture and dot with half the caramelized onion and roughly a third of the cubed squash. Repeat with the remaining mixture, onion and another third of the squash, reserving the last third.
Cover with foil and bake for 30 minutes, then remove the cover and bake for a further 15 minutes or until firm.
Transfer to a platter, garnish with the remaining squash cubes and slice into wedges to serve.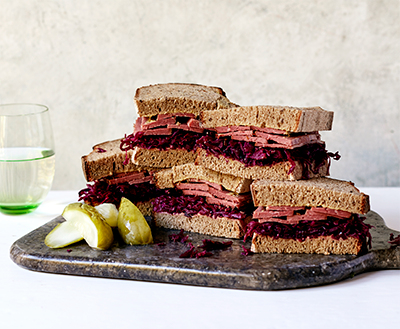 MISS RUBEN'S PASTRAMI
At Miss Ruben's, cooking pastrami is a three-day process, but this recipe reduces the steps and cooking time so you can easily make it at home (although the sauerkraut still needs to be made five days in advance). Serve the pastrami warm, piled on rye bread with pickles, sauerkraut and mustard, or with potato salad, slaw and all the trimmings. You won't be disappointed.
1 tablespoon black peppercorns
1 tablespoon white peppercorns
1 1/2 tablespoons coriander seeds
3 teaspoons cumin seeds
1 tablespoon light brown sugar
2 teaspoons salt
3 pounds 5 ounces corned beef
2 tablespoons American (yellow) mustard
Pickled cucumbers, to serve
Rye bread, to serve
Mustard of your choice, to serve
Red sauerkraut
1 medium red cabbage, about 2 pounds 3 ounces, finely shredded
1 teaspoon rock salt (or kosher salt)
2 teaspoons caraway seeds
1/4 bay leaf
1 juniper berry
Make the sauerkraut: Put the cabbage in a large bowl. Using a spice grinder, blend together the rock salt, caraway seeds, bay leaf and juniper berry.
Sprinkle the salt mix over the cabbage and massage well until the cabbage has softened. Cover with plastic wrap and leave to stand overnight at room temperature.
The next day, massage the cabbage again and transfer it with its liquid to a sealed airtight container. Leave the sauerkraut to ferment for 5 days at room temperature, opening the container to air for a few minutes every couple of days.
Transfer it to the refrigerator to stop the fermenting process.
Make the pastrami: Preheat the oven to 340°. Grind the peppercorns, coriander and cumin seeds in a spice grinder or mortar and pestle. Mix with the sugar and salt.
Using a pastry brush, spread the brisket with mustard, then sprinkle with the spice mix, ensuring the meat is evenly coated.
Place the brisket on a wire rack set over a roasting tray. Roast in the oven for 4 1/2 hours. Wait for it to cool slightly before slicing thickly.
Serve the pastrami sliced and still warm, thickly layered on top of the sauerkraut and pickled cucumber, between slices of rye bread with mustard.