Once Upon a Chef, From Blog to Book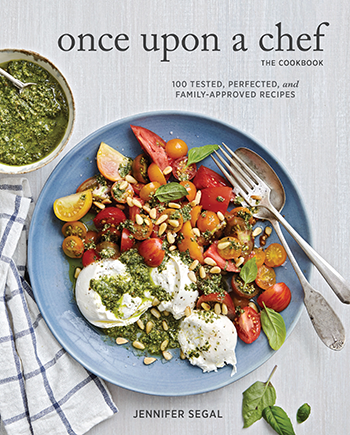 We all know the drill: Nurture a successful food blog by adding consistently beautiful pictures and recipes worth filing away, attract a gaggle of loyal followers—then sign a cookbook deal. Sounds easy, no? We hear this story often enough, but it is rarely mentioned what kind of work and dedication goes into such a project. Jennifer Segal, 44, the Maryland-based chef, mom of two teenagers and the driving force behind the blog Once Upon a Chef, has hit this coveted milestone after nine years of diligent blogging, releasing a cookbook of the same name.
The edge that Segal has over other bloggers-turned-cookbook-authors is her formal training as a chef. She is not home-taught. "In each recipe, I try to parlay what I've learned in culinary school and restaurant kitchens in a practical way," she tells me. "[On my blog], I try to explain the hows and whys of cooking, without getting too bogged down in the science of it all, so that readers can become better, more intuitive cooks, one recipe at a time." She then adds the kicker, the reason she believes her blog has enjoyed the success it has: "For me, a recipe can't just be good—it has to be good enough to write home about. It has to be that slam-dunk recipe that you can't wait to make again and again."
With her philosophy of "delicious and doable" in mind—simple but delicious meals that use easily accessible ingredients and don't take hours to pull together—Segal strives to make gourmet cooking palatable to the everyday cook who shops at her local, big-box supermarket.
Segal, who was raised in an unaffiliated, alternative Jewish community and household, showcases Jewish influences on her blog as well as in her book. Beyond her modern American fare and recipes from different cultures—think Asian grilled beef satay in peanut sauce, and plenty of nonkosher recipes—she also features many dishes that reflect her Judaism.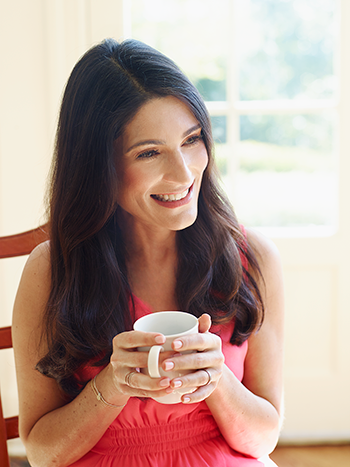 "My culinary training is French," the chef says, "and I love to explore food from all different cultures. But Jewish foods—especially the holiday classics—are near and dear because they are my comfort food, and they are so rich in symbolism.
"In my twenties," she continues, "I spent a month travelling around Israel and have returned twice—most recently for my kids' b'nei mitzvah. Each time, I have been so inspired by the country's wonderful and eclectic cuisine. Some of those Mediterranean-inspired recipes appear in the book as well, like my favorite Middle Eastern Chopped Salad and Persian Beef Kofta."
Her recipe development is a process that seems backward, but in reality shows just how passionate and knowledgeable she is. "I write the recipe based on my assumptions before I ever start cooking," she confesses. "And then I hit the kitchen to test my theories. Sometimes I nail a dish on the first try; other times, it takes me an entire week to get it right. Once I have a dish perfected, I make it a few more times to be sure it's foolproof. Finally, I ask myself the same two questions: 'If I owned a restaurant or bakery, would I put this on the menu,' and 'am I excited to share this recipe with my readers?' If the answer is yes to both of those, I consider it done."
Having tested several recipes from her cookbook, I can confirm that they are instant favorites. Case in point, a cinnamon-swirl breakfast bread that I have made three times in two weeks. Not overly sweet lemon squares that set up perfectly were just fantastic. And I recommend Segal's kid-friendly chicken tenders recipe using a Southern fried chicken technique frequently found in restaurants, which can be made kosher by substituting coconut cream for buttermilk.
Other recipes to try: Homemade Tortilla Chips with Chunky Pea Guacamole with Roasted Jalapeños; Cedar-Planked Salmon with Ancho-Brown Sugar Spice Rub; Smoky Barbecued Chicken Breasts with Homemade Sweet & Tangy Barbecue Sauce; and delicious, user-friendly desserts like No-Churn Cheesecake Ice Cream with Graham Cracker-Pecan Crumble.
Here are some of Segal's Jewish-inspired recipes from the book and blog: a Moroccan-spiced fruity brisket; cream cheese salmon spread to generously shmear on your bagel; and a Chocolate Croissant Bread Pudding that would work well with Israeli-style chocolate rugelach pastries.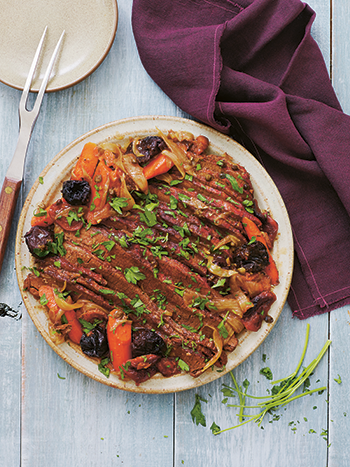 Moroccan-Style Brisket with Dried Fruit & Capers
Serves 8
For years, I made Nach Waxman's "most-Googled brisket recipe" for every Jewish holiday. My family loved it, but eventually we all got tired of the same ol' same ol'. One year, I decided to mix things up a bit and give the recipe a Moroccan twist. I added Middle Eastern spices, dried fruit, and capers, and everyone thought it was a wonderful twist on the original.
The ingredient list looks long, but don't let that scare you off; it's really just a lot of spices. Plus, you can make it days ahead of time—in fact, you should, because the flavor improves the longer it sits. This dish is so abundant and impressive looking, you can keep the sides simple: some couscous and a green vegetable and your holiday dinner is done.
One 4- to 6-lb flat-cut brisket
1 heaping Tbsp kosher salt
1 tsp freshly ground black pepper
1 1/2 Tbsp all-purpose flour
3 Tbsp vegetable oil
5 medium yellow onions, cut into slices ½ in [12 mm] thick
2 tsp packed light brown sugar
2 tsp paprika
1 1/2 tsp ground cumin
1 1/4 tsp ground ginger
3/4 tsp ground coriander
3/4 tsp ground cinnamon
1/4 tsp cayenne pepper
2 Tbsp tomato paste
5 garlic cloves, roughly chopped
6 carrots, peeled and quartered on the diagonal
14 dried apricots
12 pitted prunes
2 Tbsp capers, drained
1/4 cup chopped fresh Italian parsley
Preheat the oven to 350°F and set an oven rack in the middle position.
Season the brisket on both sides with the salt and pepper. Lightly dust with the flour, turning to coat both sides evenly.
In a heavy flameproof roasting pan or ovenproof enameled cast-iron pot just large enough to hold the brisket, carrots, and dried fruits snugly, heat the oil over medium-high heat. Add the brisket to the pan, fatty-side down, and sear until browned, 5 to 7 minutes. Using a pair of tongs and a large fork, flip the brisket over and sear the other side in the same manner.
Transfer the brisket to a platter, and then add the onions to the pan. (If the pan seems dry, add a few tablespoons of water.) Cook, stirring occasionally with a wooden spoon and scraping up any browned bits stuck to the bottom of the pan, until the onions are softened and golden brown, 10 to 15 minutes.
Add the brown sugar, paprika, cumin, ginger, coriander, cinnamon, and cayenne to the onions and cook, stirring constantly, for 1 minute more. Add 1 cup [240 ml] water and scrape up any browned bits from the bottom of the pan.
Remove from the heat and place the brisket, fatty-side up, and any accumulated juices from the platter on top of the onions. Spread the tomato paste evenly over the brisket, and then scatter the garlic around it. Cover the pan very tightly with heavy-duty aluminum foil or a lid, transfer to the oven, and cook for 1 1/2 hours.
Carefully transfer the brisket to a cutting board (leave the oven on). Using an electric or very sharp knife, cut the meat across the grain on a diagonal into thin slices (aim for 1⁄8 to 1/4 in thick). Return the slices to the pot, overlapping them at an angle so that you can see a bit of the top edge of each slice. The end result should resemble the original unsliced brisket leaning slightly backward. Scatter the carrots, apricots, prunes, and capers around the edges of the pot and baste with the sauce; cover tightly with the foil or lid and return to the oven.
Lower the heat to 325°F and cook the brisket until it is fork-tender, 1 3/4 to 2 1/2 hours. Transfer the brisket to a serving platter, and then sprinkle with parsley. If you're not planning to serve the brisket right away, let it cool to room temperature and then cover and refrigerate until ready to serve.
MAKE AHEAD: The brisket can be made up to 3 days ahead of time and refrigerated. Reheat the brisket in a 300°F oven until hot, about 45 minutes. Brisket also freezes well for up to 2 months; just be sure to defrost in the refrigerator 2 days ahead of time.
SOURCING SAVVY: Butchers typically sell two types of brisket: flat cut and point cut. These two pieces together make up a full brisket, a large slab of muscle from the steer's chest. The point cut has more marbling, while the flat cut (also called "first cut" or "center cut") is lean but topped with a thick fat cap. This recipe calls for a flat-cut brisket. Don't let your butcher trim all the fat off! A small fat cap bastes the meat, adding flavor and keeping it from getting dry and tough. You can trim any excess fat off of the brisket and skim the fat off the gravy once it's cooked.
PRO TIP: If the sauce seems greasy, transfer the meat and vegetables to a platter and cover with foil to keep warm. Pour the sauce into a bowl and let sit until the fat rises to the top. Using a small ladle, spoon out the fat. Pour the skimmed gravy back over the meat.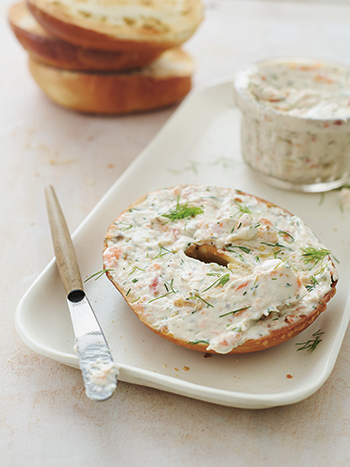 Smoked Salmon Spread
Makes about 2 cups
There's A Hole‑in-the-Wall bagel shop that we go to whenever we visit Michael's family in New York. They make the most authentic New York bagels—big and puffy with a shiny crackled crust—and their creamy smoked salmon spread is even better. I came up with my own version of the spread so we could enjoy it at home without having to drive 250 miles. Naturally, it's great on bagels, but it also makes a delicious dip with crackers and cocktails. Now, if only I could replicate those New York bagels!
8 oz cream cheese
1/4 cup sour cream
1/4 cup mayonnaise, best quality such as Hellmann's, Best Foods, or Duke's
1 Tbsp fresh lemon juice, from
1 lemon
2 Tbsp capers, drained
1/4 tsp Tabasco sauce
4 oz smoked salmon, roughly chopped
2 Tbsp chopped fresh dill
2 Tbsp chopped fresh chives
Salt (optional)
In a food processor fitted with the steel blade, combine the cream cheese, sour cream, mayonnaise, lemon juice, capers, and Tabasco; pulse until blended. Add the salmon, dill, and chives and pulse, scraping the sides of the bowl as necessary, until the salmon is finely chopped. Taste and add salt, if necessary (I usually add about 1⁄4 teaspoon, but it depends on the saltiness of the salmon).
MAKE AHEAD: This spread can be made up to 2 days ahead of time and refrigerated. However, it gets quite firm when cold, so let it sit out at room temperature before serving; otherwise it will be hard to spread.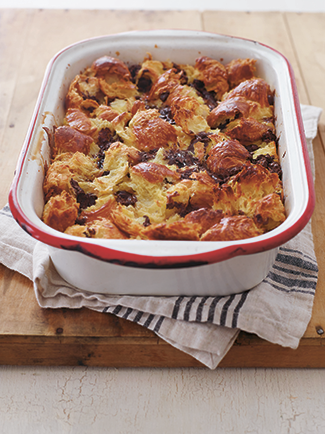 Chocolate Croissant Bread Pudding
Serves 10 to 12
Given its origin as a way to use up stale bread, bread pudding is usually thought of as a thrifty, humble dessert. But this recipe for flaky croissants baked in bourbon-spiked custard with pockets of melted chocolate is decadent in every way. And yet it's almost absurdly easy to make: you simply whisk the custard, pour it over the croissants and chocolate, let soak, and bake.
Though there's bourbon in the recipe, the bread pudding does not have a boozy flavor. I recommend it for depth of flavor, but for those who avoid alcohol, it's fine to replace the bourbon with coffee or more half-and-half.
3/4 lb croissants, torn into 1‑in chunks
4 oz semisweet chocolate, chopped into small pieces
5 eggs
3 cups half-and-half
1 cup sugar
1 tsp vanilla extract
1/4 tsp salt
1/4 cup bourbon
Vanilla ice cream, for serving (optional)
Generously butter a 9-by-13‑in baking dish. Place the torn croissants in the dish. Scatter the chopped chocolate over the top and toss gently with your hands to mix.
In a large bowl, whisk the eggs until lightly beaten. Add the half-and-half, sugar, vanilla, salt, and bourbon; whisk until well combined.
Pour the custard evenly over the croissants and chocolate. Cover and refrigerate for at least 1 hour or up to 24 hours to allow the croissants to soak up the custard.
Preheat the oven to 350°F and set an oven rack in the middle position.
Cover the dish with aluminum foil and bake for 25 minutes. Remove the foil and continue baking until the top is golden and the center is set, about 20 minutes more. Spoon into bowls and top with vanilla ice cream, if desired.
HEADS UP: The bread pudding needs to chill for at least 1 hour or overnight before baking, so plan accordingly.
SOURCING SAVVYWhen a recipe calls for chopped semisweet chocolate, it can be tempting to save time and substitute chocolate chips. However, chocolate chips and chocolate are not always interchangeable in recipes. Chocolate chips are made to hold their shape when hot and to harden when cooled—a plus for chocolate chip cookies, but not always for other desserts.
All Recipes Reprinted from 'Once Upon a Chef' by Jennifer Segal with permission by Chronicle Books, 2018