A Very Israeli Barbecue, with Hummus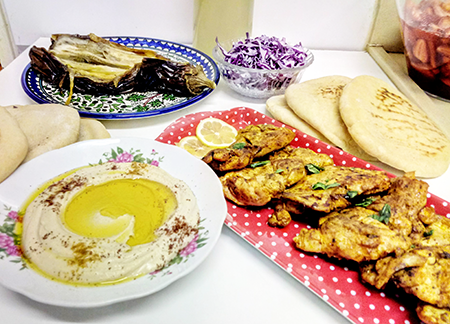 Independence rituals practiced around the globe are surprisingly universal, whether they ring in July 4th, Bastille Day or Yom Ha'atzmaut. Celebrants use fireworks and barbecues, for example, to mark these auspicious occasions. Since Israeli Independence Day—Yom Ha'atzmaut, which falls on April 19 this year—comes at a time of year when the weather is warm but not yet too hot to bear, Israelis en masse head outdoors to barbecue in the country's forests or nature reserves, honoring the founding of the state with meats deliciously charred over smoky hot charcoals.
This year, as Israel turns 70, I'm thankful for my children who are growing up speaking Hebrew and eating hummus. I couldn't have imagined this future as a little girl in New Hampshire; today, I am thankful to not have to shuttle my kids to Hebrew school on Sunday mornings. At 5, my oldest has committed "Hatikvah," Israel's national anthem, to heart. He and his two younger brothers are as "blue and white" as the next kid, despite being first-generation sabras.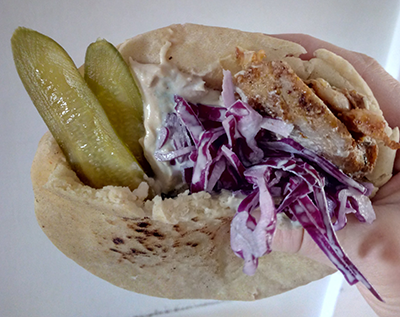 To mark Yom Ha'atzmaut, I'll be hosting a summery barbecue for my family based on a very Israeli menu with a very Israeli chicken preparation: succulent grilled "spring chicken" (which is really just boneless, skinless chicken thighs) seasoned with a special spice mix. The chicken will be stuffed into freshly baked pitas that have been slathered with rich creamy hummus and topped with a mayo-based red cabbage slaw. A side of charred eggplant drizzled with olive oil and coarse salt will round out the meal, which will be washed down with limonana (lemonade with an infusion of herby spearmint). Dessert will be a refreshing and simple fruit soup: strawberries steeped in syrup and topped with thickened non-dairy coconut cream.
B'teyavon and chag sameach!
Israeli-Style Fluffy Pita
Makes 14 pitas
American guests on my food tours often comment that the pitas in America just aren't the same as the Israeli version I introduce them to. Back in America, pita—or Syrian bread—tends to be thin and flat, as opposed to the fluffy Israeli rounds that you can sink your teeth into. Here I share my recipe for Israeli-style pita, which I have streamlined to bake quickly in the oven followed by a fast griddle in a pan for extra flavor and finish.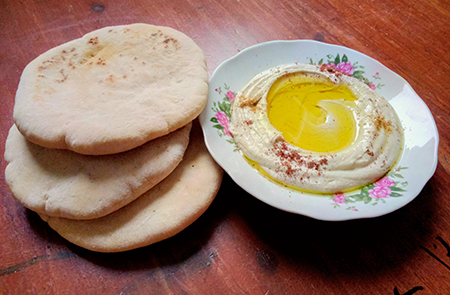 6 cups all-purpose flour
1/2 cup whole wheat flour
1 tablespoon salt
4 teaspoons instant yeast
1/4 cup olive oil
2 1/2 cups water
Combine the first 5 ingredients in a large bowl. Slowly add the water to form a dough.
Turn the dough out on a clean surface and knead until smooth (about 10 minutes).
Put dough back in your original bowl and cover with plastic wrap. Let rise a few hours, until at least doubled in size.
When dough is ready, punch down, remove from bowl, and split into 14 parts. Form each section into a ball and then flatten into a disc using the palm of your hand. Let dough discs rest about 10 minutes, to relax the gluten.
Roll each disc into a 6-inch circle. Place circles on a baking paper-lined tray (you will need a couple of trays), and let them rise for 30-40 minutes.
Preheat oven to 500 degrees. Bake one tray at a time, in the upper third of the oven, for 3-4 minutes, just until the breads inflate (this will happen in the last minute or so). Remove from oven and set aside to cool slightly under a wet dish cloth.
After a couple of minutes, heat a frying pan over high heat. Scorch the baked pitas on each side for 30 seconds to get a bit of color and char, then return to the tray and covering with the wet cloth to rest.
Eat immediately, or seal in plastic bags and store in the freezer until needed. Pitas can be defrosted one at a time by warming in the microwave for about 30 seconds.
Smooth and Creamy Hummus
Makes 4 cups
Hummus oxidizes quickly, much like avocado, so the pre-packaged spreads in the grocery store are packed with a lot of preservatives, which alters the texture and taste (for the worse). Homemade hummus made with sesame tahini is rich, creamy and smooth. This recipe is best eaten slightly warm, immediately after preparing, but will hold in the fridge for 2-3 days properly wrapped.
3 cups soaked large chickpeas (from 1 heaping cup raw chickpeas).
1 tablespoon baking soda
1 cup tahini paste
2/3 cup cooking liquid from the chickpeas pot
Juice of one small lemon
1/2 teaspoon salt
1/4 teaspoon pepper
1/4 teaspoon granulated garlic
Pinch cumin (optional)
Boil the chickpeas with baking soda in a pot filled with water that covers the beans by about 2 inches. Cook until very tender. (Beans should mash to a purée when you squeeze them, and the skins should have mostly slipped off into the water, though this may not be the case for smaller chickpeas.) Turn heat off and let the chickpeas cool slightly, then remove them with a slotted spoon.
Pulse chickpeas in a food processor with half of the cooking liquid to form a thick purée. Add the rest of the ingredients, including the remainder of the cooking liquid as needed, and continue to process until well blended. It should be the consistency of a thick puréed soup, and will continue to thicken up as it cools.
Push the hummus through a mesh strainer with medium sized holes, using a rubber spatula over a large bowl (you can also use a fine mesh strainer, but it will take more effort). Adjust seasoning and texture (by whisking in more cooking liquid or water if necessary.)
Immediately place plastic wrap directly over the surface of the hummus to prevent oxidation, and for storing. Serve immediately, or slightly warmed from the fridge.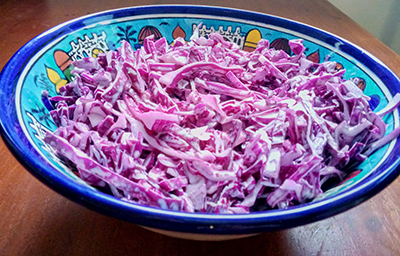 Red Cabbage Slaw
1 medium red cabbage
1/4 cup sugar
1/3 cup mayonnaise
1 teaspoon apple cider vinegar
Salt, pepper and garlic to taste
Break down cabbage into small wedges. Discard any outer leaves that may be damaged or wilted. Finely slice and place cabbage in a large bowl.
Add sugar, mayonnaise, vinegar and seasoning, and mix to combine. Taste and adjust seasoning. Let salad marinate for at least 1 hour before serving.
Israeli Spring Chicken Spice Mixture
Makes about 1/2 cup
Typically sold as a red-hued spice blend, this version is based on the secret 30-year-old recipe my "spice guy" in the Haifa open-air Talpiot Market sells in his shop. He allowed me to share his secret mix with you, provided I don't show any Hebrew speakers or sell it to local businesses, so you know it's gotta be something special!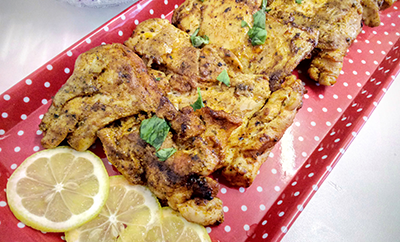 3 tablespoons plus 2 teaspoons sweet paprika
3 tablespoons ground coriander
3/4 teaspoon black pepper
1 teaspoon granulated garlic
1 teaspoon onion powder
1 1/2 teaspoon salt
2 teaspoons dried parsley
2 teaspoons dried basil
1/2 teaspoon ground cumin
1/4 teaspoon turmeric
Mix all the spices together into one even mixture, and store in your spice cabinet for future use.
Grilled Spring Chicken
Makes about 10 pieces of chicken, depending on packaging
3 pounds boneless chicken thighs
2/3 cup olive oil
2 tablespoon plus 2 teaspoons spice mixture
Juice of half a lemon
Combine chicken, oil and spices, and let marinate for at least 4 hours. Squeeze a bit of lemon juice over the chicken, and grill for 3-4 minutes on each side over medium-high heat. Chicken is done when the chicken gives no resistance when pierced with a toothpick in the thickest spot.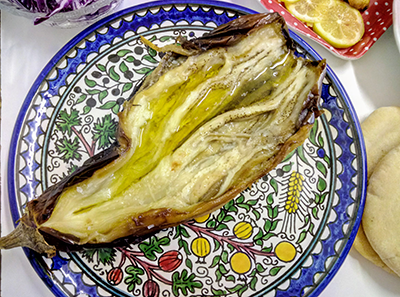 Pan- or Grill-Charred Eggplant
Serves 8 to 10
Simplicity and high-quality ingredients often produce the best dishes. This one features only three ingredients: Eggplant, olive oil and coarse salt, but the devil is in the details, and in this case charring the eggplant on a stove-top grill pan or open flame creates more flavor than you could ever imagine possible, resulting in a smoky finish.
4 large, firm eggplants
Olive oil
Coarse salt
Wash eggplants and grill, unseasoned and whole, over an open flame or on a grill pan for 15-17 minutes, turning every few minutes to achieve an even char. The eggplant is done when it is soft to the touch all over, with skin that has begun to crack and flake off.
Let eggplants cool, then split in half with a knife, drizzle with olive oil and sprinkle with coarse salt. Serve at room temperature.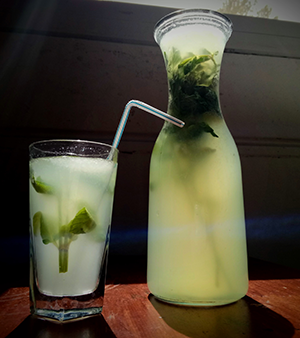 Not-Too-Sweet Limonana (Spearmint-Infused Lemonade)
Makes about 7 cups
Have you heard about softly fragrant Israeli spearmint? Sold in great big bunches at produce stores and markets, Israelis use the fresh green herb called nana in salads, on fish and to make tea, but they also infuse their lemonade with it. This version is tart and slightly sweet, making it a refreshing palate cleanser during a rich grilled meal.
3/4 cup sugar
6 cups water, divided
Small bunch nana (spearmint)
1 1/4 cup fresh squeezed lemon juice
Fresh spearmint stalks for the serving pitcher
Make syrup by boiling the sugar, 1 cup water and washed spearmint together until the sugar dissolves completely and the liquid thickens slightly. This happens in just a couple of minutes, so don't leave it unattended.
Let syrup cool to warm, then pour into a large serving pitcher. Cover with 5 cups cold water and fresh squeezed lemon juice. Stir to combine, and add a few stalks washed spearmint for garnish and additional flavor. Chill completely before serving.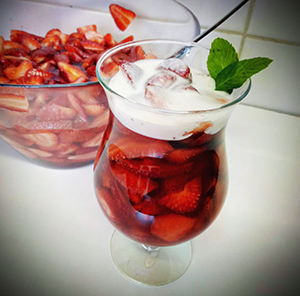 Strawberry Dessert Soup
Serves 10 to 12
The end of strawberry season in Israel means an abundance of the juicy red fruit at bargain prices. Steeped in a simple sugar syrup and topped with slightly thickened non-dairy cream, strawberries form the basis for a refreshing dessert soup.
4 pounds strawberries
2 1/2 cups sugar
2 1/2 cups water
Small bunch Mediterranean spearmint (optional)
1 can thoroughly chilled coconut cream
1/4 cup powdered sugar
1 teaspoon vanilla extract
Make a syrup by combining sugar, water and spearmint (optional) in a medium saucepan and cooking over medium-high heat until the sugar completely dissolves. Set aside to let cool.
Wash, destem and thinly slice strawberries. Place in a large bowl.
When syrup has cooled, pour over strawberries. Let steep in the refrigerator for 4-6 hours. During this time, also chill the can of coconut cream.
Before serving the soup, remove the coconut cream from the fridge and whip in a stand mixer with powdered sugar and vanilla, until thickened but not stiff. Top the strawberry soup with coconut cream.