A Sunrise Picnic High Atop Masada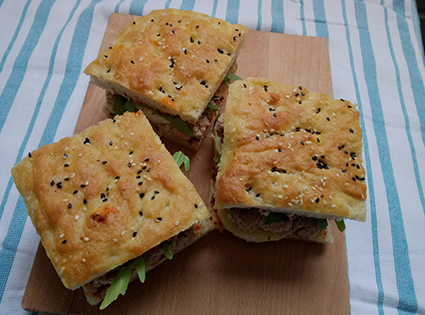 There's a special thrill that comes with rising early in the morning—when the sun has yet to break the dawn and most Israelis' still lie snug in their beds—to drive into the desert, passing silhouettes of darkened palm trees and camels as you prepare to hike up an ancient fortress mountain and partake in a rustic picnic.
As many have done before us, a couple of years ago my husband and I gathered a group of friends to trek up Masada—Herod's desert palace-cum-fortress built into a mountainside in the Negev Desert—to celebrate his 30th birthday. The tradition among most Israelis is to climb the notoriously hot mountain in the early morning hours when the night sky still blankets the desert, and when the temperature is more bearable. Approximately 90 minutes later—if the timing works out for your group—hikers arrive at the top as the sun is rising over the whale-shaped Dead Sea below.
A picnic breakfast on the mountaintop is another tradition as well as a refueling reward for climbers, who plop down on a rock, exhausted from the relentless uphill journey.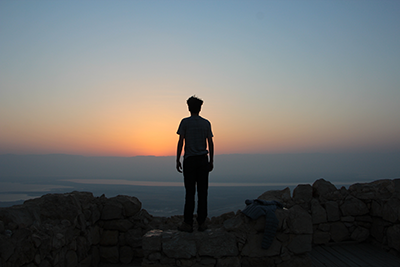 In theory it seems doable to climb Masada with a hearty sandwich stowed in your backpack, but the reality is less appealing when you finally unwrap your carefully constructed creation to find it has been squished to oblivion—or even worse, has become soggy. With this in mind, and in the interest of creating a sandwich that would hold up for several hours, I created a sturdy base by using a homemade, no-knead focaccia bread, which resists sogginess from wet sandwich spreads or fillings. And, focaccia is a bread that doesn't easily become stale, due to ample amounts of olive oil. For this sandwich in particular—a Tunisian fricassee with tuna, hardboiled egg, boiled potato, roasted pepper spread and arugula—the olive oil-soaked focaccia is likewise homage to the type of fried Tunisian bread the sandwich is conventionally served on.
Prepare tabbouleh as your herb-packed side dish full of protein-rich bulgur wheat, a salad that comes together in a mere 15 minutes. Dessert is a cookie made with another superfood—tahini—in a riff on the classic American peanut butter crisscross cookie that comes lightly rolled in sugar and dotted with chunks of halva and white chocolate chips. A high calorie meal, no doubt, but one that has been rightfully earned with a climb up Masada (so don't take the cable car!). Life is good!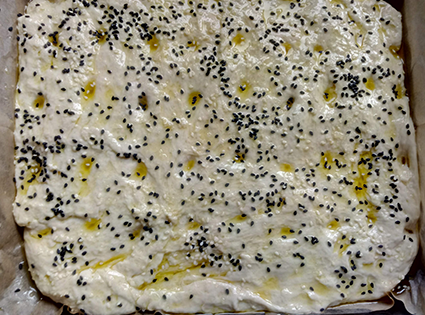 Sesame Focaccia
Makes enough bread for 6 sandwiches
This recipe is as simple as bread gets. Just mix the ingredients together, cover and let rise for an extended amount of time. This dough has a batter-like consistency and is easy to just dump into a lined pan and bake.
4 1/2 cups bread flour (can substitute all-purpose)
1 3/4 teaspoons salt
1 teaspoon yeast
Heaping tablespoon sugar
1/4 cup olive oil plus 4 tablespoons, divided
2 cups water
1/2 teaspoon each of black and white sesame seeds, for sprinkling
1/2 teaspoon coarse salt for sprinkling
In a large bowl, mix all ingredients (except for the 4 tablespoons olive oil, sesame seeds and coarse salt) with a spatula.
Pour 2 tablespoons olive oil evenly over the mixed dough, and wrap top of bowl with plastic wrap. Let dough proof for 5-6 hours, until puffed to about 3 times its original volume. This can be done overnight, or for a longer amount of time (8-12 hours), by placing the covered bowl in the refrigerator.
Line a 13-inch by 9-inch baking sheet with parchment paper, and scoop the dough into the pan. Drizzle with the remaining 2 tablespoons olive oil, then press even lines of finger indentations throughout the dough.
Sprinkle evenly with sesame seeds and coarse salt. Let rise for 1 hour, or until nearing the top of the pan.
20 minutes before baking, preheat the oven to 475 degrees. Bake focaccia for 20-25 minutes, until golden brown and hollow-sounding when rapped on the bottom with your fingers.
After removing from the oven, place pan on a cooling rack. After 10 minutes, flip the focaccia out of its pan to continue cooling on the rack.
Once cool, wrap tightly and freeze until using, or slice into 6 even parts, and then split each part into two slices.
Tunisian Sandwich
Makes 6 sandwiches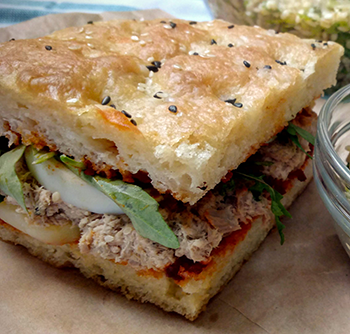 A sandwich that arrived in Israel with North African immigrants, this is widely known as a "fricassee" sandwich or roll. Usually stuffed with all kinds of goodness and smeared with hot harissa spread, this one keeps the major elements untouched (tuna, hard-boiled egg, boiled potato) and tones down the heat in favor of a roasted red pepper spread. Preserved lemon is swapped out for a hint of zest.
1 recipe focaccia bread (above)
1 small jar prepared roasted red pepper sandwich spread
TUNA MIXTURE
4 eggs
2 large potatoes, for boiling
4 cans tuna packed in oil, preferably light tuna and not albacore, drained completely of oil
1/3 cup mayonnaise
Freshly ground black pepper
Garlic powder to taste
1 small package arugula
Pinch finely grated lemon zest
Place whole eggs and whole peeled potatoes in a medium pot and fill to cover with water. Bring to a boil, then lower heat and simmer for 15 minutes. After 15 minutes, remove the hard-boiled eggs with a slotted spoon and place in a bowl. Run cold water over the eggs to shock them.
Continue simmering the potatoes for an additional 10 minutes, or until fork tender. Spill the water from the pot and place potatoes in a bowl to cool slightly. Once cooled, peel the boiled eggs, then place both the eggs and potatoes in the fridge to chill until cold. This will make them easier to slice.
Meanwhile, prepare the tuna mixture by mashing the canned tuna with the mayonnaise and black pepper and garlic powder, to taste. Wash and spin dry the arugula in a salad spinner.
Assemble the sandwich: Spread each side of the sliced focaccia with about 1 tablespoon of red pepper spread. Top with 2-3 thick slices of boiled potato, tuna mixture, 2-3 slices of hard-boiled egg, a few leaves of arugula and a small pinch of finely grated lemon zest. Wrap tightly and keep in the fridge until serving.
I learned how to make tabbouleh from the Druze women at my baking school. A staple in their culture, each day they would bring pre-cooked bulgur wheat and large amounts of vegetables and herbs to chop, to make one big salad. This recipe is based on those memories.
3/4 cup uncooked bulgur wheat
1 cup packed fresh parsley, destemmed, washed, spun dry and chopped very finely
1/2 cup fresh spearmint, destemmed, washed, spun dry and chopped very finely
5 stalks green onion, chopped finely
2 Persian cucumbers, chopped finely
6 large cherry tomatoes, or one medium regular tomato, chopped finely
1/4 cup olive oil
Juice of 1/4 medium lemon, or more to taste
Salt and pepper, to taste
Rinse bulgur wheat in a fine mesh strainer, shake dry, then place in a medium bowl. Set strainer aside to be used again.
Add boiling water to the bowl until just covering the bulgur wheat, then cover with plastic wrap and let steep 15 minutes. At this point, check to see if the bulgur is done by sampling a few grains; it should be chewy but not soft, and not crunchy. Depending on how coarse it is, it could need a few extra minutes to steep. Not all the water will be absorbed.
While bulgur is steeping, prepare and chop the herbs and vegetables. Place in a large bowl.
Once fully cooked, drain the bulgur of excess water in the reserved strainer, rinsing with cold water to cool.
Add the bulgur to the chopped herbs and vegetables, and add olive oil, lemon juice, salt and pepper. Taste and adjust seasoning. If making in advance, keep chopped tomatoes and cucumbers in a separate bowl from the rest of the salad, and add just before serving.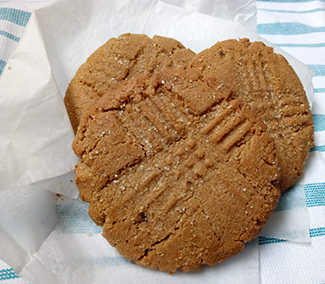 Halva and White Chocolate Chip Tahini Cookies
Makes 23 large cookies
Did you know that tahini and peanut butter can be substituted for each other in many baking recipes? This tahini cookie is adjusted from a classic American peanut butter cookie recipe. Its edges are slightly crunchy, while the middle remains soft. And while it's crumbly texture is ideal for chasing with a glass of milk, you might want to travel with these cookies in a hard plastic container to ensure they arrive in one piece.
3 cups all-purpose flour
1 teaspoon baking soda
1 teaspoon salt
1 small bar of halva candy, chopped into small chunks (optional)
1 cup butter, cut into chunks
1 1/4 cups dark brown sugar
1 cup sesame tahini
1 tablespoon vanilla extract
1 large egg
1 cup white chocolate chips
1/2 cup sugar for sprinkling
Preheat oven to 350 degrees. In a medium bowl, combine flour, baking soda and salt. Set aside.
Chop halva into small even chunks and set aside.
In a mixer, combine butter and brown sugar until fully incorporated, then add the tahini and mix until incorporated. Add vanilla extract and egg and mix to combine.
Add entire flour mixture at once and mix until a dough forms. Add halva and white chocolate chips and mix until just incorporated.
Using a 1/4 cup ice cream scoop, portion out cookies (this will take 3-4 batches, depending on your tray size).
Roll dough into balls and flatten with the palm of your hand. Using a fork, make a crisscross pattern across the cookie, and sprinkle with a small amount of sugar for decoration.
Bake cookies for 10-12 minutes. Do not overcook to ensure a moist center. Once cookies come out of the oven, let cool on the tray for a few minutes before transferring to wire racks to cool completely.