Falafel Gets a Healthful Makeover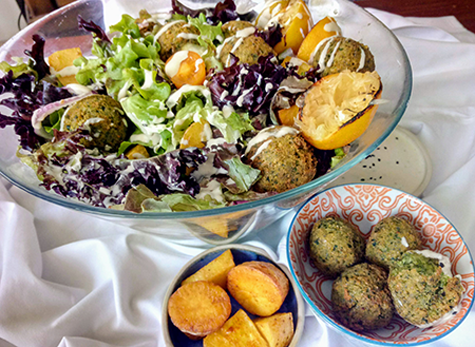 On the streets of Haifa, balls of ground chickpeas and green herbs are haphazardly plunked into sizzling hot oil—fearlessly released from a special handheld shaping tool—by falafel proprietors who have been doing this their whole lives. The balls are fried until golden brown, then stuffed into pillowy pitas at record speed. Next, the falafel is squished down by the back of a hand in order to accommodate a dizzying array of toppings—hummus, salads, pickles, a river of tahini sauce, maybe even the indulgent "chips" (French fries).
At home, falafel feels like more of an ordeal to produce, and what about all that frying? Falafel must be terribly unhealthy, right? Believe it or not, if your oil is hot enough, deep-fried foods soak up less fat than those that are pan fried (the hot oil creates a hard crust that acts as a barrier to soaking up excess oil). Further recommending falafel, these balls consist of nutritionally beneficial chickpeas and fresh green herbs that are loaded with vitamins and iron. And the Israeli street-food favorite can be made even healthier and lower carb by replacing the pita bread with a salad base.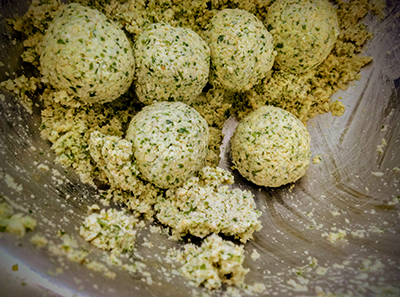 One of my favorite falafel toppings is French fries, despite the fact that in Israel, they are often overly greasy and under-fried. With healthier eating in mind, for my falafel salad I substitute oven-fried potatoes, a simple preparation that I use regularly for Shabbat. Really, this type of "frying" is essentially roasting, and it's a technique I employ for many vegetables—cutting them into chunks, drizzling with olive oil and spices, then roasting in a hot oven for a little over 30 minutes.
The dressing for this falafel salad is tahini-based, in a nod to the current of tahini sauce flowing on top of most every falafel in Israel. Grilling a lemon or two briefly in a frying pan before adding it to the tahini sauce brings a slightly charred flavor to the dressing, which works well.
In salad form, falafel becomes the star of a luncheon party, the fried balls no longer a fast meal to be devoured while rushing off to a meeting. Here, it becomes something a bit healthier and more elegant.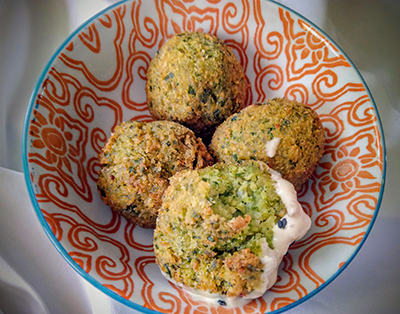 Green Falafel
Makes about 30 large balls
Made famous by Yemenite vendors who season their falafel with fresh parsley and cilantro, this mix turns green as it is processed, and feels fresher than the standard yellow version. Falafel is traditionally made out of raw chickpeas that have been soaked, but not cooked. This prevents the balls from disintegrating into the oil when fried.
1 pound large dried chickpeas, soaked overnight
1/2 medium-size onion, roughly chopped
3 small cloves garlic, chopped into quarters
1 cup roughly chopped fresh cilantro
1 cup roughly chopped fresh parsley
1 1/2 teaspoons ground cumin
1 1/2 teaspoons salt
1/2 teaspoon freshly ground black pepper
1/2 teaspoon baking powder (add this right before baking if making the mix in advance)
1/2 cup room temperature water (if storing the mixture in the fridge overnight, add another tablespoon or two just before frying)
2 quarts safflower oil, for frying
1. Miss all ingredients together except oil in a food processor until a coarse paste has formed. At this point you can keep it in the fridge overnight, tightly covered if you wish.
2. Heat oil for deep frying in a medium-size pot over medium-high heat. When the oil seems hot enough, test out a small bit of falafel. If it browns immediately, the oil is too hot. If the oil doesn't bubble around the falafel, it is not yet hot enough.
3. Form 6, 1 1/2 tablespoon-size balls, and place in hot oil. Don't fry more than 6 balls at a time, to prevent them from breaking when turning in the oil. After about 30 seconds, gently detach the balls from the bottom of the pot with the help of a slotted spoon or spatula. Fry until golden brown, about 3-4 minutes.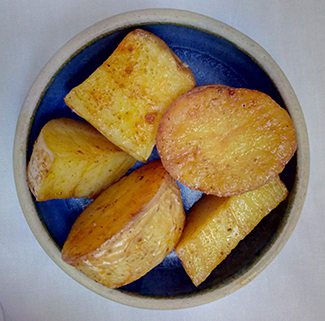 Mediterranean Oven Fries
Makes approximately 36 fries
This simple preparation can be used to roast other vegetables, including sweet potato, zucchini and cauliflower, to name a few. Make in advance and let the potatoes cool to room temperature before tossing in the falafel salad.
1 dozen fingerling potatoes, cut into thirds
1/4 cup olive oil
Salt to taste
Freshly ground black pepper to taste
1/4 teaspoon ground turmeric
1/4 teaspoon granulated garlic
1/4 teaspoon paprika
Preheat oven to 400 degrees. Scrub whole potatoes, then cut into thirds or fourths depending on size. Place on a parchment paper-lined tray, and drizzle with olive oil and spices. Mix by hand to combine, and roast in the oven for 30-35 minutes, or until fork tender.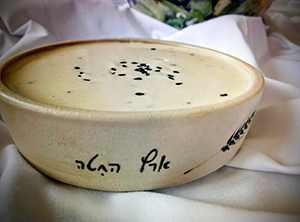 Grilled Lemon Tahini Dressing
Makes 2 cups
Tahini sauce is made by hand-whipping tahini paste with water, lemon juice and spices until emulsified. Know that before emulsification, the tahini will separate into a clumpy mess. Don't panic! In seconds, it will come back together to form a glossy sauce that can be adjusted to your taste.  
1 cup tahini paste
1 cup room temperature water
Juice of 1-2 grilled lemons (about 1/4 cup), or to taste (recipe below)
Salt to taste
Freshly ground black pepper to taste
Granulated garlic to taste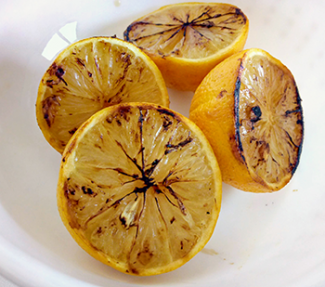 Grilled Lemon
5 small lemons, halved
In a grill or frying pan over high heat, place lemon halves fruit side down and sear until they appear caramelized and evenly browned on the bottom. Carefully remove from the pan using tongs and place on a tray to cool.
Falafel Salad
Makes 6 lunch-size servings
Being a lettuce-based salad, there is room here to play with the ingredients. After putting the lettuce mixture into individual bowls, let your guests top and dress their own portions
SALAD BASE
2 pounds mixed curly lettuce
3 cups cherry tomatoes, quartered
1 large red onion, sliced into thin rounds
SALAD TOPPINGS
Mediterranean Oven Fries
Green Falafel, cooled to room temperature
Pickles, sliced (about 2 small pickles per serving)
Banana peppers, sliced (1 small banana pepper per serving)
Grilled lemon half (1 per serving)
Grilled Lemon Tahini Dressing
Wash and dry lettuce, and place into a large bowl. Top with tomatoes and sliced onion, and mix to combine.
Distribute into 6 large individual salad bowls, then have guests assemble their own salads with the falafel balls, potatoes, garnishes and dressing.