'Little Book of Jewish Feasts' Is a Highly Curated, Slim Treasure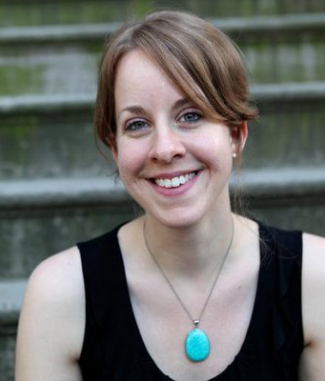 For those of us who treasured Leah Koenig's Little Book of Jewish Appetizers
, released last fall as a guide to party-style appetizers for Jewish celebrations, the food writer will be serving her main course on July 24. That will be publication day for the follow up, Little Book of Jewish Feasts
. Revisiting the theme of Jewish heritage cuisine from throughout the Diaspora, in this new title—diminutive in size but global in scope—Koenig reworks classic recipes to impress modern guests, all the time hoping to inspire a younger generation to go forth into the kitchen to start whipping up the dishes their grandparents might once have made.
"Jewish cuisine is truly global, so I try to represent and pull from across the whole spectrum of Ashkenazi, Sephardi and Middle Eastern cooking in my cookbooks," said Koenig. Never one to shy away from a culinary challenge, she describes how she discovers many of the diverse recipes she features.
"I often find recipes by talking with people at cooking demonstrations," Koenig told me. "They will come up to me and say something like, 'can you help me track down my Moroccan (or Hungarian, Greek, Iranian, etc.) grandmother's recipe for XYZ?' And that sets me on a new path of culinary discovery."
Koenig, a journalist and cookbook author whose first title was the 2011 Hadassah Everyday Cookbook, has written extensively for The New York Times, Tablet and The Forward. Always an investigative cook at heart, she seeks stories as much as recipes, which she then integrates into her everyday life as a modern Jewish cook. This becomes clear in her description of a typical Friday night meal celebrated with her family.
"When we host Shabbat dinners at home," said Koenig, "I like to compose meals that pull from across the global Jewish cannon. A typical dinner might include homemade challah served with hummus, eggplant salad and blistered cherry tomatoes, followed by roast chicken or jibn (Syrian crust-less quiche), rice pilaf with shallots, almonds and golden raisins, and a giant green salad."
Beyond the recipes, in her new "Little Book" Koenig pays special attention to the unique charm and feeling of a Jewish home, encouraging readers to embrace their family heirlooms (not everything has to be modern!). In the kitchen, she regularly dons her bubbe's homemade aprons: "They are very simply designed, but really beautiful. I like to wear them when I'm cooking for Shabbat or holidays as a way of connecting with family and history."
Koenig, who lives in Brooklyn with her husband and their young son, has a warm, easy-going and personable way about her. And despite her culinary accomplishments, she admits that she frequently relies on friends and family to help put on holiday meals, and to give feedback in the recipe-testing process for her books.
"Since my mother-in-law usually takes care of the meat mains," said Koenig, "I'll probably slip her the Little Book of Jewish Feasts' recipe for balsamic and brown sugar brisket. It is one of those effortless dishes that really stands out on the table." Sounds like a winner for Rosh HaShanah dinner!
Other unusual, delicious recipes to look for: Pesce All'Ebraica, an Italian sweet and sour fish dish; Berkuks, a North African dessert couscous made with milk; and Sofrito, the Sephardic preparation for stove-top braised chicken with fried potatoes.
The volumes in Koenig's "Little Book" series are slim, containing around 25 recipes each. The tight number of recipes, according to Koenig, reflects how "highly curated" the collections are: There are no flops here—only well-tested classics. And you can't get more classic than moussaka (here Koenig replaces the lamb with mushrooms) and the much-beloved chicken schnitzel (which Koenig prepares with poppy seeds). Feast on!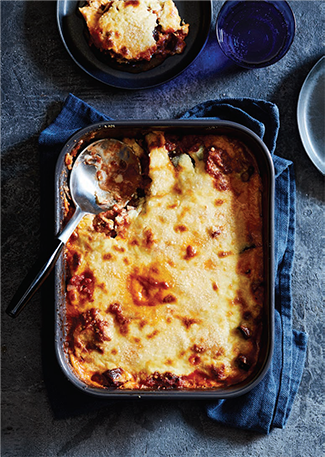 Mushroom Moussaka
Serves 8 to 10
Greek Jews are no strangers to moussaka—the rich casse­role traditionally made from eggplant and lamb and thickly layered with béchamel. But because kosher laws prohibit the consumption of milk and meat together, Jewish ver­sions of the dish tend to either skip the béchamel entirely, which is a shame, flavorwise, or make a dairy-free topping from fat, flour and stock. In this take, the moussaka's egg­plant base is paired with cremini mushrooms instead of lamb, making it completely meat-free and perfectly suited for its creamy topping. Moussaka is warming, hearty and easily transportable, making it the perfect dish for alfresco meals (remember this one for Sukkot!).
BASE AND SAUCE
1/4 cup extra-virgin olive oil, plus about 3/4 cup for greasing and brushing
4 small eggplants (about 1 pound each), peeled
Kosher salt and freshly ground black pepper
2 medium onions, finely chopped
1 pound cremini mushrooms, stemmed and cut into 1/2‑inch pieces
6 garlic cloves, minced or pushed through a press
1 tablespoon dried oregano
1 teaspoon ground cinnamon
1/4 teaspoon ground allspice
1, 28-ounce can crushed tomatoes
BÉCHAMEL
6 tablespoons unsalted butter
1/2 cup all-purpose flour
3 cups milk
1 cup finely grated parmesan cheese
Kosher salt and freshly ground black pepper
3 egg yolks
1. Make the base and sauce: Preheat the oven to 400° and generously grease two large rimmed baking sheets with about 3 tablespoons of olive oil each. Slice 3 of the eggplants into 1/2‑inch thick rounds. Arrange the eggplant slices in a single layer on the sheets, brush the tops generously with more oil and season with salt and pepper. Bake, flipping the eggplant pieces once, until softened and lightly browned, 20 to 25 minutes. Remove from the oven and set aside. Lower the oven temperature to 350°.
2. Meanwhile, chop the remaining eggplant into 1/2‑inch cubes. Heat the 1/4 cup of oil in a large sauté pan set over medium heat. Add the onions and a pinch of salt and cook, stirring occasionally, until soft and translucent, 5 to 7 minutes. Add the chopped eggplant and mushrooms, turn the heat to medium-high, and cook, stirring occasionally, until the vegetables are very tender and the liquid has cooked off, 10 to 15 minutes. Stir in the garlic, oregano, cinnamon and allspice and cook until fragrant, about 1 minute. Stir in the crushed tomatoes, 1 teaspoon salt and 1/2 teaspoon pepper. Turn the heat to medium and simmer until slightly thickened, 5 to 10 minutes. Taste and add more salt and pepper, if desired.
3. Make the béchamel: Melt the butter in a medium sauce­pan set over medium heat. Add the flour and whisk until fully combined, then slowly whisk in the milk. Simmer, whisking constantly, until the sauce thickens enough to coat the back of a spoon, 5 to 10 minutes. Whisk in about half of the Parmesan, 1 teaspoon salt and a generous amount of pepper. In a separate small bowl, whisk the egg yolks until smooth. Whisking constantly, slowly drizzle about 1/2 cup of the hot béchamel into the yolks. Turn the heat under the saucepan to medium-low and slowly whisk the tempered egg mixture back into the béchamel. Remove from the heat.
4. Assemble the moussaka: Grease the bottom of a 9-by-13‑inch baking dish. Layer half of the eggplant slices in the bottom of the baking dish and cover with half of the sauce. Layer the remaining eggplant slices into the dish and cover with the remaining sauce. Evenly pour the béchamel over the top, smoothing with a rubber spatula. Sprinkle with the remaining Parmesan.
5. Bake until bubbling and golden brown on top, 20 to 25 minutes. Remove from the oven and let stand for 15 min­utes before serving. Serve hot. Store leftovers, covered, in the fridge for up to 3 days.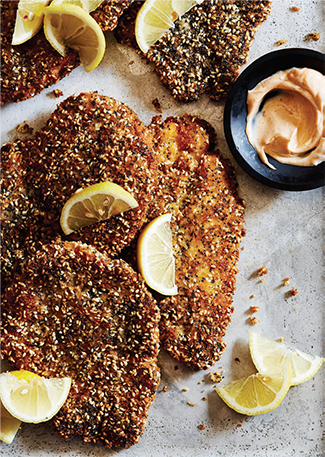 Poppy Seed Schnitzel
Serves 6 to 8
Along with falafel, sabich and shawarma, chicken schnitzel is one of Israel's most popular street foods. It is also com­monly made by home cooks, as it's a simple, satisfying main dish that can feed a crowd. The basic recipe of chicken cutlets dredged in egg and bread crumbs can be dressed up in countless ways, and on Purim, some families add poppy seeds to the mix in honor of the holiday's connection to mohn (Yiddish for poppy seed). In this version, they are joined by sesame seeds, giving the breading a delightful crunch and nutty flavor. Serve the cutlets with a squeeze of lemon, mayonnaise mixed with harissa or your favorite flavorful dip.
1 cup all-purpose flour
2 teaspoons onion powder
2 teaspoons garlic powder
1 teaspoon sweet paprika
4 eggs
1 cup panko bread crumbs
1/2 cup sesame seeds
1/4 cup poppy seeds
6 boneless, skinless chicken breasts
kosher salt and freshly ground black pepper
Vegetable oil for frying
Lemon wedges for serving
1. Stir together the flour, onion powder, garlic powder and paprika in a wide shallow bowl or small baking dish. Beat the eggs in another bowl. Stir together the bread crumbs, sesame seeds and poppy seeds in a third bowl.
2. Using a sharp knife, carefully butterfly each chicken breast, then use a meat mallet to gently pound each piece to a 1/4-inch thickness. You should end up with 12 relatively uniform pieces of chicken breast. Season the chicken pieces on both sides with salt and pepper. Dredge the chicken pieces in the flour mixture on both sides, shaking off the excess. Dip in the egg to coat, allowing the excess to drip off, then coat well with the seeded bread crumbs.
3. Heat 1/4 inch of vegetable oil in a large skillet set over medium-high heat. Line a large plate with several layers of paper towels. Working in batches, add the coated chicken pieces to the hot pan and cook, turning once, until crispy and cooked through, 5 to 6 minutes total. Transfer the chicken to the prepared plate to drain. Serve hot with lemon wedges on the side for squeezing. Store leftovers, covered, in the fridge for up to 2 days. To reheat, arrange in a single layer on a rimmed baking sheet and heat in a 400° oven until warmed through, about 10 minutes.