Red Wine-Cherry Crumble for Tu B'Av, the Jewish Day of Love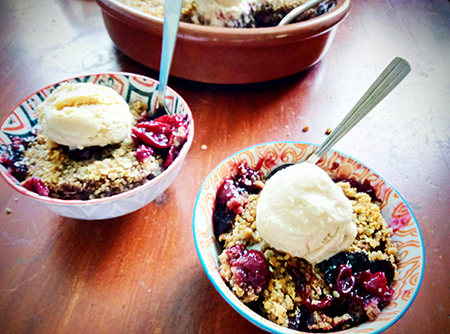 Growing up a Reform Jew in the United States, the summertime wasn't a particularly Jewish season for me. Hebrew school was out, only to regroup in September for the High Holidays. I first learned of Tu B'Av, the Jewish "love" holiday that begins this year on the evening of Thursday, July 26, after moving to Israel. Interestingly, the holiday itself took something of a hiatus between the end of the Second Temple period in 70 CE and the creation of the modern State of Israel.
Before the Second Temple was destroyed, Tu B'Av—the fifteenth of the month of Av—was a day for unmarried women to be matched with eligible men. The holiday is timed to mark the beginning of the grape harvest, and legend has it that women would take to the vineyards to dance and be noticed by a potential mate.
Much like the ancient Hebrew language that was modernized in the late-19th century, Tu B'Av underwent a revival, too. Today, in the lucrative world of commercial branding and retail, Tu B'Av has become an Israeli version of Valentine's Day—although decidedly more low key. Couples go out for a special meal, men perhaps bring home a small bouquet of flowers for their wife or girlfriend. It's not a "big" deal around here, but it's "something."
For those couples not dining out—Exhibit A, my husband and I, proud parents to three young, very energetic kids—there's no reason not to mark the occasion at home. Additionally, Haifa weather in July is hot and unbearably humid, even at night, so remaining indoors with the air conditioning blasting while admiring the beaming full moon from our living room window is far more appealing than dressing up and hitting the town.
In celebration of Tu B'Av's vineyard origins, I will be pairing a luscious Israeli red wine with another local crop now at peak season— plump, ruby-red sweet cherries. The result will be a Red Wine-Infused Cherry Crumble, an intoxicatingly sweet way to observe this ancient day of love. Since this recipe only calls for a small amount of wine (I used a 2017 Syrah wine from Galil Mountain Winery), I suggest drinking the rest of the bottle with the crumble. The pairing will highlight the subtle flavor the wine lends to the glossy cherry filling.
And about those cherries: The varieties growing in Israel are gloriously juicy specimens whose flavor blossoms when combined with a few drops of almond extract. Top with rich French vanilla ice cream—which melts into a puddle of creamy sauce when placed on top of the warm crumble—just before serving.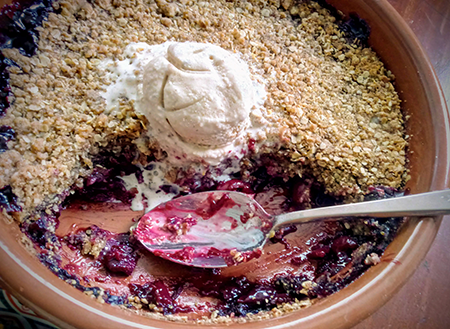 Red Wine-Infused Cherry Crumble
Makes 6 large servings
Crumble Topping:
3/4 cup quick-cooking oats
1/2 cup all-purpose flour
1/4 cup brown sugar
1/2 teaspoon salt
1/4 cup butter, cut into small squares
Cherry Filling:
2 pounds sweet cherries
1/2 cup sugar
1/3 cup full-bodied red wine
Few drops almond extract
Pinch finely grated lemon zest, optional
4 tablespoons corn starch
In a large bowl, mix together first 4 ingredients of the crumble topping. Add the butter squares and rub between your fingers until a cohesive mix forms, with uniform small chunks of butter crumble. Cover and put in fridge to chill while you assemble the cherry filling.
Preheat oven to 375 degrees. Over a medium bowl, pit cherries using your thumb and index finger, discarding the pits. If you have one, use a manual cherry pitter.
Stir the sugar, wine, almond extract, lemon zest (if using) and corn starch into the cherries, and mix to combine.
Pour the cherries into a 10-inch-round deep dish pie pan. Top with the chilled crumble topping. Bake for 40-45 minutes, or until the top is a deep golden brown, and the cherry mixture is bubbling up on the sides.
Note: If the crumble starts to over-brown during baking, cover the top with parchment paper or aluminum foil for the remainder of the cooking time.