Watermelon and Feta Salad with Basil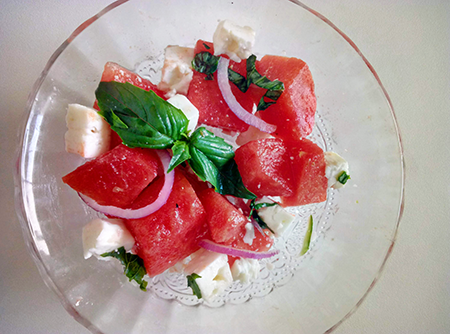 Going to the beach in Israel is an entirely different experience than spending a summer day at the Atlantic Ocean, whose bone-chillingly cold waters I am familiar with from my New England childhood. In Israel, there are no ankle aches from the cold rush of ocean surf. Rather, the Mediterranean Sea feels more like bath water—though at this time of year it may be filled with potent jellyfish.
If the appearance of dangerous sea life keeps me out of the water, I make my way to the shady promenade—tayelet in Hebrew—that runs along most Israeli beaches and nosh on a refreshing, delectable summer staple in Israel: watermelon and feta salad, largely inspired by Greek cuisine. The feta most often used here is a salty Bulgarian variety common in Israel (feel free to substitute regular feta). This salad is Israel's best version of a sweet-and-savory snack—creamy, salty, sweet and juicy all at once.
Often, Mediterranean spearmint is added for flavor complexity, but I think basil is a better idea. And while fresh basil used to be available only in the wintertime in Israel, now it seems to be on offer well into the summer months, too. Basil is unbelievably fragrant, and its scent follows me as I explore my favorite herb vendors in Haifa's outdoor market. I have taken to adding basil to almost everything—snipped over a pizza fresh from the oven; mixed into fresh pasta noodles alongside parmesan cheese and some olive oil; and as a fixing for cold sandwiches.
In this salad, basil transforms the watermelon—beloved throughout Israel—and feta cheese to arrive at a composed, almost Caprese-style salad. A simple dressing of olive oil and fresh lime juice and zest keeps the dish light and simple. This salad can be enjoyed beachside—on the scorching hot soft sand or along the tayelet—and as a side salad at your next backyard barbecue.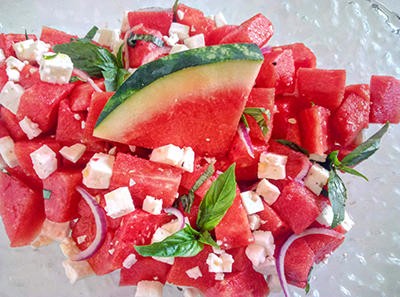 Israeli Watermelon and Feta Salad with Basil
Makes 6-8 servings
Make the salad about an hour before serving, to let flavors mingle.
5 1/2 pounds seedless watermelon, rind removed and flesh cut into cubes (about 8 heaping cups)
4 1/2 ounces feta cheese
Pinch of lime zest (about 1/4 zest from a small lime)
Juice of 2 small limes
10-15 basil leaves
1/4 medium red onion, very thinly sliced
Olive oil for drizzling
Freshly cracked black pepper, to taste
1. Prep the watermelon by washing, cutting off the rind and cutting into bite-sized cubes. Cut feta into 1/4-inch cubes and set aside.
2. Place watermelon in a serving bowl and toss with lime zest and juice.
3. Wash, stack and roll up basil leaves, then cut lengthwise into a chiffonade. Add basil to the watermelon mixture.
4. Finely slice and add the onions to the watermelon, then toss to combine; add feta. Drizzle with olive oil and top with freshly cracked black pepper, to taste. Do not toss at this stage, to avoid breaking up the feta chunks.