Late-Summer Tomatoes Make Delicious Salsa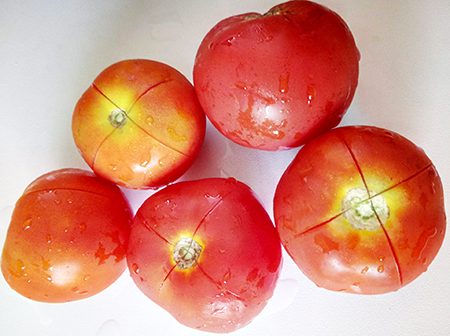 When my mother was pregnant with me, so the story goes, she routinely craved tomato sandwiches. Summertime in New England—and all down the Atlantic coast to New Jersey—means big, juicy, deep-red heirloom tomatoes, so sweet and tender that mayo, a pinch of coarse salt and some really good white bread are all you need to make them into a light summer lunch. To this day, my favorite tomatoes are the large, summer-farm-stand variety, which I put to optimal use in sauces and salsas.
Lately, I have been busy testing out a theory: What if we could make more of our food from scratch, free not only from preservatives and industrial chemicals, but also from the limitations of what stores and mass food companies offer? Making the majority of our own food is obviously time consuming. But, and hear me out, it is also liberating in that we can concoct whatever flavor we like best. Suddenly, meals become fresher and catered explicitly to our palates.
In keeping with this theory, I've been developing recipes for homemade tortilla chips and—hearkening back to those luscious late-summer tomatoes—salsas.
Regarding the chips, you can attempt a "half-homemade" version by using store-bought soft tortillas to then cut into triangles and fry.
My two salsa varieties are, I promise, relatively easy to wrap your mind around. One bonus in making your own sauces and dips is that you typically produce more volume than what comes in a small jar. And, as is so crucial with salsa, you can adjust the heat and spice to whatever you can handle—mild, medium or hot enough to make you sweat. Olé olé from Haifa!
I am not accustomed to cooking with hot peppers, though I did have the great fortune of living in Tucson, Ariz., just north of the Mexican border, for the four years of college. I have vivid memories of stopping in for a 10 A.M. meal at the only place open at that hour on campus—a Mexican restaurant called Café Sonora. There, I would always order the same thing: a bean and cheese burrito; a cold, almost frozen diet coke from their cooler; and salsa fresca—a mild pico de gallo (literally, "rooster's beak") that just means a salsa made of roughly chopped vegetables. This recipe is as close as I'll ever get to Café Sonora's, and to those hot, sleepy Arizona mid-mornings, walking back home from class.
1 1/2 pounds ripe tomatoes (about 6 small tomatoes), deseeded
1 small red onion
1 small sweet white onion
1 jalapeño pepper, or more to taste
Small bunch cilantro, about a heaping half a cup
3/4 teaspoon salt
Small pinch black pepper (1/8th teaspoon)
Pinch granulated garlic, or half clove fresh garlic
Juice of 1 lime
Finely chop the tomatoes, onions, jalapeño and cilantro and place into a medium bowl.
Dress with salt, pepper, garlic and lime juice. Combine, and adjust seasoning to taste.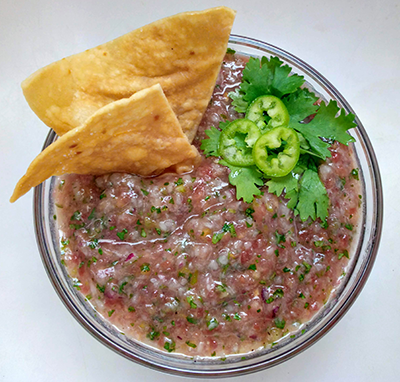 White Peach and Tomato Salsa
Makes 2 1/2 cups
Non-white peaches are a rare commodity in Israel. In my 12 years here, I have seen them only a couple of times, and so I have learned to love the subtlety of the white variety. There is something in combining peaches and tomatoes, two softly sweet summery ingredients, together in one dish that just works. Fragrant lime juice, spicy red onion, the subtle heat of a jalapeño and bright cilantro pull this blended salsa together. Choose ripe tomatoes and peaches so that the skins will be that much easier to remove.
1 pound white peaches (about 4 medium peaches)
1 pound ripe tomatoes (about 5 small tomatoes)
1 jalapeño pepper (or more if desired), deveined and deseeded (or not if you want it spicier)
1 medium white or Spanish onion
1 small bunch fresh cilantro (about one heaping half cup)
1 1/2 teaspoons salt
Pinch black pepper
Pinch granulated garlic (or ½ a small garlic clove)
The juice of one small lime
Bring a large pot of water to boil. Prepare a large bowl of cold water with ice, and set aside.
Prep the tomatoes and peaches by washing and cutting an 'x' shaped slit on the top of each fruit.
Let the fruit simmer in the boiling water for 30 seconds, then transfer directly to the cold water bath using a slotted spoon.
Once cooled, remove the skins of the tomatoes and peaches by pulling them off with your fingers. If the skin does not easily come off, repeat the simmering and cooling process.
Roughly chop the fruit and place in a food processor.
Add the jalapeño, onion and thoroughly washed and dried cilantro and pulse until coarsely chopped.
Add the salt, pepper and lime juice, and blend until desired consistency.
Homemade Flour Tortillas
Makes 14, 8-inch tortillas
These tortillas take some time to turn out, but are soft, buttery, flexible and keep for a good while. Make a large batch so that you will have extra on hand for last-minute emergency meals, like microwave cheese quesadillas or wrap sandwiches.
3 cups flour
5 tablespoons softened butter
1 teaspoon salt
1 teaspoon baking powder
1/4 cup vegetable oil
1 cup room temperature water
In a medium bowl, cut the butter into the flour by rubbing between your fingertips until coarse crumbs form.
Add the remaining ingredients and mix by hand until a rough dough forms.
Knead the dough just until smooth and let rest under a kitchen towel for 15 minutes.
Heat a frying pan on medium high heat
Cut dough into 14 pieces and, using a rolling pin, roll out one at a time, leaving the rest of the pieces under the kitchen towel so they don't dry out.
Lightly flour your work surface and individual ball of dough, then roll out the dough into an 8-inch circle, carefully stretching around the edges with your fingers if necessary to get it as paper thin as possible. It's O.K. if the tortilla sticks to the table during this process.
Gently peel the tortilla off the table and place it into the hot frying pan.
Cook for 10-20 seconds until bubbles form, then flip to the other side for an additional 10 seconds.
Transfer to a dinner plate covered by a kitchen towel. Remove any excess flour from the frying pan using a paper towel or clean cloth, and repeat the process.
Freeze between sheets of baking paper in a ziplock bag, or keep in the fridge covered for up to 1 week.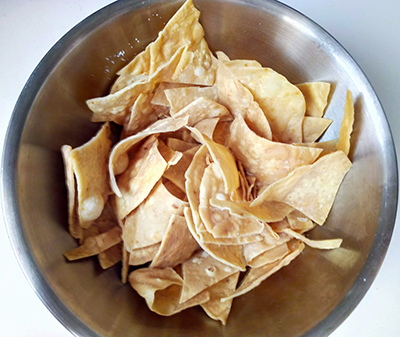 Homemade Tortilla Chips
Makes about 90 chips
10 homemade or store bough medium-sized flour tortillas
6 1/2 cups safflower or other vegetable oil
Table salt for sprinkling
Heat oil in a small pot on medium-high heat. Line a large bowl with paper towels and set aside.
Stack a few tortillas at a time and cut into chip-sized triangles.
Test the oil to make sure it is hot enough by placing a tortilla scrap in the oil. The oil should bubble up around the chip in an enthusiastic but not out of control manner.
Fry 1/4 of the cut tortillas at a time. Fry for 5-6 minutes per batch, or until chips appear golden brown.
Remove chips from the oil using a fine mesh strainer or slotted spoon, letting the excess oil drip off before transferring to the bowl you have set aside with the paper towels.
Sprinkle lightly with salt, and continue the process with the remaining tortillas.
Let cool completely and store for up to 3 days in a ziplock bag.