'Israeli Soul' Food From Master Chef Michael Solomonov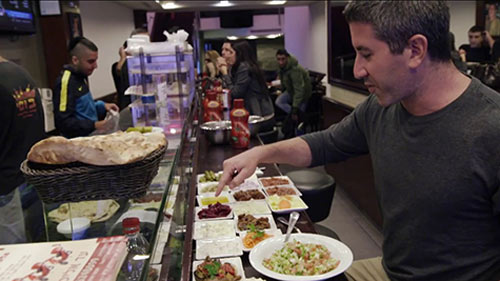 You may have heard of Michael Solomonov. For several years now, the Philadelphia-based chef has helped spearhead the global ambassadorship of Israeli food, along with such culinary luminaries as Yotam Ottolenghi, in London. You might recognize Solomonov as the hungry food wanderer at the center of the documentary film In Search of Israeli Cuisine, available on Netflix. Or you may have been lucky enough to dine at one of his six much lauded, much awarded eateries, most in Philadelphia: Zahav, Dizengoff, Abe Fisher, Federal Doughnuts, The Rooster and Goldie. In 2015, he penned the cookbook Zahav: A World of Israeli Cooking
, along with collaborator Steve Cook; the pair earned two James Beard Awards for the effort, an honor that has similarly been bestowed on chef Solomonov. His playful personality and willingness to take on his "ambassador" role in a public way has made him one of the best-known foodies pushing Israeli cuisine.
And because of this success, we've heard Solomonov's story before. From his Israeli grandmother whose recipes he recreates in his restaurants, to his younger brother, David, who was killed while fighting in the Israel Defense Forces, to his subsequent struggle with addiction. When Cook and he were ready to tackle their second recipe collection, it seemed that the time was fight for them to recede into the background a bit and let the food speak for itself. The result is Israeli Soul: Easy, Essential, Delicious
.
Filled with vibrant photographs and loving tributes to Solomonov and Cook's favorite Israeli fast-food joints—as well as a shout out to Hadassah Magazine's food columnist, Adeena Sussman—it is a colorful homage that focuses on new techniques using Israeli flavors. There are ethnically traditional yet not well-known dishes like mafroum (a North African dish of ground meat sandwiched between two thick slices of potato, then pan fried) alongside the classics we love, such as falafel and shawarma. For all the Israelphiles out there, it is simply a must for your cookbook bookshelf, a new bible of Israeli cuisine to be enjoyed next to modern classics such as Janna Gur's The Book of New Israeli Food
and Joan Nathan's The Foods of Israel Today
.
Solomonov describes the experience of writing the book as one that helped refine his already palpable enthusiasm for Israeli cuisine. "It's not so much that I learned something new," he said, "but more that I reestablished my excitement and interest, and re-invigorated my energy in introducing Israel and her gastronomies to new people."
Traveling throughout Israel to collect recipes, it was clear from his social media posts that working on Israeli Soul was a guilty pleasure for Solomonov and his team. Their journeys can be recreated by readers, as the book includes addresses for the places they visited as well as a map of Israel detailing where these restaurants are located in relation to one another.
Solomonov and Cook—one of the busiest restaurant teams under the sun—opened their sixth outpost, the new falafel joint Goldie, in Philadelphia in April 2017. The recipe for Goldie's coveted golden falafel balls makes its way into Israeli Soul, as do recipes for Goldie's ingenious tehina-based shakes.
So, what's the ultimate Israeli dish that could win over any skeptic of Middle Eastern cuisine? "Fresh hummus and fresh laffa bread with tons of za'atar," he says without missing a beat. "It's iconic and it warms the soul." Recipes for hummus and a laffa-like pita called Druze Mountain Bread can be found in the new book. The hummus recipe Solomonov tweaked for Israeli Soul is a simplified five-minute version for those who need fresh hummus now, but haven't had the foresight to soak and cook chickpeas.
These are just two simple, fresh recipes from the man who uses the cuisine nearest to his heart as a tool to help foster understanding for the country he holds just as dear.
Enjoy Solomonov's interpretations of ground veal kebabs served with a quick tehina sauce, a side dish made from bulgur wheat and a syrup used in a refreshing, natural pomegranate-mint soda—all found in Israeli Soul.
GROUND VEAL ON CINNAMON STICKS
Makes 16
The great Palestinian chef Hussein Abbas of Restaurant El Babour, in Umm al-Fahm, prepares a signature dish involving lamb kebabs formed on cinnamon sticks. First he grills his kebabs, then he puts them in an earthenware bowl with grilled onions and tomatoes. He seals the bowl with a lid of bread dough and bakes the dish in the oven. When the bread is cut away tableside, the billowing steam carries the heady scent of cinnamon, grilled meat, and onions, which should be bottled as perfume.
Our homage to Kebab El Babour takes a much simpler approach, but it is delicious, and its presentation will delight your guests. We use veal because it marries particularly well with the sweetness of spices like cinnamon and allspice.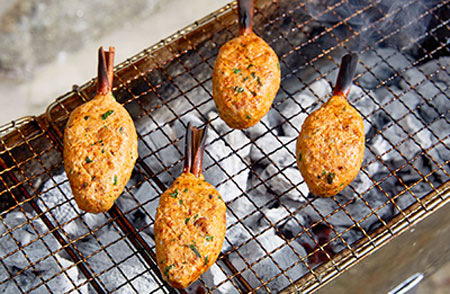 2 1/2 pounds ground veal
1 onion, grated
1 1/2 teaspoons kosher salt
1 teaspoon smoked paprika
1 teaspoon Espelette pepper
1 teaspoon ground allspice
1 cup chopped fresh parsley
16 cinnamon sticks
Quick Tehina Sauce (below)
1/4 cup pine nuts, lightly toasted
Combine all the ingredients except the cinnamon sticks, tehina sauce and pine nuts in a large bowl. Mix with your hands until well blended. Divide the mixture into 16 pieces and form each into a football shape. Press the end of a cinnamon stick into the center of each and shape the meat around it, leaving an inch-long handle. Refrigerate for 1 hour before cooking.
Grill the kebabs over smoldering coals, or pan-fry or broil (see note below), until the outsides are lightly charred and the centers are cooked through, 3 to 5 minutes per side. Serve with the tehina sauce and pine nuts.
Note: You may not always want to grill ground meat kebabs. Pan-frying or broiling are excellent options. First form the meat into balls about 2 inches in diameter and flatten each into a torpedo shape.
TO PAN-FRY: Heat a heavy skillet over medium-high heat and when the pan is very hot, add the kebabs in batches. Cook until the outsides are lightly charred and the centers are cooked through, 3 to 5 minutes per side.
TO BROIL: Preheat the broiler with a rack set 3 inches from the heating element. Place the kebabs on a wire rack set inside a rimmed baking sheet and broil until slightly charred on the outsides and cooked through, 3 to 5 minutes per side.
1 garlic clove
Juice of 1 lemon
1 (16-ounce) jar tehina
1 tablespoon
kosher salt
1 teaspoon ground cumin
1 to 1 1/2 cups ice water
MAKE THE TEHINA SAUCE: Nick off a piece of the garlic (about a quarter of the clove) and drop it into a food processor.
Squeeze the lemon juice into the food processor. Pour the tehina on top, making sure to scrape it all out of the container, and add the salt and cumin.
Process until the mixture looks peanut-buttery, about 1 minute.
Stream in the ice water, a little at a time, with the motor running. Process just until the mixture is smooth and creamy and lightens to the color of dry sand. Now you have Quick Tehina Sauce!
Bulgur is one of the world's oldest processed foods. It is mentioned in the Bible and was appreciated by ancient cultures as far-flung as the Babylonians, the Chinese and the Romans.
Bulgur is made by boiling whole kernels of wheat, drying them in the sun, and coarsely cracking the hardened kernels. The resulting product is mold- and insect-resistant, with a long shelf life and excellent nutritional properties—all useful traits for ensuring a reliable food supply in early civilization. In addition, because it's already cooked, bulgur can be prepared quickly. By rehydrating bulgur in a flavorful liquid (here we use tomato juice), we add another dimension to a versatile ingredient that can be used in soups and salads, as a stuffing or a side dish in place of rice or couscous, or to make kibbe.
4 cups tomato juice
2 teaspoons kosher salt
1 teaspoon smoked paprika
2 cups bulgur
Combine the tomato juice, salt and paprika in a medium saucepan and bring to a boil. Put the bulgur in a heatproof bowl. Pour the boiling tomato juice mixture over the bulgur, cover, and let stand until the liquid is absorbed, 20 to 25 minutes.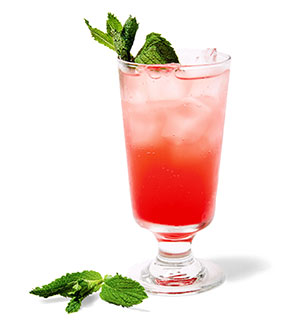 POMEGRANATE-MINT SYRUP
Makes about 3 1/2 cups
1 cup pomegranate juice
1 cup lemon juice
1 1/2 cups sugar
1 cup water
1 1/3 cups chopped fresh mint
Combine the pomegranate juice, lemon juice, sugar and water in a medium saucepan and bring to a simmer over low heat, stirring frequently. Remove from the heat and add the mint. Let steep for 1 hour at room temperature, or until the syrup is completely cooled. Strain through a fine-mesh sieve into a jar.
All recipes here are excerpted from ISRAELI SOUL © 2018 by Michael Solomonov and Steven Cook. Photography © 2018 by Michael Persico. Reproduced by permission of Rux Martin Books/Houghton Mifflin Harcourt. All rights reserved.