Healthier Oatmeal Chocolate Chip Cookies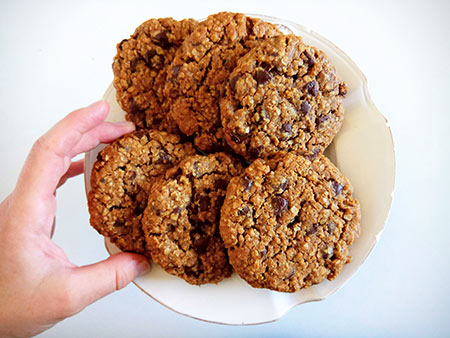 Throughout the year, we all experience moments when we glance down at our waistlines and think, "O.K., enough indulging, it's time to get back on track." For most of us, this comes in January at the start of the secular year, when gym memberships reach an all-time high and co-workers start weighing the pros and cons of the latest fad diets around the water cooler. For Jews, we are fortunate to have this built-in cleansing season in the fall as well as in January. Usually sometime in mid-October, after the relentless wave of chagim—and the elaborate meals those holidays entail—passes, we can rethink our eating strategy and relationship to food.
At the same time, extremes never seem to work. Going from gorging on goodies over the High Holidays to starving yourself is the perfect recipe for spectacular failure; I believe that some amount and type of sweets should always be allowed—diet or not.
And so, ladies and gentlemen, the recipe below is for cookies—chocolate chip cookies at that!—but with a healthier spin to take the edge off post-holiday guilt. White flour is partially replaced with whole wheat flour, which contains more protein and fiber. Dark brown sugar is used instead of processed white sugar. A few cups of quick oats lend their help in combating high cholesterol and adding antioxidant-rich nutrients.
Most important, these oatmeal chocolate chip cookies taste great! So much so that I sometimes prefer these over my super decadent standby recipe for chocolate chip cookies. Here's hoping you will enjoy these beauties as much as I do, and that these give you a touch of sweet motivation to eat just a little bit healthier in the New Year.
Here's to slightly healthier choices and fresh starts!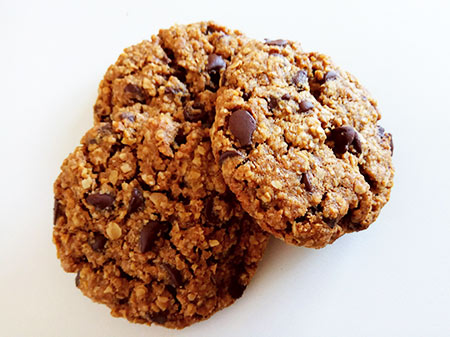 Healthier Oatmeal Chocolate Chip Cookies
Makes about 2 dozen large cookies
Kid and diet friendly, these cookies contain protein and fiber alongside butter, brown sugar and chocolate. A bit of espresso powder is added for flavor, but feel free to omit it or reduce the amount if you are making these cookies for small children.
2/3 cup all-purpose flour
2/3 cup whole wheat flour
3 cups quick-cooking oats
1 teaspoon salt
1 teaspoon baking soda
1 tablespoon instant espresso powder
1 cup room temperature butter
1 1/2 cups dark brown sugar
1 tablespoon vanilla extract
1 large egg
2 cups chocolate chips
Preheat oven to 350°. In a medium bowl, whisk to combine the flours, quick-cooking oats, salt, baking soda and espresso powder. Set aside.
Cream together the butter and brown sugar. Add the vanilla and egg, and mix to combine.
Add dry ingredients to creamed butter mixture, and mix to combine. Add chocolate chips, and mix until just combined.
Using a 1/4 cup ice cream scoop, scoop out dough. Roll into balls (you may need to squeeze the mixture together in your palm before rolling into a ball), place 2-3 inches apart on a parchment paper-lined cookie sheet, and slightly flatten by pressing down on the cookies with your palm. Bake for 12 minutes, or until deeply golden and set on the underside.