Pies for Ovarian Cancer Prevention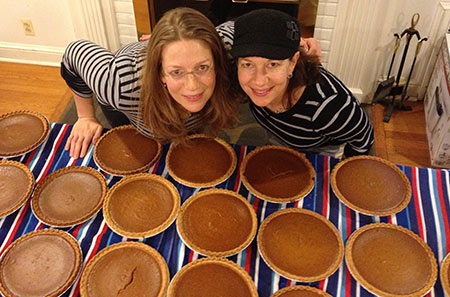 October is Breast Cancer Awareness month, an annual time for awareness and fundraising. Everything from T-shirts to cereal boxes come emblazoned with a pink ribbon, signifying the cause. Women band together to talk about early screening and share their stories. But just because the month ends, that does not mean that the dialogue surrounding the scourge of cancers that affect women should stop. A lesser talked about cancer that accounts for more deaths than any other cancer of the female reproductive system—ovarian cancer—is one that affects Ashkenazi Jewish women at higher rates than the general female population, and that many patients and doctors detect at a later stage. In short, ovarian cancer's harder detection makes it especially dangerous.
Hadassah Magazine food columnist and best-selling cookbook author Adeena Sussman is helping to keep up the conversation on cancers that affect women through Thanksgiving—at least!—by teaming up with Sharsheret for the Pies for Prevention initiative. Together with her sister, Sharon Wieder, who is in remission herself from breast cancer, Sussman has been spearheading the project for 10 years with the support of Sharsheret, the non-profit organization that provides support and guidance for Jewish women who are dealing with breast and ovarian cancer. The sisters started Pies for Prevention to honor the untimely passing of their mother—Stephanie Sussman—from ovarian cancer in 2006.
According to Sussman—a leading light in the Jewish food world who will be releasing a major cookbook on Israeli cuisine next spring—selling pies was the most natural way to spread information in a joyful, positive way. "We wanted to create awareness, and we tried to figure out how to do it in a way that would honor our mom's spirit," says the Tel Aviv-based chef. "She was a pretty upbeat person, so we didn't want to do anything maudlin or sad. Instead, we decided to start baking pies to raise money for Sharsheret in her memory. In return, we asked Sharsheret if they would use the money to spearhead ovarian cancer programming. To our surprise, we raised $16,000 from the bake sale that first year."
Money raised from the bake sales goes toward webinars and outreach programs.
This year, bake sales are set to happen in 26 cities, most in the United States but also including Toronto, Jerusalem and Tel Aviv for the first time. Bake sales—whether in Boca Raton, Fla; Sharon, Mass.; New Rochelle, N.Y.; Skokie, Ill.; or anywhere else—are done on a volunteer basis, with those running them donating their time, services and supplies and creating their own products in largely kosher homes.
"We're hoping to go over the $500,000 mark this year," Sussman shares. "Every year, my sister and I bake with our good friend Anat Abramov Shimoni in her New Jersey home for three days. The three of us make about 900 items, which are for my sister's Teaneck, N.J., and Manhattan distribution. Some of our bakers make 10 items, and some do 500. The idea is just that everyone does as much as they are capable of and gives of themselves in a very generous  and selfless way for a cause that means a lot to us and the many women who have been helped by Sharsheret."
While Sussman, Wieder and Abramov Shimoni are especially known for their pumpkin cranberry bread (this year they are selling a gluten-free version as well), bakers are free to create their own menu items. Popular desserts with all the bakers include pumpkin and apple pies, banana bread—with and without chocolate chips—and corn bread. Bake sales are done by pre-order online—deadlines vary but most are fast approaching—and those who don't have a bake sale in their city are encouraged to contact Sharsheret to learn how start their own.
"Even if you don't have a bake sale in your city, you can still talk to your girlfriends about the issue," Sussman emphasizes in the hopes of dispelling any lingering taboo in discussing ovarian cancer. "What we're focused on is supporting women who are living with the disease and helping to inform women so they can be aware that a diagnosis is a possibility.
"For now," she continues, "we just want to express incredible gratitude to the friends who we know as well as the friends who we don't yet know who have supported the cause—and to encourage women to be aware, ask questions and to encourage their doctors to be on the lookout for this disease."
And in the meantime, there's Sussman's Pumpkin Pie recipe.
FOR THE CRUST (one store-bought 9-inch pie crust can be substituted):
1 stick (4 ounces) cold unsalted butter or vegan butter shortening, such as Earth Balance buttery sticks, cubed and chilled again
1 1/4 cups all-purpose flour
1/2 teaspoon fine sea salt
1/4 cup ice water
FOR THE FILLING
2 large eggs
One 15-ounce can solid-pack pumpkin (not pumpkin pie filling)
1/2 cup light brown sugar
1/4 cup granulated sugar
1 teaspoon ground cinnamon
1/2 teaspoon ground ginger
1/4 teaspoon ground nutmeg
1/4 teaspoon ground allspice
1/8 teaspoon ground cloves
3/4 cup heavy cream or non-dairy whipped topping (defrosted if frozen)
Make the crust
Pulse the flour and sea salt in a food processor until incorporated.
Add the chilled butter and pulse until pea-sized pieces of butter remain, 15-20 pulses. Add the water and pulse until a dough just forms, 15-20 pulses.
On a floured surface, gather the dough into a 5-inch disc, wrap in plastic wrap and chill for at least 30 minutes (you can keep the dough in the fridge for up to 2 days).
Using a floured rolling pin and on a floured surface, roll the disc into a 12-inch circle (it doesn't have to be perfect). Fit the dough into a 9-inch pie plate, trim the edges to leave a 1-inch overhang, then tuck the edge under itself to form a thicker crust.
Use a fork or your fingers to crimp into a pattern. Chill while you make the filling.
Preheat oven to 425°.
Make the filling
Beat together all of the filling ingredients and pour into the pie shell.
Bake for 15 minutes, reduce the oven temperature to 350° then bake until the outside is completely set and the inner portion is slightly jiggly, rotating once during baking, 40 to 45 additional minutes.
Remove from the oven, cool completely, then chill before serving of desired.