'The Last Schmaltz' Is Anthony Rose's Paean to Grease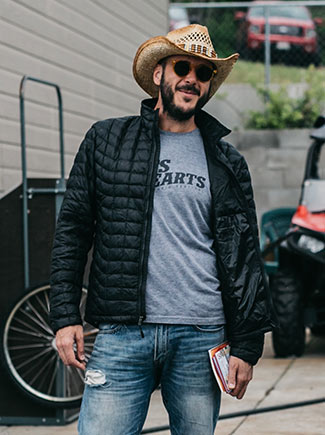 Toronto-based chef and restaurateur Anthony Rose is known as the comfort food king of Canada. Now, thanks to his recently released debut cookbook, The Last Schmaltz: A Very Serious Cookbook
, his irreverent yet haute cuisine interpretations of stick-to-your-kishkes dishes will reach a far wider audience.
Rose is a rebel, and a forthcoming one at that. The Last Schmaltz is filled with his frank thoughts, handwriting and a scrapbook-like style that lets the reader in on the process Rose went through in opening his restaurants and writing this debut recipe collection.
Rose is unapologetic for his treyf applications of schmaltz. Yes, he grew up in a Jewish home, and yes, he does use schmaltz—his preference is for duck fat—with reckless abandon in the book and in his restaurants. But if lobster and bacon are the menu items in question, then it doesn't seem to bother Rose—or the scores of adoring fans who regularly pack his many restaurants: the Jewish deli-style Rose and Sons; the Middle Eastern-meets-Eastern European Jewish-themed Fat Pasha; the French bistro Bar Begonia and its adjacent burger and cocktail bar, Madame Boeuf; the barbeque grill house Big Crow; and Schmaltz Appetizing, a bagel shop.
The Last Schmaltz is separated into sections dedicated to the individual stories, concept and food of each of his restaurants—past, present, and seasonal. It was written, with the help of acclaimed Canadian food and travel writer Chris Johns, as a companion script to Rose's evolution as a chef.
Readers may wonder if 
Rose lives his life by the second definition of schmaltz, described on the title page of the cookbook as, "Excessive sentimentality, or overly emotional and sentimental behavior." His nostalgic connection to the classic Jewish deli foods he grew up eating shines through, despite his predilection for treyf dishes. So looking beyond all the bacon, there is: gefilte fish; chopped liver; whitefish salad; schmaltz latkes; a Manischewitz vermouth cocktail; and an ode to Dr. Brown's Cel-Ray Soda. He also pays his respects to one of the latest Israeli trends—whole roasted cauliflower—even though Rose admits in the book that he's not the biggest fan of the dish.
Whether inspired by Israeli chefs like Yotam Ottolenghi, who influenced Rose's fresh Middle Eastern cuisine at Fat Pasha; influenced by the legendary Jonathan Waxman, who instructed Rose in California cuisine years ago; and enchanted by Bonnie Stern, the Jewish culinary star whose challah Rose features in Last Schmaltz, the recipes find a happy medium between kosher nostalgia and modern, secular comfort cooking.
Not playing by anyone else's rules but his own, Rose, a known bourbon enthusiast also boasts one of Toronto's best collections of the spirit, has even curated a wine list at Rose and Sons diner for dishes usually paired with egg creams and root beer floats.
Rose's mother, Linda, who opens the book with prose lauding her son's work, specifically praises his grilled whole chicken recipe over anything else—so we are including it here. We also wouldn't want you to miss out on Rose's high-cuisine version of chopped liver, or his retro Bakerman Bars, the recipes to which appear below.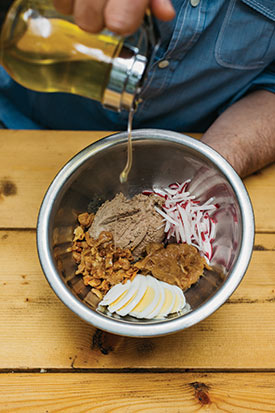 Chopped Liver
Serves 4, or 1 good Jew
GRIBENES
1/2 pound chicken skins
Kosher salt
1 pound chicken livers, rinsed well and dried
1 tablespoon duck salt*
1/2 cup canola oil
2 tablespoons arak, divided
3 tablespoons caramelized onions**
3 tablespoons grated radish
1/4 cup schmaltz or duck fat, melted, plus extra for garnish
2 large hard-boiled eggs, sliced
4 pieces grilled challah, for serving
1. Preheat the oven to 350°F.
2. First, you'll prepare the gribenes, or chicken skins, which will go on top of your liver as a garnish. Place your chicken skins in a pot of salted water and simmer for about 30 minutes. Strain, reserving the liquid. Transfer the liquid to a bowl and cool in the fridge. After it's cold, you can remove and save the schmaltz that will have hardened on top of the poaching water. Place the schmaltz in a separate bowl, and discard the poaching liquid.
3. While the liquid cools, dry the poached chicken skins with a clean dish towel. Once the chicken skins are dry, transfer to a baking sheet and bake for 20 to 25 minutes, until golden and crispy. Remove the chicken skins from the oven and season with salt. Set aside.
4. While your chicken skins are in the oven, season your rinsed chicken livers with the duck salt and let sit for 1 hour.
5. Heat a large pan on high and add the canola oil. Sear the chicken livers on both sides until they're caramelized, about 1 to 2 minutes per side. Do not overcrowd your pan! You may need to do this in batches.
6. Once your chicken livers are seared, deglaze the pan with 1 Tbsp of the arak. Use a wooden spoon to scrape up any brown bits on the bottom of your pan—they're delicious.
7. Put the seared chicken livers and the remaining arak in a food processor.
8. Blend the livers and, while the machine is running, add 4 tablespoons water and 1/4 cup of the schmaltz (see note). Process until smooth.
9. Cool the pâté and serve in a bowl with the caramelized onions, grated radish, hard-boiled eggs, and gribenes. Dress with extra melted schmaltz and mix tableside. Serve with some grilled challah or your preference of bread.
*DUCK SALT
6 dried bay leaves
1 1/2 tablespoon chili flakes
4 tablespoons dried thyme
4 1/2 tablespoons black peppercorns
2 tablespoons fennel seeds
3 tablespoons juniper berries
3 3/4 cups kosher salt, or 1/2 box
Blend all spices in a spice grinder until they're quite fine. Mix spices and salt in a bowl. Store in a mason jar until needed.
**For the caramelized onions, slice the onions thinly and preheat a large pan over medium heat. Add the canola oil and butter to the pan. Once it starts to shimmer, you're ready to fry the onions. Don't worry about crowding the pan; it will work to your advantage. Let the onions start to brown on the bottom, about 3 to 4 minutes, then add the salt and thyme. Mix the onions to let the flavors combine. Leave the onions for another few minutes, then stir. Continue this process until the onions are evenly browned, then remove from the heat. Try not to stir the onions too much; rather, let them sit to really sear between your stirs.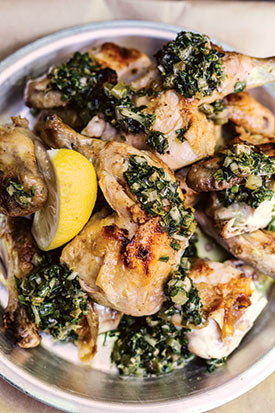 JW Bird (Jonathan Waxman Bird)
2 whole Cornish hens or small chickens
Pickle juice to cover your birds
SALSA VERDE
1/4 cup small-diced shallots
1/4 cup small-diced sour pickles
1/4 cup chopped capers
1/2 bunch fresh parsley, chopped
1 bunch fresh chives, chopped
1 bunch fresh tarragon, chopped
1/2 bunch fresh dill, chopped
Zest of 1/2 lemon
3 cups olive oil
Kosher salt and freshly ground black pepper
Spatchcock your birds. Lay the birds breast side down and use kitchen shears to cut down each side of the spine. Remove the spine and the wing tips (you can save these for stock), then turn the birds over, press down on the breastbone, and flatten them.
Place the birds in a large container with a tight-fitting lid, cover with the pickle juice, and refrigerate. Soak the birds in the juice for 24 to 48 hours, depending on your taste, then remove and dry the birds off with a clean dish towel.
Preheat your barbecue on medium heat, then put your flattened birds, skin side down, on the grill. Turn the heat down to low and close the lid. Cook for about 20 minutes without opening the lid of the barbecue. This will make the skin beautiful and crispy. Flip the birds and cook for 2 to 3 minutes, just to let the heat kiss the flesh and bones. Remove the birds from the heat and let them rest for 5 to 10 minutes.
Combine all the salsa verde ingredients in a bowl. Taste and adjust seasoning as needed.
Once your birds have rested, cut them into eighths. Use a knife that you don't mind cutting through bones with. Separate the drumsticks from the thighs and cut the breasts in half.
Arrange your birds on a platter and generously smother them with the salsa verde.
BASE
1 cup unsalted butter, melted
4 cups graham cracker crumbs
1/2 teaspoon kosher salt
TOPPING
2 cups shredded coconut, divided
1 2/3 cups chocolate chips
2 cups pecan halves
1/2 teaspoon kosher salt
2 (14 ounces) cans sweetened condensed milk
1. Preheat oven to 325°F.
2. For the base, in a large bowl, mix the butter, graham cracker crumbs, and salt. Transfer the mixture to a 9 x 13-inch baking pan and spread it out evenly. Pack the base down tightly!
3. For the topping, evenly spread 1/2 cup coconut over the base. Follow with all of the chocolate chips, pecans, and salt. Finish by sprinkling the remainder of the coconut overtop.
4. Slowly and evenly, pour the two cans of condensed milk all over, making sure you get every last drop out.
5. Bake for 20 minutes in the preheated oven, then rotate the dish and bake for another 15 to 20 minutes until the top is golden and bubbling.
6. Let cool fully before slicing into 12 bars and serving.
Excerpted from The Last Schmaltz: A Very Serious Cookbook by Anthony Rose and Chris Johns. Copyright © 2018 Anthony Rose and Chris Johns. Photography by Kayla Rocca. Published by Appetite by Random House®, a division of Penguin Random House Canada Limited. Reproduced by arrangement with the Publisher. All rights reserved.