Honey-Pecan Pie and Israeli Orange Soup for Thanksgiving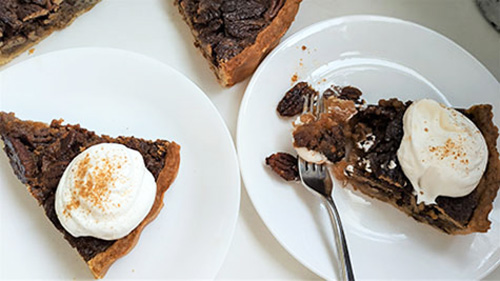 One of my earliest, fondest memories of living in Tel Aviv remains sitting in an Israeli café and reading a book over a large bowl of "orange soup." Called orange for the color, not the fruit, this is a soup that uses a combination of orange vegetables. It is a soup that every Israeli mother has under her belt, waiting to whip up a pot around now, when the temperature plummets abruptly and the wind and rain arrive to flood streets. On a day like that, in a walking city like Tel Aviv, orange soup remains the perfect solution for comfort and warmth.
While your first inclination may be to rely solely on pumpkin—this is fall, after all—it should not be used on its own. Sweet potato should be added to your pot, too, along with carrots. Carrots take a long time to soften as they simmer, so it's a good idea to add these at the beginning while sautéing the onion. In fact, only turn off the stove to puree the soup once the carrots have been checked for tenderness.
The soup should be savory, with a touch of sweetness and a harmonious balance of neutral spices. A dash of cinnamon in the soup can help promote a natural sweetness. Serve this on a cold day next to a basket of sliced bread. Or, if you're reading this post from an American kitchen and are knee-deep in Thanksgiving recipe planning, as a holiday appetizer. Israeli Orange Soup looks lovely when jazzed up for the holiday with cooked quinoa and sour cream or creme fraiche, served alongside cornbread.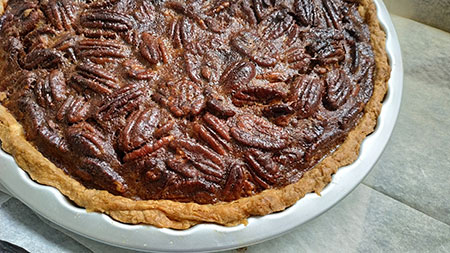 Speaking of Thanksgiving, what are you serving for dessert? How about pie? I was once too intimidated by pecan pie to attempt it. Expensive ingredients like pecans don't encourage confidence in the face of a dessert that might not work. And calorie bomb aside, pecan pie means making a pastry crust. But like anything, practice makes for a less terrifying experience. These days, rolling pie crust is second nature to me. I hope that by following my recipe and techniques (pay special attention to the mixing technique and chill times) you will also learn to master pie crust, making you a maven of holiday baking.
My evolving quest to feed myself and my family with slightly healthier and/or homemade ingredients has pushed me to create a pecan pie that uses honey in place of the usual corn syrup. Both liquidy sugars have a similar consistency and function in baking, and honey not only makes this pie healthier—honey doesn't spike blood sugar the way table sugar does—but does so without a noticeable difference in flavor.
There is little that pecans cannot improve—from salads to breads to granola. Filled with (healthy) fat, they are also packed with protein and vitamins essential for good health. In this pie recipe, they caramelize as they bake while retaining a pleasantly light crunch. The mix-and-pour method I use for the filling couldn't be simpler, making my previous reservations about pecan pie unfounded.
Turns out I had nothing to fear all along! To crisp fall days, and a happy and festive Thanksgiving meal.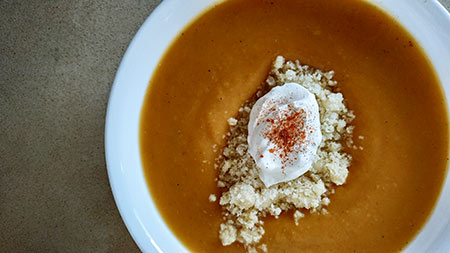 Israeli Orange Soup
Makes 10 to 12 servings 
1 onion, roughly chopped
2 medium carrots, roughly chopped (about 1 1/2 cups)
1 large zucchini, roughly chopped (about 2 1/2 cups)
2 large sweet potatoes (2 pounds)
1 medium potato (1/3 pound)
2 cloves garlic, minced
2 tablespoons butter
2 tablespoons olive oil
1 cup cooked pumpkin
9 cups water, or vegetable stock
1 tablespoon kosher salt
1/4 teaspoon freshly ground black pepper
1/2 teaspoon cinnamon
Peel and roughly chop all vegetables. Set aside.
In a large soup or stock pot, heat butter and olive oil over medium-high heat. Add onions, carrots and zucchini and sauté until onions are translucent. Add minced garlic and sauté for another minute.
Add the cooked pumpkin and water (or stock), then add the chopped sweet potatoes and potato. Add salt, pepper and cinnamon and bring to a boil.
Skim any foam off the top and reduce to a simmer. Simmer for 25-30 minutes, or until carrots are soft when pierced with a fork.
Carefully blend the soup using an immersion blender, or let cool and puree in a blender or food processor. Adjust seasoning to taste.
Serve as is, or with a garnish of cooked quinoa and sour cream or creme fraiche.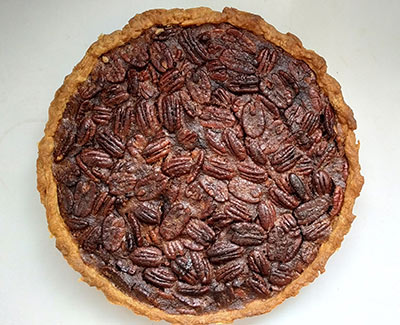 Honey-Pecan Pie
SPICED FLAKY PIE CRUST
Makes enough for an 11-inch pie pan
1 cup cold butter (or margarine if making pareve)
2 1/2 cups plus 1 tablespoon cake flour
1/4 cup sugar
1/2 teaspoon salt
1/4 teaspoon ground cinnamon
1/2 teaspoon ground cardamom
1/4 teaspoon ground nutmeg
Small pinch ground ginger
1/4 teaspoon baking powder
1/2 cup cold milk (or soy milk if making pareve), plus more if needed
1 tablespoon white vinegar
1 teaspoon vanilla extract
Cut butter into medium-sized chunks.
In a medium-size bowl, whisk together flour, sugar, salt, spices and baking powder. Add the butter and gently work it into the flour mixture until you are left with scrambled egg-sized chunks of butter.
Add the cold milk, vinegar and vanilla extract, and fold the mixture together with a silicone spatula.
Once the dough is mostly combined with a few unincorporated crumbs, turn it out onto a clean work surface and gently knead just until the dough comes together. Form into a disc and let it rest in the refrigerator for 1-2 hours.
Once chilled, remove the dough from the refrigerator and let rest on the counter for a few minutes.
Roll out the dough to a 1/4-inch thick circle, fold dough in half and transport to your pie pan. Open up the dough and press it evenly down into the tin along the bottom and sides. Remove any excess pie dough along the top edge with a paring knife.
Transfer to the freezer to chill for 1 hour before baking. Just before baking, remove from the freezer and poke holes all along the bottom of the dough with a fork—before adding the pecans and filling.
PIE FILLING
Enough for an 11-inch pie crust
4 cups pecan halves
1 1/3 cups dark brown sugar
2/3 cup honey
3/4 cup plus 1 tablespoon butter or margarine, melted
1 teaspoon vanilla
3/4 teaspoon salt
4 large eggs
Preheat oven to 350 degrees. Place the pecans into the bottom of a chilled pie crust, spreading them out evenly.
In a mixer, beat the dark brown sugar, honey, melted butter, vanilla, salt and eggs until just combined. Pour mixture over the pecans.
Bake for 40 minutes. Cover the top of the pie with aluminum foil or parchment paper, and continue baking for 20 minutes, for a total bake time of 1 hour.