Hanukkah, the Festival of Latkes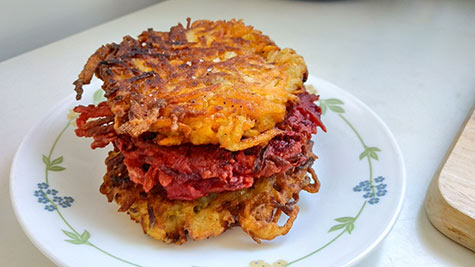 Let's face it: Hanukkah, the festival of lights, could just as easily be deemed the festival of oil—or latkes. Although sufganyiot (yeasted doughnuts) of all kinds with whacky experimental fillings and decorative toppings reign supreme here in Israel, to me, Hanukkah primarily still means latkes.
Each year at Hanukkah time, I stand by my stove making batch after batch until I smell like a human french fry. The whole process is exhausting, from grating, to frying, to cleaning up splattered oil and the subsequent mountain of dishes piled high in the sink.
But this year, things will be different. This year I made the decision to fry my latkes in advance and freeze them in resealable zipper bags until the holiday—which begins the evening of December 2—when I will reheat them in the oven until crisp. The very best part of all this? Latkes freeze really well, so I doubt anyone at my family's annual Hanukkah party will know the difference.
Preparing the latkes ahead also allows you to take your time and not be rushed. Make a day of it—as I did—and then you can be done with it. Settling in for a good latke-frying session, I like to turn on some music, let my mind wander, and dream up new ways to construct the potato pancakes.
Mixing it up this year, I've taken my basic potato latke recipe and replaced half the amount of potatoes with other vegetables—either zucchini, sweet potato or beets. All these latkes are made from shredded vegetables, so if you have a food processor, now is the time to dust off your grating blade. It really does make things go faster, but if not, you can grate by hand. It's not Hanukkah, after all, until you have a few nicks on your fingers from the grater.
For accompaniments, I have recreated my mother's classic pink applesauce. She makes her version with red-hot cinnamon heart candies that she purchases each Valentine's Day and stores in the cupboard for baking. I had never heard of anyone else using these candies to make applesauce until I saw a recipe in Joan Nathan's Jewish Cooking in America for cranberry applesauce, where Nathan mentions that she, too, adds Red Hots to her applesauce.
In my variation, I aimed to achieve the cinnamon flavor and spicy bite of the cinnamon candies by using ground cinnamon and fresh ginger. This sauce is best when pureed with a stick immersion blender—a must-have item in any kitchen for the winter season, when blended soups (should) feature on your menus.
Never one to leave things plain, my second sauce accompaniment is sour cream based with a hint of horseradish, garlic and dill. It is a bit more festive and tangy than plain sour cream, a perfect counter note to the richness of latkes.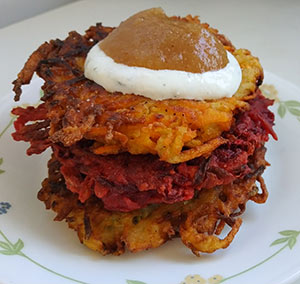 Sweet Potato/Zuchinni/or Beet Latkes
Makes 12 large latkes
1 pound red potatoes
1 pound sweet potato, zucchini or beets (if using beets, buy them pre-cooked or boil them in a pot for 45 minutes before peeling off the skin and  shredding)
1 large onion
Safflower oil for frying
1/2 cup flour
1 1/2 teaspoons salt
1/2 teaspoon freshly ground black pepper
1/4 teaspoon granulated garlic
2 large eggs
Line a baking tray with paper towels.
Peel potatoes as well as whichever vegetable you plan to use (you do not need to peel the zucchini). In a food processor with a shredding blade, shred the vegetables along with the onion. Pick out any pieces that did not shred well, and place the shredded vegetables in a cheese-cloth lined fine mesh strainer. Let rest for 10 minutes, then squeeze out excess liquid, and transfer to a large bowl.
Heat safflower oil on medium high heat in two deep frying pans. The oil should generously coat the bottom of the pan.
To the vegetables, add the flour, salt, pepper and eggs. Stir to combine, then pour the mixture straight back into the fine mesh strainer, and quickly place the strainer back over the bowl in which you mixed the latkes. This will catch an addition juices that if left in the mix can make the latkes soggy.
Fry latkes in 1/3-cup portions, 3 at a time. Fry until golden brown on the underside, then flip to continue cooking on the other side. Oil that is the proper temperature will cook the latkes through in a few minutes on each side without burning them. Adjust by turning the heat down or up as needed.
Transfer cooked latkes to your paper towel-lined baking tray, and blot with additional paper towels to get rid of any excess grease. Serve hot.
To freeze: Let latkes cool completely, then freeze in a container or zipper bag between sheets of wax paper for up to three months. When ready to heat, put them directly from the freezer into a 350 degree oven, covered, and heat for 25-30 minutes.
Cinnamon-Ginger Applesauce
3 pounds baking apples
1/4 cup sugar
1 tablespoon fresh grated ginger, from about 1 inch of raw ginger root
2 teaspoons ground cinnamon
1/4 cup water
Preheat oven to 350 degrees.
Peel and core apples, roughly chop, and place in a baking dish. Mix in sugar.
Grate ginger with a microplane and mix this and ground cinnamon with the apples.
Pour water over the apples, cover with tin foil, and bake for 45 minutes to 1 hour, or until apples are soft. Remove from the oven, and puree.
Horseradish-Dill Sour Cream
1 cup sour cream
1/2 teaspoon salt
1/8 teaspoon ground black pepper
1/8 teaspoon granulated garlic
1/2 tablespoon chopped fresh dill
1 tablespoon fresh horseradish, finely minced, or prepared horseradish sauce
In a medium bowl mix sour cream with salt and spices. Chop fresh dill, and grate fresh horseradish with a microplane. Alternatively use an already prepared horseradish sauce. Combine all ingredients, and adjust to taste.