The Sister Bloggers Behind 'May I Have That Recipe?'
It's early December 2018, and somewhere in Cherry Hill, N.J., two Lebanese-Spanish, Jewish-American sisters who grew up on their mother's Middle Eastern home cooking are testing a high-protein mushroom ragú pasta in an attempt to combat the East Coast winter.
The sisters—vegan- and vegetarian-bloggers-turned-cookbook authors Vicky Cohen and Ruth Fox—have made a name for themselves with their blog, May I Have That Recipe. The site offers a window into their "flavor-packed, healthy vegan and vegetarian recipes from around the world—with the occasional indulgence," as the duo recounted to me in a recent interview. So well-received have their ideas been that last spring they released their first cookbook, Tahini and Turmeric: 101 Middle Eastern Classics—Made Irresistibly Vegan.
Focusing on Jewish Middle Eastern roots was a natural choice for the recipe collection, given that their family made the journey from Beirut to Barcelona when Vicky, the elder sister, was a toddler. There, along with Ruth, who was born in Spain, the sisters were raised in a house with Middle Eastern flavors featured prominently on the dinner table. And although they grew up eating meat, the Middle Eastern flavor traditions happen to complement the vegetarian and vegan lifestyle they eventually adopted (Ruth as a teenager, and Vicky upon moving to the United States and marrying.)
"Because it's such a flavorful, spice-centered cuisine, we thought it would be the perfect approach to vegan and vegetarian food," Vicky separately told me.
"We learned from our mom and grandmother, and from experimenting on our own," they both said. "Our mom cooked for us every single day, but Shabbat and Holiday dinners are, without a doubt, what bring us the fondest memories. Just waking up to the amazing smells coming out of the kitchen is something we'll never forget."
But the shared sentiment doesn't mean that, today, the women share the same specialities in the kitchen.
"I do most of the baking," Ruth said, "except when it comes to challah. Vicky makes the best challah." You will find Vicky's vegetarian apple-and-honey challah recipe on the blog; its preparation using chopped organic dried apples and a topping of cinnamon sugar is divine.
In the Jewish blogosphere, the sisters are at their most popular around Passover. The vegetarian Spinach Potato Nest Bites go viral every year in the runup to the holiday, and Quinoa Cauliflower Meatless Meatballs in Coconut Turmeric Broth makes a stunning dish for a meatless Monday.
Also on the blog, the two offer helpful, how-to guides tailored to Middle Eastern cooking. Their knafeh tutorial includes in-depth instructions to make the buttery, syrupy, cheese-and-phyllo vermicelli pastry.
As for the cookbook, some particular recipes to be on the lookout for are Wild Rice Mjadra, Melt-Away Moroccan Cinnamon Cookies and Falafel Waffles (featured below).
Despite all the delicious recipes they develop, in the end, the sisters maintain that the secret to a great vegan or vegetarian meal lies in two main components: "Tahini. And a drawer full of spices!"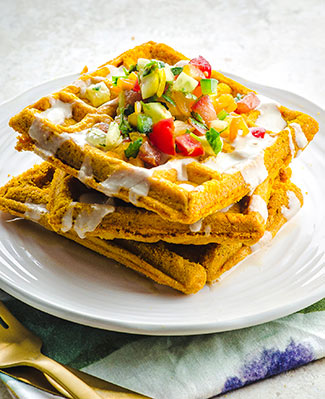 Falafel Waffles
Makes 6 waffles
3/4 cup self-rising flour
1/2 cup chickpea flour
1 tablespoon baking powder
2 teaspoons ground coriander
2 teaspoons ground cumin
2 teaspoons ground turmeric
1 teaspoon smoked paprika
1 teaspoon ground allspice
1 teaspoon garlic powder
1/2 teaspoon freshly ground black pepper
1/4 teaspoon salt
1 cup seltzer water
3 tablespoons extra virgin olive oil
Cooking spray or olive oil, for waffle iron
Preheat your waffle iron according to the manufacturer's instructions.
In a large bowl, combine the self-rising and chickpea flours, baking powder, coriander, cumin, turmeric, smoked paprika, allspice, garlic powder, pepper and salt and mix well. Add the seltzer water and olive oil and mix until all the ingredients are just incorporated.
Coat the waffle iron generously with cooking spray or olive oil. Spread with 1/3 cup of batter per waffle, close the iron, and let the waffle cook for 3 to 4 minutes, or until it releases easily from the iron.
Repeat the process with the remaining batter, making sure to grease the iron before cooking each batch. Serve warm.
Notes
If you don't have seltzer water in hand, increase the amount of baking powder by 1/2 teaspoon.
Be sure to generously grease the waffle iron with cooking spray or olive oil, even if it has a nonstick surface.
Basic Tahini Sauce
Makes 1 cup
1/2 cup tahini
1/4 cup freshly squeezed lemon juice, plus 2 tablespoons (optional)
1/2 teaspoon salt
Whisk together the tahini, 1/4 cup lemon juice and salt in a small bowl until thickened.
Add water, 1 tablespoon at a time, whisking constantly until creamy (should be no more that 4 tablespoons). Taste and add up to 2 tablespoons more lemon juice, if needed.
Store in the refrigerator for up to five days; the sauce will thicken with the cold, so bring it to room temperature just before using or add a little more water.
Excerpted from Tahini and Turmeric: 101 Middle Eastern Classics—Made Irresistibly Vegan
by Ruth Fox & Vicky Cohen. Copyright © 2018. Available from Da Capo Lifelong Books, an imprint of Perseus Books, LLC, a subsidiary of Hachette Book Group, Inc.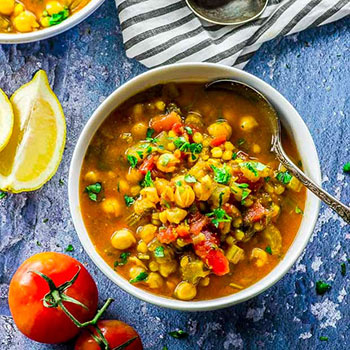 Wheat Berry and Chickpea Soup
Makes 8 cups
1 cup dried chickpeas (soaked overnight with 4 cups of water and 2 teaspoons baking soda)
1/2 cup wheat berries (soaked overnight together with the chickpeas)
7 cups water
4 celery stalks, chopped
1, 15-ounce can diced tomatoes
2 bay leaves
1/2 to 1 teaspoon salt, or to taste
1/8 teaspoon pepper
1 teaspoon sweet paprika
1 teaspoon cumin
1 teaspoon turmeric
1/2 teaspoon dried thyme
Pinch of cayenne pepper, or to taste
2 tablespoons freshly squeezed lemon juice
3/4 cup fresh chopped cilantro
Drain and rinse soaked chickpeas and wheat berries
In a medium soup pot bring chickpeas, wheat berries and 4 cups of water to a soft boil for 20 minutes
Add another 3 cups of water and the rest of the ingredients,  except for the lemon and cilantro.
Bring to a boil, reduce heat and simmer for 40 minutes Before serving add lemon and fresh cilantro.