Moroccan Slow-Cooked Shabbat
I grew up in an all-American, meat-and-potatoes kind of family. Moving to Israel and experiencing Sephardi and Mizrachi foods for the first time was eye-opening, to say the least. Adjusting my cooking style to include the unique flavors of cooking methods of, for instance, Moroccan cuisine, took even longer. But eventually, change does happen.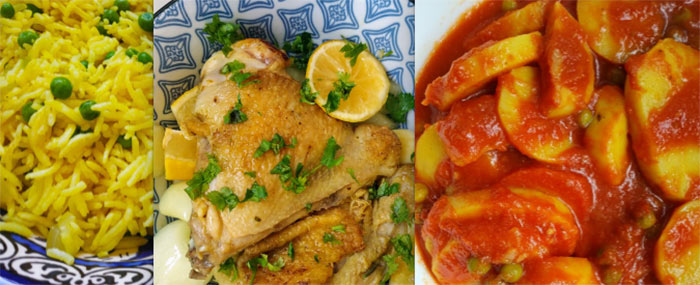 Don't get me wrong, I still make lasagna, homemade pizza and lots and lots of simple Mediterranean fare that showcases Israel's beautiful fresh produce. But now, I have fully embraced Mizrachi cooking, especially Moroccan. Once afraid of spices, I find myself increasing the amount of whatever I use—turmeric, cumin, cinnamon, you get the idea—a little bit each time, while my real goal remains to make my food taste as authentic as possible. You can imagine the naches I felt when my husband pulled these slow-cooked, Moroccan-Israeli dishes out of the oven and exclaimed "It's just like in the army!" quickly followed by "No, this is so much better than that, I feel like I am at someone's Moroccan grandmother's house." A food victory for me, and another set of recipes to add to my repertoire as I feed not just my husband, but my three hungry little sabra boys, too.
Back to the topic of spices. Turmeric has a very specific scent. It's the perfume wafting up into the air as you pass a shawarma stand on the street, and it can be strong tasting with a slightly spicy aftertaste when used in large quantities. But turmeric can be substituted as a kind of poor man's saffron—when used in smaller amounts—coloring foods a pretty bright yellow as well as lending its tangy flavor to a dish, as is the case in the rice dish below.
There are several ways to ensure that you don't end up with mushy rice, but rather with the more desirable dry and fluffy grains that remain separate, as they should. One tip is to use a long-grain rice like jasmine or Basmati; another is to rinse the rice of its excess starch before cooking. Also, don't use too much water, and be sure to cook rice in a pot with a tight-fitting lid. Resisting the urge to open the lid once the timer goes off and stovetop cooking is complete is an absolute must: Then, cooked rice must sit, undisturbed, for 5 to 10 minutes (up to half an hour if you have time) to continue steaming. Frozen peas are a super easy solution to adding a pop of color, protein and sweetness to a rice side dish.
Onto the slow-cooked chicken thighs. This meaty, aromatic entrée is modelled after a dish made at the (unfortunately) now shuttered Haifa restaurant Meir's Ptiliot, a homestyle eatery that served typical, slow-cooked Israeli soul food. (Ptiliot is the Hebrew word for wicks, which ignited the flame under a traditional slow cooker.) Both this chicken dish and the Moroccan potatoes and peas in spiced tomato sauce—also included below—are made by low and slow cooking in the oven. You can also make these dishes in a countertop slow cooker set on low.
However you prepare this Shabbat meal, b'teyavon!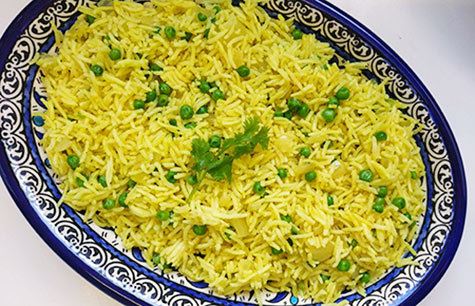 Yellow Rice With Peas
Serves 8 to 10
I once struggled to turn out a good batch of rice. The grains always seemed to end up mushy, and so I preferred other starches like potatoes. Rice done well, however, is fragrant with a delightfully toothsome feel. Learning how to make it properly is worth the effort. In our house, I make rice weekly, in different variations, for our Shabbat meal. But this particular version is my absolute favorite. Different from the Caribbean dish Rice and Peas, which is made with rice and red kidney beans, this Israeli-style version carries a yellowish hue and contains petite sweet peas—buy them frozen—that you add after the rice is cooked, when the peas steam in the residual heat.
2 1/2 cups hot water
1/4 teaspoon turmeric
1 large onion
1/4 cup olive oil
2 cups Basmati rice
1/2 teaspoon salt
Pinch freshly ground black pepper
1 1/4 cups petite peas
Pour 2 1/2 cups water in a large microwave-safe bowl. Heat until steaming, then stir in turmeric until dissolved. Set aside.
Cut onion into small chunks. In a large pot, heat olive oil, then add onions and sauté on medium-high until translucent, 2 to 3 minutes.
Meanwhile, rinse the rice in a fine mesh strainer until the water runs clear. Shake to get rid of excess water and add to the pot. Stir for another minute to lightly toast the rice, then add the salt, pepper and turmeric-infused hot water.
Turn heat down to a simmer and cover the pot. Cook for 13 minutes, then turn off the heat and let sit, covered, on a heat-proof surface or cool burner for 5 to 10 minutes.
After NO LESS THAN 5 minutes, lift the lid and sprinkle the frozen peas over the top of the rice. Immediately recover and let sit for another 20 minutes or so to continue steaming. Fluff rice with a fork and serve.
Moroccan Potatoes and Peas in Spiced Tomato Sauce
Serves 8 to 10
If you have ever eaten at an Israeli hotel buffet, you've probably come across a large pan of this vibrant side dish. Done right, slow-cooked in an oven, it is a hearty alternative to meat dishes, especially when spooned over rice. Here, regular, rather than petite peas, can be used, as this is a homestyle dish that benefits from a less delicate texture. The sauce itself thickens as it cooks, and the flavors of the turmeric and cumin infuse the entire dish without overwhelming it.
3 pounds potatoes
Olive oil for drizzling
Coarse salt for sprinkling
3/4 teaspoon turmeric, divided
1 large can (28 ounces) crushed tomatoes
2 cups water
1/2 teaspoon cumin
3/4 teaspoon salt
1/2 teaspoon granulated garlic
Pinch of freshly ground black pepper
1/4 cup olive oil
1 1/4 cups frozen peas
Par cook the potatoes: Preheat oven to 350°. Wash, peel and slice the potatoes into 1/2-inch thick slices.
Space out evenly on a baking tray and drizzle with a small amount of olive oil, then sprinkle lightly with coarse salt and 1/4 teaspoon turmeric. Bake for 25 minutes, or until just shy of being cooked through.
While the potatoes are cooking, prepare the tomato sauce in a baking dish: Add the crushed tomatoes, water, 1/2 teaspoon turmeric, cumin, salt, garlic, pepper, olive oil and frozen peas (still frozen) to your baking dish, and stir to combine.
When the potatoes are done, remove from the oven and reduce the oven temperature to 200°.
Using a spatula, transfer the par-cooked potatoes to the baking dish with the sauce. Cover loosely with foil and bake at the reduced heat for 5 to 6 hours. The dish is done when the sauce has reduced and thickened and the potatoes are cooked through.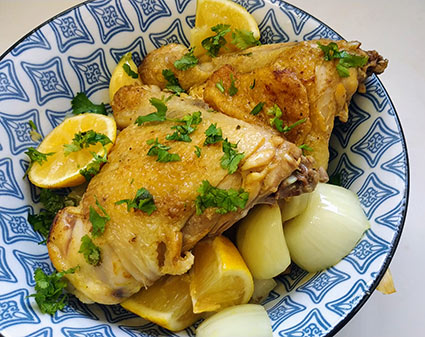 Braised Moroccan Chicken Thighs
Serves 4 to 6
4 pounds bone-in, skin-on chicken thighs (about 6 pieces)
1/4 cup olive oil
Coarse salt, to taste
Freshly ground black pepper, to taste
Turmeric, to taste
2 large onions
1 lemon
3-4 cloves garlic
About 1 cup water
Small bunch fresh cilantro for garnish (optional)
Preheat oven to 200°. Drizzle chicken thighs with olive oil. Liberally sprinkle with salt, pepper and turmeric on all sides. Gently lift up the skin with your fingers and massage spices into the meat.
Lightly grease a cast iron pan and put over a high heat on the stove top. Sear chicken on both sides until browned.
While the chicken is browning, chop onions, quarter the lemon and peel garlic cloves; use them all to line the bottom of an oven-proof dish or aluminum-foil pan.
Place the chicken on top of the onions, lemon and garlic, and add enough water to just cover the bottom of the pan (about 1 cup).
Cover tightly with aluminum foil, and let braise in the oven 5 to 6 hours, or until meat is very tender.
Remove chicken from pan and place on a serving dish. Garnish with fresh chopped cilantro before serving (optional).