Colorful Israeli Salads to Brighten a Winter Shabbat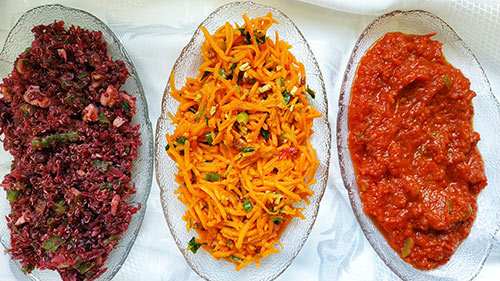 The first time I sat down at an Israeli Shabbat table, I couldn't believe the spread in front of me. There must have been at least 10 different vegetable dips and salads arrayed in a series of small decorative dishes. And not one of the salads contained any lettuce! Doing as I saw my hosts do, I piled the various spreads (salads in Israel can be spreads or chopped-vegetable affairs) on my plate and ate them alongside a thick slice of challah. Before long, I was pleasantly full—and then the main course was brought out. Oops!
At my own Shabbat table, I usually feature two or three Mediterranean-influenced salads alongside a main course. Fresh fruits and vegetables are available here year round—thanks to desert greenhouses and mild winters—but customizing your salads to showcase winter root vegetables is a natural transition away from summery tomato or eggplant salads once the calendar page hits January.
The three salad recipes I'm sharing with you utilize carrots, beets, slow-cooked canned tomatoes, toasted nuts, dried fruit and quinoa. It wouldn't be Israeli-style cuisine as I know it without fresh herbs, and so parsley as well as Mediterranean spearmint feature in my salads—but they can be swapped out according to your preferences.
The key to making a great assortment of Shabbat table salads is using punchy and unexpected ingredients. Serve these salads alongside some fresh challah and, ideally, a dish of homemade hummus for added protein.
These recipes are presented in large enough quantities to fill three small serving bowls or plates at different ends of a long table—or as one large bowl in the center. For a smaller amount, simply cut the recipe in half, although it's never a bad idea to have extra salads on hand to accompany a simple sandwich or beautiful vegetable quiche.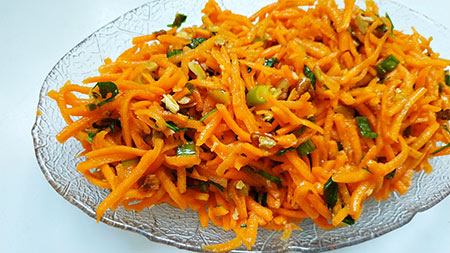 Carrot-Pecan Salad
Makes 3 1/3 cups
A little sunshine for a cold winter day, this shredded carrot salad includes a tangy dressing of olive oil, date honey (sometimes referred to as silan), mustard and fresh lemon juice. The original version contains dark candied pecans, called "Chinese pecans" in Israel, but toasted pecans with their light crunch and sweetness make a more than acceptable substitution. Use this salad as an alternative to coleslaw when you are looking to change things up.
1/3 cup pecan halves
6 medium carrots
1/4 cup chopped green onion
1/4 cup parsley (remove large stems)
3 tablespoons date honey, regular honey or apricot jam
3 tablespoons olive oil
1 teaspoon mustard
3 tablespoons fresh lemon juice
1/4 teaspoon salt
Pinch freshly ground black pepper
Pinch garlic powder
In a dry frying pan over medium-high heat, lightly toast the pecan halves for a minute or two, until they release a pleasant aroma. Take pan off heat and set aside.
Peel carrots. Using a hand grater or large-holed grater attachment on a food processor, grate all the carrots and place in a large bowl.
Finely chop green onions and parsley and add to the carrot mixture. Finely chop the toasted pecans and add to the carrot mixture. Drizzle honey, olive oil, mustard and lemon juice over the salad and toss to combine. Season with salt, pepper and garlic.
Toss again, taste and adjust seasoning. Assemble salad a few hours in advance to allow the flavors to marry.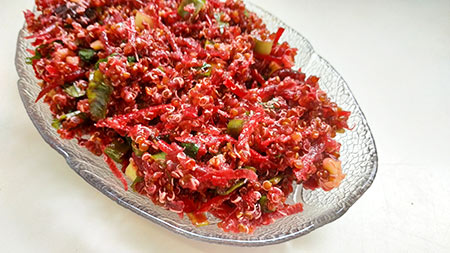 Red Quinoa Salad
Makes 4 1/2 cups
Red quinoa is more expensive than plain quinoa, making this salad a bit of a splurge. And I bet you didn't realize that beets could be enjoyed raw! Here, they contribute to the burgundy-red theme of the salad while lending a lovely crunch. Toasted walnuts provide added protein to the hearty quinoa, while lemon juice, green onion and fresh mint keep the dish—inspired by the cuisine of the country of Georgia—light and bright tasting.
1 cup red quinoa
Heaping 1/2 cup walnuts
1/2 cup grated beets, from one small raw beet
1/3 cup dried cranberries
15 leaves fresh nana (Mediterranean spearmint)
1 cup chopped green onion
2 tablespoons fresh lemon juice
1/2 teaspoon salt, plus more to taste
Pinch freshly ground black pepper
Pinch garlic powder
Bring a small pot of water to boil.
Meanwhile, rinse the uncooked quinoa thoroughly under running water in a fine mesh strainer. While doing so, rub quinoa between your fingers to get any bitter coating off the seeds before cooking. Shake off any excess water.
Add quinoa to the boiling water and cook for 20 minutes, until tender. Drain the quinoa and rinse under cold water to cool off the cooked seeds. Shake off any excess water and place in a large bowl.
In a dry frying pan over medium-high heat, lightly toast the walnut halves for a minute or two, until they release a pleasant aroma. Take pan off heat and set aside.
Peel and grate the beet and add to the cooled quinoa. Chop the walnuts, then add them to the quinoa along with the whole dried cranberries.
Remove stems from the mint leaves before finely chopping, then finely chop the green onion. Add both to the quinoa salad.
Season with fresh lemon juice, salt, pepper and garlic powder. Taste and adjust seasoning.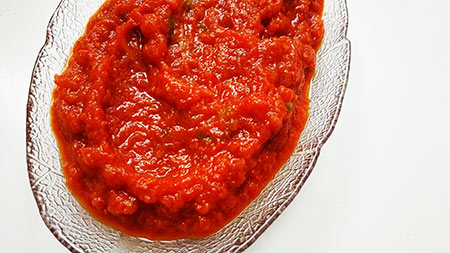 Matboucha
Makes 3 cups
Half condiment, half spread, this North African dish is essentially a cooked tomato salad that is served chilled or at room temperature. It is sold in stores in Israel, next to the tubs of pre-packaged hummus, but making the mildly hot dip yourself allows you to impart your own flavor preferences while controlling the level of heat. My family likes things very mild when it comes to heat, so I've deveined and deseeded the one chili pepper I choose to include. The slow cooking time will result in a mellow sauce, so if you like things spicy, you will want to add more chili pepper at the outset. Serve this as a dip, then use the leftovers as a base for a mid-week shakshuka meal.
1/4 cup olive oil
42 ounces canned crushed tomatoes
5 garlic cloves
1/4 cup deseeded and deveined finely chopped mild green chili pepper, like jalapeno (from about 1 pepper)
2 teaspoons salt
1/2 teaspoon cumin
1/8 teaspoon freshly ground black pepper
1/4 teaspoon sweet paprika
In a short, wide sauce pan set over medium heat, add olive oil and crushed tomatoes.
Peel and grate the fresh garlic into the tomatoes using a microplane or garlic press.
Put on silicon or rubber gloves if possible, then deseed, devein and finely chop the chili pepper. Add to the tomatoes.
Season with salt, cumin, pepper and paprika, and let come to a light boil.
Turn down to a gentle simmer and let cook, covered, for about 1 1/2 hours, stirring every so often to prevent sticking. (This process will take a bit longer in a tall sauce pan). The final product should be thick and jam-like.
Let cool then transfer to fridge. Serve cold or at room temperature.