Kim Kushner's 'I Heart Kosher' Will Have You Loving Kosher, Too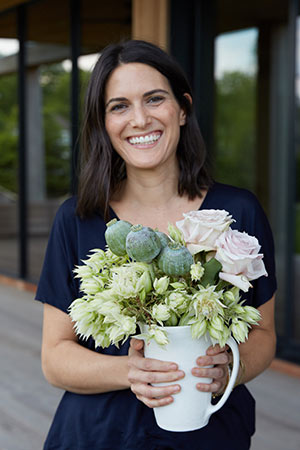 There was a time not too long ago when food-based, aspirational lifestyle brands were reserved for non-Jewish women like Martha Stewart, famous for her empire of domestic perfection. There was no place in that world, it seemed, for the modern Jewish woman who wasn't looking to find the perfect glaze for a Sunday ham.
These days, however, we have personalities like Kim Kushner. The author of two previous cookbooks—The Modern Menu
and The New Kosher
—Kushner's new I Heart Kosher: Beautiful Recipes from My Kitchen
is, in equal parts, a collection of simple and sophisticated recipes and a primer on how to set a stylish modern table and act as the consummate, breezily chic host.
Flipping through Kushner's recent release, you may wonder why she even mentions the word "kosher" in the title. I doubt any non-kosher cook would notice the lack of treyf, and of meat and milk not being paired together in a single dish. At first glance, it doesn't look different from most other on-trend cookbooks. The gap between the kosher and non-kosher culinary realms just got a bit closer, it seems.
The gorgeously styled photos show off Kushner's doable gourmet cooking, from salads to homemade pantry and freezer staples—think pan-fried lemon slices, herb-based sauces and marinades—to mains that could grace a restaurant table. Kushner herself appears in many of the photos, as do her husband and kids. Then there is her kitchen-cum-sanctuary of spotless marble, natural light and state of the art appliances, a kitchen that any serious cook would covet. They stylings of the book—the recipes themselves as well as their presentation—reaffirm Kushner's philosophy, first laid out in her earlier cookbooks and on her Instagram feed: kosher cooking can be a fresh, seasonal, farm-to-table affair.
Small touches like cinnamon butter to accompany her Chocolate Chip Cinnamon Z Loaf (z is for zucchini) and masterful plating skills that turn a short ingredient list like tomatoes, basil and olive oil into a feast on a platter, are her strength. Elegant one-pan quick mains include Lemony Whole Branzino and Potatoes and slow-cooked, soul-satisfying dishes such as A Bottle of Wine and Chicken (root vegetables and a whole chicken slowly simmered in a bottle of white wine).
Kushner makes sure to stress that gourmet eating is within everyone's reach, even on a budget.
"My advice would be to pick one ingredient to focus on and to spend the bulk of your budget on that," she says. "So whether it's gorgeous tomatoes or a nice, fresh piece of salmon, you don't need to do much to it. A drizzle of olive oil, salt and pepper will do the trick often times. Less is more."
Whether treating yourself to a soothing bowl of Asian-inspired chicken soup; looking for a meal to satisfy your family on a Tuesday night; or entertaining VIPs at a party, you'll find what you're looking for in Kushner's delicious recipes.
This recipe is highly requested among my friends. It's easy to throw together this mix of creamy, salty feta cheese marinated with spicy jalapeños, shallots and parsley in a lusciously lemony vinaigrette. I like to serve the marinated feta in small mason jars with fresh baguette slices, roasted chickpeas and a dry red wine.
1 pound firm feta cheese
2 jalapeño chiles, stemmed and thinly sliced
1 cup extra-virgin olive oil
Zest and juice of 1 lemon
1 shallot, sliced finely
2 tablespoons finely chopped fresh flat-leaf parsley
1 teaspoon freshly ground black pepper
1 teaspoon sumac or paprika for garnish
Place the feta on a paper towel and pat dry on all sides, absorbing any excess liquid.
Transfer the feta to a cutting board and use a large chef's knife to cut the feta into small dice, about 1/2 inch in size.
Place the diced feta in a shallow dish that is big enough to hold the cheese in a single layer. Sprinkle the jalapeño slices over the feta.
In a small bowl, stir together the remaining ingredients except for the sumac or paprika and pour over the feta cheese.
Cover the dish and marinate for 30 minutes unrefrigerated, or for up to one week in the fridge. Garnish with sumac or paprika before serving.
Make-Ahead Tip: Marinated feta can be stored in the fridge for up to 1 week. The oil in the feta may solidify while refrigerated, so simply place the dish on the counter for 20 minutes before serving to allow the oil to liquefy.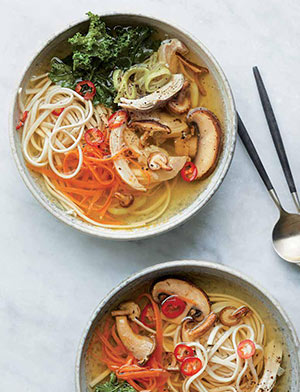 Gingery Healing Broth With Mushrooms, Carrots, Leeks, & Kale
Serves 6 to 8
This is more than just an amazingly fragrant soup: it's an all-in-one pot meal. Chicken, veggies, and noodles in a light, gingery-garlic golden broth really nourishes in more than one way. I know that traditionally chicken matzo ball soup is meant to be the go-to when you're feeling under the weather, but I opt to go for this instead—the fresh ginger gives me the kick that I need to get back into shape.
1 tablespoon neutral oil (canola, avocado, rice bran)
1 tablespoon grated fresh ginger
1 tablespoon grated fresh garlic
2 cups thinly sliced mushrooms (portobello, oyster, white button, baby bella, shiitake)
4 leeks, trimmed and sliced crosswise into thin rounds, then rinsed and patted dry
Kosher salt and freshly ground black pepper
8 cups vegetable or chicken stock (if you don't have stock handy, use water)
1/3 cup soy sauce
2 cups shredded cooked chicken (you may use leftover roast chicken or grilled chicken, white or dark meat or a combination)
2 carrots, peeled and julienned
Half of a 7-ounce package of udon noodles
1 handful of washed kale torn into small pieces
Drizzle of toasted sesame oil (optional)
Fresh red chile, stemmed and very thinly sliced (also optional—if you, like me, love the heat)
In a large pot, heat the oil over medium-high heat. Add the ginger, garlic, vegetable, and mushrooms.
Use a wooden spoon to keep the ingredients moving in the hot oil. Sauté for 3 minutes, then add the leeks. Cover and cook until the leeks have softened, 4 minutes longer.
Taste and season generously with salt and black pepper.
Add the stock and soy sauce and bring the mixture to a boil. Once the soup is rapidly boiling, reduce the heat level to medium and add the chicken, carrots, and udon. Cover and cook for about 10 minutes.
Remove the broth from the heat and stir in the kale.
Season once more with salt and pepper. Before serving, I suggest drizzling each individual serving with a tiny (1/8 of a teaspoon) drizzle of sesame oil and topping with a few chile slices (if using).
Make-Ahead Tip: Gingery healing broth can be stored in the fridge for up to 1 week.
Can I Freeze It?: Gingery healing broth can be stored in the freezer for up to 1 month. Thaw in the fridge overnight or on the counter for a few hours. Transfer to a pot and simmer over medium heat until desired temperature is achieved.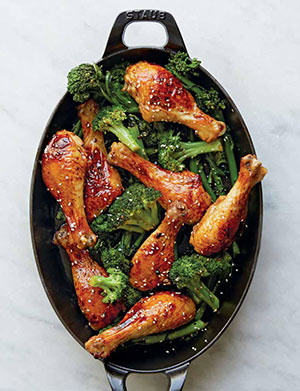 Sesame Chicken Drumsticks With Crispy Broccoli & Broccolini
Serves 4 to 6
I am not sure how chicken drumsticks morphed into "kiddie food," but it seems that they have. Whenever I am having company with kids over for a meal, I make this dish for the younger set. It's a no-brainer—sweet, sticky and yum, with your veggies and protein all in one big baking dish.
12 chicken legs, trimmed of excess skin and fat
1 cup Toasted Sesame Marinade (see below)
1 head broccoli, cut into florets
1 head broccolini, cut into florets
1 tablespoon sesame seeds
Preheat the oven to 350°.
Place the chicken in a large baking dish. Pour the marinade over the chicken and turn to coat all the pieces in the sauce.
Place each of the broccoli florets in each of the 4 corners of the baking dish, and scatter the broccolini around the chicken pieces. Cover with foil and bake for 30 minutes.
Remove from the oven and uncover, and sprinkle the sesame seeds over the top. Raise the oven temperature to 375° and bake for 20 minutes longer.
Remove from the oven and serve.
Make-Ahead Tip: Sesame chicken drumsticks can be marinated and stored in the fridge for up to 24 hours before cooking. Add the broccoli and broccolini just before cooking.
How To Reheat: Let the chicken come to room temperature before reheating, uncovered, in a 350° oven for 7 to 10 minutes.
TOASTED SESAME MARINADE
Makes 10 ounces of marinade
1/2 cup soy sauce
1/4 cup neutral oil such as canola or rice bran oil
1 tablespoon toasted sesame oil
1/2 cup rice vinegar
Juice of 1 lime
2 tablespoons honey
1/2 teaspoon ground ginger
1 tablespoon sesame seeds
1/4 teaspoon freshly ground black pepper
In a glass jar with a tight-fitting lid, combine the soy sauce, oils, vinegar, lime juice, honey, ginger, sesame seeds and pepper. Shake well until blended. Toasted Sesame Marinade can be stored in a glass jar with a tight-fitting lid in the fridge for up to 3 weeks.
All photos by Kate Sears. Recipes courtesy of Kim Kushner, from I Heart Kosher (Weldon Owens).