Pickle Everything, Says Leda Meredith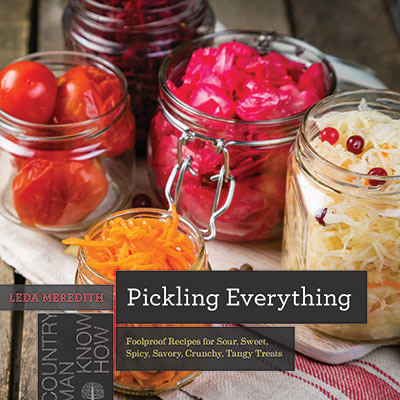 Did you know that a fermented pickle is considered a naturally occurring probiotic food? Cookbook author Leda Meredith wants to educate us about many unlikely kitchen staples that fall into this gut-beneficial category—why, hello there, chocolate, bread, beer and soy sauce—while shining a starring spotlight on pickling. In Pickling Everything: Foolproof Recipes for Sour, Sweet, Spicy, Savory, Crunchy, Tangy Treats, Meredith shares recipes, tips and tricks for novices and experts alike.
The book holds true to its promise, containing ideas for pickling everything from those addictive magenta-pink, beet-juice-pickled turnips found in falafel shops to less-well-known players such as starfruit. Meredith also pickles eggs and includes recipes for condiments like ketchups and relishes. For the less daring among us, there are traditional pickle choices—hamburger pickle chips, half sours and cocktail onions, which Meredith suggests gifting to your martini-loving friends.
Pickling and preserving is just one creative outlet for Meredith, who is also a world traveler, yoga enthusiast, forager and sustainable food-systems educator. Her seven cookbooks, beginning with Botany, Ballet & Dinner From Scratch in 2008, offer information on topics—global warming, sustainable living and clean eating, for instance—of increasing concern to younger readers. Immediately on the heels of Pickling Everything, next month, Meredith will publish The Skillful Forager: Essential Techniques for Responsible Foraging and Making the Most of Your Wild Edibles.
When I caught up with Meredith, she had just returned from a long-term foraging adventure in Costa Rica. The intrepid eater and traveler has home bases in Jerusalem and New York City as well as in Costa Rica. She attributes her foraging and preserving lifestyle to her San Francisco upbringing, when her Greek grandmother would frequently take her to the park to gather wild greens and dandelions. Foraging, Meredith tells me, is an important part of Greek culture.
After leaving the West Coast, Meredith became a player in New York City's local food and sustainable agriculture movement in the 1990s: rooftop and community gardens, buying from local farmers and participating in Brooklyn's Park Slope Food Coop. It was around this time that Meredith was bit by the pickling bug.
Regarding the benefits of pickling at home, Meredith is a true believer. "When you do it yourself, you have choice about the ingredients and can include only those that are in peak season, locally and sustainably grown," she explained to me over email. "They are tastier and more environmentally friendly than those grown 'conventionally' and shipped thousands of miles. [In making them yourself], you get to choose the seasonings and tailor the tastes, and if you're buying the ingredients, you get to know—and support—your local farmers."
Meredith believes that pickling and preserving are gaining traction with home cooks eager to pair top-quality ingredients with "DIY survivalist interests." And, according to the author, with a bit of old-fashioned "fun."
Preparation Time: 10 minutes
Wait Time: 1 week, including 3 days' initial brining time 
Half-sours are cucumbers cured in a brine that contains no vinegar. These are the original deli dill pickles, and they are rich in healthy probiotics (unlike the heat-processed pickles usually sold nowadays).
Kept refrigerated, for the first 6 to 8 weeks, they have a light, fresh taste and keep much of the cucumbers' original bright green color. They are called half-sours because if you wait another month or so to eat them, you will find that their flavor has become much more intensely sour (full sours).
How these pickles came to be associated with New York City delis in particular is an interesting bit of history. During the late 19th and early 20th centuries, there was a wave of Eastern European Jewish immigrants who landed in New York. Fermented pickles such as these were part of the food culture that had helped make harsh winters tolerable when no fresh vegetables were available back in the old country. When they arrived in the United States, these immigrants began selling their pickles from pushcarts. Eventually the pickles became staples in delis all over the city.
Nowadays, vendors are again hawking their homemade pickles out of barrels, but this time at the greenmarkets and in trendy pickles-only stores.
12 to 15 small, firm cucumbers (Kirby is a good variety for half-sours)
1 teaspoon whole mustard seeds
1/2 teaspoon whole coriander seeds
12 whole black peppercorns
1/4 cup kosher or other non-iodized salt
3 pints filtered or unchlorinated water
6 garlic cloves, cut in half
4 sprigs fresh dill
2 bay leaves
2 grape vine leaves or green oak leaves or pieces of horseradish leaves (optional)
Wash the cucumbers. Cut thin slices off of each end. (It is especially important to remove the blossom end of the cucumber because it contains enzymes that can make pickles mushy.)
Crush the mustard and coriander seeds and the peppercorns in a mortar and pestle or with a rolling pin or a rock.
Dissolve the salt in the water.
Load the jars with the cucumbers, adding the spices and dill sprigs as you go.
Pour the salt brine over the cucumbers. Make sure they are completely covered by the liquid. Place the grape vine leaves, if you are using them, over the cucumbers. Use a chopstick or the handle of a spoon to tuck the leaves in around the cucumbers. The leaves keep the cucumbers from floating up out of the brine. They also help keep the pickles crunchy because of the tannins they contain.
Loosely cover the jars. Place on plates and leave at room temperature for 1 to 3 days, until there are signs that a successful fermentation is underway (there will be some bubbles on the surface and a clean, lightly sour smell). The plates are there to catch the overflow that often happens during fermentation.
Secure the lids more tightly and transfer the pickles to the refrigerator (you don't need the plates anymore). Wait at least another 4 days before enjoying your half-sours. Wait another 2 months, and instead of half-sours, you'll have full-sour pickles!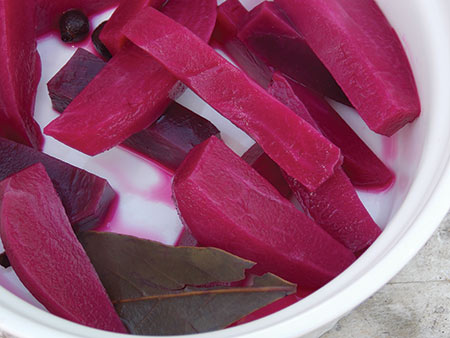 Magenta Pickled Turnips
Makes approximately 2 pints

Preparation Time: 15 minutes 
Wait Time: 10 days 
Don't let the shockingly bright color throw you: there is no artificial coloring in this Armenian-style pickle. The color comes naturally from the beets in the recipe.
Turnips are a too-frequently overlooked vegetable, but this pickle makes them the star of the show. Often served with Middle Eastern foods, including falafel and hummus, they boost the color and taste of any sandwich or salad.
1/4 cup kosher or other non- iodized salt
1 tablespoon granulated sugar
3 bay leaves
4 whole allspice
3 cups filtered or unchlorinated water
1 cup white wine vinegar
2 pounds turnips, stem ends and root tips sliced away
1 medium beet
2 garlic cloves, lightly smashed
Put the salt, sugar, bay leaves, allspice and one cup of the water into a small pot. Bring to a boil over medium-high heat, stirring to dissolve the salt and sugar. Remove from the heat and stir in the rest of the water and the vinegar.
If the turnips are very young and small, you can leave the skins on. Otherwise, go ahead and peel them with a vegetable peeler. Cut the turnips into 1/2-inch-thick sticks or rounds.
Scrub the beet clean under running water. Cut off the stem end and root tip. Slice the beet into 1/2-inch-thick sticks or rounds.
Put the turnips, beets and garlic into a clean glass container. Pour the pickling liquid over the other ingredients. The turnips and beets should be completely immersed in the liquid. Press down on them with the back of a spoon to release any air bubbles.
Cover and store in the refrigerator or other cool but not freezing place for at least 10 days before serving. During that time, the turnips will take on that great pink color from the beets, and the flavors will marry pleasingly.
Change It Up: You can use this same method and recipe to make magenta-colored pickled cauliflower.
Tip: Go ahead and serve the beets as well as the pickled turnips. Whether or not to eat the pink pickled garlic is a matter of taste: I like it, but some people find it too strong.
Recipes and photos excerpted with permission from Leda Meredith's Pickling Everything (2019, The Countryman Press)