Kosher Influencers of Instagram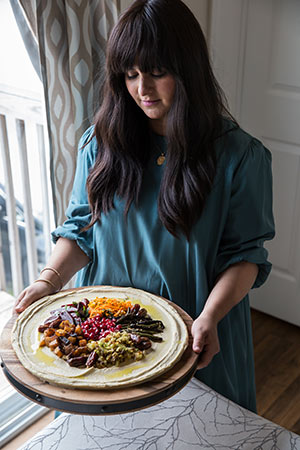 There's an online revolution brewing in the world of kosher food. Seizing upon opportunities that only technology can provide, a group of food-obsessed, savvy social media influencers—almost all of them frum women—are using their friendly demeanors and smartphone cameras to change the way kosher cooks approach all things edible. They are adding their voices to a constellation of Jewish, but not necessarily kosher, Instagram food influencers such as Rayna Greenberg (@onehungryjew; 350K followers) and Danielle Oron (@iwillnoteatoysters; 19K followers).
With tens of thousands of acolytes following their every move, these newly minted culinary stars—many covering their hair in long, voluminous dark-brown sheitels—are engaging with consumers hungry for new products, taking them along on their foodie adventures and bringing the kosher kitchen up to speed with mainstream eating trends.
One of the first adapters to the advantages of social media was Sarah Lasry, a 44-year-old divorced mother in the black-hat community of Lakewood, N.J. A former owner of kosher restaurants and food-product consultant, Lasry found early footing on Instagram, the photocentric social media platform. "My second-ever post in 2012 was about food," said Lasry. "And I never looked back."
Seven years later, her 23,000-plus Instagram followers (@sarah_lasry) have a bird's-eye view into her daily food experiences, many sponsored by the multiple kosher food brands she represents. You might find her sampling broccoli puffs in a professional kitchen, mashing up guacamole using one of her sponsor's frozen avocados or dispatching bite-by-bite reviews at kosher eateries.
"The most important thing is honesty," said Lasry, who is known for her willingness to take companies, products and restaurants to task for delivering a subpar experience to an increasingly sophisticated kosher audience. "I think we're still at the beginning of big changes," she added. "I am happy to be a part of them."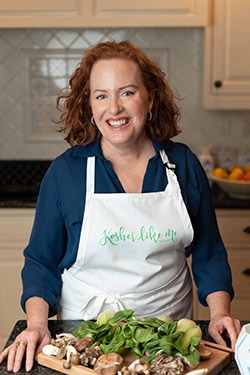 Jerusalem-based Danielle Renov (@peaslovencarrots; 43K followers) agrees. "I don't think traditionally there has been enough accountability to kosher consumers," said Renov, who made aliyah with her husband, Eli, nearly 12 years ago. "I was bored and needed an outlet," added the 32-year-old, whose conversational, upbeat posts combine time-saving weeknight cooking tips with hacks like a recipe for two-ingredient jelly doughnuts that went viral last Hanukkah.
But it was with the introduction of Instagram stories—15-second video clips that disappear after 24 hours—that Renov really became a breakout star. Advertisers soon caught on; Renov now travels regularly to New York to record cooking videos sponsored by kosher.com, a recipe-aggregator site that works with an increasing number of influencers.
The shift in understanding about the importance of social media has been dramatic. "Two years ago, when I was meeting with a client, I needed to convince them why they needed a presence on social media," said Mussy Raitman, director of marketing and account services at Lubicom, a Jewish-focused marketing consulting firm. "They don't need convincing anymore."
Bloggers like 30-year-old food photographer and kosher chef Miriam Pascal (@overtimecook; 33K followers) are being paid between $200 to $1,800 per post to upload sponsored content. Previously moribund Jewish brands including Koshertaste and Gourmet Glatt, and even mainstream ones like Ore-Ida and Breakstone's, are paying these women to style and shoot ad campaigns. Though some influencers accept free products in exchange for promotion, most, like cookbook author and radio host Naomi Nachman (@naominachman; 22K followers), insist on financial compensation. "I don't blog for hummus," she joked.
Annual events such as the Kosherfest trade show have become so popular that Nachman, 48, relocates to the Meadowlands Exposition Center in Secaucus, N.J., every November to broadcast from the center of the action. To capitalize on the talent already assembled for Kosherfest, Melinda Strauss, 35, (@therealmelindastrauss; 23K followers) created the Jewish Food Media Conference, held in the days immediately preceding the trade show. Strauss's conference features popular young chefs like Chanie Apfelbaum, a 38-year-old Lubavitcher mother of five from the Crown Heights section of Brooklyn (@busyinbrooklyn; 56K followers).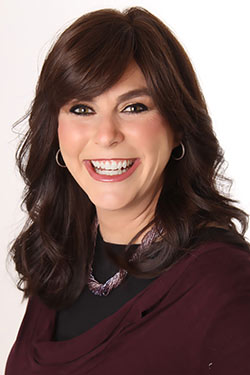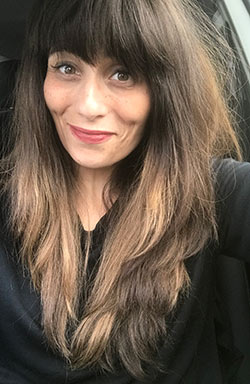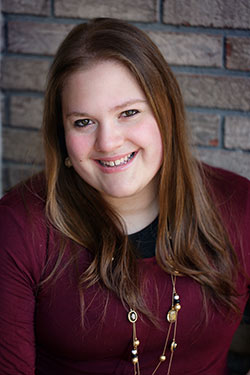 "For religious women like myself, food is a big a part of our life, and Instagram is a clean, fun way to express ourselves," Apfelbaum said, using "clean" to acknowledge the desire of many frum women to maintain a level of modesty when going online. "People who don't usually have smartphones for religious reasons are getting special dispensations so they can watch us," Apfelbaum added about herself and her fellow fooderati.​
Cookbooks have proven to be a tangible expression of these women's virtual lifestyle brands. Apfelbaum's 2018 debut cookbook, Millennial Kosher, which features recipes like ramen shakshuka and hasselback salami, has sold more than 20,000 copies. Pascal and Nachman have each written two well-received cookbooks.
Though this new-wave kosher clique is primarily made up of traditionally Orthodox women, there is also room for more diverse, but still kosher-identifying, personalities. Whitney Fisch, 38, (@jewhungry; 14K followers) became kosher after studying at Jerusalem's Pardes Institute, where she met her future husband.
"The most practical class I took was about kashrut, and it just stuck with me," said the Los Angeles-based Fisch, who eats vegetarian food in non-kosher restaurants.
The conceit of Connecticut-based Liz Rueven's social media brand (@kosherlikeme; 9K followers) mirrors her life: a strict kosher-keeper at home who adopts a more "flexadox" approach while dining out.
"I want to embrace everyone that identifies as kosher, not just the ultra-Orthodox," Rueven, 58, said, noting that she understands that the laws of kashrut are clearly spelled out.
"My use of the word has been a turnoff for some, but mostly a conversation starter," said Rueven. "There are thousands of Jews who honor the rules just the way I do, or to some degree that is comfortable and significant for them."
Ultimately, regardless of where they stand on the religious spectrum, these influencers are expanding possibilities for their audiences, one post at a time. "I feel very passionately that kosher food is in its infancy, and we're getting better," said Renov. "I want to be a part of that revolution."
Enjoy these Purim- and Passover-friendly recipes, first launched on the internet.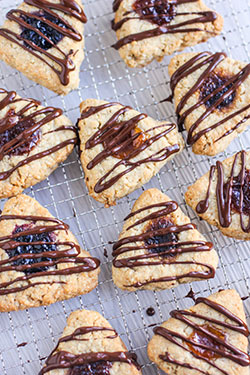 Healthy (Eggless!) Thumbprint Hamantaschen
Adapted from @busyinbrooklyn
Makes approximately 16 cookies
1 up quick cooking oats
1 cup almond flour
1 cup white whole-wheat flour
1/2 cup pure maple syrup
1/2 cup canola oil
Pinch of salt
Good quality jam
1/2 cup melted chocolate
Preheat the oven to 375°.
Whisk the oats, almond flour, white whole-wheat flour and salt in a bowl. Mix in the maple syrup and oil to form a firm dough.
Using a tablespoon-sized scoop or tablespoon, portion out around 16 balls of dough onto a parchment-lined baking sheet and form into 2-inch triangles using your hands.
Using your thumb, form a 1-inch indentation in the center of each cookie. Spoon jam into the indentations and bake until browned and crisp, 16 to 18 minutes (for softer cookies, bake for 15 minutes).
Cool for 10 minutes, then transfer to a rack to cool completely. While still on the rack, use a teaspoon (or fill a small ziplock bag and snip off a corner) to drizzle melted chocolate over the cookies.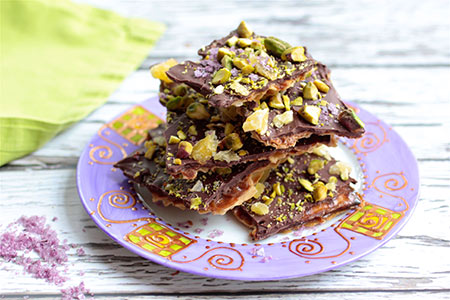 Chocolate Matzah Bark with Dried Pineapple and Pistachios
Adapted from @kosherlikeme
Serves 8 to 10
4 sheets of matzah
2 sticks butter or non-hydrogenated margarine
1 cup dark brown sugar
2 cups semi-sweet chocolate chips
1/2 cup chopped pistachios
1/2 cup dried pineapple or dried fruit of choice
Flaked salt (optional)
Non-stick cooking spray
Line a 12 x 17-inch cookie sheet with parchment paper. Lightly coat the paper with non-stick cooking spray. Preheat oven to 350°.
Place matzah in one layer on the prepared cookie sheet, breaking it into pieces so that the entire surface is covered. Set aside.
In a small saucepan, melt butter and brown sugar, stirring frequently. Bring to a boil and allow to thicken by cooking 3-4 more minutes.
Carefully pour the mixture over the matzah, spreading it with a spatula and working quickly so it glides over all of the matzah.
Bake for 12 to 15 minutes or until the sugar and butter mixture is bubbling. Be careful not to let it burn.
Remove tray from oven and immediately sprinkle chocolate chips evenly across the hot surface. Using an offset spatula, spread melted chocolate so that it covers matzah completely.
Distribute chopped fruit, nuts and flaked salt over surface and refrigerate for about 30 minutes or until firm.
Cut or break into pieces and serve.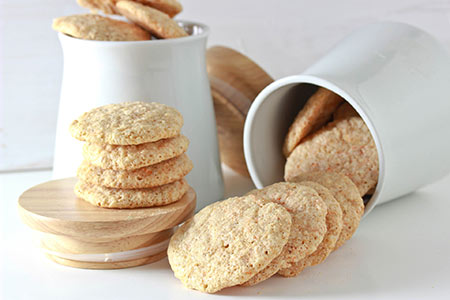 Flourless Carrot Walnut Cloud Cookies
Adapted from @overtimecook
Makes approximately 3 dozen cookies
2 cups confectioner's sugar
1 cup ground walnuts
1 cup potato starch
1 teaspoon baking powder
1/2 teaspoon cinnamon (skip if you don't use it)
1 cup finely shredded carrots
1 egg white
1/2 cup Passover lady finger crumbs (use an extra 1/2 cup ground walnuts if you don't use or can't find these) 
Preheat oven to 350°. Line a cookie sheet with parchment paper and set aside.
In a mixing bowl, combine together the confectioner's sugar, ground walnuts, potato starch, baking powder and cinnamon.
Add the shredded carrots and stir well until they are completely incorporated. The mixture will be somewhat wet, but very thick.
Add the egg white and stir until fully combined.
Lastly, stir the lady finger crumbs into the mixture and stir to combine.
Spoon the mixture by about a teaspoon and a half onto the prepared cookie sheets.
Bake at 350 for 10 minutes. Remove from oven and set aside to cool for a couple of minutes before removing from the tray.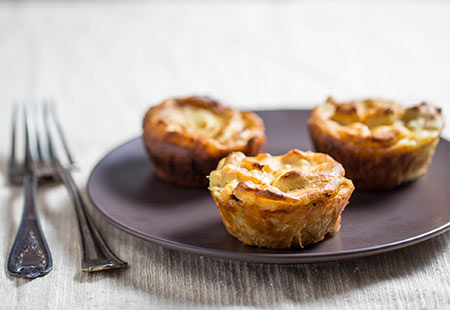 Doughless Potato Knishes for Passover
Adapted from @overtimecook
Makes 30 small knishes
FOR CARAMELIZED ONIONS
2 medium onions, peeled and finely diced
1/4 cup oil
FOR KNISHES
8 medium potatoes, boiled and peeled
1/2 cup oil
8 eggs
1 cup potato starch
2 teaspoons salt
1/2 teaspoon black pepper, optional
Oil, for pans
Caramelize the onions: Sauté onions in 1/4 cup oil on a low flame for at least 20-30 minutes, but longer is even better. You can saute the onions ahead of time.
Prepare the knishes: Preheat oven to 400°.
In a large bowl, combine the caramelized onions, potatoes, oil, eggs, potato starch, salt and pepper, if using.
For best results, break up the potatoes first using a potato masher or a heavy spoon.
Using an electric mixer, blend together all ingredients until mostly smooth. A few lumps are fine. Do not over mix.
Grease cupcake pans well with oil (a little extra in each pan is well worth the calories—it really helps the knishes develop a fried-like crust). Fill the pans until almost full with potato batter.
Bake at 400° for about 26 to 28 minutes, until tops are golden brown. Serve hot (but these knishes freeze well).
Adeena Sussman (@adeenasussman; 27K followers) is the author of the upcoming cookbook Sababa: The Fresh, Sunny Flavors of Israeli Home Cooking (Penguin/Avery), which comes out in September. She lives in Tel Aviv.