Apricot Jam Bars and Other Purim Treats
If you ever plan to give me a food present, it had better be chocolate. That is, unless it's Purim time. Holiday baking conjures up thoughts of Eastern European pastries made with generous amounts of luxurious, sticky poppyseed filling as well as the succulent dried fruits of the Middle East, among them medjool dates and plump Turkish apricots.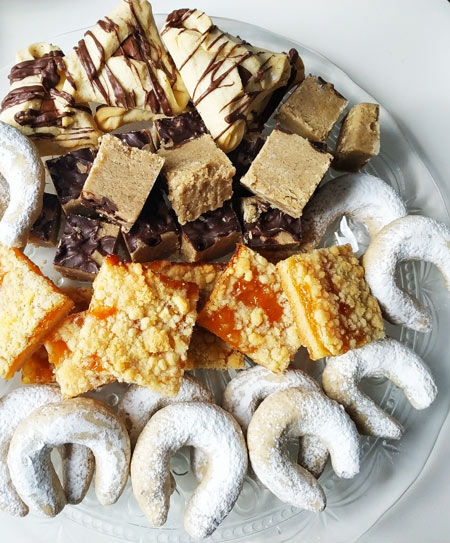 Mishloach manot is the centuries-old Jewish tradition of giving not just one, but multiple little food gifts to loved ones for the Purim holiday. The gift of festive food is meant to help others, including the less fortunate, elevate this already triumphant holiday into one that resounds with fun and feasting. It's the classic Jewish trope of, "They tried to kill us, we survived, let's eat."
While a growing trend in mishloach manot, at least in Israel, is gifting components of a healthy meal—think mini-salads, soups or freshly baked bread—this albeit wholesome development does not encourage an indulgent, celebratory feast. For this reason, I like to keep my mishloach manot sweet and carb-laden. A present that someone doesn't necessarily need, but will enjoy. Purim truly is one of the best holidays for people whose "love language" is food, and whose specialty is sweet treats.
In addition to the chocolate hamantaschen—called oznei haman in Israel—that I shared with you last year, my gift packages this Purim will include: Israeli-Style flaky Espresso Chocolate Chip Halva; Moroccan-inspired Saharonim Cookies, a pecan-walnut shortbread horn dusted with powdered sugar; and buttery Apricot Jam Bars with chunks of dried apricots and a splash of brandy for that extra Purim tipple.
Consider rounding out your gifts parcels with some juicy dates and a bottle of sparkling kosher red wine if you're really feeling generous and festive—and you know that your friends won't be driving to shul!
Israeli-Style Espresso Chocolate Chip Halva
Makes 28 bite-sized pieces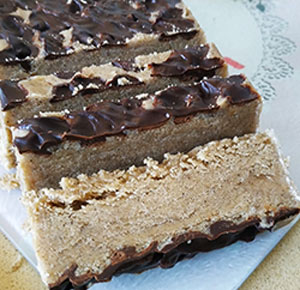 Those who have never had fresh halva candy will be shocked by how sweet, creamy and utterly irresistible it is. This recipe was born out of a desperate search for a halva like the kind found in Israel's open-air markets, displayed in a row like cakes and featuring a sumptuous array of flavor combinations. Like those market halvas, this one is rich and flaky, and cuts effortlessly into bars or chunks. Here, Israeli tahini lends its richness to sugar syrup that has been heated well past the soft-ball candy stage, which means you absolutely cannot make this without a candy thermometer.
1/3 cup chocolate chips
2 cups tahini paste, preferably Israeli
1 teaspoon vanilla extract
1/2 teaspoon almond extract
1/4 teaspoon salt
1 tablespoon espresso powder
2 cups sugar
1/2 cup water
1. Line a 12-inch loaf pan with parchment paper. Sprinkle the chocolate chips evenly in the bottom of the pan, and set aside.
3. Mix up the tahini past (it is not unusual for some oil to pool on the top), and put into a medium-sized microwavable bowl. Heat for about 30 seconds, until just warmed. Add the extracts, salt and espresso powder. Stir to combine, and set aside.
4. Combine sugar and water in a medium-sized pot over medium-high heat. Once the sugar has begun to melt, you can carefully swirl the pan to "mix" the sugar and water, but DO NOT STIR. Let syrup cook until it reaches 260° on a candy thermometer.
6. Once the sugar syrup has reached 260°, immediately pour the tahini mixture into the pot, and stir to combine. Work quickly, as it will begin to set as you stir.
7. Pour the syrup-and-tahini mixture into the prepared tin and let cool completely at room temperature, 4 to 6 hours, or overnight.
8. Once cooled, cut the halva into squares or bite-sized chunks.
Note: The flaky/crumbly texture may not occur for at least one day after preparing, so this a great treat to make one day or more in advance.
Apricot Jam Bars
Makes 24, 2-x-2-inch bars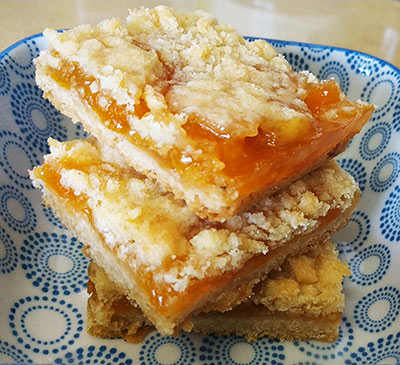 These fruit bars possess the traditional taste of jam-filled hamantaschen without the laborious process of cutting out and forming the cookies. Here, dried apricots and brandy do a great job of thickening ordinary apricot jam, creating a stable bar that holds up well in Purim gift packages.
APRICOT FILLING
1/3 cup dried apricots
1 cup apricot jam
1 tablespoon brandy
Zest of 1/4 of a lemon, or to taste
TOPPING AND CRUST
2 1/4 cups flour
1 1/4 cups powdered sugar
3/4 teaspoon salt
1 teaspoon baking powder
1 cup cold butter, cut into small chunks
1 teaspoon vanilla extract
Few drops almond extract
Preheat oven to 350°. Line a 9-x-13-inch baking dish with parchment paper.
Make the filling: Soak dried apricots in hot water for 5 minutes to soften. Drain water, then finely dice the apricots.
In a medium bowl, mix apricot jam, brandy and lemon zest. Add the diced dried apricots, and mix to combine. Set aside.
Make the crust and topping: In a large bowl, whisk together flour, powdered sugar, salt and baking powder.
Add the cold butter chunks and extracts, and work the butter into the flour mixture using your fingertips until coarse crumbs of cookie dough form. This could take a few minutes. You will know it is ready when the crumbs come together to form a dough when smashed together in the palm of your hand.
Reserve 1 1/4 cups of crumbs for the topping, and press the remainder into the baking dish. Bake crust for 15 minutes, or until golden and set.
Remove the crust from the oven and carefully spread the apricot mixture evenly over the top using an offset spatula.
Sprinkle the reserved cookie-crumb mixture over the top, and immediately return to the oven to bake for an additional 20 to 25 minutes, until the topping is golden brown and the jam is bubbly.
Let cool completely before using the sides of the baking paper to lift the cookies out of the pan. Cut into bars.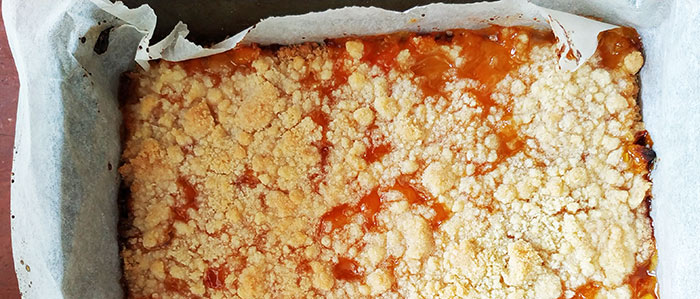 Saharonim Cookies
Makes 31 shortbread, nut horn cookies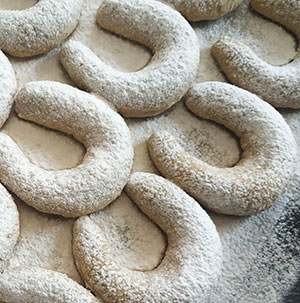 Though resembling a popular German Christmas cookie, these nut horns actually came to Israel via North African Jewish immigrants. A simple cookie, they need only a slight mastering of the shaping technique to pull off. Here they are made from a butter-enriched dough, which is mixed with an equal amount of ground pecans and walnuts. Cooled cookies are topped with a dusting of powdered sugar, which lends a sweetness that pairs well with the rich nutty flavor. These make a perfect tea cookie to share with friends and family.
1 cup pecan halves
1 cup walnuts
1 cup butter
1/2 cup powdered sugar
1 1/2 teaspoons vanilla extract
1/2 teaspoon almond extract
1 large egg
2 1/2 cups flour
1/2 teaspoon salt
Preheat oven to 350°.
In a food processor, mix nuts until finely ground.
In a stand mixer, cream together butter and powdered sugar. Add extracts and egg and mix to combine. Scrape down the sides if necessary.
Add flour, ground nuts and salt, and mix until a dough forms.
Turn out dough onto a lightly floured surface. Pinch off balls of dough the size of a walnut. Using a small amount of flour on your workbench, roll dough into a snake that has a fat middle and two skinnier ends. This can be done by spreading your fingers out when rolling, and gently pressing either end of the dough with your thumb and pinky, while putting less pressure on the center portion at the palm of your hand. Then curl the snakes into horn/horseshoe shapes.
Repeat the process, laying shaped cookies on a parchment paper-lined tray. Cookies can be placed close together as they hardly spread when baking.
Bake for 10-12 minutes, until the undersides and edges are golden. Let cool completely before dusting with powdered sugar.
Note: To store, stack in layers between pieces of parchment paper in an air-tight container.