Mark Bittman Is Making 'Dinner for Everyone'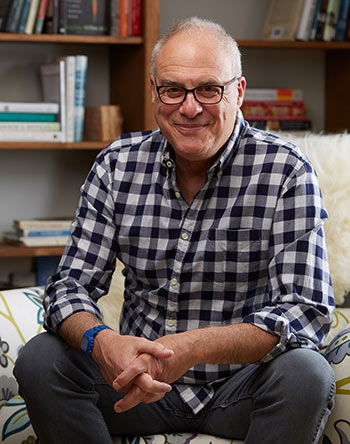 Mark Bittman was nearly a decade into his The Minimalist food column at The New York Times when he introduced to the world the joys of no-knead artisan bread making. To do so, he shared a recipe from master bread maker Jim Lahey, proprietor of the renowned Sullivan Street Bakery in New York City. That article—all the way back in November 2006—went viral, and it was soon featured on hundreds of blogs. Ultimately, Bittman—via Jim Lahey—changed how home cooks approached bread making in their own kitchens.
During Mark Bittman's long career as a food writer and recipe developer—he is the author of 20-plus books—he has honed his instincts as a culinary guide as well as a passionate food activist. He is a faculty member at Columbia University's School of Public Health and is passionate about sustainable food systems. He has consistently gifted us refined instructions on how to prepare the most basic of meals, both in his Times columns (The Best Scrambled Eggs, which he learned from James Beard himself) and in his cookbook How to Cook Everything: 2,000 Simple Recipes for Great Food
.
In his latest book, Dinner for Everyone
, he shares his take on 100 iconic dishes culled from world cuisine, each from three different perspectives: The easy version; the vegan version; and the all-out version. Vegan versions tend to fall on the healthier side, often featuring whole grains and seeds. The all-out versions call for ingredients that might be hard to find outside of a specialty store, like tofu skins and mung beans, making this book a type of Goldilocks scenario where it's up to the home cook to decide which version of any given recipe works.
Bittman, 67, himself is a flexible eater, jumping back and forth between the vegan cuisine he highlighted in his No. 1 New York Times best seller The VB6 Cookbook: More than 350 Recipes for Healthy Vegan Meals All Day and Delicious Flexitarian Dinners at Night
and his non-kosher lust for bacon. Having been raised in a Jewish household and within the framework of the Reform youth movement in 1960s New York, Bittman today espouses a Jewish cultural inheritance in the values he promotes within the food industry—food waste and the treatment of workers and even farmed animals—rather than in his dietary choices.
Though Bittman fills his new work with riffs on American and French classics, what he excels at here is simplifying intriguing, popular global flavors, from jerk to mole to Thai curries. Beyond that, his tutorials encourage readers to put down the jarred sauce and make their own. A baby step in the crusade to reclaim dinner as a homemade, non-processed reality for families.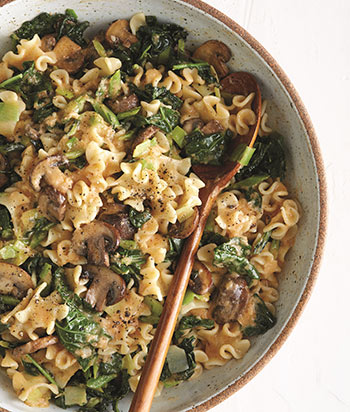 Mustardy Mushroom and Kale Stroganoff
Serves 4
Salt
4 tablespoons olive oil
1 pound cremini mushrooms, sliced
Pepper
1 large or 2 small leeks, trimmed, well rinsed, and chopped
4 garlic cloves, sliced
1 1/2 pounds lacinato kale, rinsed and chopped (stems included)
1 teaspoon paprika
1/2 cup dry white wine or water
2 cups vegetable stock, or water, or more as needed
2 tablespoons Dijon mustard
12 ounces wide, flat whole wheat pasta
1 1/2 cups cooked cannellini beans, with some of the cooking liquid
Bring a large pot of water to a boil and salt it. Put the oil in a large skillet over medium heat. When it's hot, add the mushrooms, sprinkle with salt and pepper, and raise the heat to medium-high. Cook, stirring occasionally, until they release their liquid and the pan begins to dry, 8 to 10 minutes.
Add the leek and garlic and sprinkle with salt and pepper. Cook, stirring often, until soft, 3 to 5 minutes. Add the kale and paprika, toss to coat, then pour in the wine and cook, scraping any browned bits off the bottom of the pan, until the wine has reduced by half, just a minute or  two.
Add the stock and the mustard and bring to a boil. Adjust the heat so the mixture bubbles gently, and cook, stirring occasionally, until the kale stems are soft and the leaves are silky, 10 to 15 minutes.
Meanwhile, add the pasta to the boiling water, and cook, stirring occasionally, for 5 minutes, then start tasting. When the pasta is tender but still has some bite, scoop out 1 cup of the cooking water, then drain.
Put the beans in a food processor with a spoonful or so of the cooking liquid from the pot; puree until smooth. When the kale is ready, stir in the beans. If the mixture is too thick, add more stock ¼ cup at a time, stirring after each addition. Cook, stirring frequently, until the sauce is warmed through. Taste and adjust the seasoning, and serve hot, spooned over the pasta.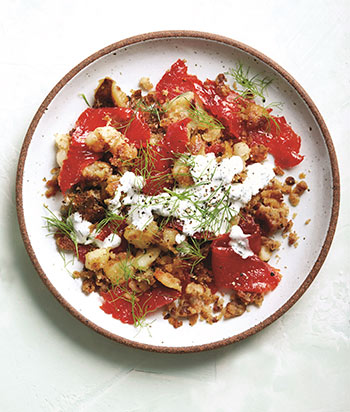 Potato Hash With Gravlax and Creamy Horseradish
Serves 4 to 6
One, 1- to 1 1/2-pound salmon fillet
1/2 cup salt, plus more for seasoning
1 cup sugar
1 bunch fresh dill, chopped (including the stems is fine)
1 cup crème fraiche
1/4 cup heavy cream
1/2 cup chopped mixed fresh herbs (like dill, parsley, chives, tarragon and fennel fronds)
1 tablespoon fresh lemon juice, or as needed
1 teaspoon prepared horseradish, or to taste
Pepper
2 pounds starchy potatoes (like Idaho or other russets), scrubbed
8 tablespoons (1 stick) unsalted butter
Put the salmon, skin side down, on a large piece of plastic wrap. Run your hand against the grain of the flesh, and if you feel any pin bones, remove them with pliers or tweezers (or ask your fishmonger to do this).
Mix the salt, sugar, and dill. Pack the salt mixture onto the flesh, making sure it's completely covered, and putting a thicker layer on the thickest part of the fish. Wrap the fish tightly, put it on a rimmed baking sheet or plate, and refrigerate until the flesh is darkened and firm, some liquid has leeched out, and a sharp paring knife inserted into the thickest part of the fish meets some resistance, 24 to 36 hours.
Unwrap the salmon and rinse off the salt mixture. Pat dry with paper towels and refrigerate in an airtight container; don't slice until you're ready to serve. (You can make it a day or so in advance.)
Mix the crème fraîche, cream, herbs, lemon juice, and horseradish; season with salt and pepper and stir to combine. Taste and adjust the seasoning, adding more horseradish if you like, but keep in mind the flavor will intensify as it sits. (You can cover and refrigerate the crème fraîche mixture for up to 12 hours.)
Cut the potatoes into 1-inch cubes. Put the butter in a large skillet over medium heat and when it melts, add the potatoes and ¼ cup water. (It's okay if the pan is crowded.) Sprinkle with lots of salt, stir, cover, and cook undisturbed until the potatoes are just barely tender, 5 to 10 minutes. (Unlikely, but you may need to add a little more water, cover, and cook for another minute or 2.)
Uncover the pan, raise the heat to high, and cook undisturbed until the water has evaporated, the butter has started to brown, and the potatoes release easily from the pan, 20 to 25 minutes. (If they don't release easily from the pan, they aren't ready to be turned yet.) At this point, stir the potatoes and cook until browned on a second side, another 10 to 15 minutes.
Switch to a potato masher and a spatula, smashing and turning the potatoes once in a while without overworking them. Continue cooking until the potatoes clump up and brown in some spots, like fried mashed potatoes, 5 to 10 minutes; adjust the heat so the potatoes sizzle but don't burn. Taste and adjust the seasoning.
Holding the knife at a 45° angle, thinly slice as much of the gravlax as you like, leaving the skin behind. It's better to get smaller slices or ones with holes than to get a slice that's too thick. Remove the potatoes from the heat and fold in the gravlax. Serve drizzled with some of the sauce and pass the rest at the table.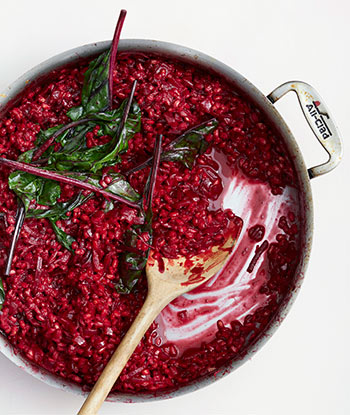 Barley Risotto With Beets and Greens
Serves 4

1 1/2 cups whole-grain ("hulled") barley
1/2 cup chopped walnuts
4 to 5 cups vegetable stock or water
4 tablespoons olive oil, or more as needed
1 onion, chopped
Salt and pepper
1/2 cup dry white wine or water
12 ounces beets, peeled and grated
2 cups arugula, or chopped beet greens if they came with the beets
Put the barley in a large dry skillet over medium heat. Cook, shaking the pan often, until the barley is golden and fragrant, 3 to 5 minutes. Transfer to a bowl. Put the walnuts in the skillet and repeat the process to toast them the same way. Warm the stock or water in a medium saucepan.
Put the olive oil in the skillet over medium heat. When it's hot, add the onion and cook, stirring occasionally, until soft, 3 to 5 minutes. Add the barley and cook, stirring often, until it is glossy and coated with oil, 2 to 3 minutes. Sprinkle with salt and pepper, then add the white wine. Cook, scraping up any browned bits from the bottom of the pan, until the liquid bubbles away.
Use a ladle to add the warm stock, 1 cup or so at a time, stirring after each addition. When the stock has just about evaporated, add another ladleful. The mixture should be neither soupy nor dry. Adjust the heat so the mixture bubbles and stir frequently.
After 20 minutes, add the beets. Continue cooking the same way, tasting the grains regularly— you want it to be tender but still with a tiny bit of crunch—it could take as long as 40 minutes to reach this stage, depending on the barley. When the barley is as tender as you like, add the arugula or beet greens a handful at a time, stirring until each addition is wilted. Taste and adjust the seasoning. Garnish with the walnuts, and serve hot.
All recipes reprinted from Dinner for Everyone
. Copyright © 2019 by Mark Bittman. Photographs copyright © 2019 by Aya Brackett. Published by Clarkson Potter, an imprint of Penguin Random House, LLC.