New Haroset Title Is a Scholarly History, With Recipes
Years ago, scholar Susan Weingarten first took the dive into the who, what, when, where and why of ancient people's diets after reading an academic tome that neglected detailed accounts of the foods they ate. But Weingarten, a senior researcher in archaeology and Jewish history at Tel Aviv University, in fact knew what these Jews consumed from her years studying the Babylonian Talmud. What followed were books in which she explored ancient Jewish foodways, for example, The Qederah: The Everyday Cooking Pot of Talmudic Time and Ancient Jewish Sausages.
New for Passover, Weingarten breaks down the history of haroset and its many variations in her latest book, Haroset: A Taste of Jewish History
. The thoroughly researched, entertaining work is food for thought for those curious about the Passover symbol essential to the modern seder yet mysteriously missing from early Passover seders—appearing as an element on the seder plate only much later on in the Babylonian Talmud.
I sat down to talk to Weingarten about her book, her favorite Passover foods, and the power of tradition, something she finds extraordinarily fascinating in her work and findings.
"You know what I really like—it's the hard-boiled eggs in salt water," she tells me. "And when I was a child, I used to try and make it not for Pesach, but it never tasted quite the same as it does on seder night. That's what I really like about it."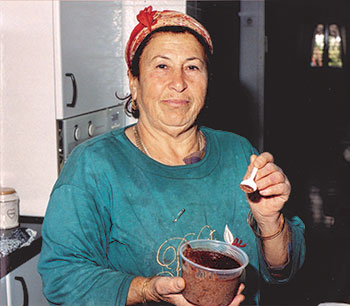 Other seder favorites, I ask her? "Haroset, right?" she jests, before warmly reminiscing about the dairy, second-night seder feast her mother prepared in the years when Weingarten was growing up in England. "We'd always start that seder off with borscht, the lovely red beet root in memory of the blood, and we'd put a dollop of sour cream in, which was great," Weingarten recalls. "And then we went onto halibut in egg and lemon sauce, and my mother made the most wonderful Pesach matzah meal latkes—absolutely fantastic."
Weingarten made aliyah from England in 1973, with her husband and young child. Hailing from a little-known corner of England near Liverpool, she grew up in a small community of 40 Ashkenazi families. Weingarten's home was regularly filled with the aroma of the more exotic side of Romanian Jewish cuisine, largely unknown to her Jewish neighbors.
"My maternal grandmother came from Romania, from a place called poduchochlai, which translates to the bridge of the Turks," she tells me. "It is sort of a meeting point of Sephardi and Ashkenazi food, so we ate things that other people didn't, like eggplant. We also had a sort of leek and mince meat patties called koftalin. The very name is a mix of two worlds, 'kofta' being the Arabic word for meatballs and 'alin' the Yiddish plural. It is something that is eaten by the Jews of Istanbul."
It's this foot in both the Ashkenazi and Sephardi worlds and her deep understanding of medieval and ancient Jewish history that makes Weingarten the perfect explorer to chart the story of haroset.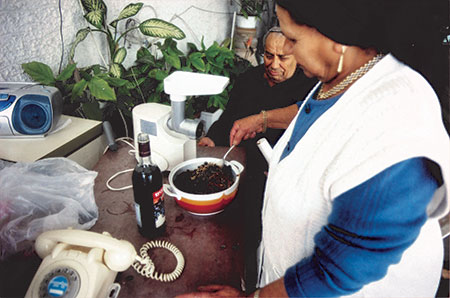 While researching the book, Weingarten visited with many home cooks and spent countless hours on the phone listening to Jews of different backgrounds describe how they make haroset. Photos she took depict Yemenite Jews making haroset as husband and wife—a tradition taken from the Jerusalem Talmud—and a Persian woman making a haroset that includes pomegranate seeds. (Weingarten confesses that this Persian variety is her personal favorite.)
Among the most interesting iterations she has encountered is one that includes ground-up pottery or brick dust. Jews in her hometown in England, as well as elsewhere, have been preparing this for centuries in accordance with the words of an 18th-century rabbi who added it to his recipe as a symbol of the Egyptian mortar.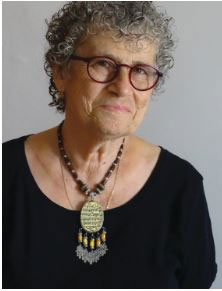 Another unusual haroset ingredient is hyssop, found in Maimonides' medieval prescription for the mixture. Weingarten believes the hyssop to be a nod to the fragrant za'atar plant that the Israelites used to paint lamb's blood on their doorposts during the last plague.
"We have the biblical statement in Shemot in Exodus that tells us to eat the Passover feast as a memory throughout the generations, and it's a definite prophecy, because that's what happened," she concludes. "When I was watching people make haroset for this book, sometimes they would quote me what a rabbi had said hundreds of years earlier to explain their traditions. They didn't know that they were saying it in almost the same words as the Talmud, but they were."
Further reflecting on biblical prophecy surrounding food memory and the Passover seder, she ends our conversation by saying that "what the seder has done is bring together these symbolic foods on the table, so every time you eat them and put them on your tongue you remember all the seders before you. You're connected to all the seders of your parents and grandparents. And right back to the beginning. It's really amazing."
Cecilia Pomerantz's Ashkenazic Haroset
The recipe for my own haroset was passed down by my mother Esther Shannon, who inherited it from her mother Cecilia Pomerantz, née Herscovici. At the turn of the 20th century, my grandmother moved from Romania to London, where she married my grandfather, who came from Russia. My grandmother's haroset was the standard Ashkenazic version.
6 grated apples
A handful of almonds
A handful of walnuts
Cinnamon powder
Sweet red wine
Optional:
Raisins
A little sugar
Desiccated coconut
My mother grated her apples on a coarse hand-grater. She chopped the nuts in a wooden bowl with a mezzaluna chopper, as well as raisins if she could get them—raisins were not always available with a "Kosher for Passover" label in postwar England. The 15th-century Leket Yosher had banned the use of dried figs or raisins on Passover for fear they may have been dried with flour. Depending on the type of apples I use, this haroset is not always sweet enough for my family, so I add sugar to taste. If the mixture is too wet, I add some of the grated coconut, always on hand inmy kitchen at Passover.
Esther Cohen's Pomegranate Haroset from Shiraz
Esther Cohen from Shiraz in Persia gave me this family recipe for haroset, together with her secret, which she said she had not told anyone else. Esther saves pomegranates from the autumn festival of Sukkot. Her secret is that she peels them at Sukkot when they are fresh and not dried up, so it is much easier to do this, and then saves them in special new jars in the freezer until Passover. (The Ashkenazic Tosafists were the first to mention using pomegranates in haroset.)
Apples
Pears
Cinnamon
Peeled almonds (unroasted)
Black raisins
Pomegranates
Blend all the ingredients except the pomegranates. Add the pomegranates, either with their seeds, or sieved to get rid of them, depending on the tastes of the people present.
Linette's (née Cohen) Sephardic Haroset from Jerba
Linette née Cohen is from Jerba in Tunisia. Jerba is an island where there is community of Jews who are all priests (kohanim). "I used to be a kohenet (female kohen)," she said, "but I gave it up when I married a man who was not a priest." Linette makes her haroset of the consistency of chocolate spread, without oil, as it is already very heavy. She adds her own spices, but told me that you can now buy ready-made "spice for haroset" sold in the shop by weight. She only adds sesame to half the quantity because not all the children like it. She kneads her haroset and serves it as balls (just as we saw in some medieval Haggadahs).
Dates
Almonds
Pistachios
Walnuts
Raisins
Grape juice or sweet red wine
Ground cloves
A little Yemenite hawaij (ground ginger, cardamom and cinnamon)
Optional:
Oil
Sesame
Grind dates, nuts and raisins finely with meat grinder. Add grape juice or sweet wine and oil if desired. Add a small amount of spices, and sesame if desired. Knead, and serve as balls.