Demystifying Artichokes, a Favorite Spring Crop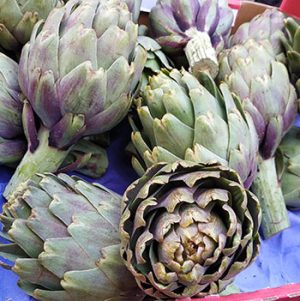 Many springs passed during which I would admire the gorgeous piles of green artichokes in Israel's open-air markets. Their happy appearance was a beautiful reminder that spring was on its way. I so loved to look at them and be surrounded by them—they do make great centerpieces—but I never knew what I was supposed to do with them.
There is considerable pressure from the culinary world to rob these beautiful specimens—members of the thistle family—of their olive-green outer leaves. The preference seems to be to carve out the gray pimpled choke that lies in wait beneath a layer of spikes and fuzz, reducing the large globe down to merely nothing. A process so tedious that for dishes like Moroccan-style stuffed artichokes, cooks often just buy the already pruned and preserved frozen variety.
So my intimidation was not for nothing—and was all the trouble of prepping artichokes really worth the outcome?
Years later, in my zeal for acquiring new cooking vessels, tools and techniques, I had an artichoke eureka! moment after buying a couscous cooking pot, which doubled as a large steamer. Why don't I steam them?!?!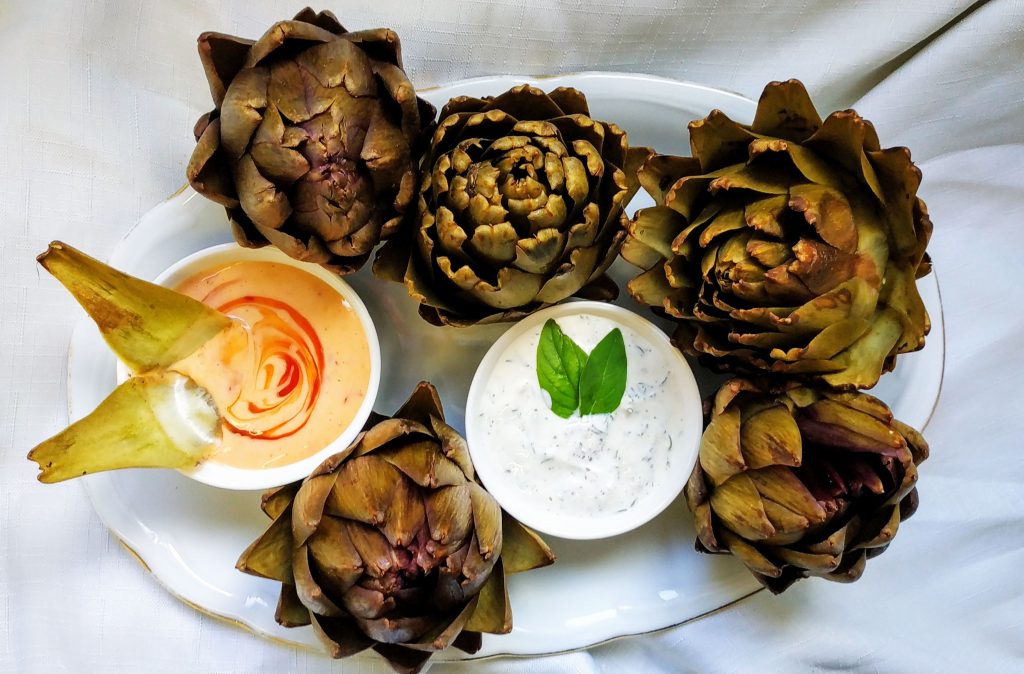 Steamed Whole Artichokes Party Plate
4 to 5 artichokes
Thoroughly wash the artichokes under cold water, making sure to rinse inside the outer leaves without damaging them.
Fill a large pot with water that reaches 1/3 of the way up the sides. Bring to a boil.
Place a steamer basket over the top or down into the pot (according to what you have in your kitchen). If you don't have a steamer pot or basket, place a large fine-mesh strainer over the top of the pot to create one. Place the artichokes in the steamer/basket/or fine mesh strainer.
Cover the pot with a lid. If using a fine mesh strainer, place a clean towel over the artichokes, and place the lid over the towel to create a seal.
Steam for 35 minutes, then remove artichokes from the pot and serve with dipping sauces.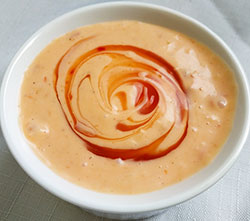 Garlic and Sweet Chili Dipping Sauce
Makes 2/3 cup
Israelis are obsessed with Thai food. As a result, condiments such as mild and tangy sweet chili sauces and spicy sriracha have made their way into Israeli fridges. In our house, we love to dip chicken schnitzel and breaded cauliflower florets into the former, and put the latter on homemade pizza. Here, they both come together in a zingy, bright sauce that wakes up the palate and cuts through the artichokes' richness.
1/3 cup sweet chili sauce
1/3 cup mayonnaise
2 small garlic cloves, finely grated
1/2 teaspoon salt
Pinch of freshly ground black pepper
1/2 teaspoon sriracha sauce
Extra dollop of sweet chili sauce for garnish
Mix all ingredients (except for the garnish) together and pour into a wide dipping bowl. Garnish with a dollop of sweet chili sauce swirled into the sauce with the back of a spoon.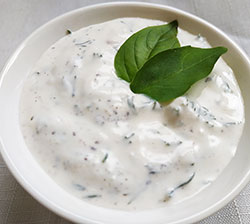 Creamy Herb Dip
Makes 1 cup
You can't find ranch dressing in Israel, but this creamy dip comes very close. Packed with fresh herbs and garlic, it is simple to whip up, customize and use as a salad dressing. Or you can use it as a  dip for artichokes and crudités, or to drizzle on your pizza—a habit I picked up from my student days.
1 cup full-fat sour cream
1 tablespoon mayonnaise
1/2 teaspoon salt
1/2 teaspoon granulated garlic, or 1 medium clove, grated finely
1/4 teaspoon dried oregano
1/8 teaspoon black pepper
1 tablespoon fresh chopped dill
4 leaves fresh basil, minced, plus more for garnish
2 tablespoons milk
Mix all ingredients together and pour into a wide dipping bowl. Garnish with fresh basil leaves.