A Vegetarian Barbecue for Israel's Independence Day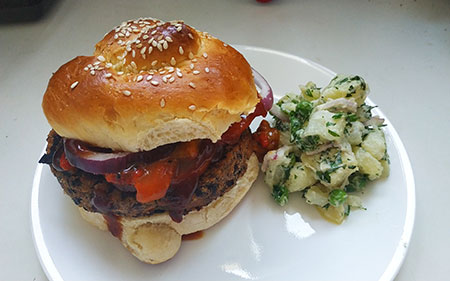 Israelis love to barbecue on their mangals on Independence Day, as do most citizens around the world when celebrating their nation's birthday. And Israelis, hearty believers in the ethos that life goes on despite terror and rocket attacks, will no doubt find much needed comfort in the celebration of the Jewish state's 71st birthday beginning on the evening of May 8.
This year, I expect vegan- and vegetarian-based menus to be creeping into Israeli barbecue spreads—an array that used to be reserved for meat, and meat only.
As Tel Aviv becomes a vegan dining destination with more vegans per capita than any other city in the world, I'm curious to know just how many Israelis are eating a slightly less rigid vegetarian or pescatarian diet these days. After all, Israel's warm weather combined with the gorgeous, reasonably-priced produce and the wonderful Israeli soft and artisanal cheeses and fresh eggs make this an ideal spot for vegetarian eating year-round.
For those vegetarians who previously struggled to find a scrap of food to eat at Yom Ha'atzmaut barbecues—who most likely settled for store-bought hummus side dishes and watermelon—I am (virtually) inviting you to my barbecue this year. Let me walk you through the menu: A thick, flavorful, smoky and filling black bean burger on a challah bun; "green" potato salad with petit peas, parsley, mint and dill; and garlicky charred red pepper salad, which doubles as a quick relish to schmear atop your burger.
And to wash down these vegetarian delights, I will be serving a natural fruit punch honoring the first showing of Israel's seasonal stone fruits—peaches, nectarines and plums—and which is a staple in my house once the summer heat sets in.
Chag sameach, and happy birthday, Israel.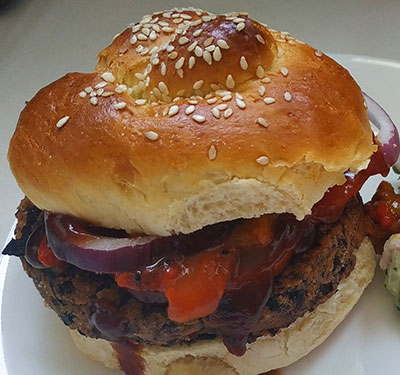 Black Bean Burgers
Makes 10 large patties
Black beans in particular are important to cook thoroughly, lest they cause intestinal problems. For this reason, I let these beans slow cook for about 3 hours, until they are more than a little soft and easily digestible. Just mash, add some grated carrot, onion, spices, breadcrumbs and—my secret—store bought barbecue sauce, and you are ready to grill up some of the best veggie burgers you've ever had.
1 pound dry black beans (or 6 cups cooked canned black beans, strained)
2 medium carrots, coarsely grated
1/2 small red onion, thinly sliced
1/3 cup barbecue sauce
1 heaping cup panko breadcrumbs
Freshly ground black pepper and garlic powder to taste
1 egg
Soak beans in enough water to cover by 2 inches, and let sit overnight.
Drain and rinse beans. Place in a large pot and cover with water. Let come to a boil over medium high heat, skimming off any foam that rises to the surface.
Lower heat to a simmer, and cook for 2 to 3 hours, until beans are very soft.
Rinse beans and roughly mash in a large bowl while still warm using a potato masher. Add grated carrots, sliced onion, barbecue sauce, panko breadcrumbs, black pepper, garlic powder and egg, and mix to combine.
Form into 10 large patties. Grill on a lightly oiled grill pan or outdoor barbecue for 3 minutes on each side, until evenly charred on both sides.
Note: For challah buns, use this challah recipe. Divide dough into 22 portions. Form balls, then from the balls roll each portion into an 8-inch snake, then shape into a loose knot. Place rolls on a parchment paper-lined tray and let rise 45 minutes, or until noticeably puffy looking and doubled in size. Brush with egg wash (1 egg plus 1 tablespoon water), sprinkle with sesame seeds and bake 20 to 22 minutes in a 350 oven.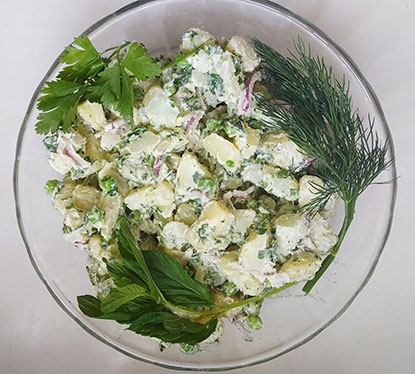 Green Potato Salad
Makes 5 cups/ Serves 8 to 10
While Israelis are not generally in the habit of eating mayonnaise-laden cold potato salads, this one is a perfect example of my American-Israeli immigrant cuisine: A classic from home freshened up with herbs and produce. These days, it seems natural to me to add a handful of Israeli mint, an equal amount of parsley, a bit of dill and some petite garden peas to this otherwise simple American side.
4 large red potatoes
Coarse salt for boiling water
1/2 cup frozen petite peas
1/2 cup loosely packed fresh mint leaves (Mediterranean spearmint), roughly chopped
1/2 cup loosely packed fresh parsley, roughly chopped
1 tablespoon finely chopped fresh dill (from one very small bunch)
1/2 small red onion, thinly sliced
1/3 cup full-fat mayonnaise
1 teaspoon apple cider vinegar
Salt, freshly ground black pepper and garlic powder to taste
Fill a large pot 3/4 of the way with cold water. Peel potatoes and cut into large bite-sized chunks. Throw chopped potatoes into the cold water as you go.
Make sure all potatoes are covered completely with water. Add a large pinch of coarse salt to the water and bring to a boil. Reduce to a simmer, and cook for 17 to 20 minutes, until the potatoes are fork tender but not falling apart.
Remove the potatoes from the water with a slotted spoon and place on a parchment-lined baking tray. Sprinkle frozen peas over the top of the potatoes. Spread out evenly and allow the potatoes to cool to room temperature.
Place cooled potatoes and peas in a large bowl. Top with chopped herbs, sliced onion, mayonnaise, vinegar and spices. Mix with a silicon spatula to combine, and adjust seasoning to taste.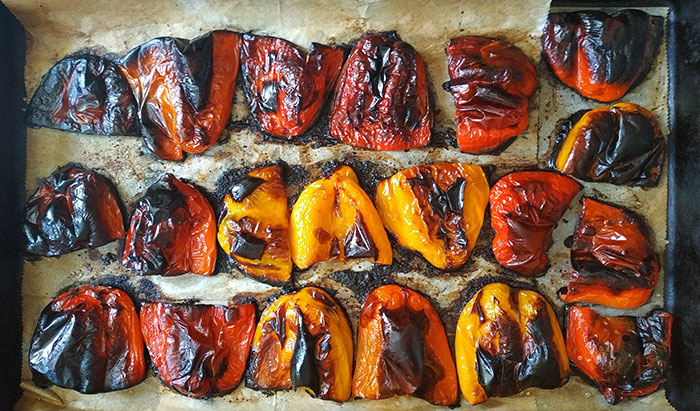 Charred Sweet Pepper Salad
Makes 1 3/4 cups.
While most vegetables are best charred on a grill or over a gas burner, the effect can also be achieved by roasting bell peppers in the oven on the highest temperature, until the skins of the peppers are blackened. The result is a skin that easily peels off. And while 10 bell peppers may seem like a lot, they reduce down in size considerably during the cooking process.
10 mixed bell peppers (4 pounds of red, yellow and orange)
3 tablespoons olive oil , divided
Coarse salt to taste
1 to 2 cloves fresh garlic, grated (or more to taste)
1 teaspoon apple cider vinegar
Pinch sugar
Pinch freshly ground black pepper
Preheat oven to 500°.
Wash peppers and remove the stem and seeds. Cut into halves and space out evenly on a parchment paper-lined tray.
Roast peppers in the top third of the oven until the skins are mostly blackened (about 45 minutes).
Remove tray from oven and cover with a slightly damp dish towel. Allow to cool to room temperature.
Once cooled, remove the towel and, using your fingers, peel the skins from the peppers. Remove any blackened edges.
Roughly chop peppers and place in a medium bowl. Season with 1 tablespoon olive oil, 1/4 teaspoon salt, grated garlic, cider vinegar, sugar and black pepper. Adjust seasoning to taste and let marinate at least 1/2 an hour before serving as a salad or condiment.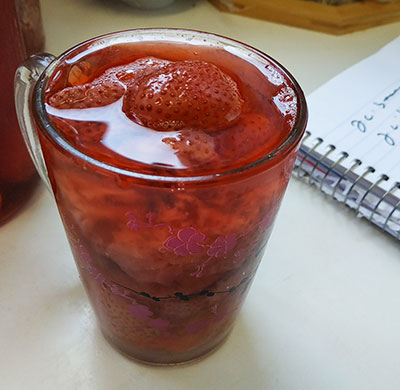 Natural Fruit Punch
Makes 4 quarts.
What Russian immigrants in Israel refer to as "compote," this is nothing like the stewed fruit dish you may know by the same name. Instead, it is a natural fruit punch made with seasonal fruit that is very light and refreshing in taste. Made with minimal sugar and no preservatives or food colorings, it is a great healthy alternative to store-bought juices for children, who love slurping up the fruit at the bottom of their glasses.
4 1/2 cups seasonal fruit (combination of strawberries, peaches, nectarines, plums and frozen berries works best)
Juice of one lemon
3/4 cup sugar
Water to fill pot
Wash, de-stem and de-pit fruit. Roughly slice all fruit except strawberries, which only need to be de-stemmed.
Place fruit in a 5-quart soup pot, then add the lemon juice and sugar.
Fill the pot up 3/4 of the way with water (leaving just enough room for the water to rapidly boil without spilling over).
Turn heat to medium high and bring to a boil. Reduce to a simmer and cook for 15 minutes, or until the color has been drawn from the fruit and the fruit is softened. Skim off any foam during the cooking process that rises to the surface.
Cool completely, then chill in the refrigerator. Serve cold with or without the fruit, with the aid of a soup ladle.