Roasted Sweet Potatoes for Lag B'Omer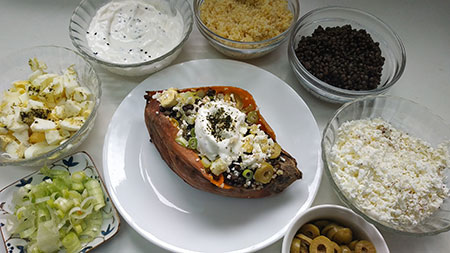 After the hectic pace of Passover and the excitement of Israeli Independence Day fireworks, Lag B'Omer—which this year begins the evening of May 22—can feel like a bit of an afterthought, or worse, a nuisance. To me, living in Israel, the holiday means bands of children wandering my Haifa neighborhood looking for broken furniture to throw onto a bonfire. On this night, I must not forget to close my windows and take in the clothes from the line, lest they be covered in the soot that lingers in the air, making it impossible to breathe.  
Yes, this is a day when air pollution is at its worse, but also one when Jewish spirits run particularly high. Religious 3–year–old boys will finally be able to cut off their long locks for the first time since birth. Many weddings are celebrated on Lag B'Omer, a welcome exemption in the 49-day period between Passover and Shavuot during which marriage ceremonies are prohibited under Jewish law. Also considered a sign of Jewish strength, this is the holiday on which the pre-state Jewish fighting force, the Palmach, was established in 1941. 
On the food front, Lag B'Omer is a time for roasting foil-wrapped potatoes over the bonfire. But white potatoes can be bland, am I right? I find bright-orange, intensely flavored Israeli sweet potatoes to be a much more enticing treat on this holiday. And, adding my own spiritual twist, notice that the orange from the sweet potatoes just happens to match the color of flames. 
And sweet potatoes can be stuffed with all sorts of good things! Whether grilled over a fire or roasted on high heat in your oven, sweet potatoes are delicious stuffed with any combination of grains, legumes, fresh cheeses, olives and fresh vegetables, then garnished with spices like za'atar and sumac. In this "jacket potato" form, they are transformed in my mind from an American Thanksgiving staple to a late-spring, Middle Eastern all-in-one meal. 
This year as I'm shuttering my windows, I'll be thankful that my three little boys are not yet old enough to get involved in the dangers that go along with all-night bonfires and other assorted shenanigans. However, I will no doubt reflect on how they are in fact starting to be old enough to make their own choices—even if they are only as small as what toppings they would like to add to their sweet potatoes.   
Israeli Stuffed Sweet Potatoes

Orange-fleshed, extra-large sweet potatoes (one potato per person)
Aluminum foil for wrapping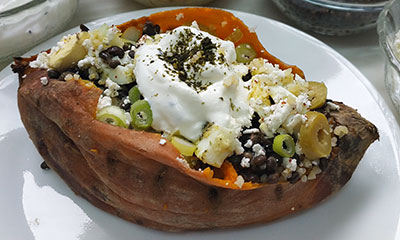 TOPPINGS
1/2 cup raw bulgur wheat (yields 1 1/2 cups cooked)
3/4 cup raw black lentils (yields 1 1/2 cups cooked)
4 to 5 hardboiled eggs, chopped
1 cup pitted green olives, chopped
1 cup grated or crumbled feta cheese
1 cup full-fat sour cream
3 to 4 green onions, chopped
Nigella seed, za'atar, sumac and paprika for garnish  
1. Preheat oven to 500°.
2.  Scrub as many large sweet potatoes as you need—one per person. Wrap individually with foil and place on a parchment paper- or foil-lined baking tray.
3.  Roast for 1 to 1 1/2 hours, until very tender when pierced with a butter knife. While the potatoes roast, prepare the toppings:
For bulgur wheat: In a fine mesh strainer, rinse bulgur wheat with cold water until the water runs clear. Shake off excess water and place in a medium bowl. Pour boiling water (from a tea kettle or heated in the microwave) over to cover the bulgur, then cover the bowl with a dinner plate. Let sit 10 to 15 minutes until bulgur is soft and most of the water has been absorbed. Drain of any excess water, fluff with a fork, and set aside to cool. 
For black lentils: In a fine mesh strainer, rinse lentils with cold water until the water runs clear. Place in a small pot and cover the lentils with water by 2 inches. Bring water to a boil, lower to a simmer, and let lentils cook for 20 minutes, or until soft. Drain and set aside to  cool. Sprinkle with a pinch of salt or to taste. 
For hardboiled eggs: Place eggs in a medium pot and cover with water. Bring to a boil, then immediately reduce to a gentle simmer. Cook eggs for 15 minutes. Remove from stove and drain. Fill up pot with cold water and let the eggs cool. Peel and roughly chop eggs. Garnish with za'atar if desired. 
4. Remove sweet potatoes from oven and let cool. Store in refrigerator and take out 1 hour before serving to let the potatoes come to room temperature. Or, serve sweet potatoes hot. 
5. To serve, cut a line down the middle of each sweet potato with a butter knife. Using a fork, loosen the inside flesh a bit. Serve alongside little dishes of toppings and have guests prepare their own potatoes.