Brisket Equals Love for BBQ King Steven Raichlen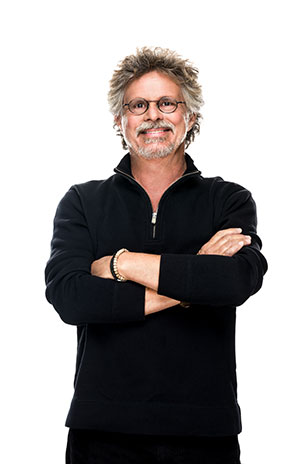 Writer, classically trained chef, television host and award-winning cookbook author Steven Raichlen never forgets a good brisket, even if he's eaten more than he can count, prepared in every way imaginable. The nuances of taste, texture and  flavorings seem to stick in his brain. It is a talent that many food writers share—the ability to turn specific food memories into recipes, no matter how much time has passed.
"The best pastrami sandwich I ever had was also the least traditional." Raichlen, 66, tells me. "It was cured with fish sauce, kaffir lime leaves and other non-traditional flavorings. It was served with anchovy mustard for more umami and as a single slab [that was] as thick as a broomstick. It was pure brisket point—the fatty part of the brisket—so I don't have to tell you how rich it tasted or how it melted on your tongue."
But that's not all his near eidetic brisket recall conures up.
"It was served on a brioche bun, with a whole bunch of fresh dill for herbal freshness and crunch," the barbecue legend continues. "I ate it standing up at a counter in the window of a storefront not much larger than a phone both." This beautiful recollection is of the "new school" brisket sandwich from Harry & Ida's in New York City, a recipe that is featured in Raichlen's new cookbook, The Brisket Chronicles: How to Barbecue, Braise, Smoke, and Cure the World's Most Epic Cut of Meat
Raichlen has traveled the globe in hungry pursuit of food discoveries, journeys he has translated into articles for The New York Times, Boston Magazine, National Geographic Magazine and Bon Appétit. He is also the author of 32 cookbooks, including the classic The Barbecue! Bible
and Project Smoke
.
In The Brisket Chronicles, Raichlen explains all things brisket for his readers, even dipping into a very non-kosher world that includes brisket chocolate chip cookies and brisket breakfast scones. (The latter is a feature at State Road restaurant in Martha's Vineyard, where Raichlen lives.) More familiar to observant Jews are the fundamentals he covers in the book: the perfect pastrami on rye sandwich, his aunt's sumptuous braised brisket. For readers interested in the exotic, there is the vast world of brisket beyond the Jewish realm—smoked Texas barbecue to boiled Irish-style with cabbage to Chinese red brisket prepared with soy sauce, star anise, ginger and tangerine peel.
Raichlen's recipes come with thoughtful explanations, historical insight and perspectives from well-known chefs and pitmasters. If you have ever wondered how corned beef got its name and how it went from an Irish specialty to a Jewish-American one, you can find the whole story in this book.
Also in the Chronicles, Raichlen shares a collection of marinades, dipping sauces, rubs and sides/toppings that make this book more than worth a buy. Not to mention his excursions into different kinds of cattle; proper methods of meat preparation; indexes of terms used by professional; the low-down on curing salts and pickling spices; and a review of smokers as well as the advantages and disadvantages behind each method of cooking brisket.
"We are a generation obsessed by flavor, and no cut of beef has more flavor than brisket," opines Raichlen. Although he is best-known for his barbecue expertise—a topic he covered over the four seasons of his PBS cooking show, Barbecue University, and in-person at the yearly course he teaches in Colorado Springs—this book does showcase the author's appreciation of indoor methods of brisket cooking.
Shared below are recipes for Old School Pastrami, which Raichlen claims became a New York staple thanks to Romanian Jewish immigrants of the late-19th and early-20th centuries; Jewish Deli Brisket Braised with Vegetables; and his Aunt Annette's Famous Holiday Brisket, which remains a favorite of his to this day.
"[My Aunt Annette Farber's] brisket was the stuff of dreams—braised in wine and sweetened with dried prunes and apricots, so tender you could cut it with the side of a fork," he recalls. "Looking back, I can still taste it: The richness of the meat, the soulful broth, the soft sweet prunes and carrots, and to offset the sweetness, slices of peeled lemon.
"Honoring that brisket," he concludes, "was part of the reason I wrote The Brisket Chronicles."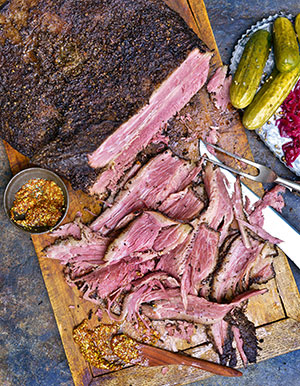 Old School Pastrami
Serves 8 to 10
METHOD: Smoking, steaming
PREP TIME: 20 minutes for the brine and spice rub, plus 12 days for brining the brisket
COOKING TIME: 7 to 8 hours for smoking the brisket, plus 2 to 3 hours for steaming (or another 2 to 3 hours for smoking, and 1 to 2 hours for resting)
HEAT SOURCE: Smoker or charcoal grill (like a Weber kettle), then a stove or oven (sorry, folks—you won't get the right smoke flavor on a gas grill)
YOU'LL ALSO NEED: 2 jumbo (2.5-gallon) resealable heavy-duty plastic bags; a large baking dish or a plastic bucket; spice mill; rimmed sheet pan; metal bowl or aluminum foil pan (for the smoker); hickory or other hardwood chunks or chips (the latter soaked in water for 30 minutes, then drained); heatproof gloves; pink butcher paper (unlined); large aluminum foil pan; a steamer (see page 96) or a large insulated cooler
WHAT ELSE: Traditionally, pastrami was made not with brisket but with another tough, fatty cut from the steer's undercarriage: beef navel. (Think the bovine equivalent of pork belly.) In recent years, a new generation of pit masters—guys like Tim Rattray at the Granary in San Antonio and Joe Carroll at Fette Sau in Brooklyn and Philadelphia—has added house-smoked pastrami to the traditional barbecue repertoire, and in the process, brisket has become the preferred beef for curing and smoking. I call for an 8-pound chunk of brisket—a flat if you like your pastrami lean; a section with both flat and point if you like it fatty.
Picture the perfect pastrami. The exterior black as bitumen. The interior a bright shade of pink, like a drag queen's hairdo. The stunning striations of meat and fat rendered iridescent by curing salt. The bite of black pepper and coriander seed overlaid with the subtle scent of wood smoke. And that's before the taste—beefy, salty, garlicky—with spice, meat, and fat in luscious equipoise. It's the sort of pastrami you get at Katz's Deli or Pastrami Queen in New York City. And you're about to make it at home. It won't be difficult, but it will require a virtue in short supply in our age of reduced attention spans and instant gratification: patience. It takes a full 12 days to pickle the meat in a brine scented with garlic and onion. You'll need to roast the spices in a skillet (to intensify their flavor) and grind them from scratch to make the rub. You'll need 8 to 10 hours of smoking to give the meat the requisite smoke flavor and 2 to 3 hours of steaming or resting to make it tender. And you'll need to use one ingredient that you might be unfamiliar with, a curing salt called Prague Powder #1. (Consumed in excess, it can kill you.) But persevere, dear reader, because pastrami is one of the most awesome manifestations of brisket on Planet Barbecue. The first time you cut into a home-cured, house-smoked pastrami, you'll feel immense pride, deep satisfaction, and peak gustatory pleasure.
INGREDIENTS
For the brisket
1 section (about 8 pounds) brisket (preferably with both point and flat)
For the brine
1 gallon (4 quarts) cold water
1 cup kosher salt
1 tablespoon Prague Powder #1 (pink curing salt, one example here)
6 juniper berries, lightly crushed with the side of a knife (or 2 tablespoons gin)
2 teaspoons yellow mustard seeds
1 teaspoon celery seeds
8 cloves garlic, peeled and cut in half widthwise
1 small onion, peeled and quartered
For the rub
1/2 cup whole coriander seeds
1/2 cup whole black peppercorns
Using a sharp knife, trim the brisket, leaving a layer of fat at least 1/4-inch thick. Be careful not to over-trim. It's better to err on the side of too much fat than too little. Place it in a jumbo resealable heavy-duty plastic bag set inside a large baking dish (or plastic bucket).
Make the brine: Combine 2 quarts of the cold water with the kosher salt, Prague Powder #1, juniper berries, mustard seeds, and celery seeds in a large stockpot, and bring to a boil over high heat, whisking until the salts are dissolved. Remove the pot from the heat and stir in the remaining 2 quarts of cold water. Let the brine cool to room temperature.
Add the brine to the brisket in the bag, along with the garlic and onion, and seal it shut. Place this in a second jumbo resealable heavy-duty plastic bag (to contain any leaks), seal it, and place the bagged brisket in the baking dish in the refrigerator. Brine the brisket for 12 days, turning the bag over each day so the brisket brines evenly.
On the 12th day, make the rub: Toast the coriander seeds and peppercorns in a large dry skillet over medium-high heat, stirring so they toast evenly, until fragrant, 1 minute. Working in batches, coarsely grind the toasted spices in a spice mill. Place in a small bowl and stir to mix.
Drain the brisket, discarding the brine. Rinse the brisket thoroughly in cold water, then blot it dry with paper towels. Place the brisket on a rimmed sheet pan. Season it generously on all sides with the rub, using your fingertips to rub the spices into the meat in a thick layer.
Fire up your smoker, cooker, or grill following the manufacturer's instructions and heat to 250°. Add the wood as specified by the manufacturer. Place a metal bowl or aluminum foil pan with 1 quart of warm water in the smoker—this creates a humid environment that will help the smoke adhere to the meat and keep your brisket moist.
Transfer the brisket from the pan and place it fat side up in the smoker. Cook until the outside is darkly browned and the internal temperature registers about 175° on an instant-read thermometer, 7 to 8 hours. Refuel your cooker as needed, following the manufacturer's instructions.
Set up a steamer. Place the pastrami fat side up on the rack. Steam it until very tender, 2 to 3 hours.
Transfer the pastrami to a welled cutting board. At this point, you can serve it warm or cold. For hot pastrami, use a long sharp knife to slice the meat across the grain as thickly or thinly as you desire. For cold pastrami, let it cool to room temperature, then refrigerate it until cold and firm. Cut it into paper-thin slices on a meat slicer or by hand.
VARIATION: Smoked Pastrami (Hold the Steam): Once the domain of the delicatessen, pastrami has been embraced by a new generation of barbecue restaurants. Here, the entire cook is done in the smoker without the traditional step of steaming. This produces an equally fabulous pastrami—perhaps a bit smokier and drier than the deli version. To do this, cook the pastrami through step 7. Wrap the pastrami in unlined butcher paper. Return the pastrami to the smoker and continue cooking until the internal temperature reaches around 205°, another 2 to 3 hours, or as needed. Place the wrapped pastrami in an insulated cooler and let it rest for 1 to 2 hours. Serve as described above.
Aunt Annette's Holiday Brisket With Sweet Wine and Dried Fruits 
Serves 6 to 8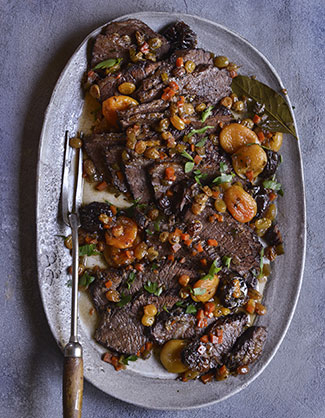 METHOD: Braising
PREP TIME: 15 minutes
COOKING TIME: Depending on the brisket and other factors, 2 1/2 to 3 hours, or as needed
HEAT SOURCE: Stove, oven
YOU'LL ALSO NEED: A Dutch oven with a tight-fitting lid or a roasting pan with aluminum foil (it should be just large enough to hold the brisket); a gravy boat with a fat separator (the sort that allows you to pour the broth off from the bottom, leaving the fat on top; optional); a welled cutting board.
WHAT ELSE: This recipe calls for a technique that may surprise all you barbecue buffs out there. You carve the brisket midway through the cooking process when it's still firm enough to slice neatly. The slices finish cooking in the braising liquid. This ensures even slices and exceptionally tender brisket.
Long before my indoctrination into barbecue, I ate brisket. So did every other Jewish kid in the neighborhood. Brisket was the ultimate holiday dish, and nobody made it better than my aunt, Annette Farber. Working in a kitchen that would be deemed hopelessly primitive today, Aunt Annette grated mountains of potatoes on a hand grater to produce latkes that defied physics. (They were simultaneously featherlight and rib-stickingly leaden.) She hand-cranked a meat grinder to turn out gefilte fish I still dream about. But the star of her repertory was brisket—braised for hours with onions and carrots and sweet red kosher wine (was there any other kind?). Lavished with apricots, prunes, and other dried fruits, it was the sort of sweet-salty, meaty-fruity mash-up typical of so much Ashkenazi cuisine. Aunt Annette served it at Rosh Hashanah (the dried fruits presaged a sweet New Year). She served it at Hanukkah and Passover, too. I imagine she serves it still to hungry multitudes in heaven. These days, my family is more likely to eat our brisket slow-smoked like they do in Texas, but at least once a year we dust off Aunt Annette's recipe for a braised brisket that transcends wood smoke.
INGREDIENTS
1 brisket flat (3 to 4 pounds)
Sea salt and freshly ground black pepper
2 tablespoons canola oil
1 large onion, peeled and finely chopped
4 carrots, trimmed and peeled (1 diced and 3 cut crosswise into 3-inch chunks)
2 ribs celery, finely chopped
2 cloves garlic, peeled and finely chopped
1/4 cup chopped fresh flat-leaf parsley
1 1/2 cups sweet kosher Concord grape wine (such as Manischewitz), or 1 1/2 cups dry red wine plus 1/4 cup granulated or brown sugar
2 dried bay leaves
2 to 3 cups beef or chicken broth or stock (preferably homemade or low-sodium) or water
1 1/2 cups dried apricots
1 1/2 cups pitted prunes
1 cup golden raisins
Preheat the oven to 300°.
Using a sharp knife, trim the brisket, leaving a layer of fat at least 1/4-inch thick. Be careful not to over-trim. It's better to err on the side of too much fat than too little. Generously season the brisket on all sides with salt and pepper.
Heat the oil in a Dutch oven (or roasting pan—though a Dutch oven is preferred) over medium-high heat. Add the brisket and cook, turning once, until browned on both sides, 4 to 6 minutes per side. Transfer the meat to a platter and pour out and discard all but 3 tablespoons of fat from the pot.
Add the onion, chopped carrot, celery, garlic, and 3 tablespoons of the parsley to the pot and cook over medium-high heat until softened and lightly browned,
5 minutes.
Return the brisket to the pot and spoon half the vegetables in the pot on top. Add the wine, bay leaves, and enough stock to barely cover the brisket. Cover the pot (if using a roasting pan, cover it tightly with aluminum foil), place it in the oven, and braise until semi-tender, 1 1/2 hours.
Remove the pot from the oven and transfer the brisket to a welled cutting board; set the pot aside. Using a sharp knife or electric knife, thinly slice the brisket across the grain. Stir half of the carrot chunks, apricots, prunes, and raisins into the juices in the pot. Using a spatula, neatly lay the sliced brisket on top. Pour in any juices from the cutting board and arrange the remaining carrot chunks and dried fruits on top. Season with salt and pepper. Add additional stock as needed just to cover the meat and fruit.
Put the lid on the pot and return it to the oven. Continue braising the brisket until the meat is tender enough to cut with a fork, another 1 to 1½ hours, or as needed. If there's too much cooking liquid (the brisket should be moist, not soupy), uncover the pot for the last half hour to allow some of the juices to evaporate.
Transfer the brisket slices to a platter. Using a slotted spoon, transfer the fruits and vegetables to the platter and arrange them around the meat.
Pour the pan juices into a gravy boat with a fat separator. (If you don't have one of these, pour the gravy into a bowl or measuring cup and skim the fat off the top with a soup spoon.) Spoon some of the gravy over the meat and fruit, serving the rest on the side. Sprinkle the remaining 1 tablespoon of parsley over the meat and get ready for Jewish holiday awesomeness.
Note: Sometimes, Aunt Annette would add a peeled, seeded, sliced lemon to her brisket to offset the sweetness of the dried fruit. It's a nice touch.
Jewish Deli Brisket Braised with Vegetables
Serves 6 to 8
METHOD: Boiling, braising
PREP TIME: 20 minutes
COOKING TIME: Depending on the brisket and other factors, 3 hours, or as needed
HEAT SOURCE: Stove, oven
YOU'LL ALSO NEED: A Dutch oven with a tight-fitting lid; butcher's string; a colander or sieve; a welled cutting board
WHAT ELSE: Preparing deli-style brisket is a multistep process. The first is to blanch the brisket, that is, boil it to remove the surface impurities. Next, you braise the brisket with aromatic root vegetables in the oven. This gives you a delectable by-product: an intensely beefy broth you can turn into soup by adding cooked barley, noodles, or the diced or pureed vegetables from braising. The brisket itself gets sliced and served hot, usually with horseradish sauce. Or—my preferred way—chilled and sliced paper-thin on a meat slicer. Try the latter on slices of challah with Horseradish Dill Sauce (page 138). One bite and you'll wonder why everyone makes such a fuss about corned beef. Note: Your grandmother probably boiled the brisket in a stockpot on the stove. Oven-braising gives you the same result with a lot less supervision. The optional parsley root—available at Jewish food markets—combines the flavor of parsley and celery root. Tip o' the hat to Jewish cooking authority Arthur Schwartz, who inspired this recipe.
Pastrami has become a darling of the barbecue world, not just the delicatessen. Corned beef enjoys equal popularity with Jewish Americans, Irish Americans, and deli lovers of other ethnic persuasions. But there's a third meat in the deli trifecta, and the fact that it looks unappetizingly gray in no way diminishes its deliciousness. In fact, you could argue that it represents the purest manifestation of this tough, flavorful muscle from the steer's undercarriage. I speak, of course, of deli brisket, which is nothing more than brisket cooked in water with aromatic vegetables, then thinly sliced for sandwiches. When I was growing up, brisket was the meat I went for on deli platters, and these thin gray slices of beefy bliss still hold a place of reverence in my heart. Think of it as barbecue without the wood smoke. And don't think of turning this page without trying it.
INGREDIENTS
1 brisket flat (3 to 4 pounds)
2 to 3 quarts cold water
2 dried bay leaves
1 medium onion, peeled and quartered
2 whole cloves
3 medium carrots, trimmed, peeled, and cut crosswise into 3-inch lengths
3 ribs celery (or 1 small, peeled celery root), cut into 3-inch lengths
2 leeks, trimmed and washed
1 large or 2 small parsnips, trimmed, peeled, and cut into 3-inch lengths (optional)
1 parsley root (optional; see What Else)
6 sprigs fresh flat-leaf parsley, plus 2 tablespoons chopped to add at the end
6 sprigs fresh dill, plus 2 tablespoons chopped to add at the end
6 sprigs fresh thyme, plus 2 tablespoons chopped to add at the end
Sea salt and freshly ground black pepper
Horseradish Dill Sauce (recipe follows) or your favorite bottled horseradish, mustard, and/or other condiments, for serving
Preheat the oven to 300°.
Using a sharp knife, trim the brisket, leaving a layer of fat at least 1/4-inch thick. Be careful not to over-trim. It's better to err on the side of too much fat than too little.
Blanch the brisket: Place it in a Dutch oven with cold water to cover by a depth of 2 inches. Bring the meat to a boil over medium-high heat. Using a ladle or large spoon, skim off any foam that rises to the surface. Reduce the heat to medium-low and simmer the brisket for 10 minutes, skimming conscientiously to remove any foam. Then pour off the excess blanching liquid so that the brisket is submerged halfway.
Pin the bay leaves to two of the onion quarters with the cloves. Add the onion quarters to the pot along with the carrots, celery, leeks, and parsnips, and parsley root, if using. (Note: If you like your vegetables with a little bite to them, add the carrots, celery, leeks, parsnips, and parsley root after 2 hours of cooking.) Tie the parsley, dill, and thyme into a bundle with butcher's string and add it to the pot. Bring the mixture back to a simmer. Sprinkle in 2 teaspoons salt and 1 teaspoon pepper.
Cover the Dutch oven and place it in the oven. Braise the brisket until very tender (test it by inserting a chopstick—it should pierce the meat easily). Normally this takes about 3 hours, but start testing after 2 1/2. Check the brisket halfway through—the meat and vegetables should be half-submerged in the liquid. If the brisket is too dry, add water. When done, remove the pot from the oven and let the brisket rest in its juices for 10 minutes. Add salt and pepper to taste.
Transfer the brisket to a welled cutting board. Strain the cooking liquid through a sieve (save it for another use—for example, it could become the base for a soup—see What Else; it will keep, covered, in the refrigerator for at least 3 days, or it can be frozen in a sealed container). Set the vegetables aside or place them in an airtight container and refrigerate.
To enjoy the brisket hot, slice it across the grain into 1/4-inch-thick slices, transfer it to a platter, and garnish with the boiled vegetables. To serve it cold, let it cool to room temperature, then wrap it in plastic wrap and refrigerate it until well chilled (preferably overnight). Slice the cold brisket paper-thin on a meat slicer or by hand.
Whether hot or cold, serve the brisket with the Horseradish Dill Sauce or your favorite bottled horseradish, mustard, or other condiments. Heresy warning: I like to slather my brisket sandwiches with mayonnaise.
Note: To clean a leek, trim off and discard the dark green leaves (the top half) and furry roots. Make two lengthwise cuts in the leek, up to but not through root end, rotating the leek 90 degrees after the first cut. Plunge the leek up and down in a bowl of cold water to wash out any dirt. Change the water as needed (leeks tend to hide a lot of grit, so you may need to do this a few times).
Horseradish Dill Sauce
Makes 1 1/4 cups
Gefilte fish without horseradish is punishment enough, goes an old Yiddish saying. You could say the same about horseradish and brisket. There's nothing like this piquant, lemon- and dill-scented horseradish sauce for balancing the richness of the beef.
INGREDIENTS
1/2 cup mayonnaise (preferably Hellmann's or Best Foods)
1/2 cup sour cream
2-inch piece horseradish root, peeled and finely grated (or to taste) or 1/4 cup prepared horseradish
2 tablespoons minced fresh dill
1/2 teaspoon freshly grated lemon zest
Sea salt and freshly ground black pepper
Place the ingredients in a mixing bowl and whisk to combine.
Horseradish Dill Sauce will keep, in a sealed container in the refrigerator, for at least 3 days.