Tired of Cheesecake? Decadent Dairy Casseroles for Shavuot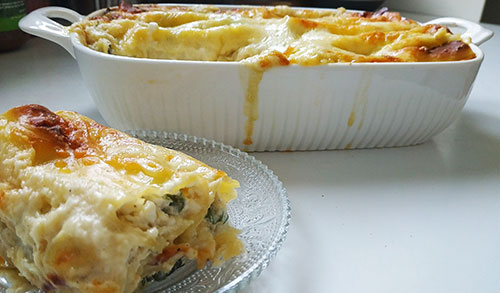 The holiday of Shavuot is a personal favorite of mine. What baker wouldn't appreciate a day that celebrates the wheat harvest, seasonal fruits and dairy cooking? At the same time, the biblical aspects of Shavuot are not lost on me: I find it quite romantic, the notion that we Jews were all present together on Mount Sinai to receive the commandments. Israeli artists, including fellow American-Israeli Yael Harris Resnick, capture this thought beautifully through their gorgeous work.
But back to food. It's quite possible that no one is more enamored of a silky and sumptuous cheesecake than I am. Yet there's more to a festive dairy spread than the Golden Girls' favorite late-night treat. Think tapas-style small dishes and casseroles complemented by elaborate fresh fruit desserts and vegetable dishes and salads. For the latter two, grilled apricots stuffed with fresh ricotta cheese and honey and a salad with sliced pears, field greens and spring almonds come to mind.
White lasagna or spinach-and-ricotta-cheese-stuffed cannelloni is a beautiful, savory counterpoint to creamy desserts. Speaking of which, sweet cheese blintzes are a classic Shavuot dessert or breakfast dish that are wonderful on their own, but are made even more special when baked into a casserole with sweet cherries, poppy seeds and a bread pudding-style sweet vanilla custard base.
Here, I'll be walking you though the steps involved in preparing Spinach and Ricotta Cannelloni Casserole and Sweet Cheese and Cherry Blintz Bake. Yes, they are rich, and yes, they are made up of a few separate elements. But the outcomes are truly sublime and meant to be a once-a-year treat. Wishing you a chag sameach from the land of milk and honey!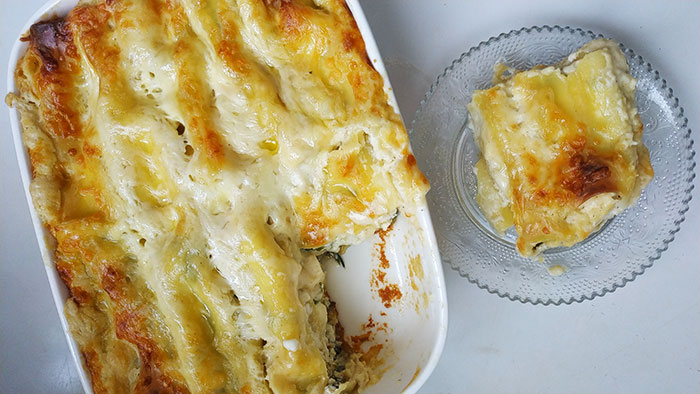 Spinach and Ricotta Cannelloni Casserole
Makes 6-8 servings
1 box of small no-pre-baking cannelloni (25 to 26 pieces, approximately 3.5-inch long)
BECHAMEL SAUCE
1/4 cup olive oil
1/4 cup all-purpose flour
1 cup half and half
1 to 1 1/4 cup whole milk
Salt, pepper and garlic powder to taste
CANNELLONI FILLING
4 cups ricotta cheese
1 egg
1/2 cup shredded parmesan cheese
Salt, pepper and garlic powder to taste
2 cups frozen spinach, thawed and strained of any excess liquid
TOPPING
1 cup shredded hard white cheese such as Monterey Jack, divided
Make the bechamel sauce: Heat oil in a frying pan on medium high heat. Add flour and whisk to combine. Cook for about 1 minute while continuing to whisk. Add the half and half and continue to whisk until smooth. Slowly stream in the milk and whisk again until smooth. Add spices and cook about three minutes until the sauce has thickened and there is no residual flour flavor. Set aside to cool.
Make the cannelloni filing and assemble the cannelloni: In a medium bowl, mix all the cannelloni filling ingredients until well combined. Fill a piping bag or large Ziplock bag with the mixture, cut a hole at the tip of the bag and pipe the mixture into the cannelloni shells.
Preheat oven to 350°. Give the cooled bechamel sauce a quick whisk. Add an additional 1/4 cup of milk to thin the sauce a bit if necessary. Spread about 1/4 cup of the sauce over the bottom of a rectangular baking dish and top with half of the filled cannelloni shells. Cover the top of the shells with half of the remaining bechamel sauce and sprinkle with half the shredded cheese.
Continue the process, filling and layering the rest of the cannelloni shells on top, covering with the remainder of the bechamel sauce and sprinkling with the rest of the shredded cheese.
Pour 1/4 cup of water over the edges of the assembled casserole, cover with aluminum foil and bake for 45 minutes. Remove aluminum foil and continue to bake for 15 more minutes, or until the top of the casserole is lightly browned and bubbly and the pasta is no longer tough. Serve hot.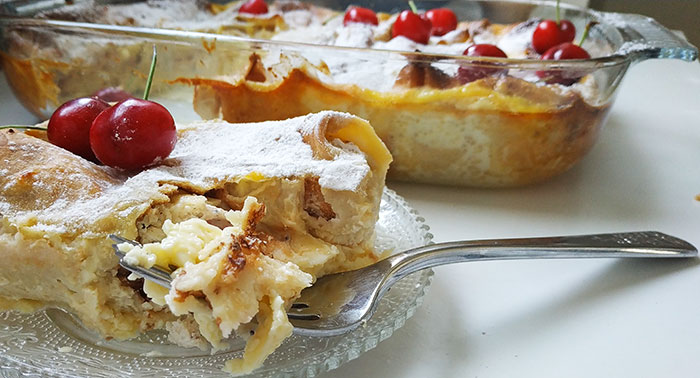 Sweet Cheese and Cherry Blintz Bake
Serves 10 to 12 
I'm not going to sugarcoat the truth—this casserole requires a bit of effort. It can also be made using frozen cheese blintzes if you are looking for a short cut, but I created this recipe because I longed for an entirely homemade version of the dish, something I have yet to find anywhere. Almond extract is a baker's secret to making cherry flavor pop, and lemon zest adds a bit of freshness.
BLINTZ FILLING
1 cup pitted sweet cherries, fresh, or jarred (if using jarred cherries drain them of any liquid).
1/4 teaspoon almond extract 
2 cups farmer's cheese
1 cup sour cream
1/3 cup sugar
1 tablespoon ground* poppyseeds (optional; Grind 1 1/4 tablespoons whole poppyseeds in a spice or coffee grinder)
Pinch of finely grated lemon zest
1 large egg
BLINTZ BATTER
2 cups flour
1 heaping tablespoon sugar
Large pinch salt
2 1/4 cups cold milk
2 1/4 cups warm water
3 large eggs
1 1/2 teaspoons vegetable oil, plus more for greasing 
SWEET CUSTARD BASE
3 large eggs
2 cups whole milk
1/3 cup sugar
1 teaspoon vanilla extract 
GARNISH
Powdered sugar and extra whole fresh cherries
Assemble sweet cheese and cherry filling:In a small bowl, combine cherries with almond extract. Set aside for 2 to 3 minutes to marinate. In a medium bowl, mix farmer's cheese, sour cream, sugar, poppyseeds if using, lemon zest and egg. Mix in the cherries, cover and chill in the refrigerator until ready to use.
Make blintz shells: In a large bowl, whisk flour, sugar and salt. Add cold milk and whisk until smooth. Add warm water and whisk again until smooth, then whisk in eggs and oil. Using a silicon spatula, push batter through a fine mesh strainer set over a large bowl to get rid of any lumps.
Lightly grease a large frying pan with vegetable oil, wiping away any excess oil. Heat to medium heat and pour about 3/4 of a ladle-full of blintz batter into the hot pan, quickly rolling it around to evenly cover the entire pan's surface. You should hear a light sizzle when pouring the blintz batter into the pan if it is at the right temperature.
Cook until edges pull away from the pan and the middle appears dry. Flip with the aid of your fingers and a wide spatula. (Only flip once you can do so without any resistance from the blintz.) If the blintz sticks when you try to flip it, let the blintz cook for another 30 seconds, and then attempt to flip it again.
Let the blintz cook for 10-20 seconds on the second side, and then slide it off onto a plate, making sure the cooked blintz shell lies flat. Repeat, layering each finished blintz on top of the other until there is no more batter.
Preheat the oven to 350. 
Fill and roll the blintzes: Arrange a 1/4-cup portion of the sweet cheese filling in an even line along the bottom of a blintz shell. Roll up once to cover the filling, then fold each side inward like an envelope and continue rolling to achieve a classic blintz shape.
Arrange and layer the blintzes in a 9 by 13-inch rectangular baking pan.
Make the sweet custard base: In a medium bowl, lightly beat the eggs. Add the milk, sugar and vanilla extract, and whisk to combine.
Pour the custard base over the filled and layered blintzes. Cover with foil and bake for 30 minutes. Remove foil and continue baking for 15 minutes, or until the custard has set. Let cool completely. Served sprinkled with powdered sugar, and decorated with whole cherries.