Quiche Is a Timeless, Elegant Lunch Option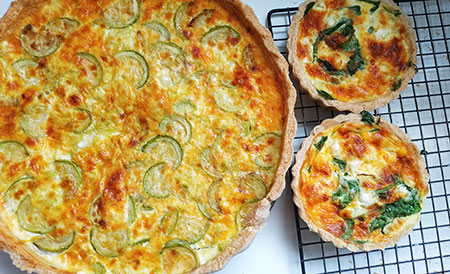 Ever notice that judges on television cooking competitions frequently turn up their noses at a dish for being "too '80s"? Perhaps it's a beef tartare or a chicken liver mousse served on a bed of lettuce next to a tomato cut into the shape of a rose. But this has always puzzled me. Classics are classics for a reason, right?
The first time I can remember eating quiche was in my sorority house dining hall at the University of Arizona. The chef was a shy, retiring woman who kept to herself, mostly communicating with us girls via the food she would turn out in massive quantities. Lunches often consisted of a salad bar and dishes like orzo pasta salad with feta and black olives, authentic homemade tamales—a southwestern treat that I miss deeply—and quiche, which I approached with trepidation, sure that it would fatten me up in a place where no one wants an extra fat layer. A dish that has since travelled with me through space and time, quiche is an excellent reminder that some dishes are universal and timeless, though their popularity might rise and fall.
Fast forward to today—age 35—when I've shed of some of those insecurities about food and my body, and when quiche sounds like a delicious, easy-to-prepare midweek meal. Here in Israel, where quiche appears on most café menus, the egg-centric main can be elegantly light when stuffed with spring vegetables and paired with a leafy green salad. Through trial and error in my kitchen, I have discovered that quiche can be made with either rich, full-fat cream or a healthier light cream with similar results. I have made it both ways countless times and have never had a complaint either way.
Quiche is what I most love to whip up for friends who pop by to chat. It is what I make when I want to impress someone or step up my Israeli breakfast game. It is an invaluable recipe to have stashed away in your back pocket for the next time you're slated to bring something to a potluck or dairy family picnic, and it can be changed up in countless ways by switching which cheeses and fillings you include.
What's more, quiche is an ideal opportunity to practice laying the perfect pie crust. Plus, I have a secret: Anything—including quiche—can be baked in a square pan, whether it be glass, metal or aluminum foil. Helping to take the pressure off here is a pie crust recipe that is virtually impossible to screw up, one that doesn't break as you press it into the pan. While still a culinary student, my baking teacher used to insist on pie crust perfection, but a little patching never hurt anyone, and this recipe allows for easy patching of any holes.
Freezing the crust while you prep the fillings and egg base ensures the large patches of butter turn into flaky crust whose layers show in the final product. Using a bit of whole wheat flour and a touch of sugar gives this particular crust a Wheat Thin-cracker taste. Indeed, extra bits of dough can be gathered and cut into fun shapes to bake into crackers.
Here, I prepare a quiche with either baby spinach or sautéed leek and thinly sliced zucchini, feta, cheddar and parmesan cheese, but I've also made it with precooked sweet potato slices—an Israeli specialty—caramelized onions, mushrooms, Roquefort cheese and even smoked salmon (but not all together). Go ahead and personalize this recipe to your taste, and enjoy!
Quiche crust
Makes 1, 11-inch crust
1 3/4 cup all-purpose flour
3/4 cup plus 1 tablespoon whole wheat flour
1 heaping tablespoon sugar
1/4 teaspoon salt
1 cup cold butter, cut into chunks
1/4 to 3/4 cup cold milk, as needed
1 tablespoon vinegar
Quiche filling

1 1/2 cups uncooked baby spinach*
OR
1 medium zucchini plus 1 medium leek (11 to 12 inches after green leaves removed)
2 tablespoons olive oil
1 1/2 cups assorted cheese such as cheddar, parmesan, Roquefort or feta, shredded or crumbled
Egg custard base
12 large eggs
1 1/3 cup whole milk
1 1/3 cup half and half or light cream
1 1/4 teaspoon salt
1/4 teaspoon black pepper
Pinch ground nutmeg
Make the crust: In a medium bowl, combine the first four ingredients. Add the chunks of butter, and work into the flour mixture with your fingertips until butter is the size of scrambled eggs.
Using a rubber or silicon spatula, fold in the cold milk 1/4 cup at a time, using only as much milk as needed to allow the dough to be held together when gathered in your palm. (Add the vinegar with the first 1/4 cup of milk.). The amount of milk needed will vary by season. You will need less in hot weather than in cold.
Dump the contents of the bowl out onto your working surface and gather together into a ball of dough using your hands.
Flatten into a disc, wrap with plastic wrap, and let rest for at least 20 to 30 minutes, and up to 2 hours in the refrigerator to let the butter harden.
Once ready to use, on a lightly floured surface roll the dough out to a 1/4-inch-thick circle.
Fold the circle gently in half and transfer to your pie pan or mold. Open up the dough, and press down into the pan or mold by first securing down the bottom edges, followed by the base, and sides. Trim any excess dough from the top using a serrated knife. Place the pan or mold on a parchment paper-lined baking tray; prick the bottom of the crust all over with the tines of a fork and let the pie crust chill in the fridge or freezer while you prepare the filling.
Prepare the vegetables. FOR BABY SPINACH: Wash the spinach in cold water, then spin or pat dry. Set aside. *It's important to only use baby spinach if you would like to use this method.  Otherwise, it's best to use the same amount of frozen spinach, thawed and squeezed of any excess water. FOR ZUCCHINI AND LEEK: Halve the zucchini lengthwise and thinly slice. Remove the dark green leaves of 1 medium leek. Cut the white base (you will need 11 to 12 inches of this part) in half lengthwise and rinse thoroughly. Finely slice and sauté the vegetables in olive oil, until the leek becomes translucent and the zucchini starts to lightly brown. Let cool before assembling the quiche.
Preheat the oven to 350° and make the egg custard base: In a large bowl, lightly beat the eggs. Add the milk, cream, salt, pepper and nutmeg, then whisk to combine.
Assemble and bake the quiche: Remove the quiche crust from the fridge or freezer. Cover the base of the crust evenly with the vegetable filling and cheeses. Pour the egg custard mixture over the top. Bake for 50 to 55 minutes, until the filling is browned and slightly puffed in appearance, and the crust is fully baked. If the top of the quiche starts to brown too quickly, cover the quiche with foil for the remainder of the cooking time.
Let cool to room temperature and chill in fridge for 2 to 3 hours to let the quiche set. Serve heated or at room temperature.