A Pan-Pizza Primer With Master Baker Peter Reinhart
Peter Reinhart, a driving force behind the artisan bread movement for decades, is redirecting his focus to a different type of dough: pizza! With his new book, Perfect Pan Pizza
, readers are lucky enough to get yet another masterclass from a man who cares more about bread and pizza than most probably anyone else. (And has three James Beard Awards and various other accolades to "prove" it.)
There are many names and forms given to pan pizza: Roman; Sicilian; focaccia; "Grandma Pies"; and Detroit style. These pies have been a cult favorite in the Midwest for decades but are now gaining popularity throughout the country.
"I discovered Detroit-style pizza years after writing my first pizza book," Reinhart, the full-time chef on assignment at Johnson and Wales University, told me. "I fell in love with the crackle of the crust, like a piece of the best hot-buttered toast you ever had. The pans added an element not possible with a pizza baked straight on the hearth. One of the delights of great bread is the quality and sound of the crust, and properly made pan pizzas really deliver on that toasty, toffee-like crunch factor as well as on all around flavor."
If that's not enough to convince you to try this less conventional style of pizza, maybe you'll appreciate the cheese that spills over the top, wedging itself between the crust and the pan, resulting in a "cracker-like wafer, darker than the crust itself with a wonderful crispy texture and intense cheese flavor," according to Reinhart.
Crust is important. Indeed, in Perfect Pan Pizza, Reinhart claims it is the most essential component for pizza devotees. "A great crust can elevate even a simple pizza to the level of what I call 'memorable,' the defining characteristic that distinguishes it from just 'good.'"
Next up would be high-quality toppings, as they are like "the icing on a cake," he says.
Reinhart is meticulous in his attention to detail, even getting into which size and depth pan made from which material is best for each specific type of pizza. Of course, his bread-baking mastery shines through. He instructs readers to really feel and listen to the dough, ensuring them that it will let them know what it needs. He also dispels a CliffsNotes version of his sourdough knowledge—the focus of many of his previous award-winning books, such as The Bread Baker's Apprentice and Crust and Crumb.
Above all, Reinhart attributes pizza-making success to honing the craft and simply caring about the product and its outcome. "In the end, pizzaiolos [pizza makers] care more about their product than anyone else, even their customers," he shared. "Caring more is the key to all of their greatness."
Ingredients in the book are measured in cups, ounces and grams, making it is accessible to both amateur and professional bakers. Flavors range from traditional to wacky. One pizza uses sliced, seasoned broccoli stalks as a vegan pepperoni. Other delicious takes include a Detroit-style pizza with the classic red strip of sauce down the middle; a blue cheese, balsamic onion marmalade and walnut focaccia; and lemon spinach and cheese curd Sicilian pizza with a par-baked crust.
If Perfect Pan Pizza inspires you to master the art of pizza-marking, you'll be delighted to learn that Reinhart runs a website dedicated to all things pizza. The many articles, musings and videos on Pizza Quest document Reinhart's ongoing search for the best pies. His varied quests have taken him behind the scenes with some of country's top pizza chefs.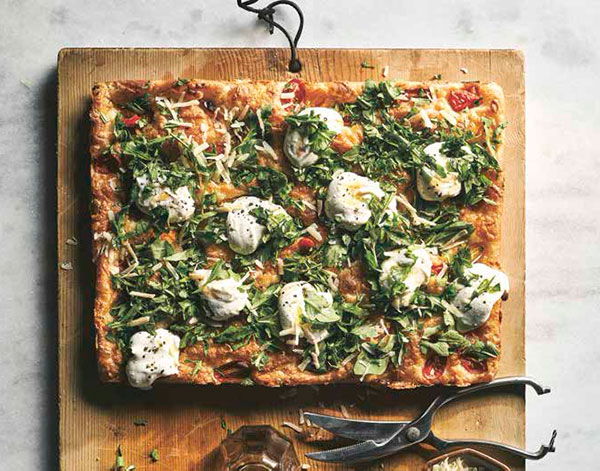 Although this pan pizza tome isn't kosher, and Reinhart's relationship with Judaism is confusing—he even left the faith to become a monk at one point—he grew up in a Jewish home rich with the comforts of Jewish food, especially meals prepared by his grandmother. "My Grandmother made amazing kugel and tzimmes, and I was even one of the few kids who liked gefilte fish," he told me. "Little did I know that my palate was being prepared for a life as a culinary professional."
Beyond family meals, he said, "As a Jewish boy living in the Philadelphia area, my favorite foods were any kind of deli, especially corned beef and pastrami sandwiches on onion rye. Going out for Chinese food and going out or bringing home a pizza from Mama's or Pagano's—such amazing flavors!"
Join what Reinhart hope will soon become his pan pizza revolution by reproducing his efforts at home.
White Flour Dough
Since the dough requires at least 12 hours of chilling, I recommend making the dough at least 1 day ahead. On the day you plan to bake, follow the steps according to the type of pizza you are making.
VOLUME           OUNCES              GRAMS        INGREDIENT
4 1/3 cup               1 lb. 4 oz.           567 g          unbleached bread flour
1 3/4 teaspoons    0.39 oz.             11 g             kosher salt
1 1/4 teaspoons     0.14 oz.              4 g             instant yeast
2 cups                     16 oz.                 454 g         water, cool (about 60°)
2 tablespoons        1 oz.                   28 g           olive oil
1 tablespoon          0.50 oz.              14 g          extra olive oil (for stretching and folding)
In the bowl of a stand mixer fitted with the paddle attachment, or in a large mixing bowl, combine the flour, salt, and yeast. Add all of the water and mix on slow speed for 30 seconds or stir with a large spoon to form a coarse, shaggy dough. Add the 2 tablespoons of oil, increase the speed to medium (or continue mixing with the spoon or with wet hands), and mix for another 30 to 60 seconds to make a wet, coarse, sticky dough. It may seem too wet to form a cohesive dough at this stage. Let the dough rest for 5 minutes to fully hydrate.
Increase the mixer speed to medium-high (or continue mixing by hand) and mix for another 30 to 60 seconds to make a smooth, sticky dough. It should be soft, supple, and sticky to the touch, and offer a little resistance when pressed with a wet finger.
Use 1 teaspoon of the extra oil to make a 15-inch-diameter oil slick on the work surface. Rub some oil on a plastic bowl scraper and on your hands and use the scraper to transfer the dough to the oil slick. Stretch and fold the dough. Cover the dough with a bowl and let it rest for 2 to 5 minutes. Repeat the stretch and fold (rub more oil on the work surface as needed), cover the dough, and let it rest for 2 to 5 minutes. Then repeat the stretch and fold, cover with the bowl, and again let it rest for 2 to 5 minutes. Perform a fourth and final stretch and fold to make a smooth ball of dough. The dough will have firmed up after each stretch and fold and will now be soft, smooth, supple, and somewhat sticky but firm enough to hold together when lifted. Transfer the dough to a lightly oiled bowl, cover with plastic wrap, and refrigerate for 12 to 72 hours.
Pan the dough on the day you plan to bake your pizzas.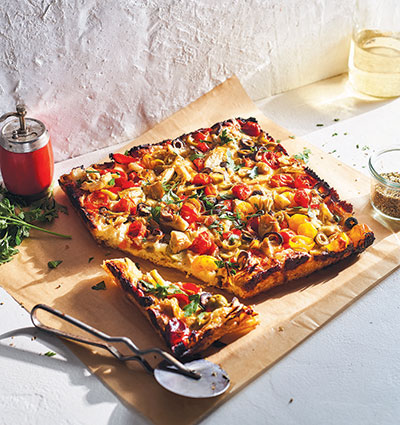 Olive and Artichoke Medley
Make 2, 9 by 9-inch pizzas 
1 batch of white flour dough
1 pound brick, Muenster, mozzarella, fontina, or provolone cheese (or a combination), cut into 1/4-inch cubes
6 marinated artichoke hearts, quartered, with marinade
1/2 cup sliced black olives
1/2 cup sliced green olives
1/2 cup diced red bell pepper
1 cup cherry tomatoes or grape tomatoes, halved
1 tablespoon olive oil
1 tablespoon lemon juice, or 1 teaspoon red wine vinegar
Salt and freshly ground pepper
1/4 cup chopped flat- leaf parsley or basil, for garnish
1/4 teaspoon dried oregano, for garnish
Five hours before baking the pizzas, begin panning and dimpling the dough, at 20-minute intervals. After three to four rounds of dimpling and resting, the dough will have relaxed enough to cover the whole pan. At this point, top the dough with half of the cheese cubes and press them into the dough. Then allow 3 to 4 hours for the final rise. The dough will bubble up around the cheese and rise significantly in the pan.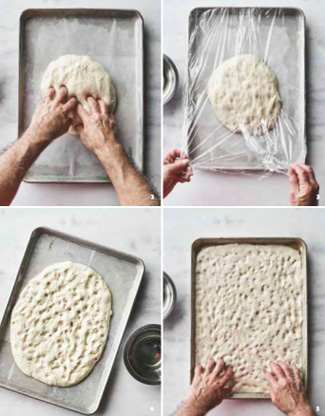 While the dough is rising, combine the quartered artichoke hearts, along with any marinade in the jar or can (though no more than 1/2 cup), both types of olives, and the diced red bell pepper in a bowl. Gently fold in the tomatoes. Add the oil and lemon juice and gently toss until all the vegetables are evenly coated. Season with salt and pepper. Cover the bowl and refrigerate until you're ready to assemble the pizza.
Twenty minutes before assembling and baking the pizza, preheat the oven to 500° (450° for convection). Top the dough with the remaining half of the cheese cubes, making sure to get plenty around the edges, where the dough meets the pan. Spread 1 1/2 cups of the artichoke-olive mixture over the cheese.
Bake on the middle shelf of the oven for 8 minutes. Then rotate the pan 180 degrees and continue to bake 7 to 9 minutes longer, or until the cheese caramelizes to a golden brown and the artichoke mixture bubbles and browns.
Transfer the baked pizza to the stovetop or to a heatproof counter. Using an offset spatula or bench blade, carefully slide it around the edge, between the crust and the side of the pan, and then lift the pizza out of the pan and slide it onto a cutting board. Garnish with the parsley and a sprinkle of dried oregano. Let set for 1 minute, then cut into 3- or 4-inch squares and serve.