Another Year of Awards for 'Hadassah Magazine'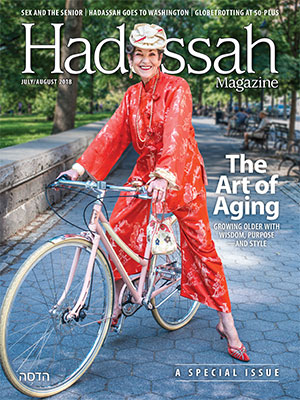 Hadassah Magazine has received three Simon Rockower Awards, the annual prizes for excellence in Jewish journalism handed out by the American Jewish Press Association (AJPA). The awards, for work published in 2018, were presented June 25 at the AJPA's annual conference, held this year in St. Louis, Mo.
Hadassah Magazine has received a total of 14 Rockower Awards since award-winning journalist and editor Lisa Hostein began her tenure as executive editor of the publication in late 2015.
Hadassah Magazine's 2018 Rockower Award winners, all second place honors in their respective categories, are:
Debra Nussbaum Cohen, who won in the category of Personality Profiles, for "Training Muslim Eyes on the Holocaust," her feature on Mehnaz Afridi, the only Muslim scholar of the Holocaust in the United States;
Hilary Danailova, who garnered one of her two awards in the category of American Jewish History, for her in-depth exploration of "Brooklyn—The Most Jewish Spot on Earth;" and
A group of writers, including Hadassah Magazine senior editor Leah Finkelshteyn, who took home awards in the category of Special Sections or Supplements for "The Art of Aging: Growing Older With Wisdom, Purpose—and Style." The group of articles and columns explore the spiritual, physical and practical dimensions of mindful aging. The other contributors to the section were Rahel Musleah, Renee Ghert-Zand, Fredda Sacharow and Hilary Danailova.
"The recognition of the work we do is always gratifying," said executive editor Hostein. "It's a testament to the talent of the magazine's staff and network of writers who always strive to produce enlightening and meaningful stories for our large and loyal readership."