Meet Zak, Miami's Hippie Kosher Baker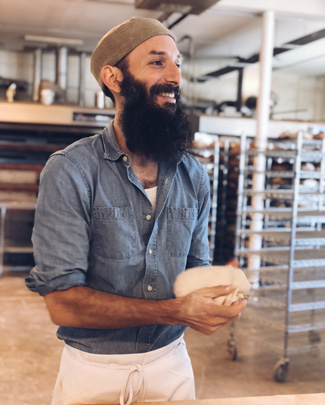 With his wool watch cap, long beard and dusty hiking boots, you might mistake Zak Stern for an itinerant shepherd. But don't let his appearance mislead you: As owner of Miami's wildly popular Zak The Baker, he's overseeing a rapidly growing bakery business based in his 7,000-square-foot facility, which also includes a popular cafe.
The bakery's color-blocked facade has become social media gold—passers-by often snap photos for their Instagram feed in front of the vertical rainbow stripes. But more importantly, the white-and-wood interior attracts patrons slavishly obsessed with Stern's all-kosher French-style pastries, babkas, rugelach, sandwiches and naturally leavened bread. His baguettes and sourdough boules have found their way into breadbaskets at top local restaurants. Stern himself has developed a following—115,000 on Instagram (@zakthebaker)—as people hunger for information about the man behind the artisanal carbohydrates.
A self-described "three times a year, High Holiday synagogue attendee" while growing up in Miami, Stern, 34, enrolled in pharmacy school after college, only to drop out and log thousands of miles on a journey of self-discovery that would take him around the world. With an interest in agriculture and a list of organic farms in hand, he'd cold-call proprietors in Sweden, Italy and, eventually, Israel, where he ended up living and apprenticing for a year at the renowned Goats with the Wind farm in the Galilee. His goal was simple: to learn about the three areas that interest him most—cheese, wine and bread.
Armed with newfound knowledge but minimal business acumen, he moved back to Miami, inhabiting a friend's vacant garage and backyard and experimenting with batch after batch of sourdough mother until he got the formula for his naturally leavened breads right. (A "mother," also known as a "starter," is a mixture of water and flour combined with a colony of natural yeast.)
Stern faced his share of obstacles, like the time his electricity crashed, rendering several days' worth of work useless. But he persevered, and soon started selling his breads at local farmers' markets, charming new customers one loaf at a time. While still "baking in beta," Stern cultivated a word-of-mouth reputation that attracted celebrated chefs like Michael Schwartz and Michelle Bernstein, who have served his sourdough and other products at their Miami restaurants.
In those first "maniac days"—18-hour days spent baking, packaging, delivering, selling and marketing all on his own—Stern constantly doubted himself.
"Every waking hour I was working was taxing me mentally," he recalled.
To help with the business, Stern recruited interns, who not only worked with him but often lived in a backyard tent on the property. Eventually, he moved his bakery operations to a commissary kitchen and himself and the interns to an urban farm in the neighborhood of Little Haiti called Earth N Us. It was while living at Earth N Us that one of his apprentices proved to have particular staying power.
Batsheva Wulfsohn, a then-25-year-old Orthodox woman from the West Bank settlement of Bat Ayin, had connected briefly with Stern while they were both working at Goats with the Wind years before, and was interested in apprenticing with Stern. Within months of joining Stern in 2014, Batsheva became his wife. They settled down in Miami and had two daughters: Abigail, 4, and Maya, 2.
It was Wulfsohn who prevailed upon her husband to make the new location—set in Miami's hip Wynwood neighborhood—completely kosher, which his previous facility was not.
"I started out doing it for her, but I actually like that what we are doing transcends tribalism," said Stern, who is not strictly kosher in his personal life. "It's the rare occasion where Orthodox Jews are eating the same food as everyone else, and everyone is enjoying it."
As Stern's business ramped up dramatically, so, once again, did his stress level. In 2016, he suffered a minor stroke, which he now calls "a blip," but which forced him to seek more balance in his life. (While strokes in younger adults are uncommon, they do account for 10 to 15 percent of all cases.)
At the same time, his wife—whom he has hashtagged #myreligiouswife on Instagram—pined for Israel and her family. The couple decided to spend more time there, staying in the Jerusalem area to be close to Wulfsohn's family. During those visits, Stern focuses on spending quality time with his children away from the pre-dawn wake-up schedule of a professional baker.
"Who thought I'd be getting into a situation where Israel, of all places, became my 'down time,' " he said with his characteristic dry humor.
He also uses the trips to recharge creatively and dream up ways to improve and expand his business back in Miami, from changing the menu at the popular cafe within the bakery to, most recently, supplying Whole Foods bakeries in South Florida with hundreds of loaves per day. One day, he said, he may write a cookbook.
He's done so while managing to keep a tight rein on the business, in which he is the only investor. "We're just trying to be independent and focus on being a good business," said Stern, still amazed at how he's gone from producing a few dozen loaves for weekly farmers' markets to baking thousands a day. "It's not always easy, but it's satisfying." 
Adeena Sussman is the author of the upcoming cookbook Sababa: The Fresh, Sunny Flavors of Israeli Home Cooking (Penguin/Avery), which comes out in September. She lives in Tel Aviv.
---
These recipes, served in the bakery's cafe, focus on delicious elemental ingredients and the simple preparations Stern prefers when cooking
in his own kitchen.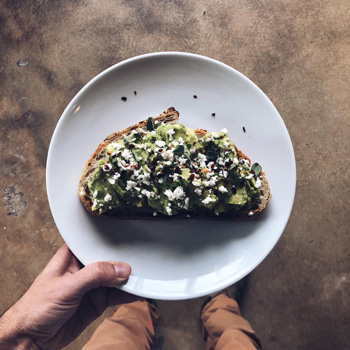 Open-Face Avocado & Feta Toast
Serves 2
1 avocado, peeled and pitted
1 tablespoon fresh lemon or lime juice
2 tablespoons good quality olive oil, plus more for drizzling
1/4 teaspoon red pepper flakes
Kosher salt and freshly ground black pepper to taste
2 1/2-inch-thick slices sourdough bread
1/2 cup good quality feta, crumbled
Fresh cilantro, parsley or mint, for garnish
Gently mash the avocado in a bowl with the lemon juice, olive oil, pepper flakes, salt and pepper. Lightly toast the bread, then divide the avocado mash among the 2 slices. Top each avocado toast with feta, drizzle with olive oil and garnish with herbs.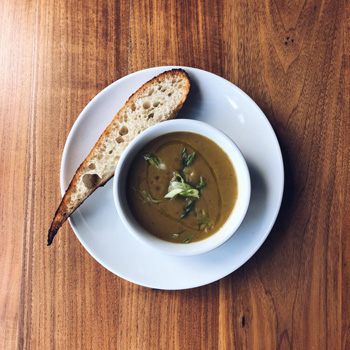 Summer Squash & Basil Soup
Serves 6
3 tablespoons olive oil
1 cup diced onion
3 cups chopped fresh zucchini or yellow summer squash
1 cup diced carrot
1 cup diced celery
2 cloves minced garlic
2 tablespoons fresh basil, or 1 teaspoon dried, plus some fresh for garnish
3 cups vegetable stock
1 teaspoon kosher salt, plus more for seasoning
1/4 teaspoon freshly ground black pepper, plus more for seasoning
1.  Heat the oil in a medium saucepan over medium heat. Add the onions and cook, stirring, until tender and translucent, 8 to 9 minutes.
2. Add the zucchini or yellow summer squash, carrots, celery, garlic and basil and cook, stirring, until softened, 4 to 5 minutes.
3.  Add the stock, salt and pepper, bring to a boil, reduce the heat to a simmer and cook, stirring occasionally, until the zucchini is softened, 20 minutes.
4.  Use an immersion blender or transfer soup to a blender and puree until smooth. Season with more salt and pepper to taste, ladle into bowls, drizzle with olive oil and garnish with more basil.