Cultivating an Israeli Herb Garden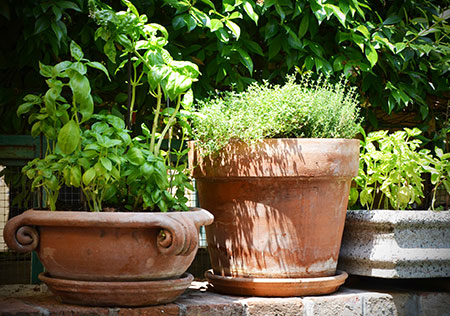 Israel's national pastime could very well be herb foraging, especially in the rainy winter months when front lawns turn into miniature fields of wild greens. In the summer heat, our frenzied herb picking leads us to hunt near desert streams. By the way, I'm not talking about setting out intentionally to forage. Rather, we excitedly collect wild herbs during a stroll or a hike—or even while parking our cars. (It is not uncommon to find a wall of rosemary bushes, an unusually drought-tolerant herb, used as landscaping in a parking lot, or a patch of wild mint on the side of the road where the pavement meets the sand.) Yes, it's safe to say that herbs are everywhere here, and Israelis love nothing more than to gather them to make a fragrant tea or add freshness to a salad.
My husband and I have just moved our family out of our small Haifa apartment to a house in the nearby Jezreel Valley, Israel's agricultural belt. This rural relocation means that we will have the luxury of tending to our very own backyard herb garden. A dream come true for any forager at heart, growing an organized outdoor garden that will flourish in the Mediterranean sunshine (four or more hours a day of direct sunlight is ideal). Here, an outdoor garden can produce herbs all year round, but in the northeastern United States, where I grew up, an herb garden is a summertime treat to savor.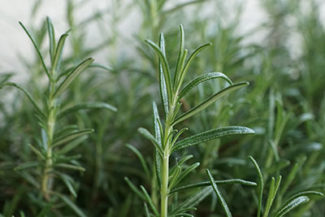 When cultivating an Israeli herb garden, first consider your intentions. Personally, I require ample access to the most common: basil, dill, parsley, cilantro, za'atar (also called hyssop), mint, rosemary and chive. My husband wouldn't have a garden without bunches of herbs that can be used for tea, such as Melissa (lemon balm), sage, white-leaved savory, lemon verbena, lemon thyme, lemongrass and what Israelis call sheba (which otherwise goes by the unappetizing name of tree wormwood). A warning: Don't plant mint or sheba next to other herbs in the same planter, or they will positively take over! Also, sheba must be used with caution, as high doses can cause dizziness and nausea.
Most herbs can be easily grown from seedlings in high quality soil—check out the many videos on YouTube for detailed explanations. Expect the process to take about a month before the seedlings start turning out their bounty, though the process is much quicker with already established rooted plantings. Herbs constantly replenish as you pick them. And there's nothing like the vibrancy and punch of fresh herbs. Take good care of them, and you will have plenty to work with in the kitchen this summer.
Countless recipes benefit from the fruits of an Israeli herb garden, including herbals tea that are delicious when iced for summer. An extraordinary version of Bedouin-style chai tea can be made by steeping fresh sage and cardamom pods in darkly-brewed sweetened black tea.
Beyond tea, here are two recipes that highlight the fresh earthiness of herbs: a simple herbed lentil salad and an ultra-light, creamy pesto sauce made by blending ricotta and fresh basil leaves together.
Happy summer!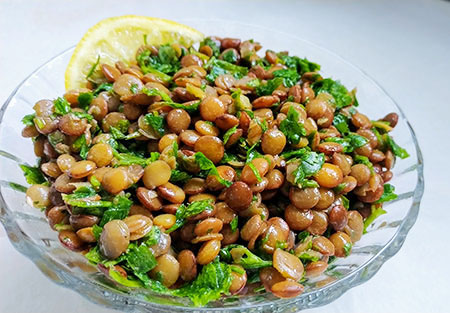 Herbed Lentil Salad
Makes 3 1/2 cups
This protein-rich salad calls for some of Israel's most common herbs.
1 cup uncooked green lentils
1/2 cup packed fresh parsley, larger stems removed
1/2 cup packed fresh cilantro, larger stems removed
1/2 cup packed green onion (only the green parts)
1/4 cup packed fresh nana (Mediterranean spearmint) leaves, stems removed
Few sprigs dill, larger stems removed (optional)
4 tablespoons good quality olive oil
2 tablespoons fresh lemon juice
1/2 teaspoon salt
1/4 teaspoon ground cumin
Large pinch freshly ground black pepper
Large pinch granulated or powdered garlic
In a small fine mesh strainer, rinse lentils and pick out any stones. Place lentils in a small saucepan and cover with water, then put over high heat. Let the lentils come to a boil, reduce to a simmer and cook 25 to 30 minutes, until lentils are tender but not mushy.
Meanwhile, prepare the herbs: Wash herbs and green onion and dry using paper towels or in a salad spinner. Place herbs and onion in a food processor. Pulse a few times to roughly chop. Take care to not over pulse.
Drain lentils and rinse them to cool. Add lentils to a large bowl and mix in the chopped herbs and onion. Season with olive oil, lemon juice and spices. Taste and adjust seasoning.
Transfer to a decorative bowl and serve at room temperature or cold.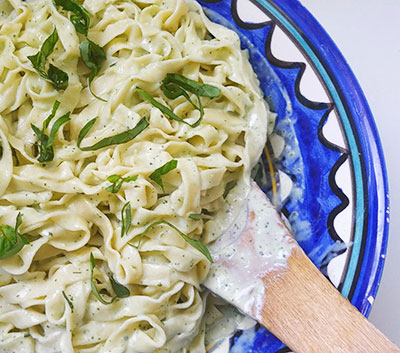 Creamy Light Pesto Sauce
Makes 3 1/2 cups
This creamy pesto sauce is a touch healthier than other cream sauces, using blended ricotta in place of cream. It's also simple, requiring only a few minutes and the use of a blender or food processor.
3 cups ricotta cheese
1/2 cup good quality olive oil
1 cup basil leaves, washed and dried
1/2 cup shredded parmesan cheese, preferably fresh grated
1/2 teaspoon granulated or powdered garlic
1/4 teaspoon salt, plus more according to taste (I used 1/2 teaspoon salt total with a non-salted ricotta)
1/4 teaspoon freshly ground black pepper
Pinch ground nutmeg
Starchy pasta water to taste, during pasta assembly
Extra basil leaves, cut into chiffonade ribbons, for garnish
Coarse salt to taste, for garnish
In a food processor or blender, combine ricotta cheese, olive oil and basil leaves. Blend until smooth. Add grated cheese and seasonings. Blend to combine.
Spoon as much sauce as desired over hot cooked pasta*, adding some of the starchy pasta water to thin out the sauce a bit.
Garnish pasta with basil leaves and coarse salt to taste.
*I use as little as three tablespoons of pesto for one cup of cooked pasta. Any remaining sauce that is not used immediately can be kept in the fridge for up to three days, or frozen for a few months in a tightly sealed container.