Frozen Coffee and Limonana Drinks for Summer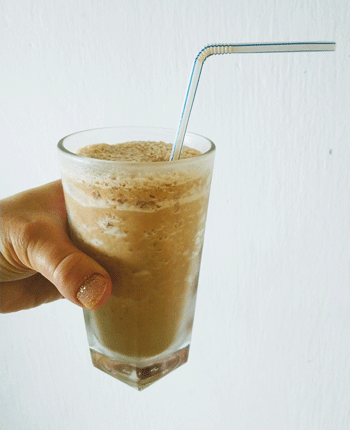 Summer has arrived, and let me tell you, it's hot here in Israel. Very hot. And despite popular belief, it's also painfully humid along the Mediterranean coast. The sad truth is that it will be for months.
But life goes on, and as we thankfully reflect on the utter engineering genius of the man who invented modern air conditioning—thank you, Willis Carrier!—there are other, supplemental ways to keep cool.
How delicious does a frozen, coffeeshop-style drink sound on a sweltering summer day? Yet how many of us have the time to sacrifice hanging out in Starbucks all day, not to mention the money that the chain's drinks command? Instead, let me show you how to recreate some of those popular blended drinks from scratch—they're not complicated, I promise!
But, my recipes for chocolate-infused coffee frappes and bright-green frozen limonana do take a little advance planning. The coffee needs to be cold brewed in advance and frozen in ice cube trays, for example.
As for my choice of sweetener, I use honey. Something about drinking sugary drinks irks me. Honey, as opposed to sugar, seems like a more natural choice to sweeten drinks. Honey is also what I use when making natural fruit popsicles for my children. (The limonana recipe makes great popsicles, by the way!) Honey also doesn't spike blood sugar in the extreme way that refined sugar does and includes certain health benefits.
Consequently, adding what you prefer to your own drink highlights one of the best perks of preparing these blends at home—controlling the ingredients, taste and balance of your food. I'll drink to that!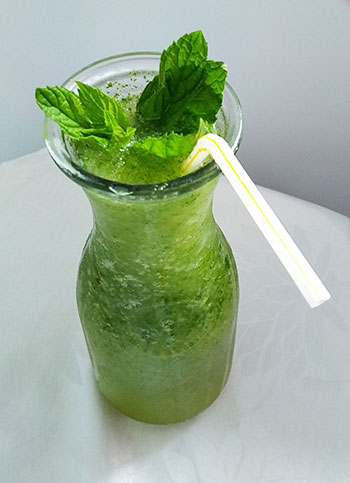 Blended Limonana
Makes about 3 3/4 cups
When I was giving food tours in Haifa, my first stop was always to buy a frozen limonana for guests. The word itself is a play on the Hebrew word for lemonade, with nana—mint—in place of the usual suffix. The refreshing drink was, to my mind, the ideal way of welcoming tourists to Haifa in the oftentimes blistering summer heat. This version here is a bit more tart than what you would find in the Haifa shuk. Make sure your lemon juice here is fresh squeezed and your nana leaves are fresh and bright green, not browning or wilted. Be careful to discard all stems, which would give a muddied flavor to the drink.
2 1/2 cups ice
1 cup fresh-squeezed lemon Juice (from 5 to 6 lemons)
Zest of 1 small lemon
1/2 cup honey
2/3 cup loosely packed nana leaves
Add ice to a food processor or high-powered blender, and blend until crushed.
Add all other ingredients and blend until combined. Scrape down the sides of the blender or food processor as needed.
Serve immediately.
Frozen Mocha Coffee
Makes about 2 1/2 cups
When I first studied in Israel as a teenager, I celebrated Rosh Hashanah with a host family. I'll never forget how the teenaged daughter of the family, when bringing me home, casually jumped off the bus in Jerusalem's Germany Colony to buy me a frozen mocha coffee from one of the original Aroma Espresso Bars—her treat. Such a delicious indulgence, and a very nice gesture.
1 1/2 cups cold brew coffee*, frozen into approximately 16 ice cubes
1 cup whole milk
3 tablespoons honey
1 tablespoon Nutella or other chocolate spread
Add ice to a food processor or high-powered blender, and blend until crushed.
Add all other ingredients and blend until just combined. Scrape down the sides of the blender or food processor if needed.
Serve immediately.
*COLD BREW COFFEE
1/3 cup (6 tablespoons) very finely ground coffee (I use espresso-like Turkish style coffee), or more to taste
4 cups filtered room-temperature water
Add coffee and water to a 4-cup French press or glass pitcher.
Stir to combine and cover. Let sit in the fridge 6 to 12 hours.
After brewing, plunge the grinds if using a French press, or strain by pouring coffee through a cheese cloth that sits on top of a fine mesh strainer set over a large bowl.
Return the filtered coffee to the fridge, and enjoy for 3 to 5 days.