'Little Book of Jewish Sweets' by Leah Koenig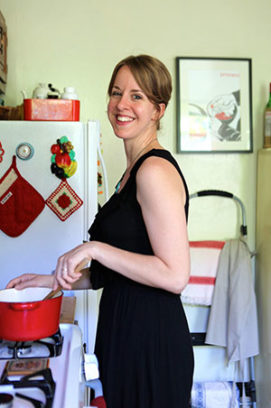 Little Book of Jewish Sweets is finally here, and it's the dessert course we've been waiting for. In this third volume of "little" Jewish food books from Brooklyn-based writer Leah Koenig, readers will once again delight in the array of recipes amassed from all corners of the globe.
Koenig, 37, is determined to expand the Jewish palate via inclusivity, honoring traditions and cultures unfamiliar to many English-speaking Jews while carving out a place for the sweets you have probably enjoyed since you were a child. No matter whether you're Sephardi, Mizrahi or Ashkenazi, in light of recent culinary trends our world is at last becoming the "little narrow bridge"—gesher tzar maod—that we all sang about in Hebrew school.
"I think people are already getting more adventurous with their holiday tables," says Koenig. "[People are] trying dishes from other Jewish communities and mixing and matching traditional favorites with new-to-them dishes. So, one family might have Ashkenazi brisket and Moroccan matbucha (a pepper and tomato relish) sharing the same table. I think it's wonderful—a way to bring cultures together at the table, share stories and make some truly delicious meals."
Following through on this concept, Koenig tells me more about how she mixes Ashkenazi and Sephardi dishes on her own table. "My mother's mandelbrot are legendary in my mind, perfectly crisp and snappy with a generous sprinkle of cinnamon sugar. The base recipe for the mandelbrot in Little Book of Jewish Sweets is nearly identical to hers. They're perfect."
Newer additions in her house include Sephardi bimuelos (little fried fritters) for Hanukkah, which she shares in the book. "They are less labor intensive than sufganiyot but just as delicious," she assures me.
Koenig weaves in historical tidbits for various recipes and techniques, giving the reader a proper overview with brief, absorbing descriptions. For instance, she explores the relationship between hot and cold desserts and the drinks that customarily accompany each in various Jewish populations around the world.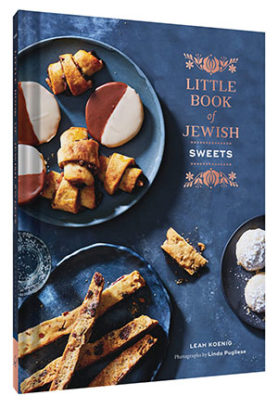 Flavorful twists on classics—which may just be Koenig's signature style—produce recipes such as Orange Marmalade and Chocolate Chip Rugelach, a British take on the classic Jewish cookie; Mocha Black and White Cookies, which the Brooklynite says are among her all-time favorites; and Cassola-Ricotta Cheesecake, which has roots in the ancient Roman Jewish community. Koenig likes to serves it with a mixed berry sauce.
Middle Eastern Jewish desserts include stuffed dates packed with many flavors of the region—among them pistachio, coconut and rosewater—and which make for a scrumptious two-bite dessert. Then there is Atayef, a dessert comprised of fried sweet cheese pancakes assembled in a half-moon shape and served soaked in syrup.
Along with recipes, tips and insight essential for dessert success, such as only using thick fillings in your hamantaschen to prevent running, and denoting recipes that are dairy and/or gluten free, Koenig reveals the deep historical connection and associations that Jews have to desserts around the world. These range from Sephardi Jews historically working in the sugar and vanilla trade in the East, to becoming professional bakers in Central Europe.
Here you can enjoy Koenig's takes on Kourabiedes cookies from Greece and Arroz con Leche, a Sephardi rice pudding that the author recommends pairing with a generous dollop of marmalade.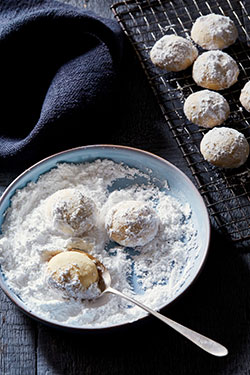 Kourabiedes (Almond Flour Shortbread)
Makes about 3 dozen cookies
These buttery shortbread cookies, which come rolled in snowy confectioners' sugar, are beloved by Greek Jews and Christians alike. But the almond flour version has unique roots in Greece's Jewish community. The melt-in-the mouth texture of these cookies makes them a joy to eat. And indeed, they are served on joyous occasions, such as a wedding or bris.
1 pound unsalted butter, at room temperature
1 1/2 cups confectioners' sugar
1 1/2 teaspoon vanilla extract
1/2 teaspoon kosher salt
1/4 teaspoon almond extract
1/2 cup almond flour
2 cups all-purpose flour
Preheat the oven to 350° and line two large rimmed baking sheets with parchment paper. Combine the butter, 1/2 cup of the confectioners' sugar, the vanilla, salt, and almond extract in a stand mixer fitted with a paddle attachment, and beat on medium speed until light and fluffy. Add the almond flour and beat until combined. Add the all-purpose flour in three additions, beating on low speed and scraping down the sides of the bowl as necessary, until a firm but pliable dough comes together.
Pinch off pieces of dough, roll into 1-inch balls, and place on the prepared baking sheets. Bake until lightly golden, 12 to 15 minutes.
Remove from the oven and gently transfer the cookies to a wire rack to cool. Once cool, spread the remaining 1 cup confectioners' sugar onto a plate and roll the cookies in the sugar. Store covered at room temperature for up to 3 days or well wrapped in the freezer for up to 3 months.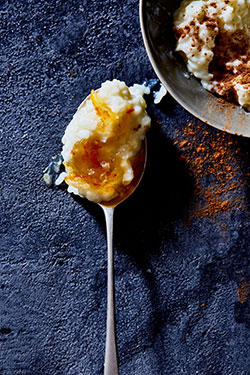 Arroz Con Leche (Sephardi Rice Pudding)
Serves 6 to 8
Sephardi cuisine features two distinct types of rice pudding—one made with whole grains of rice, as this version is, and the other (called sutlach) thickened with ground rice flour. This simple pudding is elevated by a spoonful of sweet-tart marmalade or jam that gets dolloped on it at the table. You can also play around with the pudding's flavor by adding a strip of lemon zest or a cinnamon stick while it simmers, or stirring in a little rose water at the end.
1/2 cup basmati rice, rinsed well and drained
1 cup water
1/8 teaspoon kosher salt
5 cups milk
1/4 cup heavy cream
1/2 cup sugar
Marmalade or apricot jam for serving
Ground cinnamon for serving
Stir together the rice, water, and salt in a large saucepan, and set over medium-high heat. Bring to a boil, then stir and turn the heat to low, cover, and cook until the rice is tender and the water is absorbed, about 15 minutes. Stir in the milk and turn the heat to medium-high. Bring to a simmer again, then turn the heat to medium and cook, uncovered and stirring frequently, until it thickens into a soupy porridge, 20 to 25 minutes.
Stir in the cream and sugar, and cook, stirring, until the sugar dissolves, 1 to 2 minutes. Remove the pan from the heat and let the pudding cool to room temperature, stirring occasionally. Transfer to a serving dish or divide among individual serving bowls, cover, and refrigerate until chilled, 3 to 4 hours (the pudding will continue to thicken as it chills). Just before serving, top with dollops of marmalade and a sprinkle of cinnamon.
Recipes reprinted from 'Little Book of Jewish Sweets' by Leah Koenig with permission by Chronicle Books, 2019.