Honey & Co. 'at Home' in London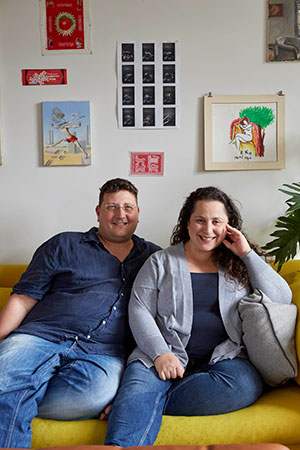 Taking my place on the couch after an especially hectic evening at home, it's finally time to rest. The kids are asleep, the toys are picked up and the house breathes a silent sigh of relief. Switching on the television, I'm struck by two familiar faces. The show, in Hebrew, is about Israeli chefs who have decided to try their luck elsewhere, outside of Israel. I don't blame them: Food is expensive here, and "Israeli food" to Israelis is nothing particularly special. It's hard to get the same response here from a plate of perfectly plated hummus as it is for the chefs on television in their adopted city of London.
Sarit Packer and Itamar Srulovich of Honey & Co. are the chefs I'm watching—business partners as well as husband and wife. For Israelis, they are uncharacteristically shy, preferring to steer all talk toward food and ingredients, hiding out in the kitchen behind steaming pots of sauces. Yet, the two who got their start working under the legendary Yotam Ottolenghi in his many London kitchens have been steadily building up their own Israeli food empire in the British capital. Marketing Honey & Co. under the broader cap of Middle Eastern food, they currently run two restaurants as well as a gourmet food shop and deli.
Their third cookbook—Honey & Co. at Home: Middle Eastern Recipes From Our Kitchen
—provides an intimate look at the couple's home life. Packer and Srulovich have mastered the art of the panicked dash to create a smashing dinner party in little time. Indeed, their basic concept of quickly prepared foods isn't hard to grasp. "We are great believers in dips," they tell me in between stops on their U.S. book tour. "We always have good tahini, so we can whip up a delicious dip in seconds and serve with whatever dippers are at hand. Good quality tuna tins are another staple of ours—we make the most delicious tuna dip and tuna fritters." A humblebrag indeed!
At home, Packer and Srulovich feel freer to play around with whatever ingredients are on-hand. One example of this is Packer's signature green shakshuka, her version of a clean-out-the-fridge-meal. She cracks two eggs over a mix of sautéed greens leftover from an overzealous trip to the farmer's market. Thanks to this simple, "duh" kind of recipe, I finally get green shakshuka, which had never quite made sense to me.
Other more time-consuming recipes include a red pepper, vine leaf and goat cheese dolma cake—basically, the ultimate tangy, creamy and tart party spread for crackers or toasted bread; and Fish Pastilla, which is encased in phyllo dough and spiced with preserved lemon and chilis.
For dessert, a double-layer tahini cake with lemon and white chocolate shows off Packer's skills as a pastry chef—a talent celebrated in the duo's second book, Honey & Co.: The Baking Book
. (Their debut cookbook was Honey & Co: Food From the Middle East
.)
Legumes are utilized to the fullest and are the stars of dishes like Matbucha and Yemini Lentil Meatballs. Assorted unusual pickles (including quince pickles) and essential Israeli sauces such as amba, pickled eggplant and sweet zehug (schug) are secret weapons to stock at home, for when you want to jazz up everyday dishes. I suspect that Packer and Srulovich rely on these touches to stave off homesickness for Israel. Ward off yours with these delicious recipes.
3 tablespoons olive oil
1 small leek, sliced into rings and washed
3 1/2 ounces fresh spinach(you can use any green leaf you have here: chard, kale, beets, radish tops, etc.)
1 small bunch of parsley, roughly chopped
1 small bunch of mint, leaves picked and roughly chopped
1 small bunch of dill, roughly chopped
1 garlic clove, peeled and crushed
4 eggs
A few dollops of yogurt (optional)
A sprinkling of sumac (optional)
Sea salt and freshly ground black pepper, to taste
Heat the olive oil in a frying pan on a medium-high heat. Add the leek and sauté to soften—it will take 3 to 4 minutes—then start adding the spinach, a large handful at a time. Stir between each addition to wilt it. It may seem as if it will never fit in the pan, but as it wilts there will be hardly any volume left.
Finally add the chopped herbs and mix them in to wilt too. The whole process will take about 6 to 8 minutes, depending on the leaves you are using; just make sure they are soft by the end of it.
Remove the frying pan from the stove and season with the crushed garlic and some salt and pepper. You can set this aside until you are ready to eat and the table is set; it will also keep in the fridge until later.
You only want to cook the eggs once everyone is at the table, as it is best to eat this while the yolks are still runny.
Heat the spinach mixture again and use a spoon to create four little wells in the cooked leaves, one in each quarter. Crack an egg into each well, season the eggs with a touch of salt and pepper and cover the pan.
Cook on a low heat until the whites are set but the yolks are still runny—about 3 to 4 minutes. Serve straight away. You can drizzle with some yogurt and sumac or serve it as is. It's delicious either way.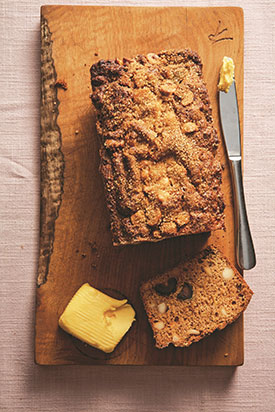 Medjool Date, Honey and Macadamia Breakfast Loaf
Makes 1 large loaf or 2 small loaves
The unique flavor of rich, artisan honey comes through beautifully here and is really worthy of the expense. Together with the Christmassy spicing, it makes a perfect foil for chunks of toffee-sweet medjool dates and buttery macadamia nuts.
This is a really large loaf, and you will need to use a big tin. If you are not sure about the size of your tin, just make sure you only fill it three-quarters full. This recipe bakes nicely in two smaller tins, too, but please read my note about adjusting baking times at the end. 
FOR THE CAKE
Scant 2/3 cup whole milk
1/3 cup honey (use a high-quality, raw honey for best results)
1 3/4 ounces salted butter
2 heaping cups all-purpose flour
3 teaspoons baking powder
1 teaspoon salt
1 cup sugar
Zest of 1 orange
Skin of 1 clementine, finely chopped
1 teaspoon ground cinnamon
1 teaspoon ground nutmeg
Scant 1 1/4 cups medjool dates, pitted and roughly cut
1 cup macadamia nuts
2 eggs
FOR THE TOPPING
1/3 cup macadamia nuts
2 tablespoons demerara sugar
Heat your oven to 350°. Line your loaf tin(s) with a sheet of baking paper.
Place the milk, honey and butter in a small pan and heat gently until the butter has melted. In the meantime, mix the rest of the ingredients apart from the eggs in a large bowl. Pour in the melted butter mixture and use a large spoon to stir until just combined. Add the eggs and stir again until fully combined.
Transfer to the baking tin(s), top with the macadamia nuts and sprinkle with the demerara sugar. Bake in the center of the oven for 30 minutes.
Open the oven and rotate the cake for an even bake, then leave for a further 20 to 25 minutes. It should feel lovely and bouncy when you press it. If you are using two smaller tins, they will bake in a shorter time—I would rotate them after 20 minutes and then leave for another 20 minutes to bake fully.
Recipes from Honey & Co. at Home: Middle Eastern Recipes From Our Kitchen
 by Sarit Packer and Itamar Srulovich, published by Pavilion Books. Photos by Patricia Niven.