From Allspice to Za'atar: Yaniv Cohen's 'My Spiced Kitchen'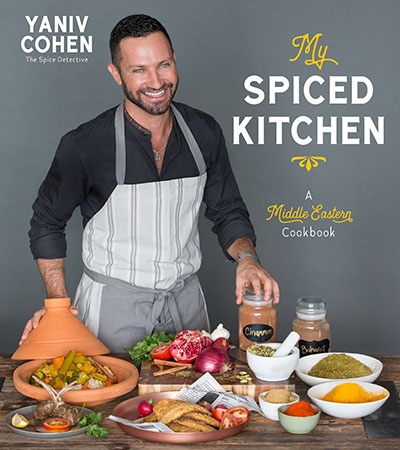 "Wow that's a hard question," Yaniv Cohen says when I ask him to select a favorite dish from his childhood. "There are so many special dishes. But if I had to choose one, I would choose the turmeric noodle chicken soup my grandma, Rachel, served after Yom Kippur fast. She would add cilantro right before serving it, and that combination of scents would travel all the way down the street. Imagine coming to her place after not eating for 25 hours."
The childhood that Cohen conjures up with such powerful nostalgia unfolded in Kiryat Malakhi, a dusty, blue-collar town in southern Israel not far from Beersheba. Most of his family still resides there, but for the dynamic, creative chef, America—and more specifically, Miami—came calling.
While establishing a name for himself over the many years he worked in restaurant kitchens in the United States, Cohen, 44, also built up a following blogging as The Spice Detective. His interest in promoting the unique flavors of the Middle East is essential to his role today as the culinary director of the upscale Shiraz Creative catering company, an industry leader in catering events for fashion brands and celebrities. Shiraz also owns the Jaffa food stall, bringing Israeli staples like hummus and babaganoush to Miami's St. Roch Market food hall.
And now, Cohen has released his first cookbook, a love letter to—what else?—the exotic spices of Israel as well as to the women who cooked for him when he was a child. Indeed, the collection, My Spiced Kitchen: A Middle Eastern Cookbook
, is an effort to preserve the recipes that Cohen would like his 9-year-old daughter, Rachel, named for his beloved grandma, to have and hold on to.
From A to Z, or allspice to za'atar, chapters spotlight "the magnificent world of spices," according to Cohen. Think coriander, nigella seed, sumac, baharat spice blend and cardamom, to name a few. Judging by its increasing appearance on some of the trendiest tables in the United States, the spice blend dukkah may be the next big flavor coming out of Israeli cuisine. With roots in Egypt, dukkah is a combination of nuts, seeds and spices like cumin, coriander and cinnamon. In My Spiced Kitchen, Cohen uses it to crust fish and top pasta and quinoa salad. He tells me that it truly goes with everything, so much so that he even pairs it with ceviche.
Trends aside, Cohen credits two spices with the ability to instantly transport him back home to Israel. "Za'atar is my Jerusalem spice," he says. "Walking the streets of Old Jerusalem and snacking on a Jerusalem bagel and za'atar, that is something our ancestors probably did many generations ago. It's totally a Jerusalem experience, one you get nowhere else in the world."
Then there is cumin, which, he says, "represents Shabbat dinner. We always had fish in roasted tomato and cumin for the first course, so the smell of the fish basting in that aroma signals Shabbat is almost here."
Turmeric, to Cohen's way of thinking, can be as helpful dispensed as medicine as sprinkled on food. In his book, he shares an anecdote of having a childhood wound miraculously healed by a profusion of bright yellow ground turmeric. If you're more interested in eating this miracle cure-all, look for Cohen's prescriptions for Crispy Turmeric-Roasted Potatoes and his grandma's chicken soup.
So, are you ready to spice up your kitchen, Israeli-style? Try your hand at these delicious, aromatic standouts from Cohen's cookbook.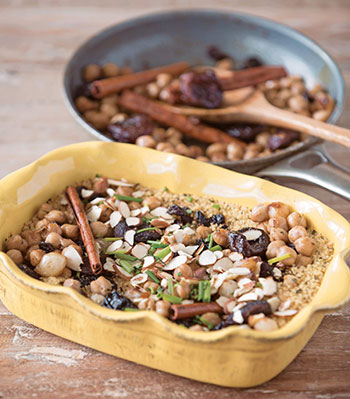 Cinnamon-Scented Moroccan Couscous with Dried Fruit 
Serves 10
My aunt married a Moroccan Jew when I was a little boy. Her husband opened my palate to new versions of dishes I already knew. For instance, when I first tasted his sweet Moroccan couscous, I was in awe because I was so used to our savory and stew-like Tunisian version. So once I had his, I couldn't decide which I liked best. Thankfully, I don't have to choose; I can simply enjoy both!
2 tablespoons extra-virgin olive oil
1/2 cup chopped cipollini onions
12 dried apricots
12 pitted prunes
1 cup raisins
1 teaspoon ground cinnamon
4 cinnamon sticks
1/2 teaspoon brown sugar (optional)
Salt and pepper, to taste
4 cups vegetable stock or water, divided
1 cup cooked chickpeas, drained
1 pound dried couscous
Small bunch chives, chopped
1/2 cup sliced roasted or raw almonds
Preheat the oven to 400°.
In a large skillet, heat the oil over medium-high heat. Once the oil is hot, add the onions and sauté for 10 minutes, or until golden. Add the apricots, prunes, raisins, ground cinnamon, cinnamon sticks, brown sugar (if using), salt and pepper. Sauté over low heat for 10 minutes. Add 1/2 cup of the vegetable stock and the chickpeas. Stir well and cook for 10 minutes. Set aside.
In a soup pot, bring the remaining 3 1/2 cups of vegetable stock to a boil over high heat. Place the couscous in an ovenproof dish. Mix in the dried fruit mix. Pour the boiling vegetable stock over the couscous and cover tightly with aluminum foil.
Turn off the oven and place the couscous in the oven for 15 minutes, or until all the liquids have been absorbed.
Fluff the couscous and transfer to a serving dish. Sprinkle with the chives and almonds.
Za'atar Coconut Popcorn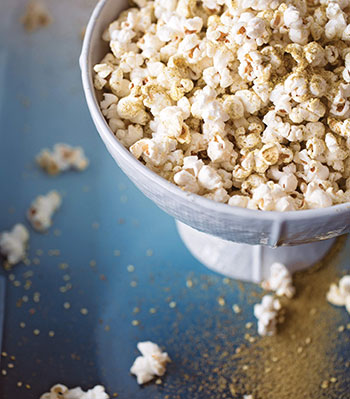 Serves 6 to 8
2 tablespoons melted coconut oil
1/2 cup popcorn kernels
1/4 teaspoon salt
2 teaspoons za'atar
In a tall pot, heat the oil, covered, over medium heat. Once the oil is hot, add the popcorn kernels and cover. Shake to ensure all the popcorn kernels are covered in the oil. Once there is a pause of more than 5 seconds between pops, turn off the stove and remove the popcorn from the heat. Let it sit for a few minutes.
Pour the popcorn into a large bowl. Add the salt and za'atar, and combine well. Eat it hot and fresh!
CHEF'S TIP: Feel free to explore other flavors, such as sumac, caraway seeds, smoked paprika, cumin, freshly ground black pepper, Parmigiano-Reggiano, dried parsley or even a cinnamon and brown sugar mix.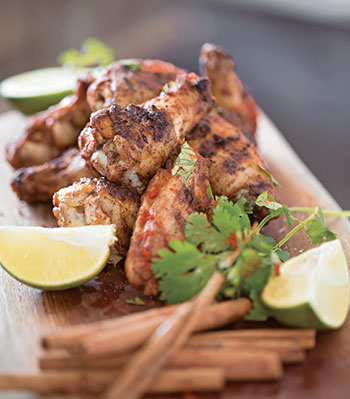 Grilled Middle Eastern Jerk Chicken Wings
Yields 12 wings
My take on Jamaican jerk chicken is a fun recipe for your barbecue days, and it doesn't need a long time to marinate. This will add a kick to your traditional chicken wing recipe with no additional sauce needed.
4 cloves garlic, minced
1/2 teaspoon ground cloves
1 teaspoon hot paprika, cayenne or chili powder
2 teaspoons brown sugar
1/4 tsp ground cinnamon
1 tablespoon dried mint leaves
1/2 teaspoon ground allspice
1/2 teaspoon cumin
Salt and pepper, to taste
3 tablespoons extra-virgin olive oil
12 chicken wings, approximately 2 pounds total, skin on
Fresh salad, for serving (optional)
Lime wedges, for serving (optional)
Preheat an outdoor grill to medium-low or the oven to 400°.
In a large bowl, mix together the garlic, cloves, hot paprika, brown sugar, cinnamon, mint, allspice, cumin, salt and pepper. Add the olive oil and mix until a thick paste forms. If necessary, add more oil.
Place the wings in the bowl and massage well to cover on all sides. Let them rest for 15 to 25 minutes.
Grill the wings for approximately 10 minutes on each side, or bake them in the oven for 30 to 40 minutes, or until cooked through with crispy, charred skin. Serve with a fresh salad and lime wedges, if desired.
Recipes reprinted with permission from My Spiced Kitchen: A Middle Eastern Cookbook
 by Yaniv Cohen, Page Street Publishing Co. 2019. Photos by Sonja Garnitschnig.