Tips to Make Your Own Israeli Breakfast Spread
Not long ago, my husband received a birthday present from work—a gift card for a free Israeli breakfast. We excitedly used the coupon on a recent Friday morning, stopping at the restaurant after a quick race to the supermarket followed by a frenzied stop at Haifa's busy shuk, where we picked up the last of the season's sweet cherries as well as figs for Shabbat.
It's too bad that the breakfast was a flop. We were charged extra for the teensiest glass of iced tea, a drink I could have made myself for a fraction of the cost. The creamy green shakshuka was good, but the dish was heavy and cheese laden. There were several gourmet spreads, but they were all savory; I like something sweet at breakfast. And then there was the bread: Let's just say it was nothing to write home about.
In our house, I like to throw together a dazzling Israeli breakfast, often by simply emptying out the contents of my freezer, doctoring up some dairy products, dipping into homemade yogurt to make a parfait, reaching for my stash of homemade jams, pulling out the cold brew coffee and iced tea that I usually have on hand and frying up a few eggs. And now, allow me to outline for you the basic concepts of an Israeli breakfast.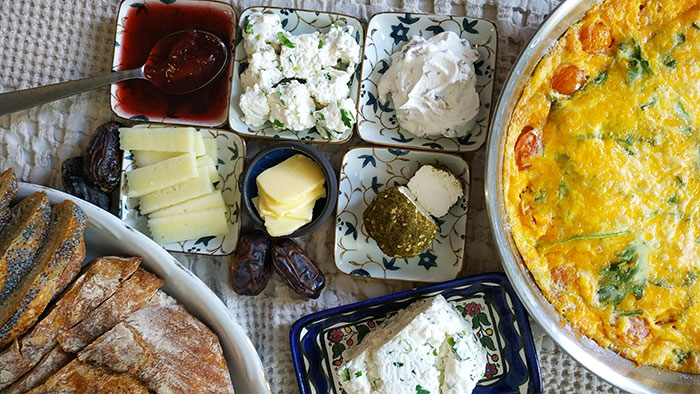 Putting together a spread for the morning meal means you will want a killer egg dish, assorted Israeli cheeses, jam (if you like things sweet and fruity like I do) and a great bread to soak it all up.
I'll start with the cheeses. Realizing that you probably can't just run to the store and pick up some labaneh (but if you can, do that!), I've hacked how to make your own at home. Similar to labaneh, full-fat cottage cheese can also be mixed with fresh herbs and green onion, salted and strained overnight to create a flavorful and rustic farmer's cheese. Other possibilities include adding chopped pitted green olives to plain cream cheese as well as serving a variety of hard and soft cheeses, like Tomme, Manchego, feta and cottage cheese (run some sour cream and milk through American cottage cheese to make it as creamy as the Israeli type).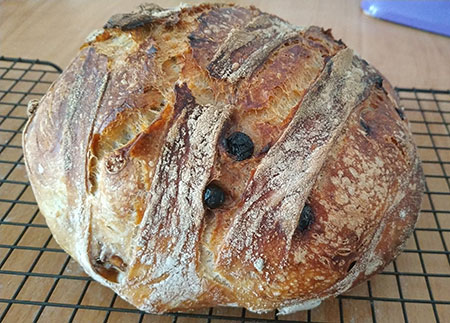 Small batch refrigerator jam—using two pounds of fruit or less—is usually ready in just half an hour and can be made without pectin if you don't mind it runny (which I quite like). The ratio is easy to remember: One part fruit to one part sugar, but you can use a bit less sugar if your fruit is especially sweet.
Frittatas are the magical medium between hard-to-perfect omelets and time-consuming quiches. However, please remember not to touch the handle of the frying pan until long after it has been removed from the oven, as I failed to do while creating this recipe.
Finally, although artisan, no-knead breads have always interested me, it wasn't until I cracked open Ken Forkish's James Beard Award-winning book, Flour Water Salt Yeast: The Fundamentals of Artisan Bread and Pizza
, that I found a recipe that worked in my home kitchen. You really don't need to be an artisan to personalize a bread at home with your own tweaks and additions, so long as you have an all-metal pot, flour and a lot of time.
I encourage you to read the recipes below and master these techniques one at a time. I promise they will catapult you to balabuste status in your social circle, while mostly just being an exercise in mixing, waiting, straining and other forms of old-school culinary magic.
Watch the oven as the frittata cooks, so you know just the right moment to pull it out. Don't forget to keep on your oven mitt when handling and serving!
12 eggs
3 tablespoons heavy cream
1/2 teaspoon salt
Pinch of freshly ground black pepper
1 cup shredded cheddar or other hard cheese, divided
1 tablespoon butter
1/2 cup cherry tomatoes, halved
1 cup arugula, roughly chopped
Preheat the oven to 350°.
In a large bowl, beat the eggs together with the cream, salt, pepper and half the shredded cheese.
Add butter to an all-metal frying pan and heat over medium high heat. Add the halved cherry tomatoes and cook for one minute, or until blistered.
Pour the egg mixture into the pan and add the arugula. Let cook until the edges are defined, about 2 to 3 minutes.
Add the remaining cheese to the top of the pan and transfer to the oven. Bake for 10-15 minutes, or until the middle is just set and the frittata appears puffed around the edges.
Remove from oven and enjoy hot or at room temperature.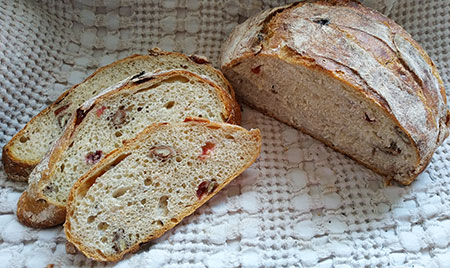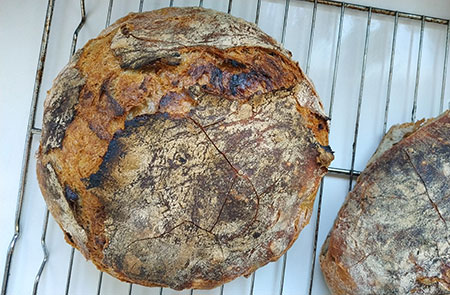 Artisan Bread
Makes 2 medium sized loaves.
This type of bread relies on an overnight starter to give it the texture and taste of an artisan loaf. Don't let this deter you, as it only entails mixing flour and water with a pinch of yeast and setting aside that mixture for 12 hours (overnight). The results are unbelievably delicious.
STARTER
3 cups plus 3 tablespoons bread flour
Small pinch of dried yeast
2 cups room temperature water
Mix all ingredients in a large bowl using a silicone spatula, cover and set aside for 12 hours.
BREAD DOUGH
Starter
1 cup water (This recipe requires filling the cup up just past the measurement line)
2 1/2 cups bread flour
3/4 cup whole wheat flour
3/4 teaspoon dried yeast
1 tablespoon plus 1 teaspoon coarse salt
1 cup of your preferred addition, or 1/2 cup of two: pecans, walnuts, chopped dates, cranberries, dried blueberries, olives
Toppings: 1/4 cup whole wheat or light rye flour; or, whole poppy seeds or sesame seeds to cover the top of the loaf before the second rise
To make the bread dough: Add the water to the starter in a large bowl. Mix with your hand to loosen.
Add the flours, yeast and salt, and stir to combine, dipping your hand in water as needed.
Using your hands, stir in your chosen additions, cover, and let rise for 5 to 6 hours, or until tripled in volume. This can be done overnight in the fridge. Also, as a bonus, the dough will be much easier to work with if it is cold.
When dough has risen, remove from the bowl, place on a lightly floured work surface, and split into two parts.
Using flour as needed, shape into 2 round loaves. Place each on a piece of parchment paper. At this point you can cover the tops of the loaves with a thin layer of whole wheat or rye flour to give a rustic look, or brush with a small amount of water and cover with sesame or poppy seeds. Let loaves rise for at least 1 hour.
About a half hour before cook time, place two, 5-quart Dutch ovens or all-metal pots in the oven with their lids on. Heat your oven to 500°. Score the loaves with three shallow lines using a serrated knife just before baking.
Once the oven has heated up and the loaves are ready to be baked, carefully remove the pots one at a time from the oven using oven mitts. Keeping the mitts on, transfer each parchment paper holding a dough round to a hot pot. Place the lids back on the pots, and place back in the hot oven.
Bake for 30 minutes, then remove lids and continue to cook for 20 minutes, at which point you can remove the bread from the pots entirely and cook for an additional 5-7 minutes to further crisp the bread.
Remove breads from oven and let cool completely before slicing and eating. This bread will remain fresh for up to 3 days on the counter.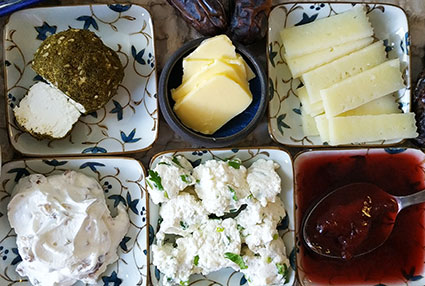 Israeli Cheese Plate
QUICK LABANEH CHEESE
1 container whole-fat yogurt
1/2 teaspoon salt
Za'atar, sesame seeds or sweet paprika for rolling cheese
Spoon the yogurt into a cheesecloth that's placed in a fine mesh strainer and set over a bowl.
Tie the ends of the cheese cloth and let cheese strain overnight in the fridge.
Unwrap the cheese cloth, spill the excess liquid from the bowl, remove the cheese and roll into a ball.
Place a couple tablespoons of the spice of your choice in a bowl and roll the ball in the spice to cover. Use immediately as a spread for bread, or keep in the refrigerator, wrapped, for up to two weeks.
QUICK OLIVE CREAM CHEESE
1/2 cup full-fat cream cheese
1/4 cup chopped, pitted green olives
Place cream cheese in a medium bowl. Run the chopped green olives through the cream cheese with a silicon spatula and transfer to a decorative bowl.
SALTY 'FARMER'S SPECIAL' CHEESE 
2 cups full-fat cottage cheese
1/4 cup mixed chopped fresh herbs and green onion (dill, parsley and basil work well)
Salt to taste
Mix cottage cheese with herbs and salt to taste. The cheese should be a bit saltier than your preference.
Transfer cottage cheese to a cheese cloth that's placed in a fine mesh strainer and set over a bowl.
Tie the ends of the cheese cloth and let cheese strain overnight in the refrigerator.
After 8 to 12 hours, remove cheese from cheesecloth. Discard the liquid in the bowl and place the cheese on a decorative plate. Use immediately or keep wrapped in the refrigerator for up to a week.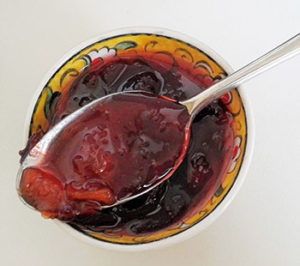 Small Batch Refrigerator Jam
Makes 2 small jars of jam
1 pound dark red plums
2 cups sugar
Few drops lemon juice
Pit and roughly chop plums. Place in a medium saucepan. Add the sugar and lemon juice to the pan. Bring to a boil over medium high heat. Let boil for 1 minute, then reduce to a simmer.
Skim any foam that appears at the top of the jam, and continue to simmer for about 10 minutes, or until jam is a gelled yet still runny consistency (jam will set up more as it cools).
To test the consistency of the jam, take the mixture off the heat, place a spoonful of the jam on a small plate, and stick in the freezer to cool to room temperature. If consistency is thick and gelled enough, it's done.
Once ready, pour jam into jars and store in the fridge.
To help preserve the jam for long-term use: Fill a sterilized, vacuum-lid jar with the hot jam and process in a water bath for 5 to 7 minutes. Preserved, sealed jam can be kept at room temperature for up to 1 year.