'Sababa' Will Bring the Flavors of Israel Into Your Kitchen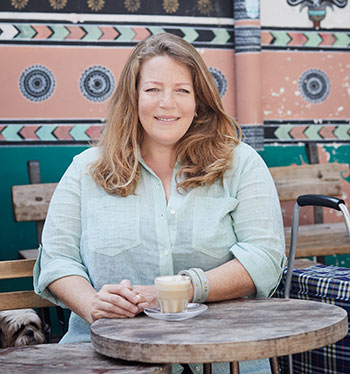 I live in the shadow of Tel Aviv's Shuk HaCarmel, the city's main produce market and a vital part of its culinary culture. Its rhythms dictate my daily routines. By traversing its stalls and side streets and getting to know the people who work there—Arab, Jewish and otherwise—I've discovered a rich representation of Israeli life in all its complexity, one that connects me to a country that recently welcomed me as an olah chadashah (new immigrant).
The truth is that Israel has always been a part of my life; indeed, I am an almost-sabra. I missed being born here by a mere two months, at the tail end of a magical year my parents, Stanley and Stephanie Sussman, spent in Jerusalem, after my father was accepted for postdoctoral work in physics at Hebrew University in 1970.
Though they returned to the United States before my mother could be forbidden from boarding a plane, I grew up hearing stories of rosemary growing wild in the streets and of the intoxicating aroma of honeysuckle whipped up by evening winds.
Back home in Palo Alto, Calif., my mother recreated the foods she and my father first sampled that year, albeit in 1970s, suburban-America style. With the help of packaged falafel mixes and canned hummus tart with artificial lemon flavor, Israel made its way to our table. And it has never stopped.
Over my career as a food writer—including close to 100 columns for this magazine—I've covered the ascendant Israeli food scene, where traditional ingredients and modern ideas combine in delicious ways that the world has gone crazy for. It's an exciting development that inspired me to write my new cookbook, Sababa: Fresh, Sunny Flavors From My Israeli Kitchen
, where I share over 120 recipes that put my personal spin on this fusion food culture and show you how to use the many staples of the Israeli pantry in accessible ways.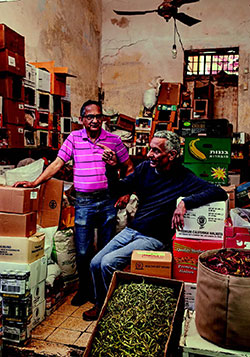 The growing popularity of Israeli cuisine has many roots. Is it the gorgeous, fresh produce? The global pantry of spices that can change a dish with a few shakes? Perhaps it's the immigrants from dozens of foreign countries who've made an impact on the local foodways, or the fact that Israeli food is simultaneously exotic, accessible and healthy. In truth, it's all of these things, with the sum even greater than each stellar part.
None of this was lost on me when I relocated from New York in recent years, after meeting my now-husband, Jay, and moving to Tel Aviv to be with him. But it all came into sharp relief as I began shopping in the Carmel market and cooking every day in my new kitchen just steps away from it. Week after week, the shuk revealed itself, and its colorful vendors became my tribe.
Among those vendors are Nachli and Noni Amrani, third-generation stall owners who measure out spices like tart, citrusy sumac and staples such as tahini with a smattering of jokes and a familiarity that made me feel instantly accepted. Early on, they sensed my desire to become one with my surroundings. They indulged that curiosity, telling me stories of famous singers and politicians who'd stopped by over the years and—most importantly—giving me tips on how to use the ingredients I bought from them.
The shuk also displays a daily coexistence that can be elusive in other parts of Israeli life. On Muslim holidays, the shuk feels empty; not only are many of the people selling produce Muslim, but so, too, are more than a few of the truck drivers who stock Jewish bastot (stalls) with their wares. My favorite vendor, Kefach Shbeta, closes his produce stand on those holy days, a reminder that his traditions take precedence over selling the shuk's crunchiest baby cucumbers and potatoes still caked in dirt to his predominantly Jewish clientele.
Nearby, at a produce and grocery market that caters to Israel's many Asian and African foreign workers and asylum seekers, Alam Giddy, originally from Eritrea, sells me tiny eggplants and Thai bird chilies. He also educates me on the nuances of sweet and regular plantains.
Over time, I have discovered that commerce creates community. This realization became a source of great comfort, a way to experience klitah (absorption) via the medium I know and love best: food. As my Israeli and American identities began to meld, I started to form a culinary language that felt all my own.
For example, using honey to tame the fiery jolt of the North African spice paste known as harissa, then lavishing it on juicy chicken thighs (pargiyot in Hebrew) with seasonal fruit, was a way to fuse what I knew with all that I was acquiring via cultural osmosis. The sweetness imparted from the honey makes this a natural fit for an Israeli-style Rosh Hashanah feast.
I also began folding creamy yogurt into the batter of an East-meets-West coffee cake, lending tartness and moisture to the tender crumb. I took full advantage of halvah's sweet, crumbly character to create a topping that replaced the streusel I would have made in the United States. And for good measure, I added to the topping baharat, a kicky combination of black pepper, cloves and cinnamon more commonly used in savory preparations.
And then there is my mother's Shabbat chicken soup, which she made every week during that mythical year in Jerusalem. I refined her recipe by encasing the chicken in cheesecloth, which keeps the skin intact and helps the meat remain moist. I Iowered the temperature to what the French call a "smile," a flame so low it just barely keeps the liquid in motion. And I've started adding fresh ginger and hawaiij, a Yemenite spice mix heavy on turmeric, cumin and pepper, sharpening the soup's flavor. My mother's reborn soup is a delicious example of the intersection of my personal journey and the evolution of Israeli food. I'm hoping it's an early chapter in my Israeli story.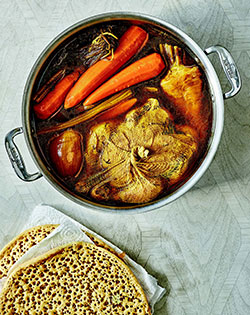 Overnight Chicken Soup (with a Yemenite Option)
Serves 10 to 12
1 whole 3– to 4 1/2-pound chicken
6 medium carrots, trimmed and peeled
3 large celery stalks, halved lengthwise
2 medium onions, peeled but left whole
1 medium parsnip, trimmed and peeled
1 medium turnip, trimmed and peeled
3 garlic cloves
1 whole bunch fresh dill, tied into a bundle with kitchen twine
1 tablespoon kosher salt
2 tablespoons hawaiij (optional)
1 1-inch piece peeled ginger root (optional)
1.  In a very large (at least 8-quart) stockpot, arrange a large, overhanging double layer of cheesecloth. Place the chicken in the center of the cheesecloth and tie the cheesecloth into a knot so the chicken is totally enclosed. Add the carrots, celery, onion, parsnip, turnip and garlic, cover with 3 inches of cold water, bring to a vigorous boil over high heat, and boil, skimming and discarding any scum, 15 to 20 minutes. Reduce the heat to a simmer, add the dill and cook, checking every so often that the soup is moving with very small bubbles—almost like a tide washing in—but not boiling.
2.  After about 2 hours, add the salt. It should taste delicious and salty, like soup should taste. Cover with a tight-fitting lid and cook for a total of 12 hours, either a whole waking day or overnight. Occasionally, skim off the fat from the top (it's easy to do when the flame is so low; the fat pools on the top). Put that fat and broth with it in a bowl in the fridge; when it hardens, tip the bowl back into the soup; the broth slips out from underneath the disc of  fat, which I use as schmaltz.
3.  If you're going Yemenite, add the hawaiij and ginger 2 hours before you're done cooking the soup.
4.  When ready to serve, remove and discard the dill. Remove the chicken to a bowl, cut the cheesecloth open to help it cool, then tip any broth back into the soup. Strip off and discard the skin and cheesecloth. Take all the meat off the bones. Discard the bones. Portion the meat out into bowls with the broth and vegetables (leave them whole or cut them into large pieces if you like). Season with more salt if needed.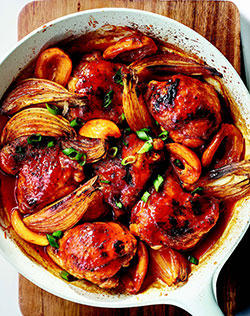 Harissa-Honey Pargiyot
Serves 4
1 1/4 cups low-sodium chicken broth
2 tablespoons harissa, plus more for brushing chicken
2 tablespoons honey, plus more for drizzling
1 tablespoon sherry vinegar
1 1/2 teaspoons kosher salt, plus more for seasoning
1 1/2 teaspoons cornstarch
5 to 6 skin-on, boneless chicken thighs (about 1 3/4 pounds), patted dry
Freshly ground black pepper to taste
2 tablespoons extra-virgin olive oil
3 small onions (red or white), each cut into 4 wedges through the root
3 medium loquats or apricots, halved
Thinly sliced scallions (green parts only) or chopped chives, for garnish
Rice, for serving
1.  Arrange a rack in the upper third of the oven and preheat the broiler.
2. In a medium bowl, whisk together the broth, harissa, honey, vinegar, salt and cornstarch. Season the chicken thighs generously with salt and pepper.
3. Heat the olive oil in a large (at least 10-inch) oven-safe skillet over medium-high heat. Add the chicken to the skillet, skin-side down, and cook without moving until the skin is browned and crisp, 4 to 5 minutes. Flip the chicken and cook until the underside is browned, 4 more minutes. Remove to a plate and drain and discard all but 2 tablespoons of the fat from the skillet.
4.  Reduce the heat to medium and arrange the onions in the  skillet with one of the flat sides touching the surface of the skillet. Cook until the onions are golden on the underside, 2 to 3 minutes. Flip the onions and brown the underside an additional 2 to 3 minutes.
5.  Add the harissa-honey liquid to the skillet, raise the heat to medium-high and cook until the mixture thickens, 3 to 4 minutes. Nestle the chicken skin-side up in the pan. Add the fruit and cook the chicken, spooning some of the sauce over the skin, until the fruit begins to soften slightly, 2 to 3 minutes.
6. Transfer the skillet to the oven and broil until the skin crisps, the liquid thickens further and the chicken is cooked through, 3 to 4 minutes for smaller thighs, 6 to 7 minutes for larger ones. Remove the chicken from the oven and garnish with scallions. Divide among plates and spoon the sauce over the top. Serve with rice.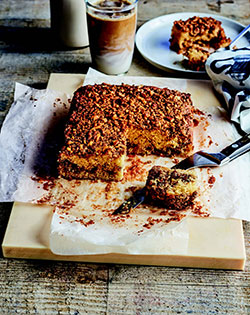 "Eser" Halvah and Baharat Coffee Cake
Serves 6
CRUMB TOPPING
2 1/4 cups chopped walnuts or pecans
6 ounces (1 1/4 cups) finely crumbled halvah
1/3 cup granulated sugar
1/3 cup lightly packed light brown sugar
2 tablespoons ground coffee
2 tablespoons baharat
1/4 teaspoon fine sea salt
CAKE
3 1/2 cups all-purpose flour
2 teaspoons baking powder
1 teaspoon baking soda
1 teaspoon fine sea salt
1 cup (2 sticks) unsalted butter, at room temperature (very soft butter is your friend here), plus more for buttering the pan
2 cups sugar
4 large eggs
2 cups labaneh or Greek yogurt
1 tablespoon pure vanilla extract
1 1/4 cups whole milk
1.  Preheat the oven to 350°.
2.  Make the crumb topping: In a medium bowl, combine the walnuts, halvah, granulated sugar, brown sugar, coffee, baharat and salt with your fingers until mixed well, pinching any larger chunks of halvah to crumble them.
3.  Make the cake: Into a medium bowl, sift together the flour, baking powder, baking soda and salt.
4.  Butter a 9 x 13-inch square baking pan, then line the pan with 2 crisscrossing strips of parchment paper, buttering between each layer and leaving a 2-inch overhang on all sides. Butter the top and sides of the parchment-lined pan.
5.  In the bowl of a stand mixer fitted with the paddle attachment, beat 1 cup butter and sugar on medium-high speed until creamy, scraping down the sides of the bowl as you go, 2 to 3 minutes. Reduce the speed to medium, add the eggs one at a time, then add the labaneh and vanilla, beating well after each addition and scraping down the sides of the mixer as needed. Add half of the milk, then half of the flour mixture, then the remaining milk and flour, mixing just until incorporated after each addition.
6.  Spread half the batter (about 4 cups) in the prepared baking dish, then sprinkle half the topping evenly over the batter and gently pat it down. Dollop and spread the remaining half of the batter over the filling, then sprinkle the remaining topping on top of that. Bake until the cake is no longer jiggly and a toothpick or tester inserted into the center comes out clean, 40 to 45 minutes. Cool slightly, cut into 15 equal-sized squares, then serve warm or at room temperature.
Adeena Sussman, longtime food columnist for 'Hadassah Magazine,' is the author of the recently released Sababa: Fresh, Sunny Flavors From My Israeli Kitchen
(Penguin/Avery). She lives in Tel Aviv.