'The Jewish Cookbook' Features All the Classics, and Then Some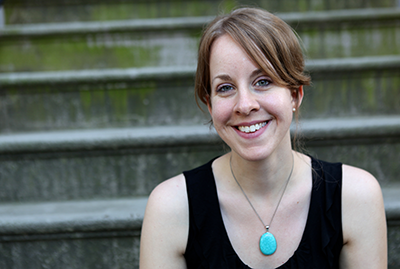 For many home cooks, the hustle and bustle of the High Holidays ushers in a renewed interest in Jewish cuisine: Gone, temporarily, are Taco Tuesdays, replaced by curiosity about the foods and ingredients of different Jewish populations. If that yearning for new Jewish flavors sounds familiar, have I got the book for you (as well as a recipe for Hungarian Jam and Poppy Seed Kugel).
Prolific food writer Leah Koenig has just released The Jewish Cookbook
, a compendium that stands apart from her Little Jewish book series of the last two years. In contrast to those deliciously diminutive volumes, these walloping 432 pages are filled with a terrific and diverse volume of recipes. Indeed, referring to its encyclopedic reach, Koenig says, "If someone wants to get a sense of the scope and the soul of Jewish cuisine, I hope they could do it by reading and cooking through this book.
"I scoured historical Jewish cookbooks for this project," she continues. "I wasn't looking for exact recipes, of course, but for leads on dishes that I hadn't considered including."
Think of lost classics such as ptcha (jellied calves feet) and matza coffee—which is, more or less, matza soaked in coffee and eaten with a spoon.
For The Jewish Cookbook, Koenig spent countless hours searching for "little historical nuggets," as she puts it, at the same time forging cooking connections with friends from varied Jewish backgrounds. "I spoke to—and cooked with—lots of people who come from different Jewish backgrounds and asked, 'what dishes absolutely have to be on your Shabbat (or Purim, or Rosh Hashanah, etc.) table?"
Beyond resurrecting classics, Koenig also looks forward, featuring fusion Israeli-Jewish-world cuisine recipes reimagined by some of the leading contemporary Jewish chefs today.
"It was thrilling to get the chefs' input, and I'm honored that so many of my heroes agreed to be a part of this project," she tells me. In one example, Alon Shaya's schmaltzy cornbread with Aleppo pepper remakes southern cornbread into a Jewish delicacy. Other guest stars include powerhouse baker Uri Scheft, New York restaurant proprietor Einat Admony and London-based food celebrity Yotam Ottolenghi.
And though Koenig admits the book couldn't possibly include every Jewish recipe since Adam and Eve, she doesn't leave too many stones unturned.
"Jews have lived and cooked just about everywhere in the world," she says. "At some point early on in my Jewish food writing career, I began to realize just how vast Jewish cuisine really is—and I never looked back!"
She points to one particularly memorable, cross-cultural Jewish cooking moment to explain the breadth of what she has learned about international Jewish cuisine.
"One of my favorite experiences was cooking with a Moroccan Jewish woman in Montreal named Arlene Abitan," Koenig says. "She taught me how to make Moroccan-stuffed artichokes. It's a rather complicated dish, but it is so incredibly delicious. Watching her work in her kitchen—mounding the meat mixture on top of the artichoke bottoms, dredging and frying them, then simmering them in a flavorful sauce—I got a sense of how her family has been preparing for Shabbat and Jewish holidays for centuries. And I gained insight to techniques that I could share with readers."
Other North African standouts in The Jewish Cookbook are b'stilla, a chicken and phyllo pastry dish; chraime, a spicy tomato-based fish stew; and mofletta pancakes, typically served during Passover.
But wait, there's more! I am especially enamored of Koenig's inclusion of pastrami hash, Yemenite jachnun bread, Georgian khachapuri (a cheese-and-egg bread boat), rye bagels from Germany, sweet and sour beef tongue, celery soda, Persian tahdig rice, fried gefilte fish, kasha and mushroom knishes, and sour cherry soup.
Recipes shared here include a pareve jam-and-poppy seed kugel; a light, tangy grain-based mezze salad; and a classic gefilte fish.
Syrian Jews serve this tangy, herb-flecked grain salad as part of the mezze spread at Shabbat lunch. The dish's name references the bazaar—the bustling outdoor market where home cooks bought their spices and other ingredients. Bazargan is typically made with tamarind paste, which is common across Syrian cuisine. The sour paste can be found in Middle Eastern and international food markets, and online. Pomegranate Molasses (page 410) also makes a fine substitute.
1/3 cup walnut halves, roughly chopped
1/4 cup pine nuts
1 1/4 cups fine or medium bulgur
2 1/2 cups boiling water
2 medium shallots, finely chopped
1 medium bunch flat-leaf parsley, stems trimmed and finely chopped
3 tablespoons tamarind paste or pomegranate molasses
1 tablespoon tomato paste (purée)
2 tablespoons honey
1 tablespoon fresh lemon juice
3 tablespoons extra-virgin olive oil
1 teaspoon ground cumin
1/2 teaspoon Aleppo pepper
1/2 teaspoon dried mint
1 teaspoon kosher salt, plus more as needed
1/2 teaspoon freshly ground black pepper
Pomegranate seeds, for serving
In a small frying pan, toast the walnuts and pine nuts over medium-low heat, shaking pan occasionally, until fragrant and lightly browned, 5–7 minutes. Remove pan from the heat and let cool.
Combine the bulgur and the boiling water in a heatproof medium bowl and let sit until bulgur is tender but still slightly chewy, about 30 minutes. Drain well and transfer to a large bowl along with the shallots, parsley, and toasted walnuts and pine nuts.
In a medium bowl, whisk together the tamarind paste, tomato paste (purée), honey, lemon juice, oil, cumin, Aleppo pepper, mint, salt, and black pepper. Drizzle the dressing over the bulgur mixture and toss to combine. Taste and add more salt, if desired. Transfer to a serving bowl and sprinkle generously with pomegranate seeds.
A staple of the Ashkenazi holiday table, gefilte fish holds a key spot in the Jewish culinary canon.
1 medium onion, roughly chopped
1 medium carrot, cut into chunks
1 1/2 pounds whitefish fillets, skinned and cut into chunks
1/3 cup matza meal or dried breadcrumbs
2 eggs, lightly beaten
4 tablespoons finely chopped fresh dill
1 teaspoon kosher salt
1/4 teaspoon freshly ground black pepper
1 teaspoon finely grated lemon zest (optional)
Chrain, for serving
Preheat the oven to 350°. Line an 8 x 4-inch loaf pan with parchment paper, allowing the parchment to hang over by several inches on two opposite sides. Lightly grease the parchment paper.
In a food processor, pulse the onion and carrot until very finely chopped. Transfer the mixture to a large bowl. Tilt the bowl to pour off any liquid pooling at the bottom, but do not squeeze.
Add the fish to the food processor and pulse until it is finely chopped and begins to form into a ball. Add the fish to the vegetables along with the matzo meal, eggs, dill, salt, pepper, and lemon zest (if using). Mix well to combine.
Spoon the fish mixture into the prepared pan, gently smoothing the top with a spatula. Bake until golden brown around the edges, 40–45 minutes. (It is okay if some liquid pools at the top during baking.) Set the loaf pan on a wire rack to cool completely. If desired, cover and refrigerate until chilled, at least 2 hours.
Using the overhanging parchment, gently remove the chilled loaf and transfer to a cutting board to slice into pieces. Serve cold, topped with beet chrain.
Chrain
Serves 6 to 8
2 medium beets, scrubbed and tops trimmed off
4-inch piece fresh horseradish root, peeled and roughly chopped
2 tablespoons apple cider vinegar or red wine vinegar
1 teaspoon kosher salt, plus more as needed
1 1/2 teaspoons sugar or honey
In a large saucepan, combine the beets and water to cover by 2 inches (5 cm). Bring to a boil over high heat and cook until beets are fully tender, 30–45 minutes. Drain the beets and set aside until cool enough to touch, then peel and coarsely chop.
In a food processor, pulse the horseradish until finely ground. Add the cooked beets, vinegar, salt, and sugar and pulse, scraping down the sides of the bowl as necessary, until a textured paste forms. Taste and add more salt, if desired. Transfer to an airtight container and store in the fridge for up to 1 week.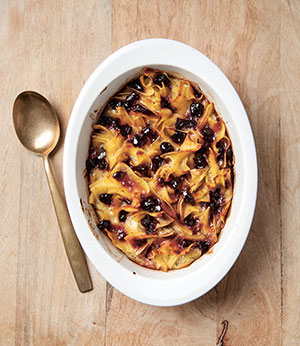 Jam and Poppy Seed Kugel
Serves 8 to 10
Hungarians have a particular fondness for poppy seeds, often pairing them with pastries and noodle dishes. Here, the dusky seeds add nutty flavor to a baked lokshen (noodle) kugel. The dollops of jam threaded throughout make this kugel equally appropriate as a side dish, a dessert or the centerpiece for brunch.
12 ounces wide egg noodles
1/3 cup vegetable oil
1 cup unsweetened applesauce
6 eggs
3/4 cup sugar
1 teaspoon vanilla extract
1/2 teaspoon kosher salt
1/2 teaspoon ground cinnamon, plus more for dusting
1 1/2 tablespoons poppy seeds
1/3 cup cherry or apricot or jam
Preheat the oven to 350°. Lightly grease a 9 x 13-inch or other 3-quart baking dish.
Bring a medium pot of water to a boil over high heat. Add the noodles and cook until just short of tender, 5 to 7 minutes. Drain and set aside.
In a large bowl, whisk together the oil, applesauce, eggs, sugar, vanilla, salt, and cinnamon until fully combined. Grind the poppy seeds in a spice or coffee grinder until just ground but not powdery (about 10 seconds). Add the ground poppy seeds and the cooked noodles to the egg mixture and stir to fully combine.
Transfer the mixture to the prepared baking dish. Take a teaspoon of the jam and dot it on top of the kugel, using the spoon to nestle it in the noodles. Repeat with the remaining jam, taking care to space the jam out evenly across the kugel. Bake until the kugel is set and golden brown, about 40 minutes. Transfer to a wire rack to cool for about 20 minutes before slicing. Just before serving, use a fine-mesh sieve to lightly dust with cinnamon. Serve warm or at room temperature.
All recipes adapted from The Jewish Cookbook
 (Phaidon, $49.95 US/$59.95 CAN, September 11, 2019).