The Search for the Perfect Fluffy Matzah Ball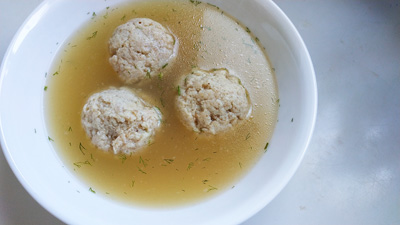 If I ever have to choose a last meal on earth, I'm pretty sure it would be chopped liver—preferably on a piece of matzah—served alongside a steaming bowl of matzah ball soup. Like Oreos, everyone has their own way of preparing matzah balls. There are those on "team sinker," although I confess I have never met a sinker enthusiast in person, versus those who prefer theirs light as air.
Some people like their soup loaded with veggies, or even noodles, but I like mine clear of any unnecessary distractions. The matzah balls themselves must be large, but I cut them into small pieces with my spoon so that they soak up every last bit of broth.
Devoted fanatic that I am, matzah balls were probably the only Jewish staple that I still relied on a packaged mix to prepare until fairly recently. Homemade recipes never came out as fluffy and light as those from the box, leading me to believe that the secret ingredient in the boxed stuff must be magic. People swear by a light touch of the hand, seltzer water and so on to get a light matzah ball, but I don't take well to recipes that require crossing one's fingers or reciting prayers to turn out right.
But last year, in the lead up to Passover, I was determined to discover the mythical, "perfect" matzah ball made from scratch. Researching the internet's most commented upon secrets, tips, tricks and folklore, I followed many leads that I was sure would work out—just until they didn't. I even made 75 matzah balls according to one promising recipe, intending to serve it to my guests for the holiday seder, but ended up throwing them in the trash when I realized that all my schmaltz had been used on a fraud.
Going back to the drawing board, I remembered something I had read from The Monday Morning Cooking Club, a food blog maintained by a community of Jewish Australian women. In describing their matzah ball recipe, they mentioned that the matzah meal in Australia seemed to be drier than the one in the United States. They presumed this because, as with my attempts, their recipes had been coming out differently than what was described in online recipes by American chefs.
And that's when my brain went, click! The magic ingredient wasn't soda water or wishing on a star. IT WAS WATER! I suddenly realized how different the batter from the homemade matzah balls was when compared to the boxed mix. The homemade mixture was dense while the boxed mix was as light as mousse when scooping it up into my hand. I headed back into my kitchen, ready to test out this new hypothesis.
I took my favorite base recipe and added A LOT more water to the mix, until the texture was light and airy. While it rested in the fridge I nervously paced, half convinced that I had just ruined six eggs on a dud assumption. If this was the answer to perfect matzah balls, I reasoned, why had it never been discussed by the internet's matzah ball experts?
To say that I was shocked when this batch with surplus water came out just right would be an understatement. The balls expanded in size to become large, light and fluffy, and were so gorgeous that I was kicking myself that these were the batch that missed out on the schmaltz train. Oh well, I thought, there is always next time.
Many "next times" later, I can tell you that I have finally found my perfect matzah ball recipe, with which I can live happily ever after.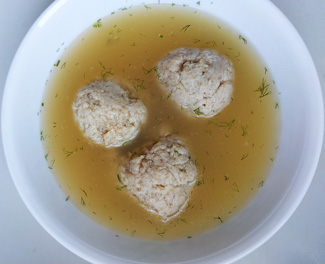 Perfect Fluffy Matzah Balls
Makes about 20 balls
1 1/2 cups matzah meal
1 1/2 teaspoons salt plus an extra pinch for good luck
1/8 teaspoon freshly ground black pepper
1/8 teaspoon garlic powder
3 teaspoons baking powder
1/3 cup safflower oil
6 eggs, lightly beaten
1/2 cup water
Mix all ingredients together in a medium-size bowl until just combined. Place bowl in the fridge to chill for 30 minutes.
Meanwhile, bring 3 1/2 quarts of chicken stock to a light boil in a 5- to 6-quart stock pot.
After 30 minutes, remove the mix from the refrigerator and, one by one, form into golf-ball-size spheres using a light touch. Plop the balls into the simmering broth as you make them. (Form roughly half the mixture into balls, then place the second half in the fridge to use later, so as to not crowd stock pot). Cover pot and simmer for 40 minutes.
Remove the matzah balls to a large bowl using a slotted spoon, and repeat step 3 with the remaining mixture.
Once the second batch is done, return the first back to the pot. Matzah balls will be most flavorful on the second day, once they have soaked up more flavor from the stock.