Amy Rosen's 'Kosher Style' Is a Loving Throwback to Deli Classics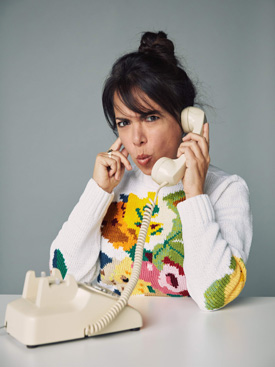 "There's no reason to reinvent the matzah ball," says Amy Rosen, editor of lifestyle site Modern Farmer and veteran cookbook author. So iconic to her is the beloved matzah ball that it even graces the cover of her new book, the deli-inspired Kosher Style: Over 100 Jewish Recipes for the Modern Cook
.
"I've freshened [classic recipes] up a bit—less fat, less brown, more green," she says, "and I've put together a cookbook that will give people the recipes to successfully execute the classics they fondly remember—even if the matriarchs of their families have passed on."
But for the most part, Rosen has kept classic recipes in tact, rejecting the pull of food trends that encourage home cooks to meld flavor combos that have no business appearing in the same recipe.
"So many Jews, even if not observant, connect with their Judaism on a cultural level," Rosen reflects. "And a big part of the culture is the food."
As for the designation "kosher style," Rosen adopts it in honor of the many Jewish delicatessens whose food, while Jewish, doesn't strictly adhere to the laws of kashrut. Historically, these North American kosher-style hangouts have been the equivalent of a synagogue for less observant Jews—a holy ground within which to sit, enjoy a pastrami on rye and take comfort in their cultural Judaism.
Rosen, a lifelong Toronto resident, readily shares her Jewish-food-as-culture bona fides, including that she eats bagels for breakfast every day—or at least half of one—toasted and ideally covered with a good schmear of homemade cream cheese and home-cured lox.
A seasoned food and cookbook writer, she's received accolades for her past cookbooks that focused on the food of contemporary Toronto chefs, party girl recipes and pop culture-based dishes for 20-somethings. Yes, she's inserted Ashkenazi Jewish recipes into her books here and there, but in Kosher Style she dedicates an entire book to her proud, not to mention delicious, heritage and the recipes that embody its soul.
Indeed, Rosen's book exudes a personal touch; note the throwback family photos, such as snaps from her brother's very 1970s bar mitzvah. That nostalgic sensibility permeates her recipes, as well, especially "from scratch" instructions for staples like cream creese, gefilte fish, poppy seed cookies, bialys and creamed herring. As Rosen might say, "think traditional, but not outdated."
A chapter titled "Eat! Eat!" features Miami ribs, chopped liver and salami sandwiches, and her maple soy brisket, which Rosen tells me is by far her No. 1 requested dish by loved ones. Other delights are her meat kreplach, everything bagel schmear and sour cream pecan coffee cake muffins that make me drool a little every time I flip passed the page.
"I actually think Ashkenazi food is back in a big way, with modern delis and bagel spots suddenly opening up across North America," Rosen tells me. "[Ashkenazi food] celebrates our roots in Poland, Russia and Germany, our growth in North America and the survival of a culinary repertoire based on humble ingredients meant to sustain.
"The plot twist is, they are also a delight," she says before adding slyly, "You've gotta try my borscht."
Rosen's story telling shines through in her charming, and often amusing, anecdotes that are accompanied by the whimsical illustrations of Alanna Cavanaugh. (Most recipes are accompanied by full page photos as well.) One particularly hilarious story centers around a group of regulars she has encountered at a local deli's early bird special. Others are quirky and informative, like why North American Jews love Chinese food.
"From St. John's to Fort Lauderdale, Montreal to Manhattan, I've enjoyed meals and moments unique to the Ashkenazi experience, complete with humor, wisdom and chopped liver," Rosen writes in Kosher Style. That sentiment resonates from within the pages of this beautiful cookbook. Included here are Rosen's recipes for Kasha Pilaf, Sweet & Sour Meatballs and Amy's Perfect Pecan Buns.
This is a 21st-century Semitic pilaf for a generation of kasha haters. What is kasha? It's a grain—buckwheat groats to be exact; a traditional Jewish dish that my three brothers and I loathed. My oldest brother, David, said it was impossible to make people like kasha. I think it was the mushy bowtie pasta and neon yellow soup base we grew up on. But during a recent Rosh Hashanah, I made it my mission to turn it tasty, adding kale, nuts, dill, onion and meaty mushrooms to the mix. Before the night was over, David had secretly texted many family members to get their votes. He liked it, and so did everyone else. My dad said, "I can't get excited about kasha because it's kasha. But I will say it's the best kasha I've had." And that, my friends, is considered a win in the Rosen family.
4 cups vegetable stock
2 cups kasha
1 small bunch kale, fibrous veins removed
1 cup walnut pieces
1 tablespoon olive oil
1 small red onion, thinly sliced
4 cups stemmed and quartered button mushrooms
1/4 cup chopped dill
Juice of 1 lemon
Sea salt and freshly ground black pepper to taste
1 teaspoon honey
In a medium pot, bring the vegetable stock to a boil, then add the kasha. Bring back to a boil, then reduce to a simmer for 10 minutes, or until cooked. Fluff the kasha with a fork, then tip into a large bowl to cool.
Rinse the pot and add about 1 cup of water. Bring to a boil, then lower heat to a simmer and add the kale. Cover with a lid and steam for 8–10 minutes, or until tender. Drain and chop the kale and add to the big kasha bowl. Wipe out the pot (can you tell I hate doing dishes?) and toast the walnut pieces over medium heat for 3–4 minutes, or until slightly browned. Add them to the kasha.
Drizzle the olive oil into the pot and sauté the red onions over medium heat for 5 minutes, then add the quartered mushrooms and cook for about 15 minutes more. Add to the kasha, along with the chopped dill, lemon juice, salt, pepper and honey. Serve warm for a hearty and healthy New Year.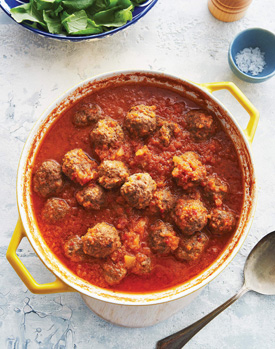 Sweet & Sour Meatballs
Serves 12
One of the dishes we ate most in our house when I was growing up was Swedish meatballs. I think my mom got the recipe off the label of either Welch's grape jelly or Heinz chili sauce, because besides ground beef, those were the two ingredients in which she'd simmer the balls. She still makes them and we still eat them happily today. This is my take on sweet-and-sour meatballs. A lot fresher, albeit with a ketchup tip of the hat to the 1980s.
4 pounds lean ground beef
3 eggs
1/2 cup plain breadcrumbs
2 teaspoons sea salt, plus extra to taste
1 teaspoon freshly ground black pepper, plus extra to taste
6 medium tomatoes, roughly chopped 2 onions, roughly chopped
2 medium carrots, roughly chopped
1 pineapple, peeled, cored and roughly chopped
3 tablespoons olive oil
1 teaspoon ground ginger
2 tablespoons honey
6 tablespoons ketchup
3 tablespoons red wine vinegar
Mashed potatoes or rice, for serving
In a large bowl, combine the beef, eggs, breadcrumbs, salt and pepper. Mix well, then roll into 1-inch bite-size meatballs.
Place the prepped tomatoes, onions and carrots in a food processor and chop until smooth, then add the pineapple and pulse so that it's still a bit chunky.
Transfer the mixture to a very large pot and add the oil, ginger, honey, ketchup and vinegar, plus salt and pepper to taste, then bring to a boil. Lower heat to a simmer, add meatballs and cook, partially covered, for 2 hours. Serve with mashed potatoes or rice.
Note: Depending on the sweetness of your vegetables and pineapple, you may want to adjust with more ketchup, vinegar, salt, etc. before serving, in order to hit that perfect balance. Taste your food!
Amy's Perfect Pecan Buns
Makes 12
You may not know this about me, but I own a business in Toronto called Rosen's Cinnamon Buns. This recipe is not the one for our famous buns, because if I printed that recipe I'd be out of business pretty fast. Still, these are light and fluffy, with a caramelly glaze and the crunch of pecans. They should serve you well should you choose to open your own pecan bun business.
FOR THE DOUGH
1 cup milk
5 tablespoons butter
1 (1/4 ounce) package active dry yeast
3 tablespoons sugar
1 teaspoon sea salt
4 3/4 cups flour, divided
3 eggs
Drizzle of vegetable oil
FOR THE TOPPING
3/4 cup butter
3/4 cup packed brown sugar
2 teaspoon ground cinnamon
1/2 cup chopped pecans Pinch of kosher salt
FOR THE FILLING
3/4 cup brown sugar
1/2 cup chopped pecans 2 tsp ground cinnamon
1/4 cup butter, softened
Make the dough. In a small saucepan over low heat (or carefully in the microwave), warm the milk and butter until the butter has melted and the temperature is hot but not scalding (you're looking for 105°F on a thermometer). Pour the mixture into the bowl of a stand mixer fitted with the dough hook, and sprinkle the yeast and sugar overtop. Do not stir. Let sit until it foams, about 8–10 minutes. Stir in the salt.
Add 2¼ cups flour and mix until just combined. Add the eggs and mix until incorporated. Knead the dough on medium-high speed until a smooth batter forms, about 2–3 minutes. Add the remaining 2 1/2 cups flour and knead on medium until the dough comes together and forms a smooth, elastic ball, about 6–8 minutes. Add a bit more flour if needed.
Add a drizzle of oil to a large bowl and turn the ball of dough around in it so it's got a light sheen all over. Cover the bowl with plastic wrap and let the dough rise until it doubles in size, about 1 hour.
While the dough is rising, make the topping. Grease a 9 × 13-inch baking pan with a bit of butter. Melt ¾ cup butter in a small saucepan over medium heat. Stir in the brown sugar and cinnamon, whisking until smooth. Pour into the greased baking pan. Sprinkle the bottom of the pan with chopped pecans and a pinch of salt. Set aside.
To make the filling, combine the brown sugar, chopped pecans and cinnamon in a bowl. Set aside.
When the dough is ready, punch it down and roll it out on a floured surface into a 12 × 18-inch rectangle. Spread the softened butter over the dough with an offset spatula, leaving a ¾-inch border along the sides. Sprinkle evenly with the brown sugar, cinnamon and pecan filling mixture.
Starting at one long end, roll the dough into a log and pinch to seal the seam. With the seam side down, slice the log into 12 fat rounds; each one should be just over three fingers thick. Place in the prepared pan, cut side up and slightly spaced apart. Loosely cover with plastic wrap and let rise until puffy, about 20–25 minutes.
During this second rise, place a rack in the center of the oven and preheat to 375°F.
Once the buns have risen, remove the plastic wrap and bake the buns until golden brown, about 18–22 minutes. Let cool in the pan for 3 minutes, then invert onto a serving platter. Scrape any remaining filling from the pan onto the buns. Serve at once. If you don't eat them all in one sitting, they also freeze well.
Recipes excerpted from Kosher Style: Over 100 Jewish Recipes for the Modern Cook
by Amy Rosen. Copyright © 2019 Amy Rosen. Published by Appetite by Random House®, a division of Penguin Random House Canada Limited. Reproduced by arrangement with the Publisher. All rights reserved.